2012 NBA All-Star Slam Dunk Contest Video Preview: Jeremy Evans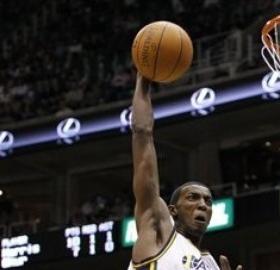 With all of the buzz surrounding Jeremy Lin heading into All-Star Weekend, many were excited to hear that Iman Shumpert was included in the dunk contest, just to see what kind of miraculous pass Lin would be throwing to him.
However, with injuries causing Shumpert to miss the 2012 Slam Dunk Contest, Jeremy Lin will by default, be missing the event as a participating passer.
This occurrence may allow another Jeremy (Jeremy Evans) to spring into the spotlight and have him quickly emerging as a potential fan favorite.
While many Utah Jazz and NBA fanatics are familiar with Evans' explosive exploits around the rim, the casual fan is almost completely unaware of his accomplishments.
He is currently averaging 1.7 points per game during around five-and-a-half minutes of playing time, so it's understandable that he may not be a hot topic amongst casual spectators.
However, when he has gotten himself into a game those who are familiar with his limitless leaping ability since his college days at Western Kentucky, know that he is capable of a highlight throwdown at any time.
Claiming he can jump over a car better than Blake Griffin has garnered him enough attention as of late to have many believing that he can win the 2012 Slam Dunk Contest, and possibly put himself on the map as the next Jeremy to breakout this year.
*Although Evans has a wide variety of Alley-oop connections between him and Earl Watson, all of the following dunks are originated by Evans himself. Either putbacks or explosive leaps to the hoop. No assistance needed when you're this explosive.
Begin Slideshow

»
Although Evans isn't averaging a ton of points per game, he certainly knows how to kick off a quarter correctly.
Less than one minute into the third quarter, Evans helps out his teammate, by rebounding his miss and throwing it home all in one fluid motion.
If this doesn't encourage Al Harrington to improve his boxing out and rebounding, I don't know what will. Evans runs in catapults himself towards the cup and there's no stopping him at that point.
Hubie Brown's commentary says it all for this dunk.
The man known as "the Chairman of the Boards" during his time at Duke, looks like he should hold onto his memories of success from his college days, just so he doesn't have to focus on this nightmare.
Evans totally posterizes Williams here.
Although he makes an effort to get up and block him, Evans takes the elevator to the next floor and makes Williams pay for getting in his way.
NBA Summer League for the most part can't be taken at face value, since the players competing in it aren't facing the most elite talent that the NBA has to offer.
However, it can give us a hint about what upcoming youngsters we should be paying attention to. Evans clearly makes a case for himself to be one of those rising young players in this video.
Taking a pass from Othyus Jeffers and making him proud by piledriving the ball through the hoop, over an unsuspecting player auditioning for the Indiana Pacers.
Evans comes from off screen at the Pro Player Charity Classic in Salt Lake Community College to make his presence known with a spectacular seismic 360 slam.
Notice only two defenders can be seen on the court while the dunk is taking place. The rest of the opposition has good judgment getting out of his way.
While Earl Watson has becoming known for throwing Evans, his patented "Earl-y Oop" passes, he serves a different purpose in this video.
Evans teammates give him 10s across the board on this dunk so it's certainly worth a look.
Jeremy Evans dunking over Ray Harper at Hilltopper Hysteria at E. A. Diddle Arena, Thursday, October 16, 2008.
This one's certainly impressive as Evans doesn't give himself much of a running start. No matter though, as this dunk ends much the same way all his others do.
Evans eclipses another man here, totally leaping over him and throwing it down. This guy should consider himself lucky, at least he knew it was coming.
This is by far Evans' most impressive dunk, even if the referee did call him for an offensive charge.
For those of you doubting his ability to jump over a car better than Blake Griffin, this dunk lets you know that he certainly has the voracious vertical to do it.
Maybe he'll jump over his Camaro for his contest-winning jam?