Houston Texans 2012 Mock Draft: Buying or Selling Draft Tek's Latest Picks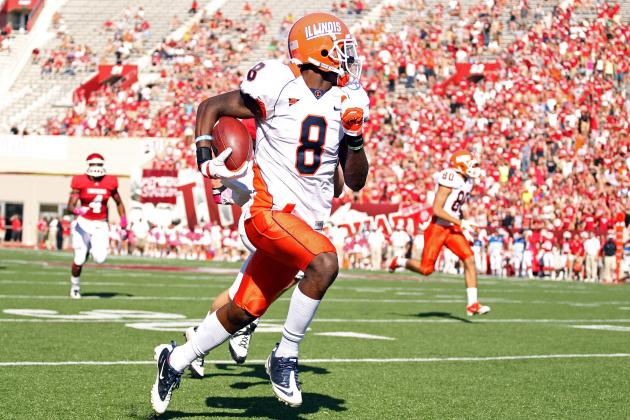 Andy Lyons/Getty Images

I think that one of the most wildly premature things a sports journalist can make is to slap a "draft grade" on a team immediately after the draft. With a lot of these guys, we won't really know how they transition to the NFL before about three years of service. So, to look at a teams' draft and give them a letter grade based solely off of if they filled all their positions of need is just flat out goofy, in my opinion.
Remember all those guys who gave the Texans a really bad draft grade back in 2006 for passing on Reggie Bush? Yeah, I'm sure they'd prefer to have those write-ups deleted from publication and the annals of the Internet forever.
So, when this project came up to play armchair GM and buy or sell on all of the Texans picks in Draft Tek's latest mock draft, I decided that I would be handing out no grade on each pick. I'll simply agree, disagree and explain if it is what I would have went for in that situation based off of need, availability and overall talent. In a draft that is going to be to fill depth primarily, it'll be hard to really disagree with any pick that doesn't have Houston drafting a punter in the first three rounds, but let's get started.
Begin Slideshow

»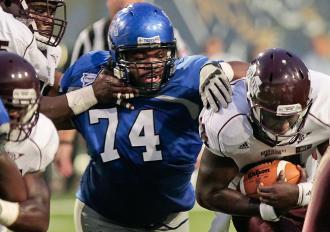 Love It.
It seems like I am a broken record by this point, but by now we all know how I feel about adding a big boy in the middle of the Texans defensive front seven. Let's take a look at what Draft Tek had to say about the pick:
Rather than reach for a WR in the 1st round, the Texans decide to fortify the middle of their already imposing defense with the "Monster from Memphis", Dontari Poe. This young man has been climbing up the Big Board, as scouts have been trying to determine if his domination of Conference USA blockers translates to the NFL. There was no doubt about his ability to clog the middle, as his strong, stout interior presence often requires double-team blocks to keep him from collapsing running lanes. Texan incumbents Shaun Cody (6'4", 301) and Earl Mitchell (6'3", 289) are warriors, but have worn down as the season progressed. DC Wade Phillips has had success with undersized nose tackles that play a penetrating, one-gap scheme; however, the 3-4 works much better if the NT can play a 2-gap scheme and keep blockers away from inside linebackers. Pass rushing is not his forte at this time but the Texans can pressure the QB from a number of other positions.
I really couldn't have said it any better. Shaun Cody played admirably last year, but if Poe slides to them in the first, the Texans would be fools not to run to the podium to turn in their pick.
For all of those clamoring for a wide receiver here, remember that every time we think we know where Houston is going in the first round, they go in a completely different direction. I'm not so sure it views Mohamed Sanu or Reuben Randle worthy of the 26th overall pick.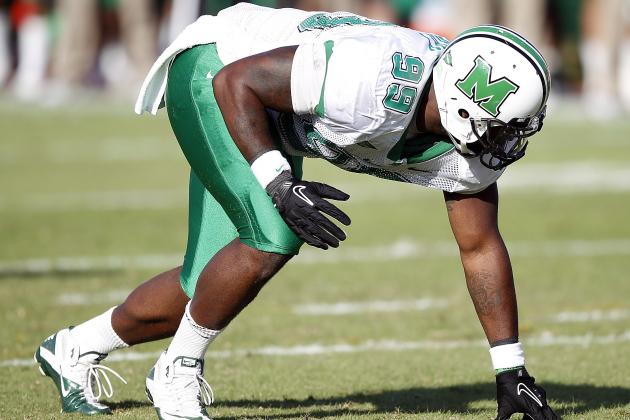 Bob Levey/Getty Images

In my opinion, this is another home run.
Obviously, this is going off of the belief that Mario Williams will be walking in free agency. To be truthful with you, any other thought is pretty much a fantasy at this point, and I think the team has accepted it, and it's just trying to hold off the fan backlash as long as it can.
With Curry, you obviously don't replace a talent like Mario, but you get a guy who has all the tools to be a real difference maker in the pass rush. Here is what Draft Tek has to say about the pick:
Will he or won't he? The #1 consuming question down Houston way is whether Mario Williams will give the Texans a "home-town" discount . . . #2 is whether the Texans can squeeze it in under the salary cap even if he does! Williams' move to OLB did not last an entire season, as he tore a pectoral muscle on his 5th sack during the 5th game of the 2011 season. "Mr. Fix it", DC Wade Phillips, adopted a strategy of "plug and play" as rookie Brooks Reed performed admirably across from starter Connor Barwin; however, the depth behind these two (Jesse Nading and Bryan Braman) is a concern if a) Williams does not return or b) another injury occurs. Vinny Curry would substantially add depth and potentially challenge both starters for playing time . . . and as Uncle Wade is fond of saying, "It's hard for QB's to complete passes when they're on their butts!"
True enough. Wade Phillips will be the first to tell you that you can never have enough linebackers on the team, and I could see Houston going after Curry even if Mario does end up back somehow.
This obviously means that they will try to fill the role of a No. 2 wide receiver in free agency as they're unlikely to find a day one difference maker at that position in the third or later.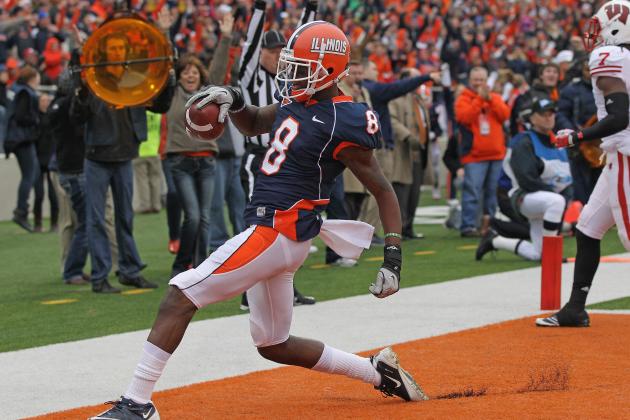 Jonathan Daniel/Getty Images

With Ryan Broyles, Nick Toon and Dwight Jones all coming off of the board this round, I couldn't really get upset. Except for the fact that Arkansas wide receiver Joe Adams is still on the board.
Adams would be a better fit as the Texans new slot guy because he is faster and is also explosive in the return game, therefore making Jacoby Jones completely a nonfactor going forward.
As for Jenkins, he isn't an awful pick by any stretch. Since Draft Tek doesn't have pick explanations after the second round, I'll dive more into why or why not they would fit with the Texans from here on out.
Jenkins is a guy who succeeded by being a matchup problem on offense and exposing weak spots in defenses. The offense ran at Illinois was a west coast type scheme that could make the pick quite reasonable for Houston. He can be a vertical threat in the slot and he has the get up to not get caught from behind.
I said going into this draft that I thought Houston leaves with two wide receivers, so if one isn't drafted in the first three rounds, I'd be shocked. They could also do a whole lot worse than A.J. Jenkins in the third. I'd still prefer Adams to him, but Jenkins looks like a better scheme fit.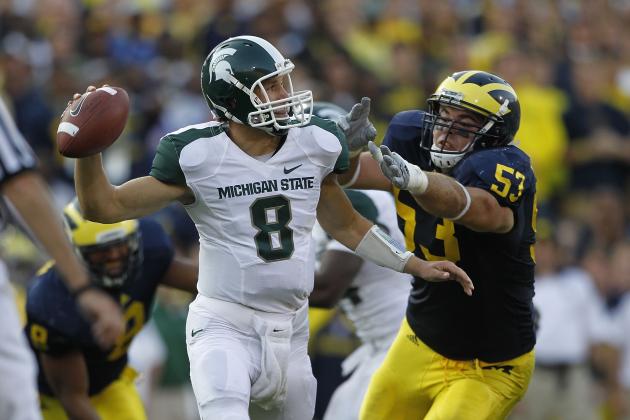 Leon Halip/Getty Images

This is the first pick I'm really not so sure about.
Nothing against Van Bergen, as he had a stellar career at Michigan and holds decent value as a fourth rounder, I just feel that there are better options on the board here.
I realize that I sound like an Arkansas honk, but I swear I'm not, when I list another wide receiver for them in Jarius Wright. Pretty much the same things I said about his teammate, Joe Adams, applies here. Also, I think that Houston will certainly be looking to shore up their offensive line by this point in the draft and Miami's (OH) Brandon Brooks is still there for the taking and is a perfect scheme fit.
Van Bergen wouldn't be a poor addition, as he has that "high motor" that the Texans front office love, but I'm not sure where he fits. Antonio Smith and J.J. Watt have the ends on lock down, and he isn't the type of guy who could stand up as a linebacker. He's a five technique that would obviously be depth. Which, as I'll agree to, Houston will be looking for in this draft. I just think there are still more pressing issues of need here before going solely for depth.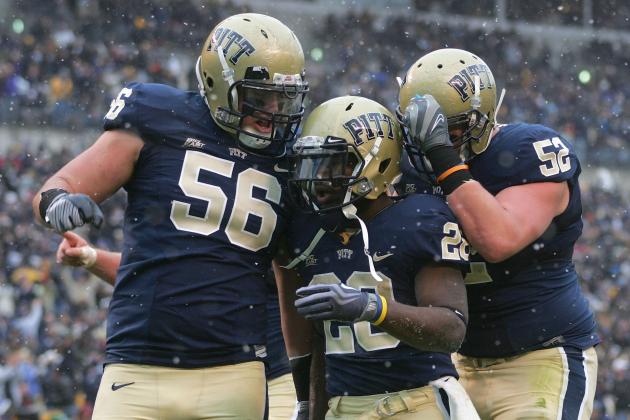 Jared Wickerham/Getty Images

A round later than I expected, but props to the Draft Tek guys for recognizing the need for depth on the offensive line.
By this point in the draft, you're just hoping to find that hidden gem that can stick on your roster, be solid depth and possibly be groomed to take over one day. With a guy like Nix, you get a versatile guy who can play both guard and tackle pretty well.
The knock on Nix, though, is how he would fit in a zone blocking scheme like the one Houston employs. He has a good frame, but he'd certainly need to bulk up his lower body to be able to fill the trenches.
As far as other players on the board, I'd really be guessing at this point. I'll be truthful that my knowledge after the fourth round is limited, and I must go off of scouting reports. But, hard to argue against offensive line depth in the fifth round.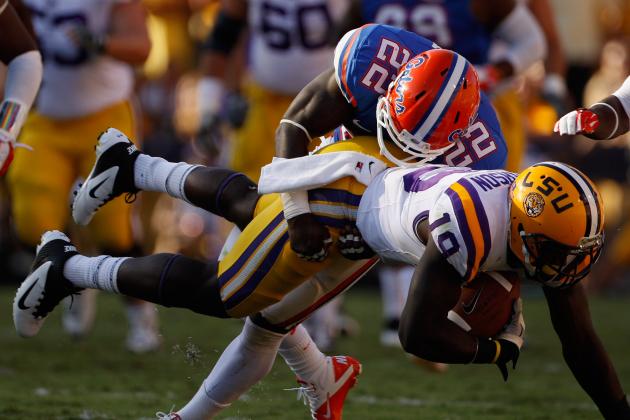 Chris Graythen/Getty Images

If Deangelo Peterson is still on the board at this point, the Texans have had a good day.
No mock draft that is done nationally is posted without always having the Texans draft a tight end. But with Joel Dreessen more than likely getting offered starters money and playing time elsewhere in 2012, there could be a need.
I'm still in the camp that believes Houston would opt to give Garrett Graham the opportunity over drafting another tight end, this is a case of best player available. Peterson looks more like a bulked up wide receiver than a tight end, but he isn't the best route runner.
He has quickness and the ability to pop the seam, which I could see being beastly in the Texans passing scheme, but I have to disagree with Draft Tek here and say that he isn't going to be available this late. If he is, this is a slam dunk.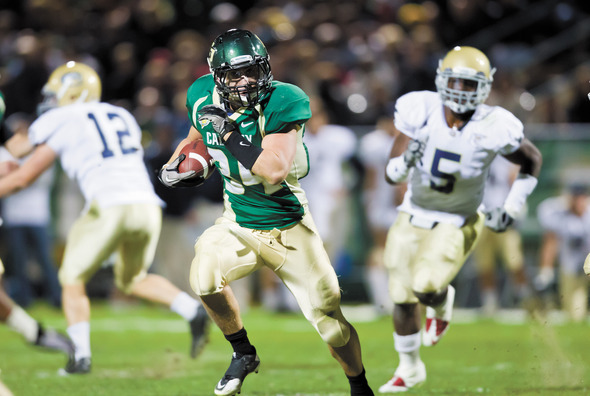 I'll be honest...before reading this pick, I'd never even heard of California Polytechnic.
Houston taking a cornerback late makes all the sense in the world because, just like linebackers in this scheme, you can never have enough. Jason Allen is likely to walk in free agency and it'll look for the cheap option to fill the void with Brandon Harris and Roc Carmichael waiting on deck for its opportunity.
Jackson has good instincts, ball skills and plays bigger than his frame would suggest. At a lean 5'10" and 179 pounds, he makes up for what he lacks in size with good length and looks to be a good slot defender at the next level. It's pure boom or bust at this point in the draft and all you can hope for is a fifth round talent slides. To expect a game changer here is way more optimistic than most.
Mike Kerns is a Featured Columnist for the Houston Texans at Bleacher Report. Feel free to follow him on Twitter and catch his latest Texans podcast on iTunes.