College Basketball: The Problem with the One and Done Rule Debate
February 23, 2012

Andy Lyons/Getty Images
The issue of the one and done rule—the requirement that a player be at least 19 years old and one year removed from high school before playing in the NBA—has been beaten to death.
Everyone involved in the college basketball world has some opinion on the issue.
Fans of specific schools will point to the fact that if a player has to stay beyond one year their team will see the chances of building a dynasty increase. Some coaches would argue that such a law negatively impacts recruiting and creates uncertainty from season to season when they have to continually rebuild their programs.
College basketball enthusiasts will cry foul that the college game is hindered by a group of players who care more about the next level than where they currently are.
Yet, the side that is consistently overlooked when discussing the one and done rule is that of the player as an individual.
When looking at how to solve the controversy, one needs to take into account the fact that each player coming out of high school is an individual and has his own specific set of circumstances.
The simple fact of the matter is that a small handful of players coming out of high school are talented enough to play in the NBA right away. Just take a look at this year's recruiting class: Shabazz Muhammad and Isaiah Austin could easily enter the draft after they graduate from high school. If these two young men can couple maturity with talent no one should doubt that these two will be successful.
The problem with that is more players, rather than entering college, will overestimate their abilities and their maturity level and try to make a premature leap that can end in disappointment.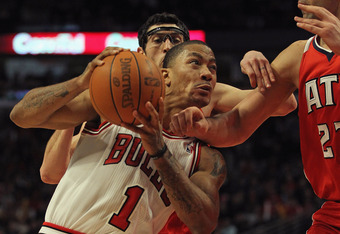 Jonathan Daniel/Getty Images
There is no feasible way to weed out those players that are so incredibly gifted and ready to take their talents to the next level and those who need to take a step back down to reality.
Yet, maybe it is not a player's self-perceived skill level that influences a jump to the professional league, but the extraneous off-court issues at hand.
DeMar DeRozan—a former USC Trojan and one and done player—said it best when he told ESPN the Magazine, "You never know of a guy's situation going into college. Maybe he needs the means to take care of his family."
If a situation grows (or remains) so extreme for a player that he feels the best solution is to enter the NBA then that is the best decision for the player.
The college basketball world has to stop focusing on how the fans are going to react or how the rule will affect individual teams and begin to help the players make an informed decision.
With help from others, if it is wanted, players can begin to assess their individual situations and make the best decision possible.
Those that play the game for the sole purpose of being a part of a team will choose to stay. Those who have unfinished business, such as a national championship, will choose to stay (Jared Sullinger). Those who understand the need to refine their skill set and grow at their position will choose to stay (Perry Jones III).
Those who feel they are ready on both a talent and a maturity level should not be accosted for leaving. Neither should the players who legitimately feel as though the NBA will help solve an outside circumstance and allow for growth in the game.
Fans, analysts and coaches will never know the true underlying reason behind why a man plays basketball, and that is why the decision regarding such a huge part his future must come from himself.
This may not be the best and widely accepted solution to the one and done problem, but, until the rule is changed, the focus has to be on players as individuals, and each decision as a separate assessment.
Kyrie Irving—former Duke Blue Devil and one and done player—told ESPN the Magazine how he was given advice by his father that sums up the argument, "My father's advice to me was to make the best decision for me."