New Orleans Saints 2012 Mock Draft: 7-Round Predictions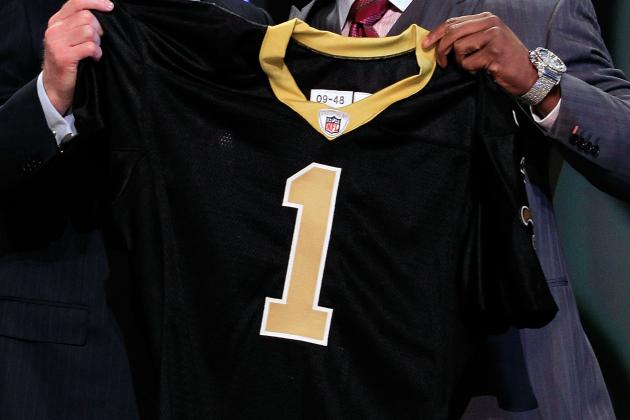 Chris Trotman/Getty Images

Last time out, I took a look at the "dream" prospects that the Saints would like to land in the 2012 NFL Draft. This time, I will take aim at prospects that I think New Orleans will target in each round that will help build on the 2011 season's success.
The Saints will have holes to fill with quality free agents likely gone to a higher bidder.
Those names are Marques Colston, Tracy Porter and Robert Meachem. I think the Saints tie up the Brees and Nicks contracts and let the chips fall on the other FAs. Those three names are not going to take a hometown discount. They have priced their way right out of the Saints grasp.
The NFL is a business. Just like any business, you have new employees to evaluate and train. Without the luxury of a first-round pick, the Saints will lean heavily on their scouting department. That is a scouting department that finds gems with relative ease in the middle rounds and beyond (i.e. Jahri Evans, Rd. 4, and Pierre Thomas, UDFA).
Begin Slideshow

»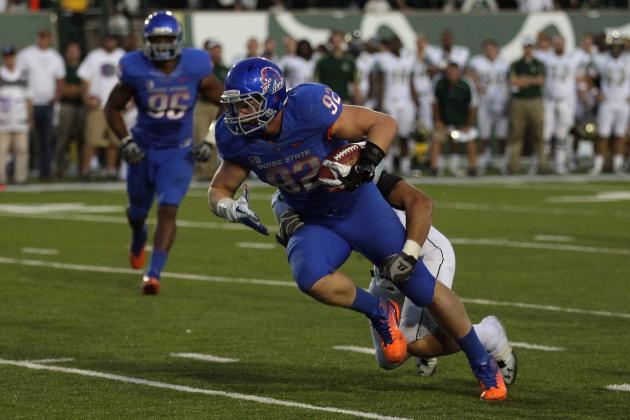 Doug Pensinger/Getty Images

Most people see Boise State and NFL Draft together and immediately go to the Kellen Moore debate. If you were to do that, you'd be missing a ton of defensive talent on that team.
Shea McClellin is a converted high school tight end. He lined up at defensive end for Boise State and made a living in the opponents' backfield. He might not be the most physically gifted prospect, but he has a relentless motor and always finds himself around the ball.
At the Senior Bowl, McClellin was put at OLB, a position he's never played, and made a seamless transition. That kind of versatility could have new defensive coordinator Steve Spagnuolo thinking of using him in the same way as Mathias Kiwanuka. Spagnuolo used Kiwanuka as a DE and a OLB.
McClellin could be a perfect complement to Martez WIlson on the weak side.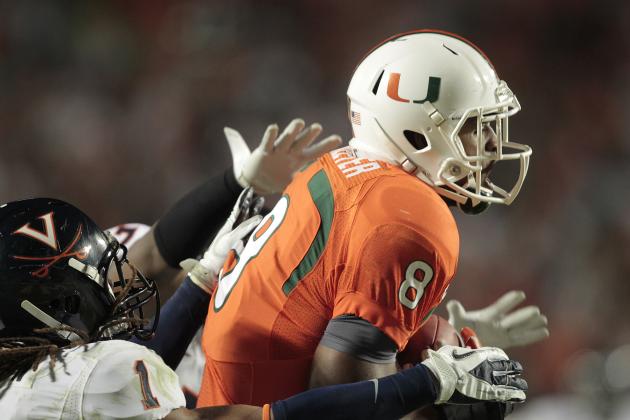 Joel Auerbach/Getty Images

Picking a WR is a higher priority for the Saints than most people would think. This position will be high on New Orleans' list because the WR position will be less of a priority in free agency.
That means that Carl Nicks and others will be more important to retain than Marques Colston and Robert Meachem. Both of those players will be seeking to cash in on all of the records the Saints broke in 2011.
Tommy Streeter is a faster version of Colston. He's 6'4", 220 lbs., with good hands and great leaping ability. He is a bit raw, but his natural athletic ability will win him most battles while he adjusts to the speed of the NFL. He also can pair up with Jimmy Graham in the red zone to give them another jump-ball specialist.
I'm not saying Streeter is anything close to what Colston is, but taking a chance on a raw playmaker in the third round from the "U" worked out well last time (see: Jimmy Graham).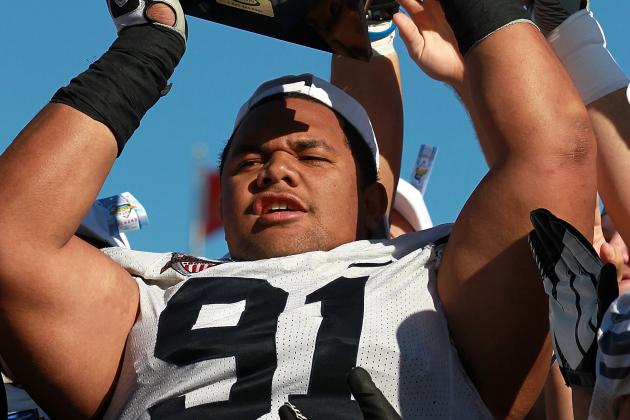 Ronald Martinez/Getty Images

In 2011, the Saints tried to shore up the DT position next to Sedrick Ellis with a couple of veterans on one-year contracts. Shaun Rogers and Aubrayo Franklin didn't quite live up to expectations, but I can see New Orleans bringing one of them back.
Even with one of those players back, the Saints need to get younger at the position.
Hebron Fangupo is a former USC recruit who transferred to BYU and did nothing but cause chaos in the opponents' backfield. He is another raw prospect that has the potential to be a star. He is made to be a run-stuffer at the next level and can use his girth to take on blockers to free up other defensive lineman.
Fangupo would sit behind Rogers or Franklin next year, but his brute strength and work ethic will earn him a spot in the rotation.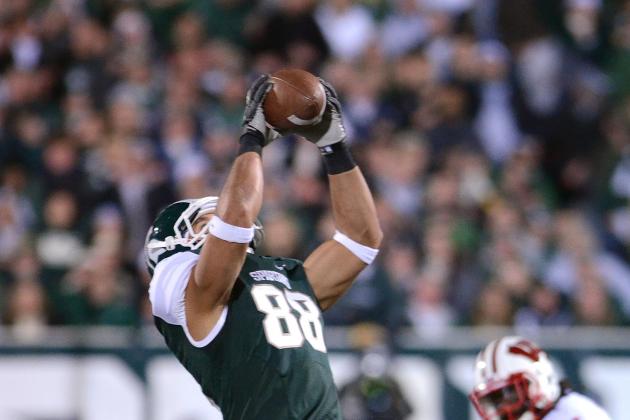 Mark Cunningham/Getty Images

Behind Jimmy Graham, the Saints are thin at the TE position. Dave Thomas is good No. 2 option, but he ended last year on injured reserve with a concussion. It wasn't the first of his career, and there is no telling if he can be the player he was before.
After Thomas, there are Michael Higgins and John Gilmore, who are nothing more than roster add-ons who can hold the fort in small doses.
Sean Payton already showed last year that his passing offense will be run through his RBs and TEs. With the impending losses of Colston and Meachem, we could see more of a move to TE-oriented offense with a slot receiver (Lance Moore) getting most of the receptions.
Sound familiar? It should, because that is how New England runs their offense.
Enter Brian Linthicum. He is a big, tall receiving tight end who has exceptional hands and great leaping ability. His stock isn't so high because of his lack of skills in the running game.
His blocking may be raw, but that is also what was said about Graham. His work ethic made him better in that aspect, and so will Linthicum's.
Linthicum isn't the most dynamic athlete and he won't blow by defenders. He will, however, give Payton a chance to spread Graham out more and take advantage of the mismatches he presents. With Graham spread out, Linthicum will have a chance to work the middle of the field.
That's a place where he excels.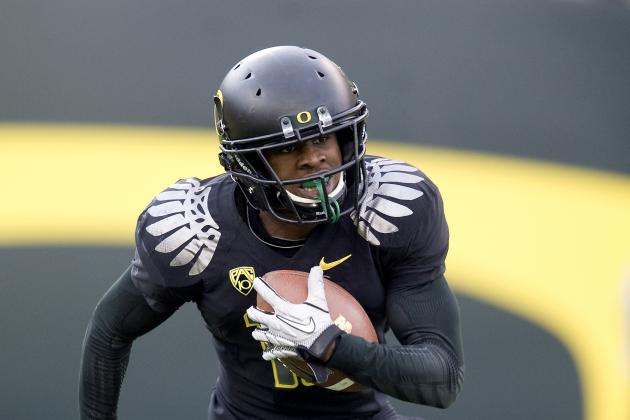 Steve Dykes/Getty Images

Remember 2009? When the Saints were grabbing turnovers like they were going out of style? Seems like it was a while ago compared to last year's turnover-challenged bunch.
This team needs playmakers in its secondary and they need 'em fast.
It's funny I should say the word "fast." That's the word that is associated with Cliff Harris in so many ways. The last straw from him was going 118 mph in an University of Oregon employee car while he had a suspended license, amongst other things.
Despite all of that, Harris is a game-changer, though his off-field problems will drop him down the draft ladder.
He's got extremely good ball skills (ask Andrew Luck) and is a better tackler than most give him credit for. He is best suited in zone coverage, where he can read the QB's eyes and make a break on the ball.
With Spagnuolo applying more pressure with the defensive line than blitzing, Harris could excel in this offense as a nickel corner at first.
He also has great return skills that could help ease the workload off of Darren Sproles and make the entire team that more terrifying.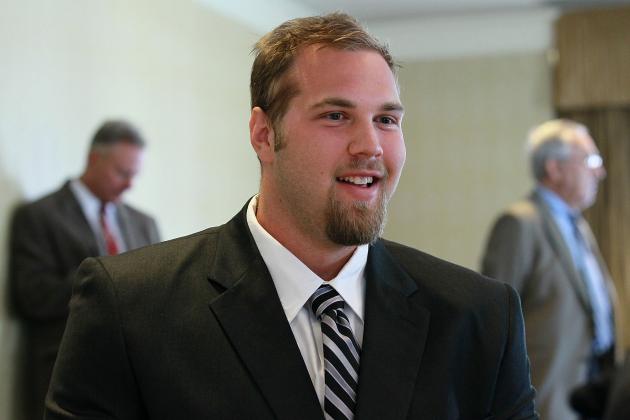 Justin Sullivan/Getty Images

Right tackle needs to be upgraded in some way. Charles Brown is looking more and more like a bust. Zach Strief is a capable spot starter, but not a long-term answer for the position. This position might not be looked at in free agency, but will be in the draft.
In no way am I saying that Mitchell Schwartz is an immediate upgrade, but he possesses the skills to develop into a heck of a right tackle in the future. He already excels in run-blocking, but a lot of experts question his pass-blocking.
At the Senior Bowl, he went up against Quentin Coples, a top-10 prospect, and shut him down most of the week in practice.
To me, that is a great showing against an elite, speed-rushing defensive end. I think he can get even better with great coaching.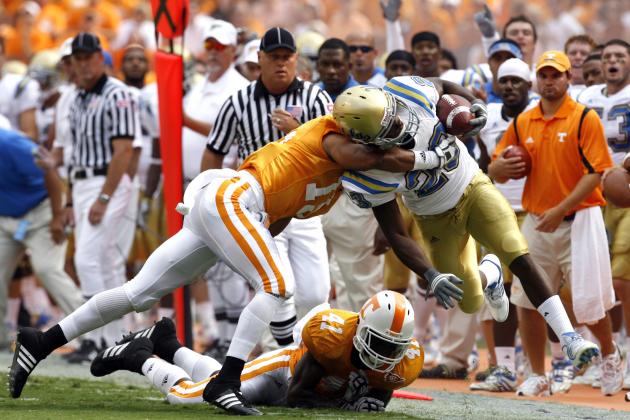 Joe Murphy/Getty Images

This is a pick that could be used in a variety of ways. Seeing that i haven't used a pick on the safety position, I will do so here. The Saints found an undrafted gem last year in Isa Abdul-Quddus from Fordham. They could go the small-school, big-time prospect in Janzen Jackson.
LSU fans in particular will remember Jackson as having spurned the Tigers for Lane Kiffin and Tennessee. That didn't turn out so well. Kiffin was one-and-done, and Jackson was dismissed off the team following the 2010 season for unspecified reasons.
Before all of that, he was an All-SEC safety in 2010, and was known for his big hits and his 4.4. speed.
He could be groomed to take over for Roman Harper after a year and add great coverage ability that has been lacking at the SS position with Harper there.