Premier League: 10 All-Time Villians
February 23, 2012

Dean Mouhtaropoulos/Getty Images
The Premier League celebrated 20 years this week. With that celebration, let's look back at 10 of the Premier League era's most hated players. 
Luis Suarez
It's taken just one year for Suarez to become one the Premier League's most hated players. On top of the Patrice Evra racism row, the Liverpool forward also flipped off Fulham fans after listening to 90 minutes of boos.
He's a player who plays on the edge and is prone to a dive or two, which doesn't endear him to fans. Suarez is the kind of player that divides fans. You love his "do anything to win" attitude if he wears your club's kit, otherwise you despise the fiery Uruguayan.
John Terry
He was England's captain, then the racism row with Anton Ferdinand and QPR happened. Before allegedly racially abusing Ferdinand, Terry was a much-maligned player in the Premier League. The Chelsea captain slept with a teammate's girlfriend (Wayne Bridge), and he is the leader of an unlikable bunch of players—for the most part—at Chelsea.
When he isn't suiting up for England, which might not be for a long time now, Terry gets the boo-boy treatment because of the way he carries himself on and off the field, with a little bit of overconfidence.
Ashley Cole
He was a part of Arsenal's "Invincibles" in 2004, but a move to Chelsea in 2006 forever changed Cole's name and reputation. 'Cashley' forced the transfer to Chelsea for close to double the wages Arsenal were offering him after some illegal contact with Chelsea.
Cole is also known for cheating on his wife Cheryl with a secretary, which makes him and Terry the perfect pair of home-wrecking villains in the Chelsea defense. Cole's poor performances for England while on international duty haven't helped him get any love from fans, either.
Eric Cantona
Manchester United fans may know him as "King Eric"—the rest of the Premier League knows him as a hulking forward with a knack for scoring important goals and stirring controversy. In 1991, Cantona retired from playing altogether after calling the board members in France "idiots."
He was handed a two-month suspension, and a move to England was needed to re-charge his career. After a season at Leeds United, Cantona moved to Manchester and became a star who continued to never shy away from the limelight. 
After being sent off against Crystal Palace for kicking Richard Shaw, Cantona kung-fu kicked into the crowd. An eight-month ban followed, and Cantona put his mark forever on the Premier League.
Joey Barton
Twitter may make Barton look like a new man, but he's still the bad boy in the Premier League who spent 77 days in jail for assault outside a McDonalds in Liverpool.
While a member of Manchester City, Barton beat up his own teammate, Ousmane Dabo, during training. He started a brawl in a friendly game between City and Doncaster and put a cigar in a youth team player's eye.
That's just a smattering of issues Barton had while at City for five years. After a move to Newcastle, Barton's troubles followed him on and off the field. He's most derided for his high tackles, diving, loud mouth and off-the-ball antics.
Derided by more fans than loved, Barton looks more like a caricature than a player at times, which is sad because he had so much potential.
Robbie Savage
Once branded the dirtiest player in the Premier League, Savage had the distinction of being booked more than any other player in the Premier League's 20-year history—Lee Bowyer surpassed him, according to a Daily Mail story in 2008.
Savage was known for his ability not only to accumulate yellow cards, but also for his play-acting. He made his move to the Premier League with Leicester City in 1997 and enjoyed spells with Blackburn, Birmingham City and Derby County before retiring and becoming a pundit.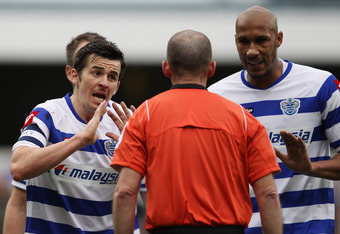 Clive Mason/Getty Images
El Hadji Diouf
If only Liverpool and England knew what they were getting themselves into when the Merseyside club signed Diouf from Lens in 2002.
Spitting has been a major theme for Diouf since his move to the Premier League, whether it be at fans or at opponents. But most recently Diouf went to a new low, something that seemed almost impossible for a player like him—he stood over and taunted Jamie Mackie after he broke the QPR player's leg.
Top that off with his friendship with the former leader of Libya, Colonel Gaddafi, and you have the perfect recipe for a player hated by all fans.
Craig Bellamy
The Welshman known for his hot temper and pace on the wings has found himself playing for plenty of teams over the years and making plenty of enemies. The fiery forward gets under the skin of his opponents with his play and big mouth, but it's his off-the-field issues that set him apart and make him an almost mythical figure.
The most infamous of all incidents came on March 1, 2007, when he confronted his then-teammate John Arne Riise with a golf club. After scoring for Liverpool later in the year, Bellamy celebrated by pretending to swing a club.
In recent seasons, Bellamy has made himself more of a fan favorite, but he's still a player who can divide opinions.
Carlos Tevez
The Argentine forward was a fan favorite at Manchester United for his hard work and his goalscoring prowess. But he acrimoniously left United for Manchester City for more money, and he's been called a mercenary for hire since.
His time at City has been plagued with off-the-field issues, and he's been made out to be a player who only plays for the money, not the love of the game. And that doesn't sit well with fans and pundits alike.
He was on top of the world while playing for Manchester United, but he was also hated to the core of his soul by anyone who doesn't love the Red Devils.
Ronaldo won the Premier League and Champions League and scored bundles of goals while marauding the left wing for United, but it was his diving and whining to referees that made him hated for his style of play. Arrogance and a show-boating style of play made him a player fans loved to boo whenever they had a chance.