UFC 144: Cheick Kongo vs. Mark Hunt Breakdown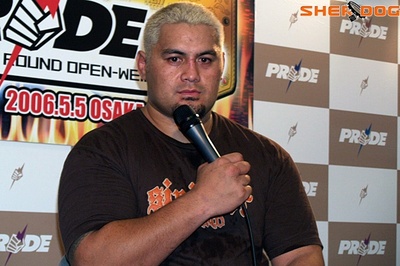 Mark Hunt/ Masa Fukui for Sherdog.com
A heavyweight clash could steal the show this Saturday as striking aces Cheick Kongo and Mark Hunt enter the cage for UFC 144, which takes place at the Saitama Super Arena in Japan.
Kongo, a perennial contender in the UFC, will look to extend a four-fight unbeaten streak when he takes on Hunt, a veteran of the Pride circuit who also looks to break into the batch of top contenders in the heavyweight division.
Who will come out on top and emerge as another top dog in the talent-laden division?
Mark Hunt/ Masa Fukui for Sherdog.com
Begin Slideshow

»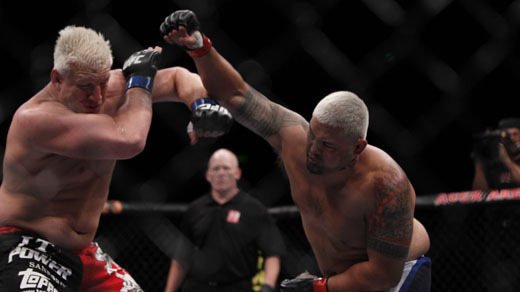 Hunt (right)/ James Rees for MMAWeekly.com
Kongo is regarded as one of the best strikers in the heavyweight division—and for good reason.
A multiple-time world champion in the Muay Thai world, the Frenchman has transitioned his skills well inside the Octagon, where impressive victories over fellow strikers in Mirko Cro Cop and Pat Barry have ensued.
The fight against Barry was especially impressive, as the towering Kongo managed to survive an early scare from Barry, turn the tide and score the evening's "Knockout of the Night" with a single right uppercut.
However, in Hunt, Kongo meets a man that can eat them as well as he can give them.
Hunt, the 2001 K-1 World Grand Prix champion, has been always been regarded as a talented kickboxer, mixing in wading hooks with effective kicks; however, it's his chin that may very well be his best asset.
Aside from a surprise knockout loss to Melvin Manhoef, Hunt has been able to withstand heavy punishment over the years, often times accepting damage in order to land his signature overhand rights, which have finished many opponents.
Should Hunt get inside of Kongo's reach and connect, it could be a short night for the Wolfslair product.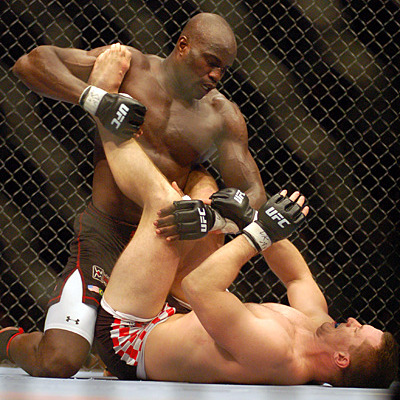 Kongo (top)/ Sherdog.com
Over the years, or at least since entering the UFC, Hunt has shown marked improvement in his ground game, which is all credited to Master Ricardo Liborio, who heads the famed American Top Team.
In his last outing against Ben Rothwell, Hunt showed improved takedown defense as well as some fancy jiu-jitsu work of his own, escaping from the mount and hitting a near armbar finish of his own in the second round.
However, despite all of his recent successes in the grappling department, he will find himself at a distinct disadvantage when it comes to the well-conditioned and powerful Kongo.
Since joining up with the Wolfslair crew, Kongo has honed his wrestling skills and has been able to become a versatile heavyweight, no longer the one-trick pony he was in his earlier days.
Kongo lulls his opponents into a false sense of security on the feet just long enough before he takes them to the canvas, where some nasty ground-and-pound blows await.
His victory over Mostapha Al-Turk was especially brutal, as the Frenchman wilted the grappler with a heavy dose of hammer fists, elbows and punches, which yielded the first-round finish.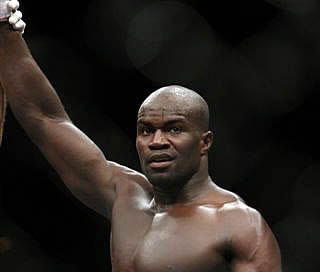 Kongo/ Sherdog.com
Mark Hunt may have the home-field advantage when it comes to performing in front of an adoring Japanese crowd this Saturday. However, it will be Kongo that exits the Saitama Super Arena with the decisive finish, likely winning over the crowd with an aesthetically pleasing performance.
Expect Kongo to mix in his strikes with his takedowns, wearing down Hunt as the fight moves into the later rounds. From there, Kongo will up the tempo and begin to deliver his crushing ground and pound, which will garner the mercy of the referee, who will step in to stop the blood bath in the later rounds.