NCAA Football, That's Quite a Mess You Made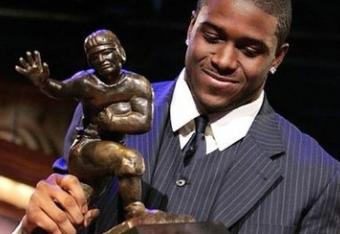 Reggie Bush

Oh, the joy that comes with collegiate sports. Student-athletes compete their hearts out every game until the final whistle. After all, college sports are supposed to be ultra-competitive, but at the end of the day, isn't it all about having fun? Thanks to the greed of players and universities, the game of college football has become corrupt.
Cam Newton, congratulations, Auburn won the silent auction. Your dad pretty much sold your rights away to play at the school. While you didn't get in any trouble, isn't it a little weird that picking Auburn wasn't really your choice? Your dad received money from Auburn since you were choosing to play their. Cam Newton must have had some idea that his father was trying to find the best deal for himself. It was Cam Newton's decision to pick his university, yet school officials and Newton's father were secretly working on a plan to pick to pay the Newtons for Cam's service.
Reggie Bush, it's time to fumble away your 2005 Heisman trophy. The trophy of all trophies is no longer yours. Why? Bush received improper benefits from USC. It is not fair to put all of the blame on Bush. No college student would refuse money, meals and merchandise. The school has deservingly been punished by the NCAA. The school knew better but thought they could get away with it. It is such a shame that Bush's Heisman trophy and remarkable 2005 season have been stripped of its value. USC was even been caught with tutors writing papers for players.
The University of Miami may be running on fumes. If punished by the NCAA, its football program may be no more. Why? A booster had given improper benefits to at least 72 players in eight years. This includes giving players thousands of dollars and taking them to exclusive parties that they should not be at. All of the money and materials given to the players was unnecessary. The players at Miami were all skilled and talented players. Now, the program may be shut down because of the lies that are hidden beneath the surface.
Do you think NCAA football is corrupt?
A booster from Alabama was convicted of paying $150,000 to bring in a player for the Crimson Tide. A.J. Green sold a Georgia game-worn jersey for $1,000 and was suspended four games for it. At the end of the day, the money wasn't worth the consequences.
Need a tattoo? Ohio State can find you a bargain. Jim Tressel and Terrelle Pryor had their college legacies crushed by the scandal. Buckeye players traded memorabilia for money and tattoos. It destroyed the respect of the once proud university.
The Penn State scandal had nothing to do with money or improper benefits. It had to do with the integrity of the game. Joe Paterno was the ideal coach. He wanted to win just as bad as any other coach, but was more concerned about his players becoming men of character. I hate to do this to the late Paterno but come on, we are talking about innocent children here. School officials were hush-hush about the Jerry Sandusky scandal, but for the sake of the children, do something. My heart went out to Paterno because his legacy was crushed by the disgusting deeds of Sandusky. The raping of children should never be handled like it was at Penn State. A role model university quickly became disrespected and it's a shame.
Where has the integrity gone in college football? Rather than setting up these young adults to have successful futures, universities only care about their results on the playing field. Isn't a scholarship paying student-athletes enough? You can't put a price on an education, but apparently you can put a price on a player.
The biggest concern for college football teams is money and image. That is why conferences are being realigned at a crazy rate. Boise State in the Big East? Does a school from Idaho even geographically make sense to be in a general eastern conference? Don't blame Boise State, they just want a chance to compete for a national championship.
Not belonging to a major conference makes it impossible to play in a national championship. The BCS system is a joke and doesn't reward talented teams because they don't play in a major conference. Boise State feels as if they have gotten screwed over, and they should feel that way. Now they have to move to the Big East just to show the nation they could play? It's a shame.
College football has corrupted itself over time. It used to be a joy to watch kids play their hearts out and earn a free education because they are talented in a sport. Now the "game" is all about politics. How many 5-star players can a university attract? How many players can a university send to the NFL? The game of college football has turned into a disgusting game of lies and cheating. And it's a shame.
This article is
What is the duplicate article?
Why is this article offensive?
Where is this article plagiarized from?
Why is this article poorly edited?