Minnesota Vikings 2012 Mock Draft: 7-Round Predictions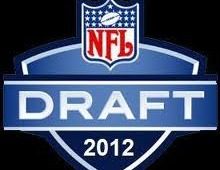 2012 is a defining year for the Minnesota Vikings. They need help all over the field, most glaringly in the defensive secondary. The Vikings were a minus three in the give/take department last season. They need immediate help at corner, safety, and outside linebacker.
They also need some help up front to give second year quarterback Christian Ponder some time to throw the ball. The 2012 draft is very deep. Smart, savvy selections could go a long way in getting the Vikings back into the playoffs.
Here is my seven round mock draft for the Minnesota Vikings.
Begin Slideshow

»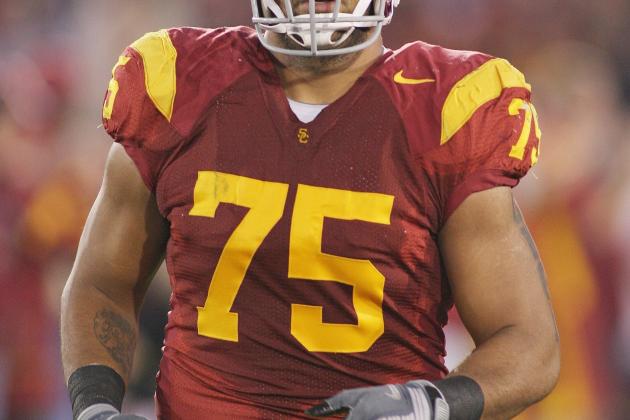 Jeff Golden/Getty Images
USC OT Matt Kalil
The Vikings will pick third overall, and offensive tackle Matt Kalil from USC should be available. Kalil had a stellar career at USC. He is big, mobile, and smart. The Vikings are going to need to give QB Christian Ponder some protection, and Kalil is a great step forward.
The Vikings allowed 49 sacks last season. Kalil gave up a total of zero sacks last season at USC. He can anchor the offensive line in Minnesota for years to come, and who knows when another prospect of Kalil's caliber will be available for the Vikings. Kalil is a no-brainer at three, if he is available.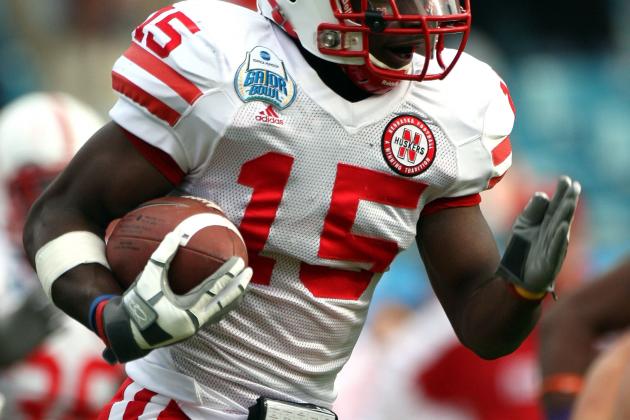 Sam Greenwood/Getty Images
Nebraska DB Alfonzo Dennard
The Vikings desperately need help in the defensive secondary. Nebraska's Alfonzo Dennard is a great pick for Minnesota early in the second round. What Dennard lacks in height (almost 5'10") he more than makes up for with elite level speed and athleticism. This kid is a ball-hawk if there ever was one. Teams preferred to throw at Prince Amukamara, first round pick of the Giants, than at Dennard when they were both in Nebraska's secondary.
He will need to work on his footwork at the NFL level. He is always around the ball, and lives for the big play. While this is a great characteristic, he is susceptible to biting on play fakes and allowing his man to get behind him. If he works on that, he can be a dominant corner in the NFL.
Playing alongside NFL veteran corner-back Antoine Winfield will be a huge plus for Dennard, as he can learn from the seasoned pro what it takes to be a shut down corner in the NFL.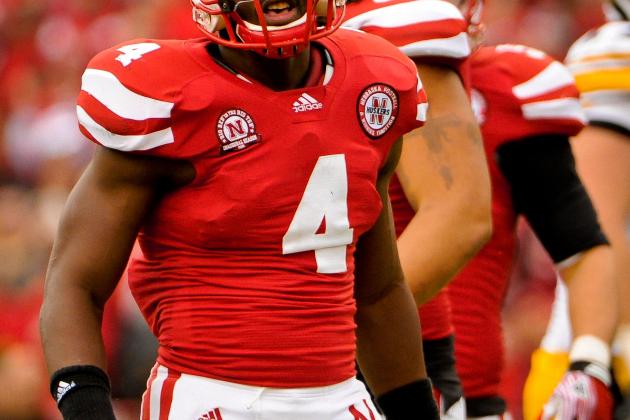 Eric Francis/Getty Images
Nebraska OLB Lavonte David
The Vikings need defensive help all over. Lavonte David, another Cornhusker, is a great example of a guy who might have been a running back in a different world. David is a freak of an athlete, 6'1", 225 lbs with blazing speed. He has a nose for the ball, and a habit of making big plays.
David is solid against the run, and can cover slot receivers. With Chad Greenway on one side, David can anchor the other. This will allow Minnesota to play E.J. Henderson less, and give his little brother, Erin Henderson, more playing time, as he is the future at middle linebacker for Minnesota.
With Greenway, Henderson, and David at the linebacker slots, Minnesota is instantly a better defense. At the very least, they will have one of the fastest line-backing corps in the league.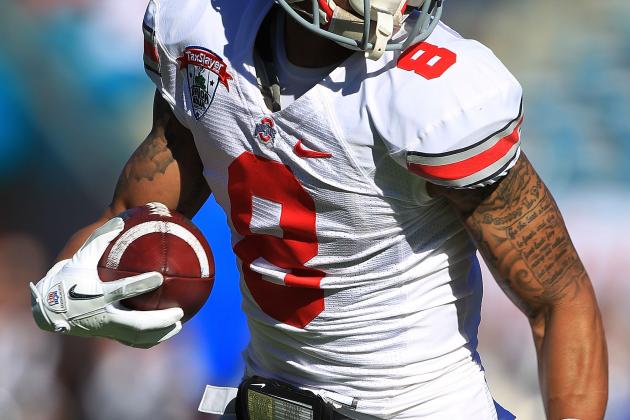 Scott Halleran/Getty Images
Ohio State WR DeVier Posey
At some point the Vikings will need to get help at wide receiver. While the free agent market will be flooded with them this year, a fourth round pick is not a bad place to find a starting receiver. Ohio State's DeVier Posey would be a great fit for Minnesota. At 6'1", 210 lbs, Posey has the size to be a success in the NFL.
Posey is great getting off the line quickly, but NFL defensive players are much bigger than he is used to, so he will have to prove he can effectively break through the jam of an NFL defender. I believe Posey is a top tier talent, and is being overlooked because of the depth of the receiver position in this year's draft. He is the best route-runner in the entire draft, getting out of his breaks quickly.
Normally, I don't like taking receivers in the draft, as I prefer free agency, but all indications are that Posey will be on the board when the fourth round rolls around, and if that holds true, the Vikings need to take him. Athletes like this are usually gone by this point in the draft.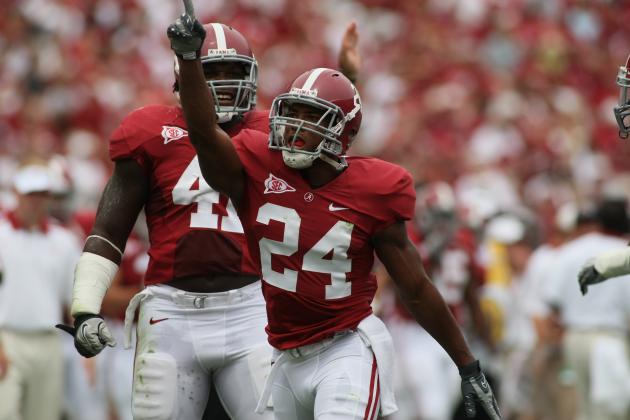 Greg McWilliams/Getty Images
Alabama DB DeQuan Menzie
Keeping with the theme of defense, DeQuan Menzie is a solid fifth round selection for Minnesota. Menzie was part of the best defense in college football last season. Menzie led the team in pass breakups. At 5'9", 195 lbs, he has good size for an NFL corner back.
Menzie is not the fastest corner in the draft, but he is talented and very physical. He likes to jam receivers off the line, throwing them off their routes early. The Vikings need all the help they can get at corner, and one lesson we should learn from the NFL's best drafting teams: take players from top tier college programs. It works.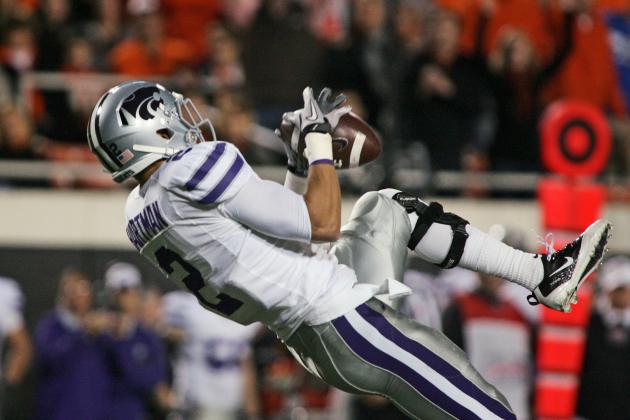 Brett Deering/Getty Images
Kansas State S Tysyn Hartman
The Vikings need a safety, and Tysyn Hartman should be available here. Hartman has great size at 6'3", 210 lbs, and solid speed and agility. Hartman is a good cover safety, but will be better in defending the run. He can get into the backfield on blitzes, and can plug the holes against the run, tallying 62 tackles last year.
Minnesota has missed on more than one safety in previous drafts, but this deep, Hartman is a safe choice. He should be able to step in as a starter right away, and learn on the fly. I realize this is starting to make the Vikings very young and inexperienced in the defensive secondary, but young is better than bad. Bad would be a step up for last year's secondary, horrendous would be more accurate.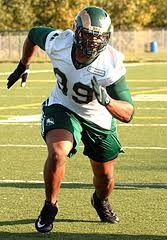 Regina DT Akiem Hicks
Akiem Hicks is an absolute monster. At 6'5", 330 lbs, even if he is the worst defensive tackle ever, his size alone plugs holes. The Vikings missed Pat Williams last year, and he might have been the most out of shape player in the NFL.
With Jared Allen and Brian Robison on the outside rushing the passer, Hicks' tall stature should be able to knock down passes and irritate opposing quarterbacks' line of vision. Hicks was once enrolled at LSU, but was deemed ineligible due to alleged recruiting violations.
Hicks went on to play at a Canadian University, keeping his NFL dreams alive. He is the only player from a Canadian Institution to be invited to the combine in Indianapolis. If Hicks is good enough for Les Miles, he is good enough for me. The Vikings will be lucky if he is available in round seven, but it is certainly not impossible. If he is there, Hicks is the smart pick.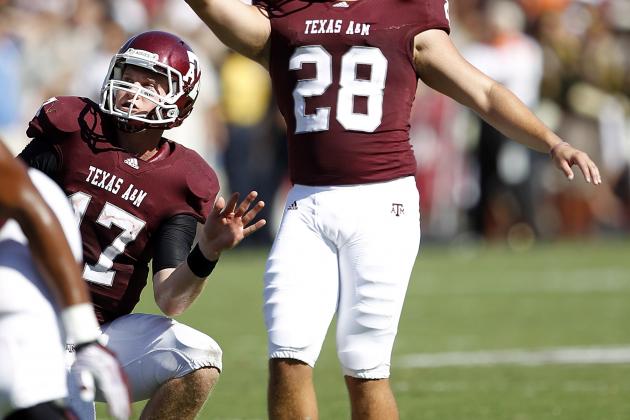 Bob Levey/Getty Images
Texas A&M PK Randy Bullock
The kicking game in Minnesota has always been strong. Ryan Longwell, the Vikings current kicker, entered the league in 1997. While he is still a viable option, taking a kicker this year is a smart idea. Statistically, the majority of seventh round picks usually will not make the roster anyway.
Randy Bullock is a kicker with loads of potential. He made 25 of 29 field goals last season, with a long of 52 yards. He led the entire FBS with 2.08 field goals per game. Drafting Bullock now allows him to learn under the tutelage of Longwell, and it gives Longwell the opportunity to pass down all the wisdom he has to a young, rookie kicker.
Longwell would most likely retire after 2012 anyway, this way he gives the team a huge parting gift by mentoring Bullock before he goes.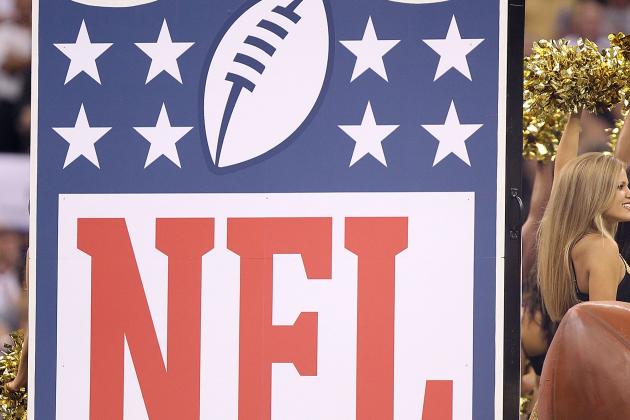 Ronald Martinez/Getty Images

The bottom line is this: the Vikings were terrible last season. The franchise running back is recovering from a complete ACL tear, the defensive secondary was the worst in football, and the offensive line is rag-tag at best.
It is clear that Minnesota is going to face some growing pains here, but with a successful draft, their turnaround time could be cut in half. The playoffs are a long shot in 2012, but the NFL, more than any other professional sport, has non-playoff teams make the playoffs the next year quite frequently. It is cliche, but the parity is there.
Patriots coach Bill Belichick, and several other NFL head coaches have one thing right: pick up draftees from successful college football programs. When in doubt, look for guys from the top programs who might have been lower on the depth chart rather than starters from smaller programs. Success is built from within, and the players from places like Alabama and LSU tend to have more success at the next level than their smaller school counterparts.