Magic Johnson 'Dishes' On ESPN Doc, Broadway Play
February 23, 2012

Stephen Dunn/Getty Images
It has been two decades since Earvin "Magic" Johnson, months removed from announcing his retirement and HIV infection in November 1991, made his triumphant return to professional basketball in an emotional performance in the 1992 NBA All-Star Game in Orlando.
Probably more than any other NBA game in history, that contest and surrounding events transcended sports, with the worlds of medicine, politics and media colliding in a charged atmosphere that ended with an MVP trophy and group player hug for Magic.
Four memories of March 7, 1992, stand out for the Hall of Famer.
"First, the reaction of the fans, cheering me no matter what I did," Johnson said on a teleconference yesterday. "I could have missed all 15 or 20 shots and they still would have cheered. Second, that group hug at the end of the game. Third, the hook shot over [Dennis] Rodman. And fourth, the three threes I hit in the fourth quarter."
As incredible as his performance was on the court, Johnson is defined more by his actions at the November press conference and in the following weeks and months. The saga is the subject of an upcoming ESPN documentary, "The Announcement," set for March, and will be a key component of Magic/Bird, a Broadway play opening April 11 at New York's Longacre Theatre.
The film and play will by the nature of each have to tackle the subject from different angles, the documentary revisiting the time and reflecting on the 20 years that have passed, the play dramatizing the scene on stage, perhaps more from Johnson's own perspective. Both will have the advantage of Johnson's input and blessing regarding that trying time which had worldwide impact.
"When I think back on the All-Star Game, I first thank the fans for voting me in, commissioner David Stern for allowing me to play and Tim Hardaway for letting me start in his place," added Johnson. If you remember, there was a lot of uncertainty among players who didn't know if they wanted to play with me on the court. But once we started playing ball, Dennis Rodman took it upon himself to play hard, going to the body, and I think that calmed everybody down."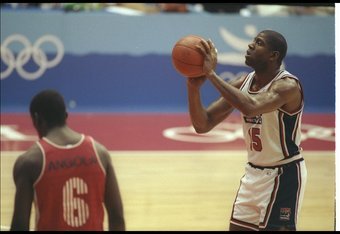 Mike Powell/Getty Images
Apparent even more in reviewing of the original press conference today is the calmness that Johnson showed in the face of what was then considered by many to be a death sentence. The acronyms HIV and AIDS carried with them a stigma that, while curtailed by increased knowledge and research over the past two decades, still exists to a large degree today. Johnson would have no part of it.
"I've always been a strong person—God blessed me with that," said Johnson when asked about the source of that strength and calmness. "That inner strength comes from my dad, who is a strong man and I'm just like him. And then, of course, the smile came from my mom.
"I always wanted to make sure that I remained the leader that I was and they knew. And when I made the announcement, I wanted everyone to know I'm still Earvin Johnson, still the player, the person, that wasn't going to change. It's important that my teammates knew that, the fans, and the HIV/AIDS community."
The monumental task of trying to capture everything "Magic" on stage falls to actor Kevin Daniels, recently seen in a recurring role on Modern Family. Johnson met Daniels and came away impressed with the 35-year-old.
"I think he will do a great job," said Johnson. "He definitely has the personality, the smile, he's excited about playing 'Magic,' we had a great conversation. The meeting with him was great, he wanted to know my mindset on winning, my reactions to the announcement, things of that nature. He took those down and I look forward to seeing rehearsals and how he does."
And Johnson gave Daniels some valuable advice.
"I told him to just remember to keep that big smile going, keep that winning spirit."
For Johnson, being the subject of a Broadway play had never entered his mind. But with the input that he—and especially the often exacting Bird—have been able to inject into Magic/Bird, and the success that producers Tony Ponturo and Fran Kirmser and director Thomas Kail had with Lombardi on Broadway last year, he is confident it will be a winner.
"We made sure that we had a lot of input, that it captured our voice," said Johnson. "And Larry's tough—so they had to pass a big test with him. But we were really happy that Tony and Fran and Thomas Kail were involved—they had done such a great job with Lombardi. I don't think if we were the first sports play that we would have done this."
Jerry Milani is a Featured Columnist for Bleacher Report. Unless otherwise noted, all quotes were obtained first-hand.