Jay Wright Paid for Dinner with ESPN's Bilas, Raftery & McDonough. Kosher?
February 23, 2012

The NCAA has a lot of rules, mostly centered around protecting student athletes from receiving improper benefits. It does not, to the best of my knowledge, have rules about television announcers receiving improper benefits from coaches, who reportedly pay for expensive dinners after the crew called his game.
In the eyes of college basketball's governing body, Villanova head men's basketball coach Jay Wright didn't violate any bylaws by paying for dinner with ESPN announcers Jay Bilas, Bill Raftery and Sean McDonough after the three called Villanova's game against Connecticut on Tuesday.
There was no violation on Wright's part in offering to pick up a dinner check. Yet a different kind of violation clearly falls on the side of the ESPN announcers, graying the areas of journalistic integrity and media ethics.
Per Dan Gross of the Philadelphia Daily News:
OUT AND ABOUT * Villanova men's basketball coach Jay Wright had a late dinner after the Villanova/UConn game Tuesday at Davio's (111 S. 17th) with ESPN basketball analysts Jay Bilas, Sean McDonough and Bill Raftery.

The group went for a variety of appetizers, steak and pasta and four bottles of expensive wine. Bilas and Wright argued over the check, but Wright paid.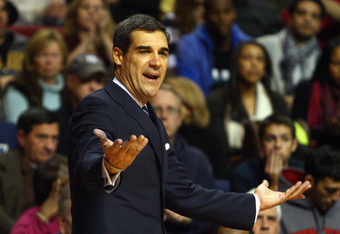 Chris Chambers/Getty Images
The dinner became a hot topic of discussion on Philadelphia radio Wednesday afternoon with 97.5 The Fanatic host Mike Missanelli and his producer, Jon Marks, both seemingly dumbfounded by the fact the ESPN employees would allow Wright to pick up the tab for such a lavish dinner.
Missanelli did some loose math to come to the estimation the dinner cost Wright somewhere in the neighborhood of "fifteen hundge," as he put it, for the four of them.
Based on the Davio's menu, guests are looking at $42 per steak, with the sides a la carte. The food alone had to cost somewhere north of $250, maybe as much as $300 depending on whether the table ordered their pasta as an appetizer, side dish or full plate.
And that's before the wine, folks.
Davio's does not have a wine list on their website, but their private event wine list includes a range of $45-59 per high-end bottle. Assuming a private event comes with some break in price, the average cost of "four bottles of expensive wine" could run, as Missanelli suggested on radio, around a hundred dollars per bottle. For argument's sake, let's split the difference and assume Gross considered "expensive wine" to be around $75 per bottle.
That puts the overall cost of the meal near $600 for the party of four. Add in tax and tip and, while not quite $1,500, the tab had to be well north of $750 for the meal.
To the average Tuesday night diner, spending that much money on dinner is unfathomable. Wright is not exactly strapped for cash, however, working on a current deal that pays him upwards or $1.5 million each season.
Per reports, his current contract is up after the 2012-13 season, meaning Wright is probably in line for a bump in salary. Despite an incredibly down year for Villanova's standards, Wright is not in any jeopardy of losing his job.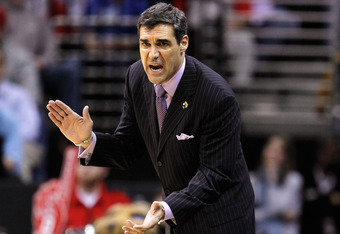 Gregory Shamus/Getty Images
Still, it can't hurt to have some influential opinion makers on your side—and perhaps in your pocket—when the topics of a contract extension or interest in higher-profile jobs become part of the national conversation. 
Let's stop for one second before I get myself in trouble. I am not suggesting that Bilas or Raftery or McDonough are now in Wright's pocket, taking one fancy-schmancy dinner in Philadelphia as a kickback to talk highly about the coach and his program.
I am not suggesting any of the three ESPN employees would have such a lack of integrity as to take a dinner out with a head basketball coach as payment for positive discourse on television.
I am not suggesting that.
I am suggesting that it's highly questionable for any member of the media to allow a coach to pay for any meal, let alone a meal this extravagant.
If Wright took the crew for cheesesteaks and picked up the tab, it would be just as improper for members of the working media—who had just worked a Villanova game—to allow the coach to pay. Yet the fact we aren't talking about a few bucks for South Philly cheesesteaks, but close to $1,000 for a five-star meal makes the revelation that much more disappointing. 
None of us are naïve enough to think this doesn't happen in every city, with every big-time coach in the country. And to think this specific ESPN crew is the only group to dine with high-profile coaches before or after a game is ridiculous. It usually doesn't make the papers, though, nor does the fact a coach and analyst "argued" over the check before the coach paid.
For years, sports information directors, athletic directors and, yes, coaches have welcomed national media to their markets with a little wine-and-dine the night before a game to bend a friendly ear in advance of a telecast. This is not new. Allowing the coach to spend such an astronomical amount of money on you seems inappropriate.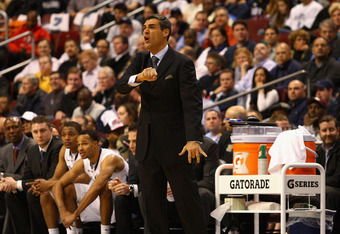 Chris Chambers/Getty Images
Missanelli wondered if Villanova's athletic department was picking up the tab for the dinner or if Wright paid for it himself. Either way, the clear violation came from the side of the members of the working media—all extremely well-respected men in college basketball—who allowed their integrity to come into question thanks to a note in a local gossip column. 
Will we think less of Bilas, Raftery or McDonough in their next assignment? Absolutely not. In fact, I almost feel bad about writing this, like I am doing something wrong by making this night out an issue. After all, they are three of the best and most respected TV guys in the business. Of course they won't let one dinner impact how they do their jobs.
That said, it creates an interesting side dish, if you pardon the pun, the next time they cover Villanova, the next time Villanova's recruiting efforts come up in a telecast and, certainly, the next time someone talks about Wright's upcoming contract situation.
Even if the meal was just one in a long line of fancy dinners with coaches after working their games, letting the coach pay—and it getting into the newspaper—has made this meal an issue.  
Of course, now I'm left wondering if Raftery ordered his steak with a side of Crispy Onion Rings (only five dollars). Please, restaurant managers around the country, remember these details next time you tip a gossip columnist about an ESPN crew schmoozing with a high-profile coach in your establishment.
Let's hope that next time, Raftery does the smart thing and suggests they split the check "man-a-man."