NCAA Tournament 2012: 15 Underclassmen Who Can Lead Their Team to a Title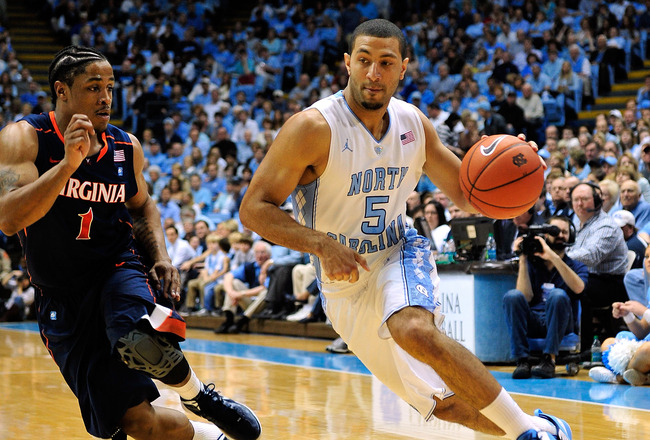 Grant Halverson/Getty Images
UConn was far from the best team in the 2010-11 regular season, but the Huskies won a national title on the back of junior PG Kemba Walker.
With Walker gone to the NBA, which of this season's underclassmen have the best chance to take over as a tournament hero in March?
North Carolina has underclass talent to burn, but the player who will have to carry the biggest load in the tournament is point guard Kendall Marshall. The star sophomore makes the nation's most dangerous offense click. If the Tar Heels cut down the nets this season, that offense will be the reason why.
Of course, UNC has plenty of competition for the championship laurels this spring. Read on for a closer look at Marshall and the rest of the underclass stars hoping to enter their names in the ledger of NCAA tournament heroes.
15. Junior Cadougan, Marquette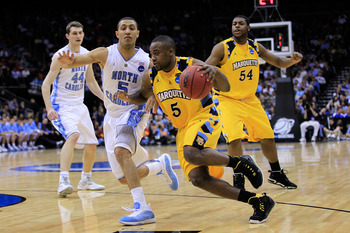 Chris Trotman/Getty Images
Marquette's current 11-1 spurt has left little doubt that their defense is ready for an NCAA tournament run. The offense, however, won't get them to a championship unless someone steps up alongside Darius Johnson-Odom and Jae Crowder.
The best candidate on the roster for that role is junior point guard Junior Cadougan.
In his first year as the full-time floor leader, he's already been a marked improvement over Dwight Buycks. Cadougan is dishing out 5.7 assists a game and could be in for a special postseason if he can just pick up his lackluster .404 shooting percentage.
14. Isaiah Canaan, Murray State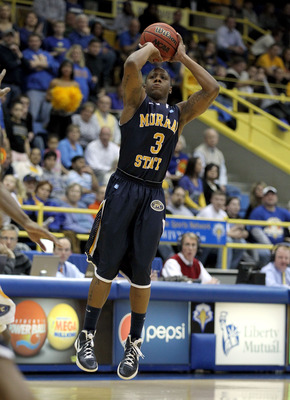 Andy Lyons/Getty Images
Yes, the undersized Racers are obviously a long shot for the championship. Still, after Butler and VCU crashed last year's Final Four, it's hard to write off a 26-1 team even if it does play in the Ohio Valley Conference.
If Murray State does come through in March, the biggest reason will be Isaiah Canaan, the junior sharpshooter who lit up St. Mary's for 23 points and four assists last weekend.
Canaan is not only the team's leading scorer (19.3 points a game), but he runs the point smoothly and keeps enough pressure on opposing guards to help mitigate the Racers' lack of length in the post.
13. Pierre Jackson, Baylor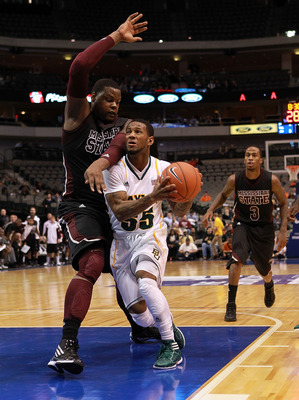 Ronald Martinez/Getty Images
The Bears' recent struggles have made it abundantly clear that Perry Jones III, for all his aspirations to a top-five draft position, is not the kind of player who can save them when the postseason going gets tough.
Baylor does, however, have a viable go-to option in junior guard Pierre Jackson.
An erstwhile reserve, Jackson has shored up a shaky backcourt since becoming a starter in mid-January. Not only is he second to Jones with 12.7 points a game, but his clutch shooting has helped the Bears avert several upsets in close Big 12 games.
12. Hollis Thompson, Georgetown
Mitchell Layton/Getty Images
Monday's blowout loss notwithstanding, Georgetown has the defense and depth to be a real threat in March Madness action. If the Hoyas hope to go the distance, though, they must avoid offensive meltdowns like the one they suffered at Seton Hall.
One of the keys to that effort will be junior forward Hollis Thompson, the team's second-leading scorer at 13.2 points a game.
At 6'8", Thompson is also shooting .477 from long range (21st in the nation). If Georgetown needs to make up a deficit, they're sure to call on him.
11. Phil Pressey, Missouri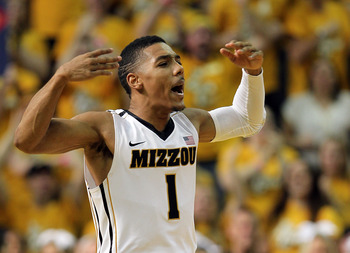 Jamie Squire/Getty Images
As loaded with seniors as Missouri's lineup is, a large share of their NCAA tournament fortune rests with sophomore Phil Pressey.
The Tiger point guard has played brilliantly on both ends of the floor, leading the team with six assists and 2.1 steals per game.
Pressey will have to keep the Tiger offense clicking in the slower-paced environment of postseason play, though with so many weapons around him, that won't be his biggest challenge.
More crucially, for Missouri to have any hope of a title, Pressey must stay out of foul trouble while turning up the pressure on opposing ball-handlers—the only weapon Missouri has to counterbalance its crippling lack of size inside.
10. Keith Appling, Michigan State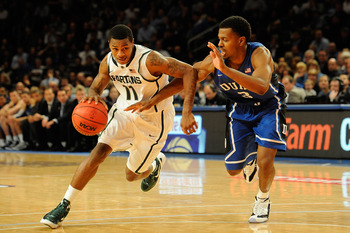 Patrick McDermott/Getty Images
Draymond Green is an enormous talent, but (as last year proved) he's not enough to make Michigan State a contender by himself. The reason the Spartans are leading the Big Ten this time around is the breakout performance of point guard Keith Appling.
The 6'1" sophomore is second to Green in scoring with 12 points a game while (barely) taking over the team lead in assists—3.8 to Green's 3.7 per contest.
Defense and rebounding are givens for Michigan State, but any championship hopes rely on keeping the offense humming. That responsibility will rest with Appling.
9. Michael Snaer, Florida State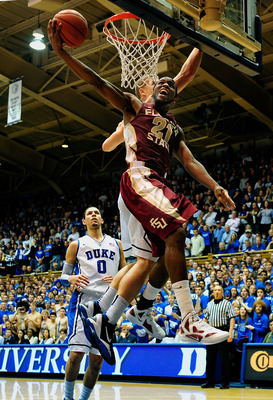 Grant Halverson/Getty Images
The Seminoles may not have quite the airtight defense of last year's edition, but they've beaten North Carolina and Duke (in Durham) and are very likely to equal or even exceed last year's 21-10 regular-season record.
The primary reason why is that Leonard Hamilton's squad has finally found an offense, highlighted by junior guard Michael Snaer.
Snaer has gone from a streaky but inconsistent shooter to the Seminoles' leading scorer at 13.5 points a game. He's also hitting a career-best .378 from long range.
If he gets hot from beyond the arc in the tournament, watch out.
8. Trey Burke, Michigan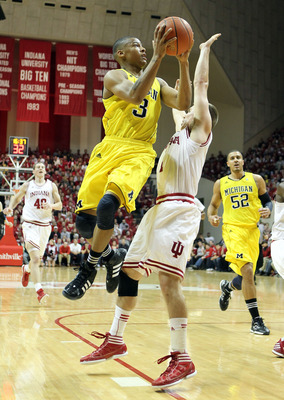 Andy Lyons/Getty Images
Freshmen aren't supposed to be the most dependable clutch players on contending teams. Nevertheless, there was Trey Burke last weekend, scoring a team-high 17 points and driving for the decisive basket in an upset of Ohio State.
Point guard play is at a premium in the tournament, and if Michigan does make a run in March, it will be on Burke's shoulders.
He's gotten stronger as the season has progressed, tying Tim Hardaway Jr. for the team lead with 14.3 points per game while also dishing out 4.8 assists a night.
7. Kenny Boynton, Florida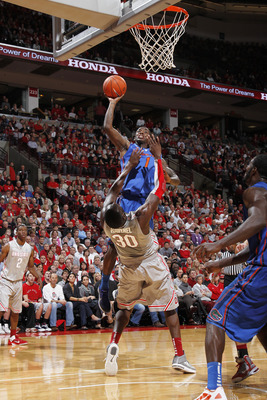 Joe Robbins/Getty Images
Freshman Bradley Beal is the biggest new arrival in Gainesville, but ultimately the Gators' postseason fate is in the hands of Beal's backcourt mates.
Fortunately for Florida, one of those guards is junior scoring leader Kenny Boynton (17.6 points a game).
Boynton's efficiency has skyrocketed this year, as he's shooting 47 percent from the floor and 44.2 percent from beyond the arc. The best weapon on the nation's 18th-ranked offense is a sure bet to make some noise in postseason play.
6. Jared Sullinger, Ohio State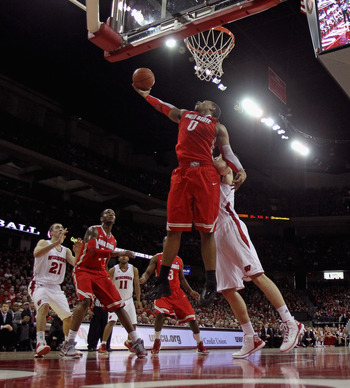 Jonathan Daniel/Getty Images
Although the rise of Anthony Davis and Thomas Robinson makes Jared Sullinger seem like yesterday's news, the Ohio State sophomore is still one of the nation's best players.
He's putting up 17.2 points and nine rebounds per game, similar numbers to the ones that earned him national Freshman of the Year honors last season.
The loss of some of the three-point gunners who surrounded him in 2010-11 has hurt Ohio State's record, but the Buckeyes will still be a foe to be reckoned with in March.
They'll go exactly as far as Sullinger can carry them, but don't be surprised if that trip takes them all the way to the national title.
5. Kendall Marshall, North Carolina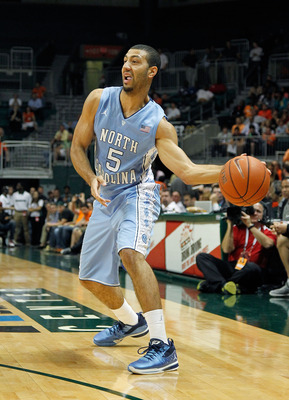 Mike Ehrmann/Getty Images
Despite being prohibitive preseason favorites for the national championship, 24-4 North Carolina faces some serious question marks as they gear up for March Madness.
One thing the Tar Heels won't have to worry about, though, is leadership at the point, where sophomore Kendall Marshall ranks second in the nation with 9.8 assists per game.
Marshall's distribution skills are not in question, but opponents have good reason to play off him and force him to score for himself—he's averaging just 7.1 points a night this season.
If North Carolina does come through with a championship, Marshall will have to knock down a clutch jumper or two before the tournament is done.
4. Austin Rivers, Duke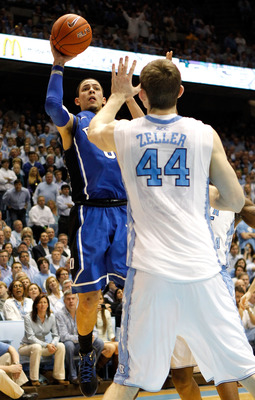 Streeter Lecka/Getty Images
Just because a player is overhyped doesn't mean he isn't also awfully good. Austin Rivers provided an impressive object lesson with his star turn in Duke's win at North Carolina (29 points, including the buzzer-beating three-pointer to win the game).
Even though he's lost out to Anthony Davis in the race to be the most overpowering freshman in the country, the son of Celtics coach Doc Rivers is a first-class scorer who has shown the ability to put Duke on his back when the team needs it.
He still needs to develop as a defender—a weakness in which he's not alone on this roster—but if the Blue Devils are looking for a clutch basket, Rivers is the right man for the job.
3. Fab Melo, Syracuse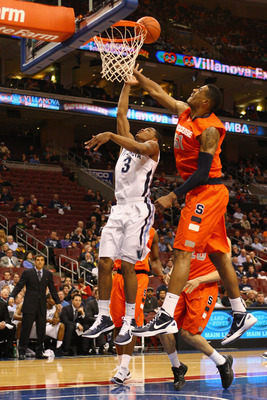 Chris Chambers/Getty Images
Although seniors Kris Joseph and Scoop Jardine take care of putting points on the board for Syracuse, the offense by itself is hardly national championship-caliber. If the Orange cut down the nets, the reason will be their brilliant defense.
The difference-maker in that defense is seven-foot sophomore Fab Melo, who's blocking three shots a game on the back line of the 2-3 zone.
As the Orange learned to their dismay in losing to Notre Dame, their ability to contain opposing post players depends very heavily on Melo's length and instincts in the middle.
2. Anthony Davis, Kentucky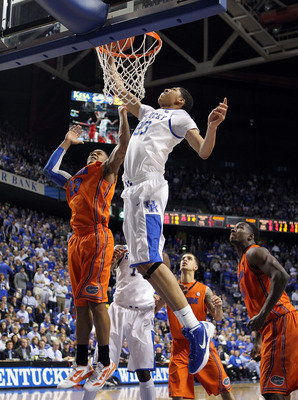 Andy Lyons/Getty Images
No player in the country forces opponents to change their game plans like presumptive Freshman of the Year Anthony Davis. The 6'11" shot-blocker's presence in the middle is Kentucky's ace in the hole on the defensive end of the floor.
On offense, while Davis is still very much a work in progress, his length makes him a serious threat on the boards.
His ability to create extra shots for himself is dangerous enough, but his ability to create more opportunities for Doron Lamb and Michael Kidd-Gilchrist will likely be the difference that puts Kentucky over the top for a national championship.
1. Thomas Robinson, Kansas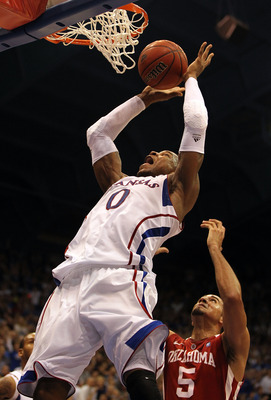 Jamie Squire/Getty Images
There are teams with better chances to win the national title than Kansas, but no player who means more to his team's hopes than Thomas Robinson.
The 6'10" junior is a leading candidate for the Naismith and Wooden Awards thanks to averages of 17.4 points and 11.9 rebounds a game (with the latter figure ranking second in the nation).
By himself, Robinson accounts for nearly one-quarter of the Jayhawk offense, so a huge tournament from him is a must if Bill Self's team hopes to go anywhere.
Don't be surprised if, like Kemba Walker, Robinson parlays a monster postseason performance into a lottery pick this spring.
Keep Reading