UFC 144: Is Frankie Edgar Able to Withstand a Slow Start vs. Benson Henderson?
February 23, 2012

Frankie Edgar is a slow starter. It almost cost him the title when he fought Gray Maynard and it could end his title run when he faces Benson Henderson at UFC 144.
If Frankie Edgar didn't have one of the toughest chins in MMA today, there is a chance that fans would be talking about how Gray Maynard knocked him out in the first round.
Edgar was almost knocked out in the first round both times they fought for the title. Edgar was able to rally back from near defeat, though it cost him a decision win in their first championship encounter. Instead of getting a tight win, Edgar had to settle for a draw.
Even as far back as his fight with Matt Veach, Edgar has had a problem with coming out strong in the first round. He keeps being defensive and only after feeling out his opponent does he start to go on the attack.
It is a great tactic because it allows Edgar to understand his opponents' strengths and weaknesses while costing him a round at most. In three-round fights, it is a dangerous, but in title fights which are five rounds, it makes more sense.
The only flaw to it is when Edgar faces an energetic opponent who doesn't slow down. The champion is undersized for the lightweight division so he has always relied on speed and better conditioning.
That is going to change on Saturday when he faces Henderson. 
Henderson has not only competed in five-round title fights before, he started out fighting them at a breakneck pace. This is a man who was able to go three rounds with Clay Guida and win while fighting Guida's kind of fight.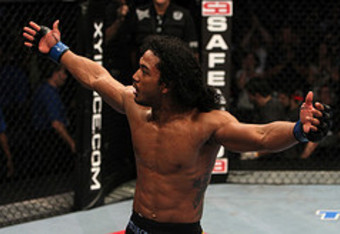 He also went five rounds with Donald Cerrone in WEC and was able to move from ground fighting to striking in a matter of seconds. He doesn't have a feeling out mode and losing even one round to him could cost Edgar the decision.
He can fight at the same speed Edgar does and do it for all five rounds. Throw in the fact that Henderson is taller and a better striker, and it could spell disaster for the lightweight champion.
Henderson is also driven in a way that only a man who was a champion before can be. He knows what it is like to be on top of the mountain and that motivates him even more. He has the chance to prove that he is the best, and unlike the WEC, it will be for the title of best in the world.
Edgar doesn't need to match the tempo that Henderson sets in his fights, but he does need to neutralize it. He can't let Henderson get even one round in the books. The rest of the fight is going to be hard enough to win, losing one fifth of it on purpose is something he should avoid.
If he chooses to ignore the danger of letting his opponent take the first round, it may lead to Henderson taking the belt as well.
And Edgar would have no one to blame but himself.
Matthew Hemphill writes for the MMA and professional wrestling portion of Bleacher Report.  He also hosts a blog elbaexiled.blogspot.com that focuses on books, music, comic books, video games, film and generally anything that could be related to the realms of nerdom.