Minnesota Timberwolves: 8 Things We've Learned at the NBA All-Star Break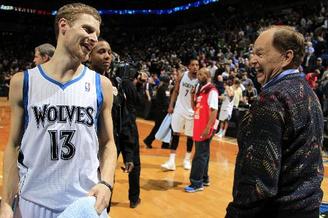 For the first time in nine years, the Timberwolves have a lot to smile about.
For the first time since the 2004-05 season, the Minnesota Timberwolves find themselves at the .500 mark with a record of 17-17. After a thrilling 100-98 win over the Utah Jazz on Wednesday night, the Wolves seem to have momentum going into the break.
It was a season that didn't begin on time and had a lot of unanswered questions. There's still some left to be answered, yet Wolves fans have to be ecstatic about being at .500 going into the break.
There's still a long ways to go in the season, but the NBA has learned a lot about the Timberwolves in the first half of the shortened season.
Begin Slideshow

»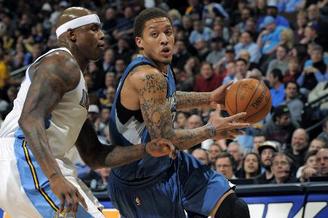 It wasn't too long ago when a trip to Minnesota meant one good quarter would provide an easy W for the opposition. That is no longer the case.
The Timberwolves are a competitive team that can possibly make the playoffs this season. One year ago, that seemed unthinkable, as the Wolves may have come out and given an opponent a slight run for their money in the first three quarters, only to see the other team turn it on in the fourth quarter to exploit the Wolves leaky defense.
Now, the Wolves look like a team ready to fight for all four quarters. Even when they are down (as they were last night against Utah), the Wolves never seem to give up. That mentality has led to an 11-8 record against the Western Conference this season.
That's a huge leap for a team that found themselves buried beneath everyone at the same time last year.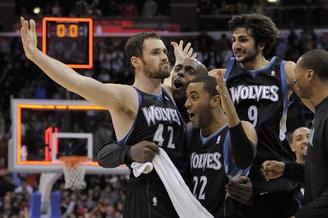 It wasn't too long ago that I cursed wildly at my television the morning after the 2008 NBA draft. After the Wolves traded O.J. Mayo for Kevin Love, I thought that Kevin McHale had made another Ndudi Ebi-size mistake.
Fortunately, I was horribly wrong. The evolution of Kevin Love has been spectacular, as he's found himself going from team malcontent (as he didn't see eye-to-eye with Kurt Rambis) to a top-five talent in the NBA.
It may be a little premature to say that, but look at Love's skill set. He has always been an elite rebounder and passer (for a big man, that is), but now, he's developed a jump shot. He's also been getting to the free-throw line on a consistent basis, which has led him toward the top of the scoring leaders.
His continued progression makes me think he's on an elite level with not only the elite power forwards in the league, but overall as well.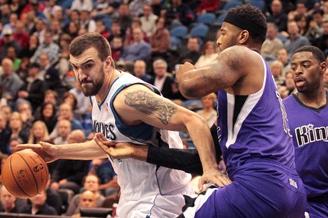 Another personnel mistake I made this year was groaning every time Nikola Pekovic came into the game. At first, it seemed like Darko Milicic was going to be servicable enough to be the Timberwolves starting center. Then, Darko got Wally Pipped.
Pekovic has made the most with his playing time and has become the starting center next to Kevin Love. What "The Big Peker" has done is taken some of the heat off of Love so that teams have to concentrate on other areas of the court.
That has lead to both Pekovic and Love with some excellent scoring opportunities in the post.
The Timberwolves haven't had a legitimate center since Rasho Nesterovic was ballin' with Kevin Garnett (and even that wasn't so great). What Pekovic has done is given hope that he'll continue to develop and give the Wolves a physical presence in the post for years to come.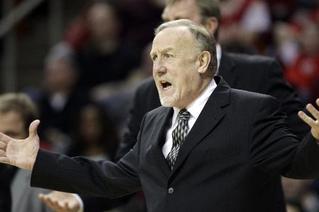 After last season, the Timberwolves weren't an elite destination for a coach looking for work. After having several coaches over the past decade, it seemed like the best the Wolves could do was a father-son combination of J.B. and Bernie Bickerstaff.
Then, out of nowhere, Rick Adelman showed interest in the Wolves coaching position. Adelman had built a relationship with Kevin Love from his high school days in Oregon and wanted to lead the team.
The only problem was that he wanted to control the team on the court, something that David Kahn wanted no part of. Team owner Glen Taylor overrode Kahn, and the decision couldn't have paid off any better.
The Timberwolves have become a legitimate defensive team that has bought into Adelman's system. There are still some kinks to work out offensively, but the Timberwolves are a much improved team despite having a very similar roster to last season's 17-win squad.
The hiring of Adelman has gone a long way to bringing the Wolves back to respectability.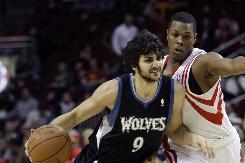 One of the biggest question marks coming into the season was whether Ricky Rubio would be able to play in the NBA. After wowing scouts with his performance in the Olympics four years ago, Rubio struggled to find a groove playing in Spain for two years.
Turns out rumors of his demise have been greatly exaggerated.
While Rubio does not possess an elite jump-shot by any means, he is exactly what David Khan envisioned him to be when he took Rubio with the fifth-overall pick in the 2009 NBA draft.
Rubio is a player that can make the right pass at the right time to give his teammates open looks. His play is another reason why Kevin Love has gone from a good player to an elite player while others are rapidly improving as well.
Simply put, Ricky Rubio belongs in the NBA.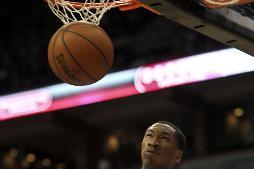 As I've mentioned earlier, I'm not a big fan of Wes Johnson. While he put up big numbers in his lone season at Syracuse, he hasn't been able to translate that success to the NBA.
While some of that can be attributed to Johnson playing out of position (he's more suited at small forward), it's still a fact that Johnson can not play shooting guard in the NBA.
That's a big problem because nobody else on the Wolves roster seems to be fit to play the position either except for the three point guards (J.J. Barea, Luke Ridinour and Rubio).
As the trade deadline approaches, the Wolves have a tough decision to make. They can either let this team roll without a shooting guard and watch brick after brick be thrown up, or they can mortgage their future and trade for one such as Monta Ellis (who Golden State is probably not willing to give up).
However, with limited assets and no first-round pick in 2012, the Timberwolves may wait until the offseason to address this issue.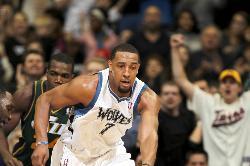 With the second-overall pick in last June's draft, the Timberwolves selected Derrick Williams out of the University of Arizona. He was the best player available at the time, but the problem was, he was similar to a right-handed version of Michael Beasley.
Turns out, he wasn't quite like Michael Beasley, as he hasn't figured out how to play small forward in the NBA. Williams has been very good off the bench, but Adelman refuses to play him at the three because of defensive concerns.
This will be something that Derrick Williams will have to improve upon if he wants to remain a Timberwolf. Because of the blossoming of Kevin Love, Williams will need to find a way to play small forward.
The good news about this is that every coach has raved about Williams' desire to improve at every level. He wasn't on anybody's watch list coming out of high school and improved every season at Arizona during his collegiate career.
Williams' work ethic will go a long way in helping him, which is a good thing. Because he has a long way to go.
As mentioned earlier, the Wolves have played everybody tough. However, there is a difference between playing teams tough and being a legitimate playoff contender. The Wolves are on the verge of making that leap in just one season.
The Timberwolves are a transformed team on both sides of the ball, with several weapons that can hurt you. For the first time in a while, they also have depth on their bench, with players who can provide quality minutes to give their starters a rest.
There are concerns with the Wolves, but if they can stay healthy and avoid hitting the second-half wall, it's possible the Timberwolves could wind up in the playoffs for the first time since 2004.
Oh, and don't forget what former coach Kurt Rambis said once or what Chris Paul said about the Hornets receiving a guaranteed lottery pick from the Timberwolves.
This all would make it very refreshing to see the Wolves playing into May.