Ronda Rousey Becomes the Female Chael Sonnen
February 23, 2012

 Strikeforce fighter and accomplished judoka Ronda "Rowdy" Rousey has been making a bit of a name for herself, not only in the steel cage but also as the female doppelgänger of Chael Sonnen.
Rousey only has four wins in as many outings on her resume, yet she believes a title shot is warranted—one that will come soon enough when she locks horns with Strikeforce bantamweight champion Meisha "Takedown" Tate on March 3 in Columbus, Ohio.
That said, Tate didn't take to kindly following Rousey's challenge to her coveted crown, given the fact she believed others like Sarah Kaufman were more deserved of a title tilt.
One of the reasons, if not the only reason the 25-year-old got her shot at the 135-pound belt is down to her eloquent, abrasive and often candid trash-talk—a signature vocality that has been for the past several years synonymous with none other than MMA's own master rhetorician Uncle Chael.
Akin to Sonnen, Rousey is fearlessly and overly outspoken, and the differential between the two and other fighters on the MMA circuit is their penchant for unashamed self-promotion—sometimes at any cost—if the end justifies the means, then it's on.
The Oregon's beration and taunting of UFC middleweight champion Anderson Silva has been well-documented. In addition, he's derided other Brazilian fighters as well as the nation itself. Rousey hasn't gone that far yet; however, she's on the right trajectory.
Sonnen loves courting controversy, and for the California girl, it was never more evident than when in an interview with MMAWeekly Radio she sided with Nick Diaz. This was in light of his recent suspension after testing positive for marijuana metabolites, prior to his interim title bout with Carlos Condit at UFC 143.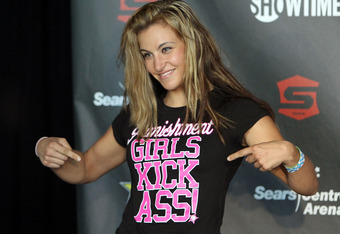 Her take on the matter was that marijuana wasn't a performance enhancing drug, and as such shouldn't be tested for.
If Rousey sounds a bit Rowdy and comes off too Sonnen-esque-like, then blame it on her affiliation with wrestling entertainment.
All that is required of Rousey is to capture Tate's Strikeforce gold, and then her looks coupled with her innate oratory skills will one day place herself permanently alongside the magniloquent one—Chael. P. Sonnen.
With regards to a Sonnen article, it wouldn't be complete without a quote or two, and the same applies to the heiress apparent.

On herself
"I'm the most dangerous unarmed woman in the world," Rousey says. "I've prepared my entire life to be that way. Whichever girl I'm going to fight, I'm sure that I'm going to find a way to win."

On Tate
"It kind of tells me that it's a little hypocritical that the girl with a picture of her in a thong on her Twitter is saying that I'm capitalizing on my looks."

On Cristiane "Cyborg" Santos
"If someone wants to play Twitter war with me, I'm the wrong person to mess with. I come from a family of a lot of quick-witted and accomplished women."
"I feel like anyone with half a brain isn't surprised. I have mixed emotions of Cyborg being caught cheating because I know everyone knew she was cheating and I wanted to make an example of her because you don't need to take steroids to win."

On Kaufman
"Sarah Kaufman kind of gives boring interviews, she's not a supermodel and the way she fights, she doesn't finish matches in extraordinary fashion. It's just kind of being realistic."
For additional information, follow Nedu Obi on Twitter.