Miguel Cabrera vs. Prince Fielder: Which Tiger is Offensive MVP in 2012?
February 23, 2012

Harry How/Getty Images
Miguel Cabrera and Prince Fielder each know what the other one's capable of, as well as what they offer in tandem. But, if they are anywhere as good as the baseball world is predicting them to be, their combination could write Detroit's playoff ticket early on and take the rest of the baseball world along for the ride.
Not only will the Tigers be in it for the long haul should the twin pillars start sending rockets out of American League ballparks like Jim Leyland changes his lineups, but the two behemoths might end up the most entertaining same-team MVP showcase in recent history. That's taking into consideration that the reigning AL MVP, Justin Verlander, also suits up for the Tigers. 
There's no question that inter-squad bragging rights are a part of the culture of major league baseball. It defines rivalries and challenges that aren't spoken publicly but burn in the passions of the game's best players. Cabrera and Fielder are certainly two of the best in baseball, and they are no different. Their first interactions in Lakeland, FL were filled with respectful chemistry and a gleaning of what might be on the horizon.
In the foreseeable future is a Detroit lineup that will rival the best in the game, and for Tigers fans, maybe the best in a generation. What it means for the rest of baseball? A pesky mix of veteran leadership in Cabrera and a menacing smasher in Fielder. Cabrera and Fielder will create dramatics throughout the season, it's almost inevitable.But who in the end will be the go-to-guy? Mr. Clutch? The Walk-Off King? For now, that's a good place to start drawing the line in the sand.
Not a whole lot different than last season, there's literally thousands of suppositions and hundreds of acceptable arguments for making the case for MVP status. The Tigers have several players that might push the argument for the team's offensive MVP come October, but few would argue that Cabrera and Fielder should find themselves comfortably at the top of the contender's list.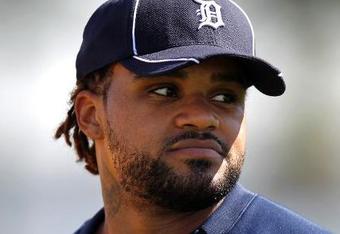 After the type of season Cabrera produced in 2011 playing in 161 games, the Tigers workhorse is poised to make his run at being crowned the league's best player. His .344 batting average and .448 OBP landed him fifth in MVP voting. In 2010 when he led the AL in OBP (.420) and knocked in a league-high 126 runs, he finished second in the tally for MVP. Nine times Cabrera has received MVP votes at the American Baseball Writer's Association (ABWA) ballot box.  
Nine times in nine career seasons. Yes, that's correct, Cabrera has received at least one MVP vote every single season of his major league career, finishing in the top five 5 times. Since coming to Detroit, Cabrera has led the league in almost every offensive statistical category of significance, including games played, doubles, home runs, batting average, on-base percentage, runs batted in, total bases and intentional walks.
The guy has done everything short of taking home his own MVP trophy, and it seems only a matter of time before that comes to fruition too.
Yet, how can it be that Fielder won't make as intriguing of an argument when it comes time to review his stats in consideration for this year's Tigers offensive MVP? Truth is, he absolutely can and should be considered. Talk about a guy with some protection in the lineup. How about Fielder, who will have two guys ahead of him and at least one guy behind him capable of hitting 30-plus jacks?
If all of them catch stride, it'll be murderer's row for sure.
Fielder brings a Goliath's presence to an already fearsome and XXL Detroit lineup, with the likes of Brennan Boesch and Delmon Young also surrounding him at the plate. Detroit's hefty lefty brings plenty of lumber all on his own and is a member of baseball's elite 50 home run club, having reached that milestone in only his second year of pro ball. He's hit 32 or more every season since, touching as high as 46 in 2009.
Obviously with long-range firepower like Fielder possesses, he also has huge potential to drive in a ton of runs, especially with Cabrera and Boesch in front of him. He led the National League in RBI in 2009 with 141. Throw in Jackson getting it done in the leadoff spot, and Fielder will be as good as anyone in baseball.
Just like Cabrera, Fielder earns plenty of free passes both earned and intentional and led the NL in both categories during his stretch with the Brewers. He does more than just knock the ball out of the park, too. Fielder's lifetime .282 average isn't Cabrera's .317, but his .299 in 2011 and 2009 show that he can hit for average when called upon. Fielder will have to add some consistently good timing and flair to his dramatic bombs if he wants to gain ground on Cabrera, who could hit 50-plus points higher.
At the end of the day, Fielder's strong .390 career OBP will challenge Cabrera's .395 mark as both players will get an equal share of at-bats in 2012. Neither player takes too many days off during the season, so when it comes time to total up all the stats (and those crazy ones that baseball pundits make up to dummy down true stats that really matter to baseball aficionados) it could be a knock-down, drag-out 162-game battle to determine the winner.
I'll give 2-to-1 odds on Cabrera to get the better of his new teammate. One bet's for sure, though: it'll make for one helluva fun summer watching it all go down.