Atlanta Falcons DE John Abraham's Likely Leaving: Top 5 Replacement Options
February 23, 2012

Kevin C. Cox/Getty Images
According to NFL Network's Steve Wyche, "Agent for Falcons DE John Abraham says he's spoken to Falcons and believes the DE is bound for free agency. #NFL.com/#NFLNetwork."
There are a few theories here.
The first is that Abraham is just being allowed to test the market and could be coming back. But let's take this as Abraham is leaving Atlanta, and take a look at the guys who could take his spot as the starting right end in Mike Nolan's new defense.
Lawrence Sidbury
The first and most cost-effective option could be to look within the team ranks and the one guy who stands out is Lawrence Sidbury. Sidbury in only 220 total snaps and 129 pass rush snaps this past year had four sacks, two hits and 12 hurries.
That means once every seven snaps or the same rate that Abraham was getting to the quarterback. Looking into it though, he would have to improve his run defense.
With Nolan and Ray "Sugar Bear" Hamilton though, Sidbury could be the surprise of the entire defense next year, starting role or not. He has an impact that could be forthcoming now that he finally has adjusted to the NFL.
Cliff Avril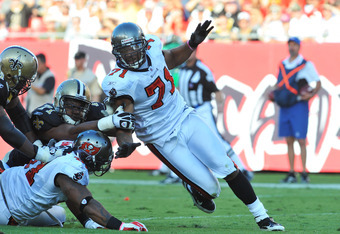 Al Messerschmidt/Getty Images
This is the top preference for a lot of fans. He's a true all around defensive end and his best asset is his pass-rushing. He does get double-teamed a lot when he is in games and has been playing in the wide-9 alignment for the Lions, which puts a lot of pressure on the offensive tackles with the defensive ends lined up an extra yard outside.
Nolan would love his ability to rush the passer and he would make an excellent complement to Ray Edwards and the rest of the defensive line.
Michael Bennett
More of a run-stuffer than a pass-rusher but another all around talent at the defensive end spot. He has a good bull rush move and could be a good rotational starter at left end and would allow Ray Edwards to play the right side.
Though he only played 630 snaps last year, he is used to being a part of a rotation. He also fits one of the best moves which is to steal a division rival's starter. Bennett had 38 combined pressures over the 336 pass-rushes he had this past year, and one of his best games was against New Orleans.
Mark Anderson
Mark Anderson is an interesting pick. After years of toiling on the bench in Chicago, he had a breakout year with 10 sacks, his highest total since his rookie year. He also had 45 combined pressures over only 325 pass-rushes and 440 total snaps in 2011.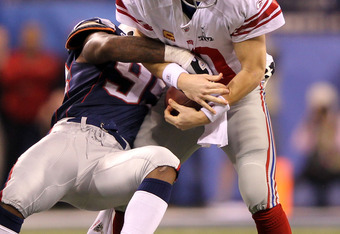 Jamie Squire/Getty Images
He also had three sacks and six pressures in the playoffs and fits the playoff and Super Bowl experience mold that Dimitroff is looking for. He would have to improve in run defense, but in a rotation with Sidbury and Edwards, he could be the top pass-rusher for Atlanta.
Mario Williams
This would be the Holy Grail of all free agent signings—especially if Atlanta could keep Decoud, Lofton and Grimes and still get Mario Williams. He's the top free agent on the market and might have to be a trade similar to what happened when Atlanta got John Abraham.
He had 24 combined pressures in only five games and 126 pass-rush snaps and five sacks in them as well. He would bring another dimension to the defense and is the only true all around defensive end on the market. He would also allow Ray Edwards the ability to have a Jason Allen level pass-rusher across from him like he did in Minnesota.
Then again, there is always the option of bringing back Abraham as a situational pass-rusher even if they do decide to use any of the above options as the starting right end. Abraham is still a great fit for the defense and the younger guys will always look towards him as a leader.