Peyton Manning Saga: Why Going to the New York Jets Makes Sense for Everyone
February 23, 2012

Andy Lyons/Getty Images
The first thing you're thinking is probably something like, "Oh look, another piece on a possible destination for Peyton Manning. Oh the joy."
Believe me, I know how you feel. I had promised myself that I was not going to weigh in on the Manning saga, but with all these rumors flying around of him going to teams like the Redskins, Seahawks, Cardinals, etc. I just couldn't resist giving my opinion on the situation. 
Now, those teams mentioned above would be great for Peyton Manning—without a doubt. However, the team I believe makes the most sense for everyone ('everyone' being the fans), the organization and, of course Peyton, would be the New York Jets. Please take into account that statement was just delivered to you by a Patriots fan who can't stand the New York Jets.
Now why would the Jets be the best fit for Peyton Manning?
First off, let us start with the offensive line. The Jets have a great offensive line waiting for Peyton Manning in New York. Led by C Nick Mangold, Manning would have plenty of time to throw in the pocket before seeing the pressure get to him. He would be able to make the best reads and create the big plays for the Jets, without worrying that there's someone getting ready to nail him from the blind side.
Another reason I like the Jets for Peyton is because of some of the tools he'll have around him. Picture this for a second: The play starts, Santonio Holmes breaks off his man and is calling for the ball while running strong downfield. Manning, being as great as he is at reading the field, sees this and hits him for what will likely be a touchdown. Does that sound good? If it doesn't here's a better one: Tight coverage, small window of opportunity, decisive third down, Manning still finds a way to hit Holmes and move the chains.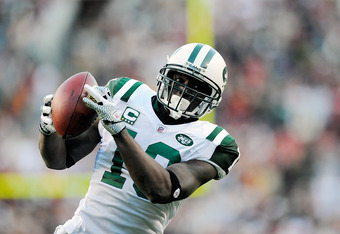 Patrick McDermott/Getty Images
Now, I could go on and on for days with those kind of scenarios, but the fact of the matter is that Manning would have a terrific receiver waiting for him in New York in Holmes, and with Manning throwing him the ball, Holmes becomes that much more dangerous. The Jets also have a great, underutilized tight end in Dustin Keller waiting for Manning. No matter who the Jets pair with Holmes as the other wideout, there's no doubt in my mind that their aerial attack is a force to be reckoned with.
That sets me up perfectly for the next point—their running attack. The Jets have been able to get the job done time and time again with just their running game and a good defense (which will be another point later). The running game balances out the offense, takes pressure off Manning and, on the rare occasion that Peyton Manning is having a bad game, the running game can easily take over and lead the charge for the offense.
Now some of you may be thinking, "Hold up a second here. I could have sworn the Jets already have a QB." You'd be absolutely correct to point out that the Jets already have a lot invested into their starting QB, Mark Sanchez.
Give this some thought however.
With Manning coming over to the Jets, Sanchez gets a chance to learn how to play the position from one of the greatest QBs to ever play the game. Sanchez, who is already a talented QB in his own right, will only get better with Manning around. This will set up the Jets perfectly for when Manning decides to hang it up. 
Being backup to Peyton would also fuel Sanchez's drive and determination to be No. 1 and not take a backseat to any other QB. In an interview not too long ago, Jets RB, LT referred to Sanchez as being "pampered" after many had called him lazy. Is this the perfect way to get him off his ass? To make sure he works hard to really EARN that starting job? You bet it is.
One other reason Sanchez being with the Jets is a good thing is because it allows Peyton the chance to not rush things. Manning can make sure he is fully healthy when he finally gets out on the field to play. Mark Sanchez is capable of doing the starting job until that day, which will allow the Jets to get Peyton at his best, settling for nothing less.
Going to the Jets also gives Manning something he never really had with the Colts: a good defense. No disrespect to the Colts' defenses over the years, but they were never great and if it wasn't for the offensive juggernaut that was Peyton Manning and the offense, I'm not sure how those teams would have fared.
The Jets are another story. They have a top-notch defense that will allow Peyton to play with more comfort. The Jets defense can keep the Jets in the game all by themselves. This would really take a lot of pressure off Peyton.
Consider all these things and try and tell me that the Jets do not have a championship-caliber team with Manning joining it. You simply can't. This team really has the potential to compete with the Patriots in the AFC East and make a deep push in the playoffs, possibly making it to and winning the Super Bowl. Boy, Rex Ryan would love to be reading this right now.
From a fan's perspective, the move would be great as well. It means that Brady and Manning will meet at least twice every year, a QB duel everybody—even the casual fan—looks forward to. Brady and Manning would be competing against each other to capture the division, which would definitely drive both of them to work harder and it would be entertaining for us, the fans.
Another rivalry the move would set up is the Battle for New York between everyone's favourite brothers, the Mannings. In case that slipped anyone's mind, remember that the New York Giants are led by Peyton's brother, Eli Manning. Definitely a storyline fans, the media, and pretty much everyone else would simply eat up.
After considering all that I have just said, please tell me, is there really a better fit for Peyton Manning than the New York Jets? This Patriots fan certainly doesn't think so. From Patriots nation, we'll see you in the playoffs you stinkin' Jets fans.