Mayweather vs Pacquiao: Potential Fight Dominates Pacquiao-Bradley Presser
February 23, 2012

Ethan Miller/Getty Images
Manny Pacquiao only fights around two times a year and yet people are already looking past his next bout.
Pacman will face Tim Bradley at the MGM Grand Garden in Las Vegas on June 9, and they have already begun to promote the fight. On Wednesday, the pair was in Hollywood fielding questions from anxious reporters. The duo will need a ton of promotions to get salty fans fired up for this one. This isn't the fight everybody in the boxing world wants to see.
Predictably, there was a ton of Floyd Mayweather questions that were tossed around to Pacquiao. When asked if he is willing to fight Money May, Pacman was very straight forward (via Huffington Post):
I'm willing to fight Mayweather. But I have to fight the guys who are hungry to fight me. Timothy Bradley is strong, and he can punch. He's a good boxer, so it's a challenge to fight a guy like that.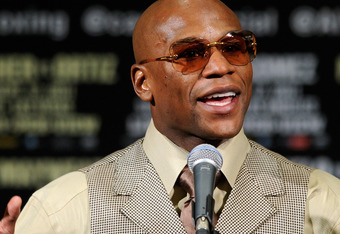 Ethan Miller/Getty Images
Notice how he tries to immediately deflect the attention back to the fight on deck. But that didn't last for very long. Even his 11-year-old son is demanding to see the fight:
My kids request me: `Dad, I want you to retire, but before, you have to fight Mayweather and beat him'
Pacquiao (54-3-2, 38 KOs) is never going to escape the questions and speculation until he fights Mayweather. While it's not clear why the fight didn't happen in recent negotiations, both parties are blaming one another:
According to Pacquiao, Mayweather is trying to ensure he makes more money:
I was in the Philippines, and I told him, `We need to make this fight happen. I said I would agree to a 50-50 (split), and he said, `Oh, I'll give you a $40 million guarantee, and no pay-per-view. I'll take all the pay-per-view.' I don't accept that offer. It's kind of embarrassing to me. It's trying to take advantage of me. He doesn't want to fight.
While I'm sure Money May is trying to pull a fast one, it's hard to feel bad for a guy who is guaranteed to make $40 million for around an hour a week.
It's sad to think that one of the best matches boxing will see all year has a huge cloud looming over it. The same can be said for Mayweather's match against Miguel Cotto. Everyone wants to know about Mayweather-Pacquiao, and until it happens, there is always going to be that proverbial elephant in the room.
Boxing needs this to happen just so we can all just move on with our lives.