2012 NFL Draft: 4 Reasons Darron Thomas Won't Transition Well to NFL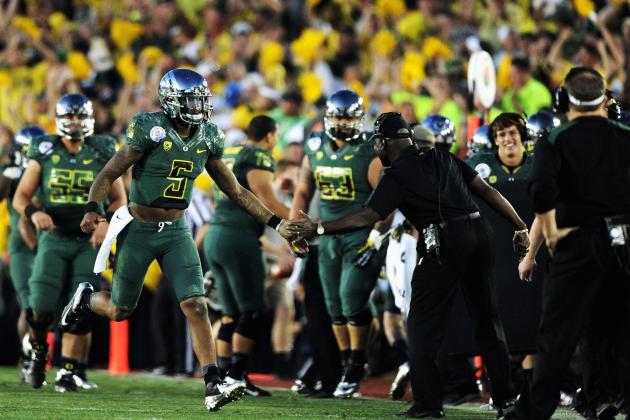 Harry How/Getty Images
Thomas would have benefitted from one more year in Eugene
Despite only being sacked 21 times in his two years as the starting QB at Oregon, Darron Thomas' pocket presence is another weakness that he will need to address going forward.
The number of times that Thomas was sacked is another misleading statistic as the quick-hitting nature of Oregon's offense played a large role in opposing defenses rarely getting to Thomas. When opposing defenses did a solid job in the secondary, Thomas struggled in the pocket.
Thomas, when faced with a strong opposing pass rush, routinely held on to the ball too long instead of throwing it away. This can be attributed to Thomas' sometimes poor presence as he appeared completely oblivious to oncoming defenders. Also Thomas could at times get "happy feet" in the pocket which relates back to mechanical issues.
Begin Slideshow

»
Stephen Dunn/Getty Images

The phenomenal statistics that Darron Thomas accumulated in his two years as starting QB, 5,642 yards and 63 touchdowns, indicate that Thomas is a sound quarterback capable of making all the throws needed for the next level. This a misleading conception as Thomas still struggles with even the most routine throws.
Due to some lingering mechanical issues (more on this in the next slide), Thomas often floated or overthrew his receivers. Another issues that Thomas struggled with was leading receivers; too often Duck receivers had to stop their routes to come back to errant Thomas throws.
For Thomas to become an NFL QB, his accuracy must improve.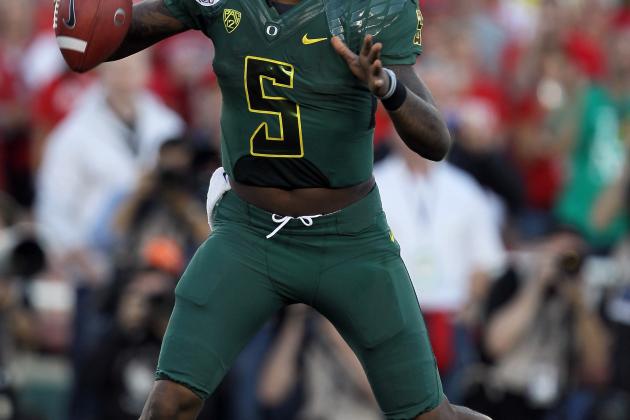 Stephen Dunn/Getty Images
Thomas needs to become more mechanically sound as a QB
As previously alluded to another problem that could hinder Thomas' transition to the NFL is lingering mechanical issues.
Thomas has certainly come along way since his arrival as a freshman—he was a raw high school prospect that some recruiting services tabbed as an athlete—but still needs to clean up certain flaws in his mechanics.
Of chief concern is Thomas' release when throwing the football. While Thomas' release has improved, it is still slow and has too much of a windup. In addition to not delivering the ball on time, Thomas holds the ball low in the pocket, which leads to more fumbles.
Also concerning to NFL scouts is that Thomas at times throws without getting set in the pocket. Of course sometimes QBs can't get set in the pocket due to pass rush but Thomas, even with a clear pocket at times, doesn't set himself, which leads to accuracy issues.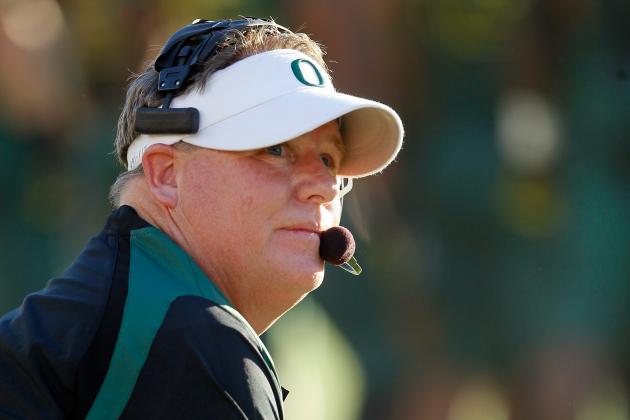 Jeff Gross/Getty Images
Chip Kelly's offense won't help Thomas' transition to the NFL
As a dual-threat QB, Thomas excelled at Oregon in the Ducks' potent spread offense. In the spread offense Thomas rarely took snaps from under center and wasn't required to make many pre-snap defensive reads.
Obviously the NFL is a whole different game where the QB is under center for the majority of the game and is required to read the defense prior to the snap. This will be something that Thomas will have to learn upon entering the NFL.
Similarly in Chip Kelly's spread offense at Oregon, the routes that the receivers run are, for the most part, very simple. Most of Thomas' passes at Oregon were to receivers that were running crossing patterns, screens or go routes. This sets Thomas behind other prospective QB prospects, as he will need to acquaint himself to pro-style offenses.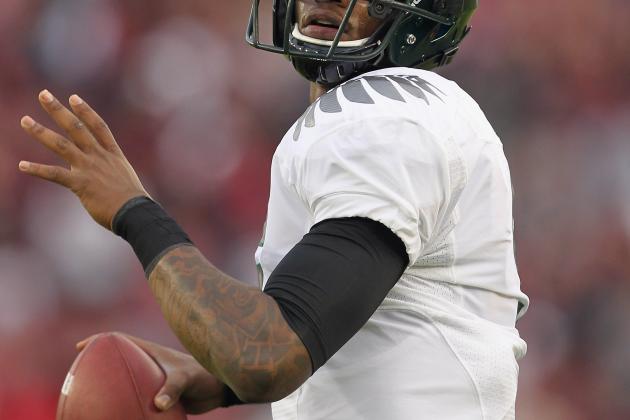 Ezra Shaw/Getty Images

The ability of Thomas to find the open receiver during his collegiate career was at times suspect. Thomas showed a troubling habit of locking onto his primary receiver and not progressing through his reads.
As a result Thomas forced throws to receivers that were double covered. Similarly Thomas would neglect open receivers in the flat or over the middle due to his focus on the play's primary receiver.
To achieve a smooth transition into the NFL ,Thomas' vision will need to improve.