First Half Report Cards: Evaluating Every Celtics Star at the All-Star Break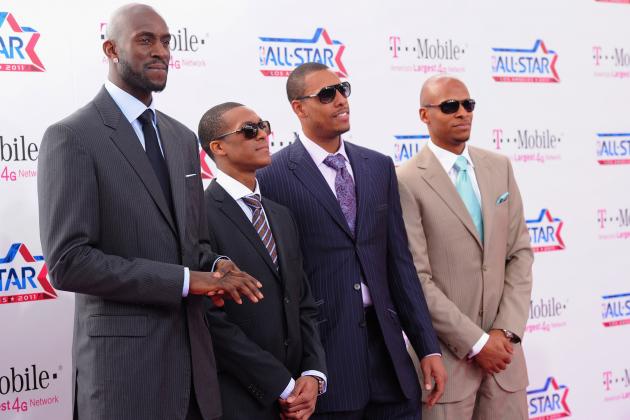 Alberto E. Rodriguez/Getty Images
The Celtics' Big 4 has left something to be desired so far this season.
The All-Star break is pretty much upon us, and you can bet the Boston Celtics, from upper management on down to the last spot on the roster, are unhappy with where they stand.
On the heels of last night's loss in Oklahoma City, their fifth straight and seventh in their last eight games, the C's are 15-17 and mired in third place in the Atlantic Division, barely on the fringe of the Eastern Conference playoff picture.
One could point to many issues in trying to explain the Celts' current plight—age, lack of depth and athleticism and health are just a few. But to really get to the bottom of why this team has had such an up-and-down season thus far, look no further than its "Big 4," none of whom has lived up his status as a star NBA player, whether he's past his prime or in it.
Here's a look at each of the Celtics' top four guns along with an assessment of where each of them is individually at this abbreviated season's midpoint.
Begin Slideshow

»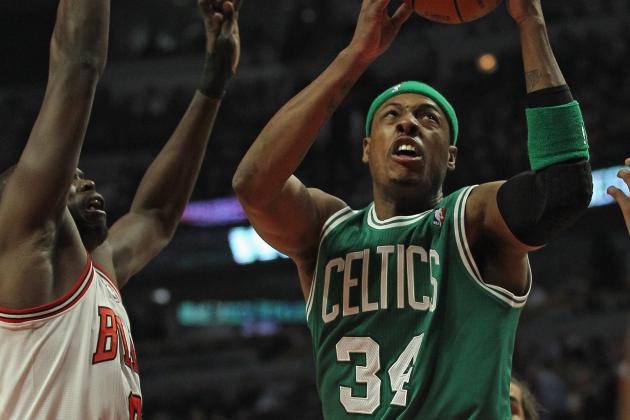 Jonathan Daniel/Getty Images
Pierce has carried the Celts at times but is struggling through one of his worst offensive seasons.
This might be skewing a little high for the captain, who showed up out of shape, missed a month, took almost another month to round into shape, played well enough for a handful of games to draw an All-Star selection, then picked the worst possible time to go into a prolonged offensive funk.
If the season ended today, Pierce would finish up averaging 17.4 points per game, his lowest number since the '98-'99 season, his rookie year. And his 42 percent from the floor would represent the third lowest of his career and lowest since 2004.
Pierce was clearly not in shape either at the start of training camp or when he began his season after missing the first three games. He's there now, and his play over a 12-game stretch from mid-January to earlier this month in which the Celts won nine of 12 carried the team and earn that All-Star berth. But ever since a 94-84 win over Charlotte on Feb. 7, when he passed Larry Bird to become the team's second all-time leading scorer, he's been stagnant, and with him has gone the Celtics offense.
Since that win over the Bobcats, Pierce has cracked the 20-point mark just twice, and those were in the Cs last two games, both big losses. It's no wonder the Celtics are near the bottom of pretty much every offensive stat in the league, considering their best offensive player is having his worst offensive season in eight years.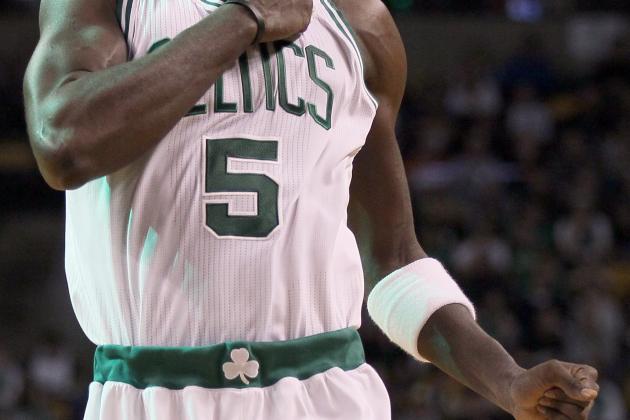 Elsa/Getty Images
It's very close to over for KG.
Garnett is scoring 14 points and grabbing eight rebounds per game, almost exactly the same numbers he averaged two years ago, when the Celtics made their most recent run to the Finals. So why does this year feel different?
It's no secret that Garnett has been in decline for a number of years now, pretty much dating back to the knee injury that derailed the Celts' attempt to repeat as NBA champions back in 2009. Other than the first two-thirds of last season, his best work in a Celtics uniform came in his first year in Boston—the same year the team won its 17th title.
But this season, he just looks slower, weaker, less menacing (whether you believe that menace is real or fraudulent), more subdued. Older. He still can anchor a defense, even without Kendrick Perkins and having to rely on the petrified Jermaine O'Neal as his running mate. The Celtics are still second in the NBA in scoring defense, allowing just 87.5 PPG.
And despite missing three of the C's last five games, he's still averaging 16 points per game in February, going over the 20-point threshold three times, while grabbing nine boards a night, including double digits in four of his last five games. He's clearly in a very recent vintage, KG-like groove.
Still, it's hard to picture him keeping up this pace into the playoffs (if the Celtics even make it), even with a shortened schedule. Both of the C's three-games-in-three-nights circumstances come after the break. And who can forget how gassed he was in last year's Eastern Conference semis?
At this point, KG is a much more complementary player than anything else. On this Celtics team, that's not enough.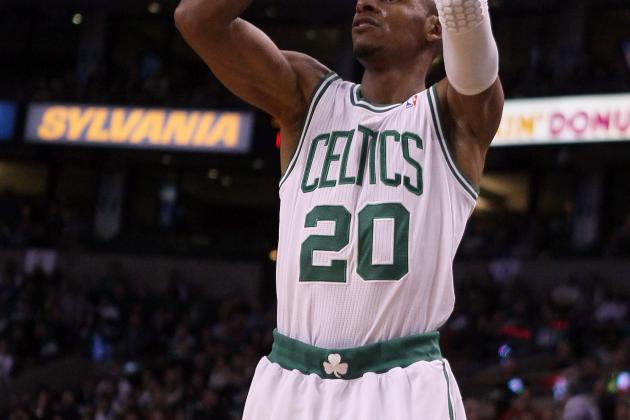 Elsa/Getty Images
Ray might not be firing many more threes in Celtic green.
Allen continues to shoot the ball extremely well, hitting 47 percent from the floor and 48 percent from deep—a career-high number. But his effect on the proceedings seems far less significant.
He's definitely slower out there, maybe as much as a step and a half. Where once, he was one of the Celts primary perimeter defenders, he now gets taken off the dribble with regularity.
And on offense, even though his game has always been predicated on running around screens, catching and shooting, he appears far less inclined to go to the rim this year, and when he does, if the results aren't bad, it still doesn't look like the smooth, almost effortless Allen who Celtics fans have come to know.
Allen was awesome to start the season, averaging over 20 points over the Celts' first eight games. But he dropped off after that point, reaching double figures just twice over the next 10 games, three of which he missed with an ankle injury.
To his credit, Allen is still a highly effective player even at age 36 and in his 16th season. He certainly could help a contending team immensely down the stretch. Are the Celtics that team? It doesn't look like it, which is why earlier in the season, a two-year contract extension felt like a good idea, now, a potential trade may make more sense.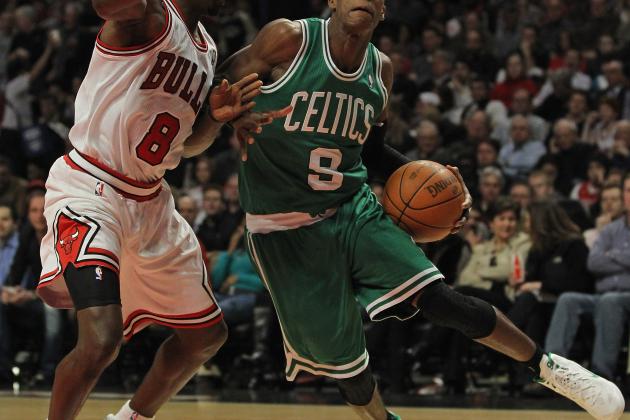 Jonathan Daniel/Getty Images
Rondo is the best player on the Celtics, but there's a catch.
By far the most polarizing player on the Celtics, Rondo delights and frustrates pretty much in equal measure. One minute, he's barely showing up for a brutal loss in Toronto, seemingly out of anger at being left off the All-Star team (which he would go on to make anyway, as an injury replacement), the next he's exploding in one of the best individual performances in the entire league all year—a 32-15-10 masterpiece in a win over the Eastern Conference's best teams, the Bulls.
And then, with injuries riddling the team's already shaky depth, he gets angry at a non-call, fires the ball at an official and gets suspended for two games.
It's hard to know what the Celtics are going to get out of Rondo from one game to the next, and that's a risky situation if the plan is to let Garnett, Pierce and Allen go either after this year or during it and subsequently hand the team over to the mercurial point guard.
Rondo, for all of his incredible ability on both ends of the floor and on the glass (he's one of the best rebounding guards in the league), is still something of a liability down the stretch of games. He's shooting 48.5 percent from the floor but still misses far too many mid-range jumpers—a shot opponents dare him to take more often than not.
And he still can't shoot free throws (61.5 percent this season, 62 percent for his career), which inclines whoever is guarding him late in games to back off even further given his reluctance to take the ball to the basket (one of his greatest strengths) for fear of getting fouled.
When Rondo is going good and not acting like a petulant teenager, he's the best player on the team. But as he continues to improve, his main targets continue to slow down, making it harder for him to play his game. Rondo's missed eight games this season due to injury and two more thanks to that suspension. The Celtics have to be wondering how many more times this year, and beyond, they'll have to worry about him not being there.