Carmelo Anthony: Why His Return Will Only Help the Knicks
February 22, 2012

Chris Trotman/Getty Images
The New York Knicks' season was just about over when point guard Jeremy Lin stepped in and saved the season. Coincidentally, Lin's emergence came right when star forward Carmelo Anthony went down with a groin injury. 
Naturally, speculation by fans was that Anthony was the reason for the Knicks' struggles this season, saying things like he took too many shots and he kills the offensive flow.
When Anthony returned Monday night, he seemed to be proving the fan speculation right with a poor performance in a loss to the Nets in which he shot 4-of-11 from the field, accumulating only 11 points. 
However, contrary to popular belief, 'Melo's return will not doom "Linsanity."
Before his injury, Anthony had to deal with playing more of a point-forward role in which he had to run the offense. This hurt his production because Anthony is not a passer; he is a scorer. 
The real problem that caused the Knicks' struggles this season was a lack of a pure point guard. After the Knicks amnestied Chauncey Billups, there was a gaping hole at that position. Rookie Iman Shumpert has proved that he is not yet ready to run the show. Toney Douglas is more of a three-point specialist who has struggled mightily this year following offseason shoulder surgery.
The lack of production from the point guard position brought the burden of running the offense upon Anthony. This is a role that he is not familiar nor is he well suited for. By trying to be the facilitator, Anthony hurt both himself and the team. The offense had no flow, and this led to many forced shots by Anthony, as well as the rest of the team.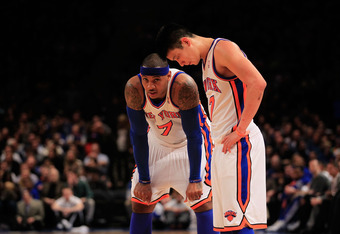 Chris Trotman/Getty Images
Enter Jeremy Lin, the Knicks' current point guard fully capable of running the show.
With Lin at the point, 'Melo can go back to being the scorer he was last year with Chauncey Billups. Lin will be able to be have the pass-first mentality and will not have to be the guy to take the late shots in games. 
As the season progresses, 'Melo's production will increase, as he only has to worry about being the scorer again, something he has done throughout his whole career. Lin will now have the go-to scorer to pass to. 'Melo will also draw attention away from Lin, giving him more open looks.
As the chemistry builds within the team, the offensive flow will return. In their first full game together, Lin and Anthony had a combined 15 assists. This is only a small sample of what Knicks fans should expect to see later on in the season. 
As the season goes on, the Knicks' chemistry will improve, and the team will start performing like they should.