2012 NBA Trade Deadline: How Golden State and Charlotte Can Help Each Other
February 22, 2012

Streeter Lecka/Getty Images
As the NBA trade deadline begins to loom upon the horizon, it is time for teams to start shaking things up as we approach the midway point of the season. Two teams in desperate need of a change are the Golden State Warriors and the Charlotte Bobcats, and while these two struggling franchises don't appear to be anywhere near playoff bound in 2012, they may be able to help each other to at least get back to respectability.
While Larry Riley has made few good moves of late, a couple of transactions have really made the small forward position one of strength on the Warriors' roster. Dorrell Wright emerged last season with increased playing time to become one of the best three-point shooters in the league. However, he has recently seen some of his minutes diminish in Mark Jackson's rotation due to the emergence of two players and could become a valuable trading chip. 
Riley outright stole Brandon Rush from the Pacers late in the offseason in exchange for Lou Amundson, and he has provided to be the Warriors' best player off the bench providing solid defense and outside shooting. It also appears that Klay Thompson, the Warriors' 2011 first-round pick, appears to be gaining not only confidence in his game but also that of his coach as he continues to increase his playing time specifically down the stretch of games.
Another player on the outs in Golden State is center Andris Biedrins. After appearing to be a rising star at the center position in 2008-09 while averaging a double-double, Biedrins has lost confidence in his game and needs a change of scenery.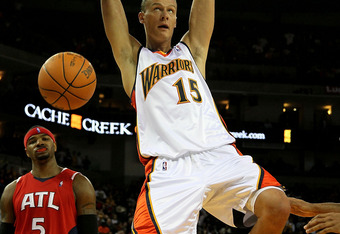 Jed Jacobsohn/Getty Images
Both players would be a good fit in Charlotte. Charlotte currently ranks 27th in the NBA in three-point  percentage, something that Dorrell Wright would certainly improve on. And while the Bobcats have a large number of bodies at the forward position, they certainly can use help at center. If Biedrins benefits from a change of scenery, he could immediately become their best option at the position.
Meanwhile, Charlotte has two players that could help Golden State immediately on the front line.  Disgruntled forward/center Boris Diaw could provide some passing and rebounding that the Warriors have been lacking all season on the front line.  The draw and kick offense of Monta Ellis and Stephen Curry would also help open up some outside shots for Diaw, which he is more than capable of hitting. In this proposed trade, the Warriors would also acquire power forward Tyrus Thomas, who would bring a more athletic, explosive level of play behind David Lee in the second unit. 
Money wise, this move works well under the cap. Both teams would be swapping onerous contracts while keeping their future spending at even levels. Though the Warriors take on the longer term contract of Thomas, they gain some cap relief when Diaw's $9 million comes off the books following this season.