Why the New Jersey Nets Must Land Dwight Howard
February 22, 2012

The New Jersey Nets sit at a dismal 10-24 record thus far on this shortened NBA season.  They are currently six and a half games back from a playoff spot, standing 12th overall in the Eastern Conference.  
The Nets rank 20th in the league in assists per game at 19.9, and 24th in points per game averaging 92.6 per contest.  They also rank 25th in points allowed at 99 per game and 29th overall in rebounds per game, with an average of only 39.5.
The Nets contain an All-Star point guard in Deron Williams, who they received in a trade last year from the Utah Jazz.  On the season, Williams is the team leader in points per game at 22.2 and assists per game at 8.2.  
The Nets contain three centers on their current roster.  Seven-footer Brook Lopez has been dealing with a foot injury and has only played in one game thus far.  That leaves Mehmet Okur and Johan Petro at the center position.  
Okur is day-to-day with a back injury and has appeared in 17 games, averaging 7.6 points per game and 4.8 rebounds.  Petro has played in 29 games this season, averaging 4.2 points per game and 3 rebounds.
This leaves a lot of the weight to fall on the recently divorced Kris Humphries, who stands at 6'9" and weighs 235 pounds.  The former Kardashian reality television star is averaging 13.6 points per game—which is third on the team—and leads the team in rebounds, grabbing 10.5 boards per game.  Humphries has recently injured his left calf and is listed as day-to-day.
Besides the fact that the Nets have a losing record, there is some good news for their organization.  The league's best center has them on his wish list.  The Orlando Magic's Dwight Howard has the Nets—as well as a few others—as possible landing spots for his talents.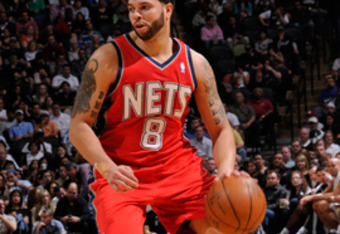 Dwight Howard would like to play with Deron Williams and Williams would like to play with Howard.  With Howard's contract ending this season and becoming a free agent on July 1, the Nets will have to persuade the athletic 6'11" Howard to join the soon to be Brooklyn Nets.  
There is also the possibility the Nets could land him this season before the trade deadline, as Howard has publicly announced his trade interest.
Not only do they need the talents of Howard, but reports have suggested that if the Nets do not get Howard, they also lose Deron Williams, who will also be a free agent in the summer.  By not signing Howard, the Nets will most likely lose their star point guard.  That leaves the Nets back into a deeper whole than they are already in.
Williams is from Dallas, which is his likely landing spot if the Nets do not get the best big man in the game.  Howard also has Dallas on his wish list of teams, which means the two All-Stars could unite in the southwest.
Without Howard, the Nets will most likely lose Williams.  For the Nets to attempt to be a legitimate team in the near future, it starts with signing Howard, or much will be lost for the already struggling New Jersey Nets.