Pittsburgh Steelers: A Look at Life After Mike Wallace
February 23, 2012

Karl Walter/Getty Images
It looks like next season, Pittsburgh Steelers wide receiver Mike Wallace will be playing 60 minutes on Sundays for another team.
Get all those Mike Wallace-60 Minutes puns out of your system now, because as Steelers fans, our view of Wallace will soon be like the view that so many defensive backs get.
He's going to be gone.
I'm not saying I want Wallace to be gone. I just don't think the Steelers have much of a choice.
Sure, Steelers general manager Kevin Colbert told Pro Football Talk Thursday that the Steelers want Wallace to finish his career in Pittsburgh. But that's just posturing so the Steelers seem like the good guys if and when Wallace signs somewhere else for big bucks.
To keep Wallace, the Steelers would have to put the franchise tag on him and pay him $9.4 million next season. Since they're still $8 million over the salary cap, they'd have to clear about $17 million in salary by cutting Aaron Smith, Casey Hampton, Chris Kemoeatu, Hines Ward and either Larry Foote or James Farrior.
If it's a choice between keeping five of those players or keeping Wallace, I'd rather keep Wallace.
The problem is, if the Steelers keep Wallace, they can't make improvements anywhere else. They'd still have to find money under the cap to sign their rookies, and they can forget about signing their annual mid-level free agent.
Think about the contributions Ryan Clark and Mewelde Moore have made. The Steelers wouldn't be able to pick up a player like that this offseason if they keep Wallace.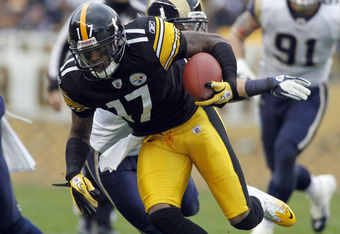 Justin K. Aller/Getty Images
The Steelers are more likely to make the restricted free agent tender offer to Wallace. If they don't match an offer made by another team, the Steelers get a first-round draft pick as compensation for losing Wallace.
That might not seem like much consolation if Wallace goes to the Patriots. Sitting here in February, I don't know how the Patriots don't win Super Bowl XLVII if they get Wallace. Speed kills, and a deep threat like Wallace was the only thing the Patriots offense was missing in 2011.
Wallace was asked about joining the Patriots or 49ers in an interview on SiriusXM NFL Radio, via NFL.com, and said he'd be interested in playing for either of those teams. Wallace did his own posturing in that interview, saying he wanted to stay in Pittsburgh but that "it is a business," via the Pittsburgh Tribune-Review.
Another candidate to sign Wallace would be the Ravens. Somehow, I see 49ers coach Jim Harbaugh suddenly committing to finding a receiver through the draft if his brother, Ravens coach John Harbaugh, decides he really doesn't want to face Wallace twice a year anymore.
You might argue that the Steelers are trying to catch up to the Ravens and Patriots in the AFC, and they need to keep Wallace at all costs to prevent one of those teams from getting him.
However, it's not unprecedented for one of the Steelers' prized receivers to fall into enemy hands. They traded Santonio Holmes to the Jets in 2010, but still beat the Jets in the AFC Championship Game that year.
All they got for Holmes was a fifth-round draft pick. For Wallace, they'd get a first-round pick.
Before 2010, the last time the Steelers lost an elite receiver was 2005, when Plaxico Burress went to the Giants. They went to the Super Bowl that year, too.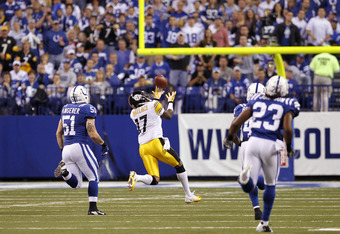 Joe Robbins/Getty Images
In 2005, the Steelers essentially chose to keep Hines Ward over Burress. This time around, it might be a matter of choosing Antonio Brown over Wallace. Brown and Emmanuel Sanders become free agents next season.
Brown was second in the NFL in 2011 with 25 first-down receptions on third down and led the NFL with 12 first-down grabs on 3rd-and-7 or longer, according to Stats LLC via the Washington Post.
Wallace might be the fastest receiver in the NFL. Those bombs from Ben Roethlisberger to Wallace were fun to watch, and they were quite a weapon for the Steelers. But where were they in the second half of the season? More importantly, where were they in the playoff game in Denver?
Wallace might get more oohs and aahs, but when the Steelers really needed to move the chains in 2011, Roethlisberger looked for Brown, not Wallace.
If Wallace goes and the Steelers make some other cuts, they could find the cap room to possibly re-sign Jerricho Cotchery, and Hines Ward could stick around and get his farewell tour after all. That would give the Steelers a projected receiver depth chart of Brown, Sanders, Cotchery and Ward. I'll take that.
Let's not forget, too, about the first-round draft pick the Steelers would get.
Hampton is 34 and had ACL surgery, so the Steelers need to draft a nose tackle if Steve McLendon is their only healthy one at the start of next season. The Steelers also need an offensive lineman, as protecting Roethlisberger becomes more important the older he gets.
Some mock drafts have the Steelers picking Memphis nose tackle Dontari Poe in the first round. Some have them taking Georgia guard Cordy Glenn. Imagine if the Steelers could get both.
The Steelers also could trade one of those picks with a later-round pick to get into the top 20. The last five times the Steelers have picked in the top 20, they've drafted Maurkice Pouncey, Lawrence Timmons, Roethlisberger, Troy Polamalu and Hampton.
I'm not saying losing Wallace isn't going to hurt, especially if he goes to Baltimore or New England. But the Steelers have to make painful decisions to get out of their salary cap mess, and history has shown that when it comes to wide receivers, they've always made the right decision.
Follow me @Steel Tweets.