Duke vs. Florida State: TV Schedule, Live Stream, Spread Info and More
February 22, 2012

Grant Halverson/Getty Images
The Duke Blue Devils look for revenge against the Florida State Seminoles on Thursday night, in what is expected to be a phenomenal college basketball game. 
Earlier this year, the Blue Devils hosted the Seminoles, looking to extend their home-court win streak. Thanks to a buzzer-beating three-point shot by Florida State, the Seminoles ended Duke's 45-game home win streak. 
There is no doubt that the Blue Devils are irate about this, and now they get a chance to avenge the loss and make the Seminoles taste defeat in front of their home crowd. 
Duke has won four games in a row, whereas FSU has won three straight games. The Blue Devils are No. 4 in the country and the Seminoles rank at No. 16. 
With that said, let's take a look at some specifics of this ACC showdown. 
When: Thursday, Feb. 23 at 7 p.m. ET 
Where: Donald L. Tucker Center, Tallahassee, FL
Watch: ESPN 
Live Stream: ESPN3.com 
Betting Line: Florida State (+2) according to Covers.com
What's At Stake? 
For the Blue Devils, suffering two losses in the same season to FSU would be a crushing blow. With North Carolina now in first place of the ACC, Duke has to beat the Seminoles in order to stay right on pace with the the Tar Heels. 
Even though FSU won last time, they know they're in for a difficult game. The Seminoles didn't demolish Duke by any means back in January, so they need to make sure they stay competitive.
A loss would be a setback not only in the ACC, but also to their confidence as the NCAA Tournament approaches. 
Duke Injury Report 
*According to the Chicago Tribune
No injuries to report 
Florida State Injury Report 
*According to the Chicago Tribune
No new injuries to report 
What They're Saying 
Jack Daly covers the Blue Devils for the Charlotte Observer, and after Duke's win over Boston College this past weekend, Daly tweeted that everybody was looking ahead.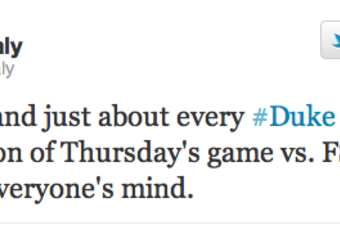 Duke has been longing for revenge ever since losing to the Seminoles. Since then, Duke has only lost one game, which came in overtime against Miami. That was an off night for just about every Duke player, as they were most likely looking ahead to the game against UNC a few days later.
They want to beat FSU badly, and they will soon get their chance. 
Coley Harvey covers the Seminoles for the Orlando Sentinel, and he re-tweeted his feelings on the game being sold out, according the official Twitter page of FSU basketball.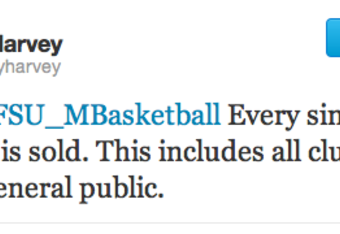 FSU fans were pumped when the Seminoles beat Duke earlier in the year and when they annihilated UNC over a month ago, but they're going to be insane for Thursday's game against the Blue Devils. 
The Seminoles have a chance to claim the top spot in the ACC with a win over Duke, so expect the fans to be wild and crazy all game long. This, in turn, will help amp up the players as they go head-to-head with a top-notch team. 
Duke Player to Watch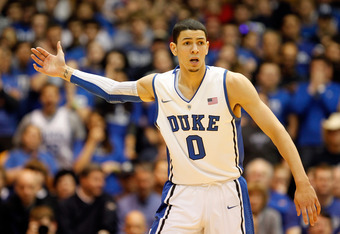 Streeter Lecka/Getty Images
Austin Rivers is tearing it up for Duke right now, and the Blue Devils will need him to keep it up to take down FSU. 
In their last meeting, Rivers was on point, scoring 19 points, but he did only have one assist. Rivers averages 15 points per game on the year, but he'll need to go above and beyond that on Thursday night. 
Florida State Player to Watch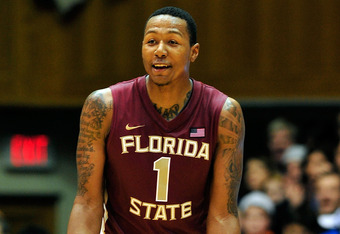 Grant Halverson/Getty Images
Even though Michael Snaer leads the team in scoring and hit the game-winner last time these two teams played, the FSU player to watch has to be big man Xavier Gibson. 
Gibson led the Seminoles in scoring against Duke, and he'll need to do the same or close to it on Thursday night. Listed at 6'11", 248 pounds, Gibson has to work it inside and use his size to power over the Plumlee brothers. 
Key Matchup 
While the low-post matchup is crucial, the three-point shooting is even bigger for this ACC showdown. 
In their previous meeting, neither team shot above 50 percent from beyond the arc. Whichever team does a better job of knocking down the trifecta will have a greater chance of winning.
The Seminoles didn't take a ton of threes against Duke last time, but they know that the Blue Devils are going to be shooting from downtown. If Duke does better than it did before, the Blue Devils will be in great shape and the pressure for FSU to hit their three-pointers will be immense. 
Prediction
Expect this to be another game that comes down to the wire. I don't see a buzzer-beater happening, but it will still be just as intense of a game. 
In the end, I like Duke to get revenge on the road by squeezing by in the closing minutes of the game by hitting their free throws in clutch moments. 
Blue Devils 76, Seminoles 72