The 15 Most Indestructible Fighters in MMA History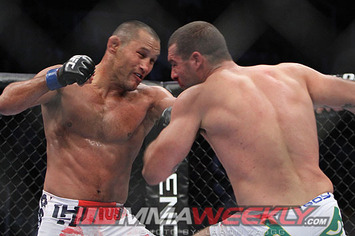 mmaweekly.com
If you want to be a professional MMA fighter, what is the quality that you should possess first and foremost? Athletic ability? No. Childhood karate classes? No. The answer is toughness.
All great fighters have the ability to take a punch and fight through it.
Some fighters, however, have a seemingly inhuman ability to receive punishment. Whether over the course of a single fight or over several years, they inspire us with their durability. Many have built reputations off of being able to take a beating. They are indestructible.
In some cases, we see a fighter victimized by a particularly vicious looking strike or technique and we have to take a step back and just say, "Wow, how did he survive that?"
Throughout MMA's history, there have always been indestructible fighters, but these are the ones that stand out. Even if their durability may have started falling off at some point, their reputations precede them.
These are the 15 most indestructible fighters in MMA history.
Begin Slideshow

»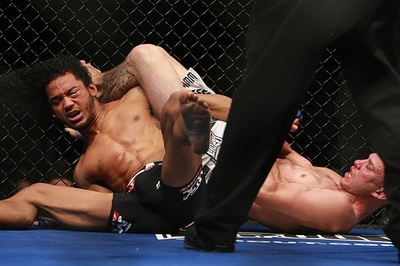 sherdog.com
Benson Henderson mostly earns this spot due to his ridiculous ability to withstand submission attempts.
After his awesome first fight with Donald "Cowboy" Cerrone for the WEC interim lightweight championship, the MMA community was left dumbfounded as to what it would take to finish this guy.
He is so strong, yet flexible, and has fantastic full-body dexterity.
Also, Henderson has never been knocked out, even after infamously eating the "Showtime" kick—a kick where Anthony Pettis leaped off of the cage like a ninja, and landed a flush spinning headkick on Henderson while still in mid-air. "WTF" is right.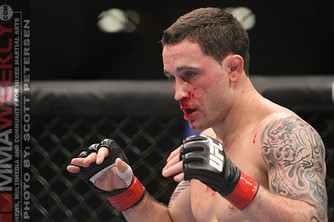 mmaweekly.com
Let us be real here. In each of his two championship bouts against Gray Maynard, Edgar took some of the worst first-round beatings we had ever seen. At UFC 125, he fought back to salvage a draw. At UFC 136, he fought back to knock Maynard out in the fourth.
In his recent loss to Benson Henderson, Edgar dove into a vicious upkick that would have KO'd 99 percent of lightweights.
What does a fighter have to do to put Frankie Edgar away? It is almost as if the more you beat on him, the harder he will come back at you.
He certainly cannot do that forever, but it does make you wonder what it would take.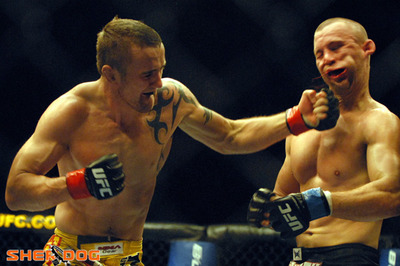 sherdog.com
An inspiring and gracious example of retiring at the right time, Chris Lytle fought 54 professional bouts and was only stopped twice. Both times were due to cuts.
He was a fighting machine programmed to constantly move forward. You could out-muscle him, but you could not stop him.
Lytle had fought some of the best fighters in the sport and retired with everyone's respect.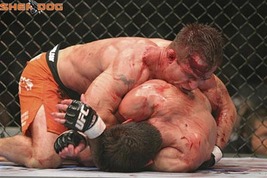 sherdog.com
An oft-overlooked lightweight legend, Sean Sherk has a body of work that most lightweights could never dream of.
During his crazy 36-4-1 career, Sherk has only been TKO'd twice, and they were by two of the greatest fighters in the sport's history.
Competing heavily since the dark ages of MMA, Sherk often fought and defeated much bigger opposition, like Karo Parisyan and Benji Radach.
In his 2007 UFC lightweight title defense, Sherk fought one of the most powerful lightweight strikers that the sport had seen in Hermes Franca. Franca hit Sherk with huge knees each round that would have leveled anyone else. Sherk kept marching forward to defend his belt.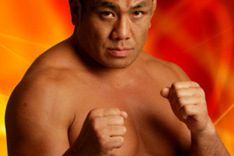 His nickname is "Ol' Iron Head" and he owns wins over the likes of Ken Shamrock, Gilbert Yvel, Bob Sapp, Mark Kerr, and more.
It is peculiar too, because I do not remember much from him in the way of polished striking or submissions. He would normally just wait until his opponent got tired from beating him up, and then he would step in to claim victory. That was his M.O.
Towards the end of his career, the damage to his chin caught up to him, but old Pride fans would not soon forget "Ol' Iron Head."
mmaweekly.com
Sure, he was knocked out once, but that is just a tiny asterisk on an otherwise glistening legacy of durability.
In his last four fights, Nelson has lost three fights, but they were all against top-five level heavyweights. None of them could finish him.
If you can have the best heavyweight fighters in the world wail on you for 45 minutes and still have the good spirits to joke around with your friends, you are indestructible.
That is Roy "Big Country" Nelson.
mmaweekly.com
Newer fans of the sport might not understand how tough Mark Hunt is just by looking at his record. He has a string of submission losses sandwiching a KO loss to the much smaller Melvin Manhoef.
If they only knew...
Mark Hunt is famous for his ability to take a punch. In fact, he has literally laughed in the face of strikes from some of the most esteemed heavyweight kickboxers in the world.
Check out this fan's creative take on Hunt's indestructibility.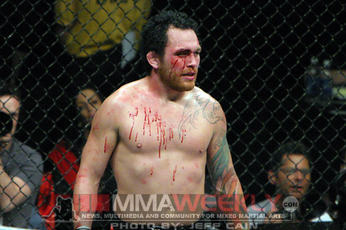 mmaweekly.com
Renowned for his granite chin, Chris Leben has long epitomized the slugger philosophy "take a punch to give a punch".
Recently, his reputation has taken a little bit of a hit due to suffering two TKO losses in three fights, but Leben's legacy of durability is still secure from even the snarkiest of flamers and trolls.
Through his first 27 professional fights, including a spectrum of UFC middleweight contenders, Leben had only been knocked out once. That man to KO the infamous puncher? None other than Anderson Silva, the man considered by many as the greatest fighter in the sport's history.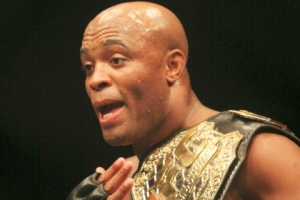 Even if you have unparallelled movement and defensive abilities, one doesn't become widely regarded as the greatest fighter on the face of the earth without being able to take a punch.
As elusive as Anderson is, he has eaten big shots from other middleweight greats like Rich Franklin and Dan Henderson and walked through them like they were nothing.
In 2010's Fight of the Year, Anderson entered the bout with a rib injury and took a four-and-a-half-round beating from Chael Sonnen before latching onto a fight-ending triangle choke.
A journeyman and champion on multiple continents before he became a legend, Silva has never been knocked out.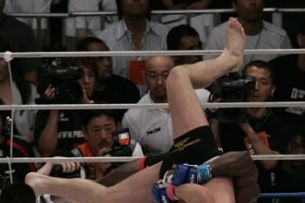 A select few would disagree, but Emelianenko held the distinction of being the world's best heavyweight from 2003 through 2009.
Nothing could stop him. Taking power punches flush. Being suplexed on top of his head. Fighting a 365-pound kickboxer.
Promoters imagined all kinds of opposition, and Emelianenko smashed them all.
He has finally started to fall off in recent years, yet, despite a beating from "Big Foot" Silva and a flash knockout from Dan Henderson, "The Last Emperor" pops right back up and stands tall.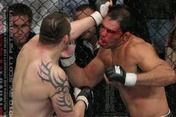 mmaweekly.com
Before Frank Mir knocked him out (and also broke his arm in the rematch) Nogueira had gained his reputation as one of the world's best heavyweights by his ability to fight through adversity.
In both of his fights against Fedor Emelianenko, Nogueira's head was continuously bounced off the canvass like a basketball due to vicious ground and pound.
In fights against Mirko Cro Cop and Bob Sapp, Nogueira came back from early deficits to defeat and finish his formidable opposition.
As a child, he was literally run over by a truck. The man is indestructible.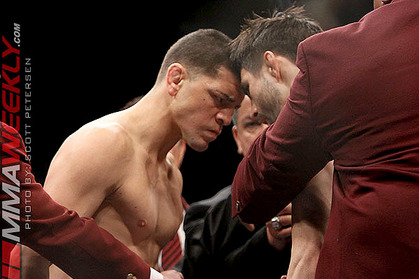 mmaweekly.com
Nick Diaz is undoubtedly MMA's "bad boy". His hard-nosed rebel reputation exemplifies his true grit.
He first fought in the UFC way back in 2003, back when he was only 20-years-old. He has been fighting the best in the world since, and never been stopped, except once due to cuts.
Along with his younger brother Nate, Nick regularly faces some of the most powerful and talented fighters in the sport, and keeps walking forward.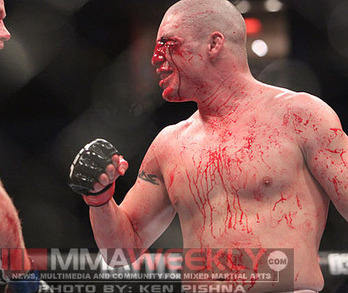 mmaweekly.com
Even when Diego Sanchez comes into a fight out of shape, injured, or unmotivated, he is impossible to stop.
The one time he was stopped was due to a cut. In the fifth round of his title fight against lightweight legend BJ Penn, Sanchez took a full on head kick to his forehead that split his skin open. He kept marching forward.
The doctors and referee eventually called a stop to the fight because they simply felt bad about the severity of the cut and the overall amount of abuse he had received in the fight.
In his most recent fight, he took big solid shots from arguably the hardest puncher in the division. Did he keep marching forward? You bet he did.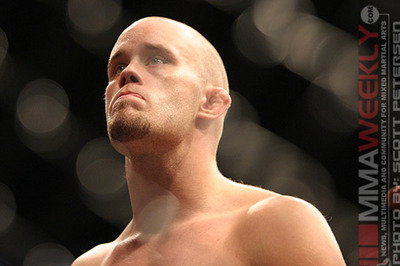 mmaweekly.com
UFC 54, 2005. The incomparable Chuck Liddell, at the height of his powers, defends his UFC championship belt against Jeremy Horn.
One of the most esteemed knockout strikers in MMA history, Liddell lands punches on Horn at will. Horn hangs in there, blow after blow after blow. Liddell mercilessly pounded Horn for three-and-a-half rounds before the bout was called off.
An inspiring display of durability, it is only one of two TKO blemishes on Horn's ridiculous 89-21-5 record.
The man nicknamed "Gumby" is MMA's indestructible man.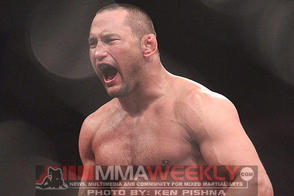 mmaweekly.com
Nobody's chin holds up forever, does it? Does it?!
Often competing above his natural weight class, Dan Henderson has fought the best in the world for his 37-fight career and he jumps head-first into wars of attrition. Through all of those epic battles, Dan Henderson has never been KO'd or TKO'd.
The living legend is 41-years-old and still going strong. He has been hurt and he has been slowed down (temporarily), but scientists have not figured out how he has not yet been destroyed.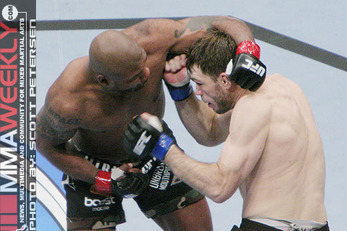 mmaweekly.com
In anticipation of all you grumbling fan boys, here are some of the honorable mentions for guys who may have some of the best chins in MMA history, but didn't make the "Indestructible" list for whatever reason.
Quinton Jackson—One of the toughest guys in the history of the sport. Has been finished with strikes a few times though. Close call.
BJ Penn—A steel chin for sure, but his two most recent fights and occasional issues with cardio detract from his air of indestructibility.
Mauricio Rua—One of the sport's best chins, but has a reputation for being prone to injury.
Forrest Griffin—Tough as nails, but his chin is not the greatest.
Wesley Correira—Showed a ridiculous chin for a few years, but then fell off relatively quick.
Clay Guida—Never been KO'd in 41 professional fights and still only 30. Another very close call.