NFL Combine 2012: Vontaze Burfict and Other Faded Stars with Much to Prove
February 22, 2012

Christian Petersen/Getty Images
With the 2012 NFL Combine kicking off on Wednesday, Arizona State linebacker Vontaze Burfict is just one of the many prospects that NFL teams are excited to get a look at. While test results and measurements are of high value to each and every professional team during the combine so are the player interviews and mental testing of each participant.
The combine is an extremely important week of draft picks jockeying for position, and there are several past college and high schools stars whose time at the college level has been filled with coaching clashes, suspensions, dismissals and other off-the-field issues that will be scrutinized by each and every NFL organization. 
Vontaze Burfict came out of the high school ranks as a nationally acclaimed top-10 prospect and was dubbed a future star at both the college and professional level. While the 6'3", 250-pound linebacker star had his fair share of success in his three seasons in Tempe, Arizona, it was also a career marred with questions about his character.
Many scouts have questions about his natural instincts as well as his ability to make his mark on a game when it's not one-on-one action. The knock on Burfict is that he didn't improve much at the college level; he relied mostly on his amazing natural ability. He also has developed a reputation for not listening to his coaches. 
Extensive player interview sessions about his desire to be great, his attitude and his knowledge of the game will go a long way in determining just how high (or low) the athletic specimen will go on draft day.
The player at the combine with the most checkered past is North Alabama cornerback Janoris Jenkins.
The former Florida Gator star has first-round talent and ability, but his legal resume is more impressive than his on-the-field resume. After being arrested an uncanny three times in a 23 month span, the Florida staff had no choice but to let him go. This week will be huge for him, as he attempts to prove that his rebel past is behind him, and he is worthy of a first-round selection.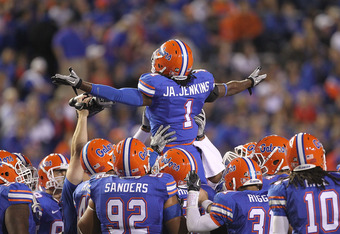 Mike Ehrmann/Getty Images
Janzen Jackson is another high school star whose future looked extremely bright to begin his college career. The 6'1", speedy cornerback was an All-SEC selection in his sophomore season before eventually being dismissed for character issues. After resurfacing at McNeese State, he put up mediocre statistics before declaring for the 2012 NFL Draft. However, there is no denying his natural talent and defensive instincts.
Perhaps the player with the most to gain is former Oregon cornerback Cliff Harris. Before his career fell apart this past season as a junior, he was a star for Oregon. As a sophomore, he broke up 23 passes and averaged 18.8 yards per punt return; he showed his ability to be a game-breaker and gave NFL scouts a glimpse of his upside.
This week will go a long way in determining exactly where these now faded stars will land in the 2012 NFL Draft.
Will they resuscitate their career and start anew at the next level? Or will these player interview sessions reveal the glaring issues that their former college teams discovered in the past?
The next seven days will shape the careers of Vontaze Burfict, Janoris Jenkins, Janzen Jackson and Cliff Harris. Nothing like a little pressure to start your NFL career.