Kevin Daniels Looks to Bring Some 'Magic' to Broadway
February 22, 2012

It is not easy to portray a legend on stage or screen, but Kevin Daniels is not one to shy away from a challenge.
The 35-year-old has played Dr. Martin Luther King in a staged radio play and will now take on his biggest challenge, portraying that of the legendary Earvin "Magic" Johnson in the upcoming Broadway play "Magic/Bird."
Produced by Fran Kirmser and Tony Ponturo in partnership with the NBA, the 90-minute, six-person drama began rehearsals this week in preparation for an April 11 opening at the legendary Longacre Theatre in New York. We caught up with Daniels to find out more about him and what will make his performance "magical."
Bleacher Report: You have had various roles throughout your career on stage, TV and radio. What will be the biggest challenge in portraying Magic Johnson eight times a week?
Kevin Daniels: I have to stay true to the essence of what made Magic not just a great athlete and businessman, but what makes him such an iconic personality. Working every night to capture his spirit and bringing that to the audience is what is most important—that's what people will understand and take away.
BR: Are you a basketball fan? Do you play a lot?
KD: I love the game and have always played at some level, although mostly pickup. Growing up in high school in Irving, Texas, we would play a lot. I love the competitive nature of the game as a team and an individual, so that will hopefully come across in the play.
BR: Were you around sports a lot as a kid?
KD: Yes, a great deal. My high school (MacArthur) was a Texas sports powerhouse, so when you were not playing something you were following all sports going on—it was a great time. One of my first jobs was tied directly to sports, as a matter of fact. To raise money for our proms we had to usher at Texas Stadium for Dallas Cowboys games, so you got to know what big-time sports were like pretty up-close.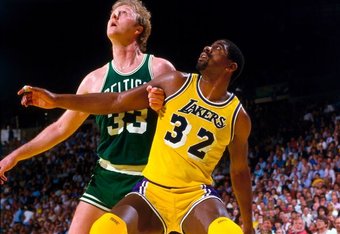 BR: You have now spent some time with Earvin. What will surprise people the most?
KD: Honestly, it really is what a genuine person he is. He is driven and passionate and everyone knows about his successes and his challenges, but when you meet him, his goodness comes through and you know he is interested in helping you. You sense that right away, and that is something I will have to bring to the part.
BR: What was it like to meet Magic for the first time?
KD: Intimidating at first. We met at his office, and you are going through the halls, which is a microcosm of everything he has done—Magic Johnson Enterprises, the Magic Johnson Foundation—and you meet these amazing people who have worked with him for years, and you fully realize that he is not just some mythic figure; he is one of the most successful people on the planet, someone who has really impacted the lives of millions.
So that's a little nerve-wracking. Then he walked into the office and gives me a hug and couldn't have been more engaging and interested and excited for me. Nothing was off limits—he gave me all the time I needed and has left the door open for whatever I need to get the part right.
That interaction helped to drive me even more to be successful and to make sure that everyone who comes to see us leaves feeling inspired.
BR: Did you guys talk basketball at all?
KD: We did. I asked him for any tips he could give me to help prepare for the role, and he talked about and showed me some of the drills he used to prepare. Remember, he was so much taller as a point guard sometimes that he had to adjust to those guarding him, so he had these drills he would do to get as low to the ground as possible.
Lon Rosen (Earvin's business agent) also told me about Earvin always practicing his outside shot, so trying to emulate his regimen, at least in my preparation, is really important. We don't play much basketball in the play, but I know that people expect us to be the real thing, and I will prepare just like he did.
BR: You have obviously started to spend more time with Tug Coker, who will play Larry Bird in the play. Any thoughts on what people will be surprised by in Tug's portrayal of Larry?
KD: I think they will be surprised by the humor. Tug and Larry have the same type of personality, I believe, a very dry sense of humor. Very competitive for sure, always wanting to win, but that sense of humor, which the public rarely saw, will come across in the play and probably surprise some people.
BR: Having spent a good amount of time in L.A., what do the Lakers mean to that city?
KD: Everything, I think. People say times may be changing with CP3 going to the Clippers, but Kobe and the Lakers are still such a huge draw, I don't see that ever changing much.
Now the teams are evolving. That's the nature of sport, and of course the game has changed to more individual play as opposed to when Larry and Magic played, but the Lakers at Staples Center are still special. I loved going with friends who had tickets and always will.
BR: Fans may also know you for your recurring role on Modern Family. What was that like?
KD: It was and is a lot of fun. Consummate actors, many of whom are huge sports fans, so I'm hoping to have them all come and see the show. I auditioned first for the pilot and got called back for a few roles, and finally landed the one I have.
It has been fun for sure to be part of such a successful show, even in a small way, and hopefully at some point I may be back. Right now it's all about the play, though.
BR: People often don't realize the similarities between a cast and a team, have you seen it at all?
KD: Absolutely. This show and our cast will bear that out as well. The show comes together not because of one great performance, but because of the interaction of all of us.
That's what makes this so exciting. We have been given such a great team to start with, from great producers to an amazing writer in Eric Simonson to our director in Thomas Kail. They will make us all better as we work to bring this story to life.
BR: Lastly, what does it mean to you personally to play Magic Johnson?
KD: It is an honor on many levels. I get to represent an American icon still in his prime of life, one who means a great deal not just to the sports world but to the business world, the philanthropic world and to the African-American community. People will get to learn more about him and, I hope, see him as he was and as he still is today.
It's funny, but when I played Martin Luther King, my Mom told me how proud she was. When I told her I was going to play Magic Johnson, she said her level of pride rose again. Then she really challenged me—she said, "When will you play President Obama?" (laughs) One thing at a time. First we have to get this role right.