Running Back (Un)Stable: The New York Giants Have Questions to Answer at RB
February 22, 2012

Al Bello/Getty Images
When the blue and red confetti fell to the Lucas Oil Stadium turf on Feb. 5, the nation was not held in the grip of disbelief.  Yes, blue and red confetti would be required regardless of the game's winner, but that isn't my point.
The poise of Eli Manning and the offense under his charge did not resemble the one that hoisted the Lombardi Trophy four years earlier.  This time, Manning was not the wide-eyed kid who had tripped backwards into a successful postseason run on the legs of quality running backs. 
He had thrown for nearly 5,000 regular-season yards and allowed both of his top targets to accumulate yardage totals north of 1,000.  Thanks to Manning and his receivers, the New York Giants were not only a passing team, but a dangerous offensive powerhouse.
In the first Super Bowl meeting between New York and New England, the dynamic had been a bit different. Yes, the Patriots were overwhelming favorites because of their 18-0 record, but it wasn't just their proficiency that gave them a theoretical edge.  The Giants' defensive pass rush had managed to hamper opponents enough to mask the offensive inconsistency.  The reliable ground game could set up the pass, but the unit as a whole was not able to move downfield with the consistent authority exhibited this winter.  The offense's leader was not its strongest component and it was painfully obvious.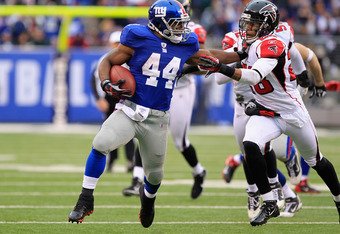 Chris Trotman/Getty Images
Heading into 2012, the Giants have some questions to answer regarding what is now their complementary offensive aspect.  A one-time star, Brandon Jacobs has experienced a violent drop-off in production since his outstanding performances of '07-'08.  It may very well be time to say farewell the 6'5" behemoth, whose novelty has worn thin enough to place his neck near the chopping block.
If it is time to update the RB rotation, Jerry Reese has a far different task ahead of him than he did following the '06 campaign when the heart and soul of ground game bounded into an early (and disastrous) retirement.  He no longer needs a game-changer at the position.  He needs a game-manager. 
Ahmad Bradshaw hasn't yet peaked and still has years of explosive plays to contribute, but the sand in his hourglass will run a bit faster if he continues to act as the feature back in the Giants rotation.  I've received heat in the past for suggesting the Marshall alum's role be reduced. However, picking and choosing his spots could extend his career. 
He is already forced to run on the sides of his feet, which make his speed and cutting ability all the more impressive.  But the surgically inserted screws in his feet helped sideline him for four regular-season games.  With his second-highest career carry total, Bradshaw was held to his third-highest season total for total yards at 659.  In one year, he experienced a 576-yard drop-off in production.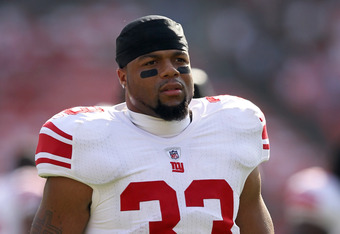 Ezra Shaw/Getty Images
In '11 he was considered the "feature" back because of his ability to make key plays and ice games with a breakout scamper for a touchdown.  However, he was not able to generate a reliable rushing attack and notched only 3.8 yards per carry. This is the same average as his counterpart, Jacobs. 
The bright side for Big Blue is the fact the rushing attack can continue to play a reduced role.  A back like D.J. Ware can contribute the yards when necessary, but he won't have to shine.  He turned in a 163-yard performance in 2011 as the team's third back (second when either Bradshaw or Jacobs were unavailable).  His biggest impact came on two separate two-point conversions, one of which allowed the Giants to craft an improbable comeback during the crucial matchup in Dallas. 
Perhaps what the Giants like most about Ware is his pass-blocking abilities, which serves as another subtle reminder of what this franchise's bread and butter has become.  Sitting behind him is the true wild card heading into the offseason.
Da'Rel Scott served as a needed boost for New York during a monotonous preseason matchup against Chicago.  Overcoming a near stumble, Scott bolted for a 97-yard score late in the contest.  The unexpected highlight helped cushion the blow of losing both CB Terrell Thomas and serious contender for the nickel spot, Brian Witherspoon, in the same night.
Like Bradshaw, Scott was a seventh-round pick.  Also like Bradshaw, he displays awe-inspiring agility and impressive speed.  Unlike Bradshaw, he does not yet seem capable of creating his own opportunities in which to showcase his talents.
Bradshaw did not always require open space to make plays.  As a relatively unheralded rookie, he came on late in the season as a dangerous change-of-pace back with the ability to make defenders miss.  In games that count, Scott has not demonstrated such ability thus far.  His 16 yards rushing were spread across five carries, and he also failed to deliver as a viable kick return option.
Regardless, Scott figures into the Giants plans going forward and will have a legitimate opportunity to make a case for feature back in camp.  His raw talent should allow him to hone his technique over the offseason, and with luck he can enjoy a breakout sophomore campaign, a la Mario Manningham's memorable post-rookie rebound. 
Jerry Reese's faith in Scott could go a long way in determining just how early in the draft (if at all) the Giants are willing to bring a running back on board.  Sitting in the "fortunate" position of last on draft day, it is likely that the first-round pick will be a value one.  The best player available may be selected regardless of immediate need at the position.
Trent Richardson is projected by many to be an early selection and that may very well be the case.  But every year holds a first-round surprise.  Last year, Mark Ingram (also a physical runner from Alabama) fell to the Saints at pick 28.  Should he be available, I could see the Giants abandoning other plans to acquire him.
If a highly touted power runner like Richardson isn't available, I would expect New York to hold off until the middle or late rounds to bring in another RB to the stable.
Another name to keep in mind during camp is Andre Brown.  Brown failed to make the final roster during his second go around with the team in '11 but spent the entire season on the practice squad.  He's shown ability to accrue at least a handful of yards on every snap in preseason but a breakout play has eluded him. 
Recent rumblings suggest Jacobs would not be the odd-man out should the Giants add a running back during the offseason.  While no one outside the organization can be entirely sure, current speculations place the Giants in a far better cap situation than previously thought.  That could give them the flexibility to retain Jacobs at a reasonable price.
The question is: Would they want him?  Jacobs has publicly stated he feels the team would like him to return and he has also made it clear he would be willing to take yet another pay cut to stay in New York. 
Even with his generous offer to lighten his paycheck, I'm not sure why the organization would find it necessary to retain him. His physical intensity, for understandable reasons, has sharply declined following years of seeking out contact.  He would need to be playing at a veteran minimum to be worthy of the cap space and roster spot. 
My personal projection is that Jacobs is ultimately let go and a younger player like Scott will be given more opportunities.  I see the Giants drafting a RB in the middle rounds in an attempt to find the value picks that Reese excels at.  Bradshaw will remain the main event, but he will need someone to help carry the load and preserve his health.  The rushing attack will remain as a complement to a dangerous passing game, but an improvement over '11's results could lead to an easier path to the postseason.