14 College Football Coaches Delivering the Same W's as Higher-Paid Coaches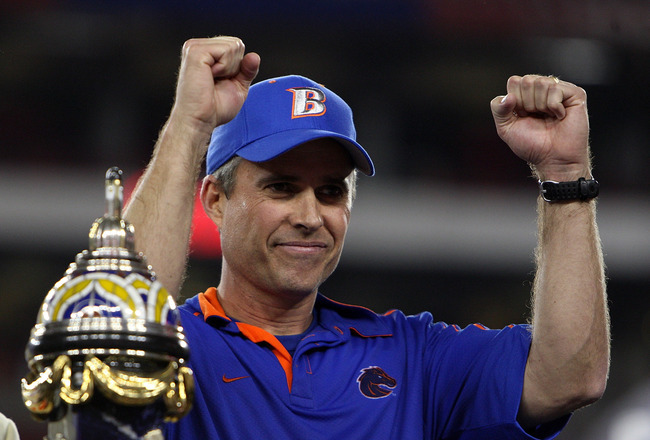 This list is about comparisons.
Taking two coaches, one making less than the other, and comparing them.
You see, there seems to be an imbalance in salary.
Does it not strike anyone as strange that a coach from C-USA that averages six wins per year makes more than another from the Pac-12 that has taken his team to a BCS game?
The coaches are compared using bar charts, so if you hate those things, apologies, it was simply the best way to compare.
They are compared across several categories, including win percentage, average yearly win totals and conference titles, on top of their salaries.
While it appears to be imbalanced, it's not likely to change, but still interesting to review.
14. Paul Johnson, Georgia Tech vs. Chris Ault, Nevada
These two guys have been head coaches for a combined 41 years.
Paul Johnson is seeing some success from his recruiting, going into his fifth season at Georgia Tech. The Yellow Jackets were a solid unit in 2011, and have the pieces to make a run at the ACC title in 2012.
However, when comparing some of their stats, Chris Ault seems to have the advantage.
His .685 winning percentage is slightly better than Johnson's and over a longer period of time.
Johnson, with 8.5 wins per season, will make $2.6 million in 2012.
Meanwhile, Ault, at 8.6 wins per season makes a paltry, by comparison, $450,000.
Johnson did post a BCS appearance in 2009, following a conference title, but Tech has since vacated that title.
Ault has no BCS appearances, but has won 10 conference titles in his 26 seasons with the program.
Not to bash Johnson—his job is difficult—but Ault seems to be the better value for his money.
13. Chris Petersen, Boise State vs. Skip Holtz, USF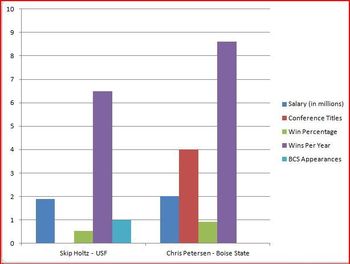 USF finished near the bottom of the Big East this season, and looked awful doing it.
Boise State finished the season with only one loss and ranked inside the top 10.
Ironic, is it not, that Skip Holtz makes more money than a coach whose team averages more than 13 wins per season?
Petersen has turned down higher paying jobs to stay at Boise State, demonstrating a loyalty that is rare in today's world where everyone follows the money.
Boise State should find a way to pay this man more.
12. Dana Holgorsen, WVU vs. Jimbo Fisher, FSU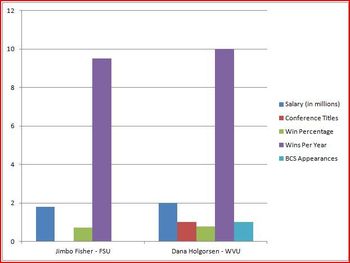 Dana Holgorsen was only around for one season, but WVU fans could see the difference in the offense.
This team is ridiculously explosive, and has the potential to beat anyone.
Holgorsen's sustained success is not guaranteed, but given the talent he has at WVU, as well as his track record, the chances of it continuing are very good.
As for Jimbo Fisher, while the Seminoles have not been awful, he has not lived up to the high standards set by Bobby Bowden.
The fact that he makes more than Holgorsen is a joke.
11. Bronco Mendenhall, BYU vs. Gary Pinkel, Missouri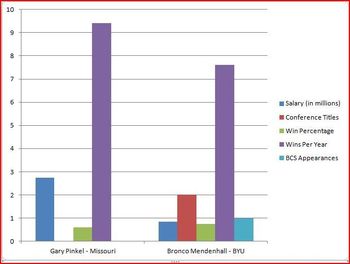 BYU pays Bronco Mendenhall less than $1 million to coach the Cougars, but he has produced.
He has more conference titles, a better win percentage, and is paid less than a third as much as Gary Pinkel of Missouri.
On top of that, there are no DUIs on his record, unlike Pinkel.
10. Bret Bielema, Wisconsin vs. Dan Mullen, Mississippi State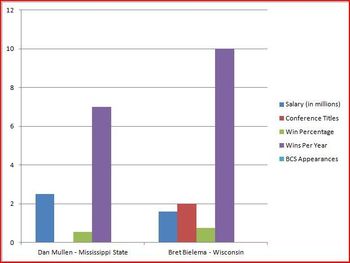 This one is interesting.
Bielema is one of the most hated coaches in the Big Ten, and that is likely due to his success at the program.
He has back-to-back Rose Bowl appearances, a better win percentage and more than three more wins per year, on average than Mississippi State's Dan Mullen.
Mullen and his squad have improved, mildly during his time there, but are nowhere near competing in the always competitive SEC.
Advantage, Bielema.
9. Bobby Petrino, Arkansas vs. Gary Patterson, TCU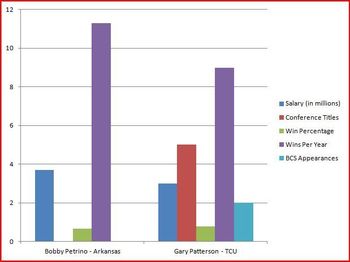 Bobby Petrino has one BCS appearance with Arkansas, half the number that Gary Patterson boasts.
Petrino averages more wins per season, but Patterson's winning percentage is better, as not many coaches who have been around for 12 years are sitting at .784.
Petrino has yet to have a bad season, but if he hangs around for a dozen seasons, he is sure to have one, especially in the ever-cyclical world of college football.
For now, Patterson, making a quarter million less, appears to be the better option.
8. Mark Richt, Georgia vs. Chip Kelly, Oregon
Richt makes nearly half a million more than Kelly, yet he has a lower win percentage, fewer conference titles and the same amount of BCS appearances.
Some would argue that Kelly is coaching in the Pac-12 as opposed to the brutal SEC, so his smaller salary only makes sense, but does anyone think he would not be successful if he and Richt switched positions?
7. Ken Niumatalolo, Navy vs. Mike Riley, Oregon State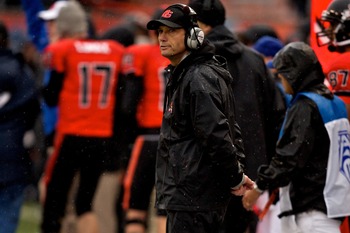 Craig Mitchelldyer/Getty Images
Navy has not been known for the stellar football teams.
That said, the Midshipmen have been better of late than Oregon State.
Mike Riley's team averages just over six wins per season, while Navy has averaged just over seven under Ken Niumatalolo.
Riley's win percentage is .533, while Niumatalolo sits at .596.
As for salaries, Riley makes a modest $1.5 million per season, while Niumatalolo makes only $1.1 million.

6. Derek Dooley, Tennessee vs. Ruffin McNeill, ECU
Derek Dooley, through no fault of his own, has had a rough couple of seasons at Tennessee.
His team has suffered major setbacks, including losing their starting quarterback in 2011, and dealing with a plethora of injuries.
Excuses aside, Dooley and McNeill have the same record and winning percentage, identical win totals and the same number of conference titles and BCS appearances—zero.
But due to the fact that he coaches in C-USA and not the SEC, McNeill makes far less than Dooley.
Fair or not, the numbers don't lie, and these guys have the exact same record.
5. Troy Calhoun, Air Force vs. Dabo Swinney, Clemson
This one is a little different comparison, so hang with me for the explanation.
Dabo Swinney has a mildly better win percentage, .631 for Troy Calhoun to .604 for Swinney.
This gets interesting is when you consider Calhoun's limitations and salary.
Due to the physical requirements at the Air Force Academy, their players are generally somewhat smaller than those they play against.
He also makes more than a million dollars a season less than Swinney, yet still has a better winning percentage.
While Swinney coaches in a tougher conference (theoretically) Calhoun deserves some respect for his ability to field successful teams in spite of his limitations.
4. June Jones, SMU vs. Kyle Whittingham, Utah
Wow, this is crazy.
June Jones makes over $2 million per season, while averaging a pathetic six wins per season during his four seasons at SMU.
Compare that with Kyle Whittingham, who averages more than nine wins per season, has a far better winning percentage, more conference titles and has taken his team to a BCS appearance.
Clear advantage to the man making less money, here.
3. Kirk Ferentz, Iowa vs. Mark Dantonio, MSU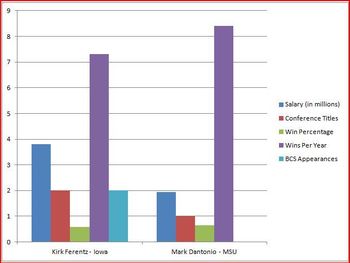 I have yet to figure this one out.
Kirk Ferentz only has one more conference title than Mark Dantonio, and has taken the Hawkeyes to two BCS games.
But he makes twice as much as Mark Dantonio.
Puzzling.
2. Steve Sarkisian, Washington vs. Pat Fitzgerald, Northwestern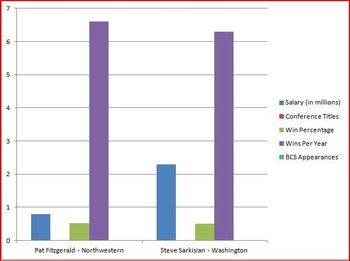 Northwestern is not known as a football power.
As a matter of fact, they have spent much of the last decade as the doormat of the Big Ten.
Pat Fitzgerald is not payed enough for the tremendous work he has done.
Consider this comparison: Sarkisian makes over twice as much as Fitzgerald, yet has a worse winning percentage and averages fewer wins per season.
1. Steve Spurrier, South Carolina vs. Mike Gundy Oklahoma State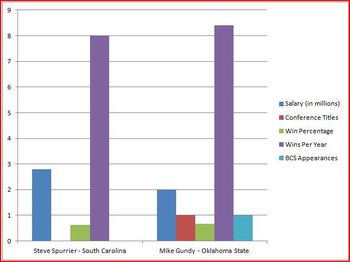 As you can see, about the only thing Steve Spurrier has more of than Mike Gundy is the money.
The man has a great career behind him and probably deserves every penny he makes.
That said, Gundy has the clear advantage if we compare the two based solely on wins.
He has a better winning percentage, more conference titles, more BCS appearances and more wins per season.
On top of that, he's much younger.
Give the nod for being taken advantage of to Gundy.
Keep Reading