2012 MLB Predictions: 5 Most Likely World Series Matchups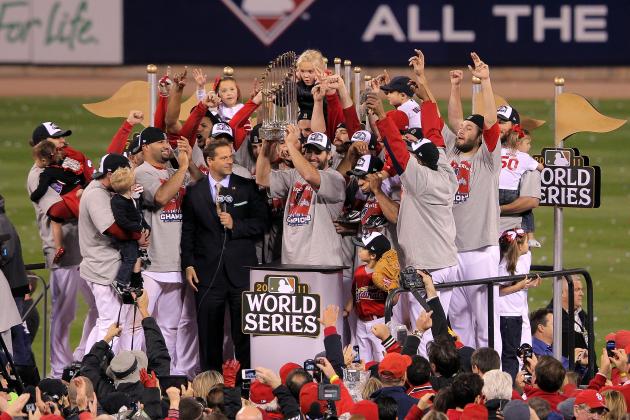 Doug Pensinger/Getty Images

The St. Louis Cardinals, much like the New York Giants football team, went on their second miracle World Series run in five years last season. It was another lesson in the beauty of sports, and was amazing to watch as an outside observer.
Who will win it all this year, and will it be another Cinderella or a favored juggernaut?
Philadelphia's surefire dynasty has not panned out since Cliff Lee was first dealt there back in 2009, but they are once again the odds-on favorites to hoist the trophy in 2012.
Determining the five most likely World Series matchups among all the top contenders, however, is a whole other and more difficult story to write.
As opposed to picking three or four favorites and doing a bunch of redundant matchups, I wanted to expand and use as many teams as I can—only using each of my perceived favorites from either league twice.
Some notable teams that have been omitted from the list include:
1. Tampa Bay Rays: They have a stunningly talented staff and a unique home-field advantage, but I don't think the Rays can get through the offensive gauntlet of the New York Yankees, Detroit Tigers and Texas Rangers without a functional attack of their own.
2. Boston Red Sox: They have the best offense in the league and a rebuilt bullpen, but their rotation has a ton of questions even with Josh Beckett and Jon Lester at the top. They are third best in the AL East and won't get a chance unless the second Wild Card is instituted for this season.
3. Milwaukee Brewers: They won 96 games in 2011 and have a solid group of arms in the rotation. The problem is that they lost Prince Fielder and may lose Ryan Braun for 50 games for failing MLB's testing program. The Brewers will have a nice year, but a not postseason-worthy one.
4. Atlanta Braves: They have a plethora of young arms and a solid stable of established rotation guys, but it would take special years from Dan Uggla, Freddie Freeman and Jason Heyward to make a real run at the World Series this season.
Feel free to make the case for any of these omissions in the comment section or add more of your own, as I would love to debate some baseball with all of you.
Here we go, starting off with an AL West vs. NL West matchup at No. 5:
Begin Slideshow

»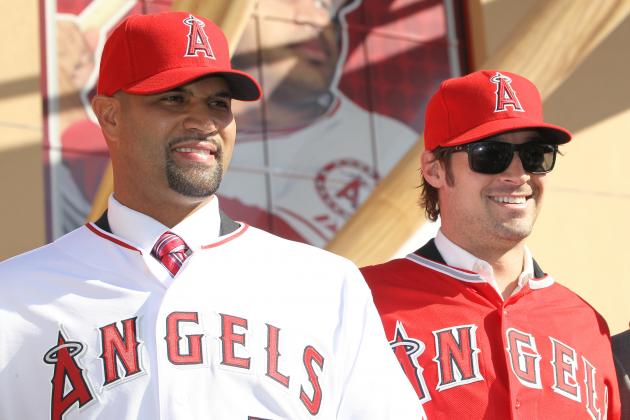 Stephen Dunn/Getty Images

Series Prediction: Angels over D-Backs 4-1
Albert Pujols and C.J. Wilson being added to an already dangerous roster, giving the Angels a great chance to come out of the AL.
The surprising D-Backs have added a No. 2 starter in Trevor Cahill to fit in behind ace Ian Kennedy. Also, they have the offensive firepower to support a young and talented staff.
This would be a true David vs. Goliath matchup, but, unfortunately, David would receive a beatdown this time around.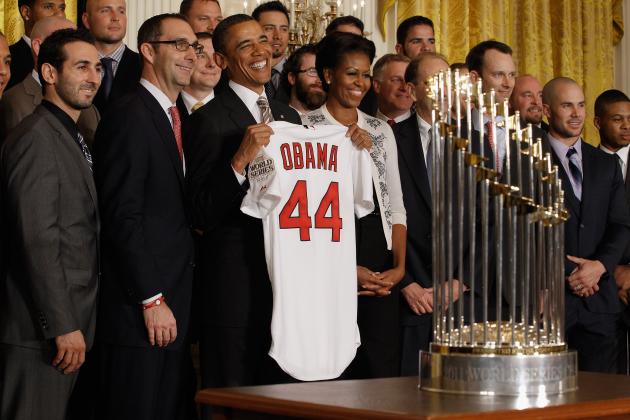 Chip Somodevilla/Getty Images

Series Prediction: Cardinals over Tigers 4-2
The defending champion Cardinals have lost the best player in their franchise's history, but will be adding Carlos Beltran and Adam Wainwright into the fold. They may see David Freese mature into a star off an epic postseason.
The Tigers have lost Victor Martinez, but have added Prince Fielder to an already stellar offense and underrated staff.
This matchup would yield the first back-to-back champs since the 2000 Yankees.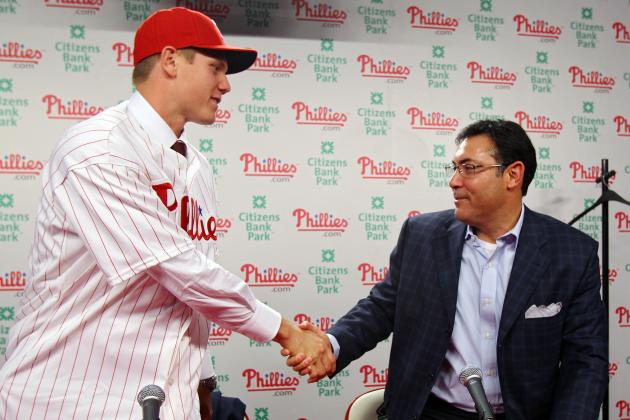 Len Redkoles/Getty Images

Series Prediction: Phillies over Yankees 4-3
Hiroki Kuroda and Michael Pineda shored up the Yanks' major weakness, and Phil Hughes, Joba Chamberlain and Rafael Soriano should all contribute much more in 2012.
The Phillies still have the best threesome of aces in the league and now have a shutdown closer to finish out big games in Jonathan Papelbon.
Baseball would love to see a 2009 rematch, but the Yanks would lose a hard-fought Game 7 at the hands of postseason gamer Cole Hamels.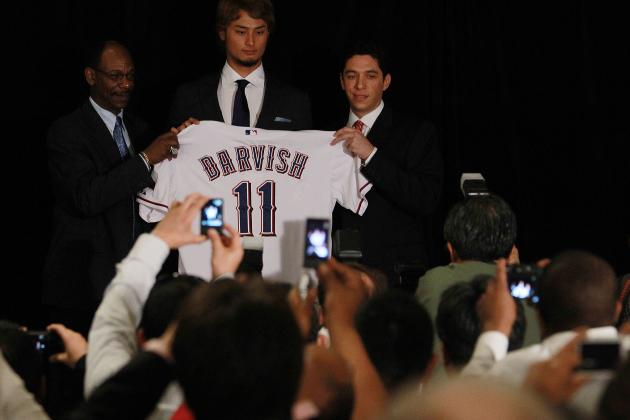 Ronald Martinez/Getty Images

Series Prediction: Rangers over Giants 4-2
Major question marks surround Josh Hamilton, Yu Darvish, Neftali Feliz and others, but the fact is that they're the two-time defending AL champions and have a TON of talent and upside. If Darvish can adequately assimilate to MLB and Derek Holland takes the next step in his development, they will be just fine.
The Giants look to rebound with a healthy Buster Posey and budding superstar in Madison Bumgarner, and will be a deadly team if they can get into the playoffs.
But the third time would be the charm for Texas.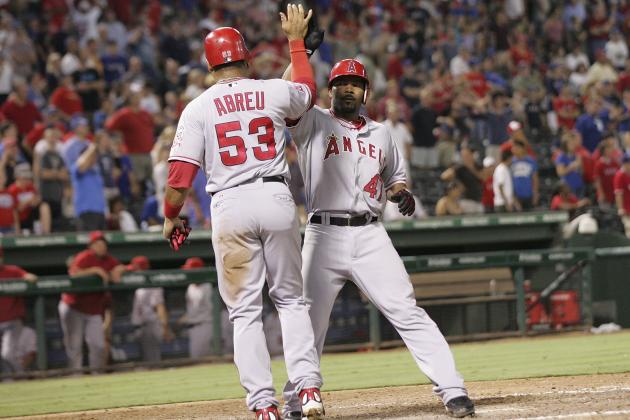 Rick Yeatts/Getty Images

Series Prediction: Angels over Phillies 4-3
All my money is on the Angels and Phillies clashing heads in the 2012 World Series. They have far too much pitching. Unlike the Rays and Giants, they have enough offensive clout to score the four or five runs they'll need in October.
The difference in this tooth-and-nail series is that the Angels staff goes four deep as opposed to Philly's three. East coast vs. West coast, Pujols vs. Howard, aces galore…this would be the best overall World Series we have witnessed since 2001.