Nick Diaz and the 10 Most Self-Destructive Fighters in MMA History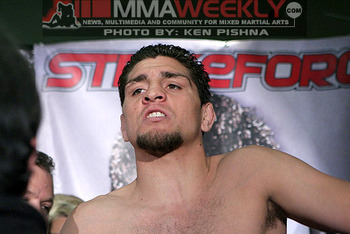 Nick Diaz/ Ken Pishna for MMAWeekly.com
Since his inception into the sport, Nick Diaz has grabbed the MMA world's attention with his unapologetic demeanor.
His avid use of marijuana, subsequent suspensions handed down from governing athletic commissions and budding rivalries with compelling figures in the sport have both endeared and alienated Diaz to and from the MMA community.
However, Diaz is just one of many fighters whose actions have hindered his career thanks to poor choice and immature decisions.
Nick Diaz/ Ken Pishna for MMAWeekly.com
Bob Sapp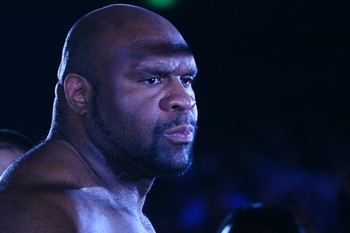 Sapp/ Sherdog.com
Former NFL hopeful Bob Sapp was once regarded as one of the best fighters in both the Pride and K-1 circuit.
A hulking mass of man, Sapp held a decided size and strength advantage over most, and used his raw talents to aid him in many compelling battles over the years.
However, after failing to capitalize on his innate abilities, Sapp has since been on a downward spiral, seemingly going through the motions and picking up a paycheck.
Sapp is 2-8 in his last 10 outings in MMA and recently snapped a 10-fight losing streak in kickboxing with a TKO victory over Tofan Pirani, which came at the expense of a leg injury.
Chris Leben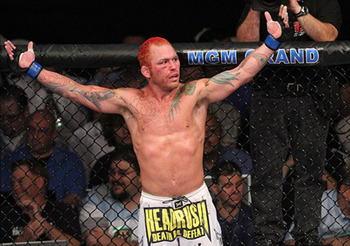 Leben/ Scott Petersen for MMAWeekly.com
Once regarded as a top contender in the UFC's middleweight class, The Ultimate Fighter season one veteran Chris Leben has seen the full gamut of ups and downs.
On the show, Leben was seen battling many of his own personal demons, going on a violent tirade through the household, punching doors and breaking glass all while active in the competition.
Later in his career, "The Crippler" was arrested on suspicion of DUI and was later jailed for 35 days due to violating his probation.
Next, after his decision loss to fellow TUF vet Michael Bisping, Leben tested positive for Stanozolol—a synthetic anabolic steroid.
Leben served his subsequent suspension, though recently made headlines yet again when after tasting defeat at the hands of wrestling ace Mark Munoz, the Oregon native had tested positive for Oxycontin in his post-fight drug screening. He is now serving a one-year suspension.
War Machine Aka Jon Koppenhaver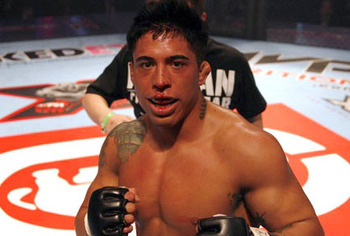 War Machine/ Sherdog.com
A season 6 veteran of The Ultimate Fighter, War Machine, aka Jon Koppenhaver, has gone from an exciting young prospect to one of the most complex characters in MMA today.
After a submission loss to Yoshiyuki Yoshida at UFC 84, Koppenhaver was released from the organization, after some disparaging comments made concerning the late and great Evan Tanner, coupled with rejecting a fight when UFC matchmaker Joe Silva came a-ringing.
Compiling a decent win streak on the regional circuit, War Machine would later sign with Bellator Fighting Championships, only to later be released by the organization after expressing some strange opinions on President Barack Obama:
"..hopes someone smokes that [expletive] and every president to come," said Koppenhaver on his Myspace blog.
Machine has been linked to several bar brawls, though it was his altercation at a porn star's birthday party that really set him over the top:
"(Expletive)...last night was NOT good...lil' misunderstanding and then WM was back in effect and the bodies hit the floor. I'm (expletive)...Pretty sure my porn days are over. Prolly be going to jail too...when they find me...haha!" said Koppenhaver in a Tweet he released shortly after the incident.
Koppenhaver served a yearlong term in prison after the incident and has since returned to the MMA world, picking up a decision win over fellow UFC vet Roger Huerta in his last outing.
Kazushi Sakuraba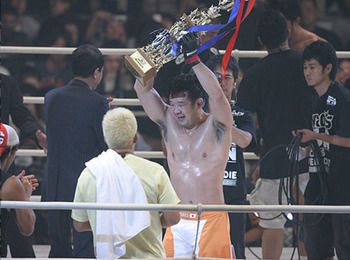 Sakuraba/ Scott Petersen for MMAWeekly.com
Has Kazushi Sakuraba gone on villainous tirades, tested positive for performance-enhancing drugs or made any disparaging comments? No.
However, what the legendary Japanese star has done is continue fighting well after his expiration date in the sport, and as a result has suffered unarguably some of the worst beatings in the MMA realm.
Winless in his last four bouts, Sakuraba suffered a particularly gruesome loss to that of Dream welterweight champion Marius Zaromskis, where the Lithuanian severed Sakuraba's ear clean off his head, courtesy of a head kick and blows from the mount.
Sakuraba, 42, continues to enter the ring, mummifying his knees which have clearly been subject to serious damage over the course of his 15-plus years in the sport.
Time to hang them up, sir.
Jeremy Jackson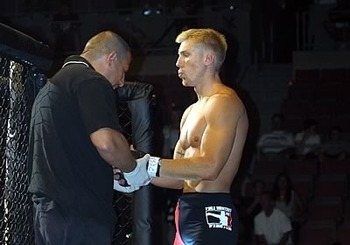 Jackson (right)/ Sherdog.com
At the height of his career, Jackson was considered one of the best up-and-coming fighters in the welterweight division.
After scoring successive victories over Nick Diaz and Shonie Carter, Jackson was called up to the big show.
Though he suffered a submission loss to the aforementioned Diaz, Jackson later found himself on Season 4 of The Ultimate Fighter.
He was bounced from the competition after hopping their enclosure and venturing out of the house in order to play hooky with a female lifeguard the crew had met in an outdoor excursion just days prior.
Jackson, though, was invited to the series finale where he suffered a loss to veteran Pete Spratt. He later was released from the UFC.
Soon after, "The Scorpion" was arrested on suspicion of multiple counts of aggravated assault and rape, being held on a $1 million bail. Jackson plead guilty and is now serving a 25-years-to-life sentence in prison.
Paul Daley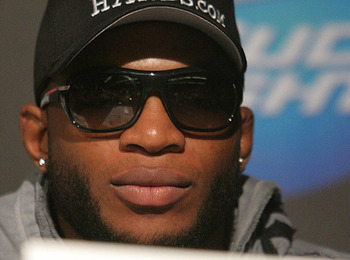 Daley/ MMAWeekly.com
Paul Daley has always been a brash and confident fighter. However, there have been times when his pride has gotten the best of the Brit.
Daley entered the UFC in September of 2009, scoring an upset TKO victory over then-top contender Martin Kampmann, catapulting him up the ranks of the welterweight class.
Next, Daley took on the touted Dustin Hazelett, finishing off the submission ace with a vicious first-round knockout.
Later, "Semtex" was pitted against Josh Koscheck, where the winner would serve as coach on Season 12 of The Ultimate Fighter opposite Georges St-Pierre, with a chance to fight the Canadian for his welterweight crown.
After dominating Daley for three lackluster rounds on the mat, Daley, out of a fit of frustration, walked up to Koscheck moments after the bout and sucker-punched him with a left hook.
Shortly thereafter, Daley was released from the UFC, with president Dana White citing that the heavy hitter would never be welcomed back inside the Octagon.
Anthony Johnson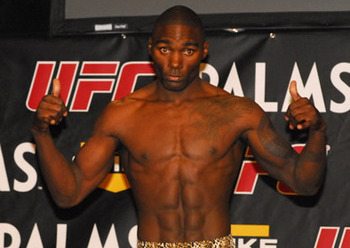 Johnson/ Sherdog.com
The talented and explosive Johnson is perhaps one of the best examples of a fighter with tremendous potential failing to live up to expectations.
"Rumble" has always been regarded as one of the most powerful and imposing fighters in MMA. Early in his UFC career, Johnson competed in the welterweight class, though the Georgia native has always struggled making the 171-pound limit.
After twice failing to make weight, Johnson moved up to middleweight, where he took on former champion Vitor Belfort last August.
Citing medical issues, Johnson failed to meet the 186-pound limit, coming in at a staggering 11 pounds over, with the bout being regulated to a catchweight bout.
Belfort submitted Johnson, who was later released from the UFC.
Josh Barnett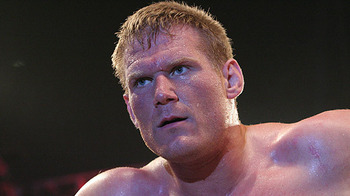 Barnett/ Ken Pishna for MMAWeekly.com
Regarded as one of the best of the heavyweight class, Josh Barnett has been the butt of a lot of controversy throughout his career.
After back-to-back victories over Semmy Schilt and Bobby Hoffman, Barnett earned his shot at the UFC title against then-champion Randy Couture, TKO'ing the UFC Hall of Famer in the second round.
Shortly thereafter, Barnett was stripped of the heavyweight crown after testing positive for steroids, next taking his exploits overseas competing for both Pride and Sengoku, before later returning to the States, where he signed with burgeoning MMA promotion in Affliction.
Knockout victories over Pedro Rizzo and Gilbert Yvel helped set up a blockbuster battle with then-heavyweight kingpin Fedor Emelianenko. In the days leading up to the fight, Barnett again tested positive for steroids, ultimately causing the promotion to fold after millions had been spent in marketing the marquee bout.
Mark Kerr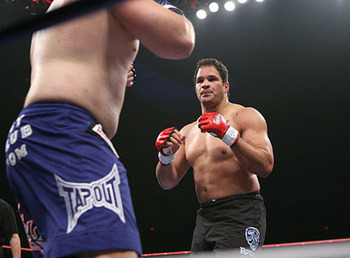 Kerr (right)/ Dave Mandel for MMAWeekly.com
A hulking heavyweight who wielded world-class wrestling skills, Mark Kerr looked to be the man who could hold the mantle as one of the greatest fighters to enter the sport.
In just his first seven bouts as a professional, Kerr earned three tournament titles, two of which came in the UFC.
Kerr subsequently signed with Pride and debuted in their second show in March of 1998. Kerr remained undefeated in his first 13 outings as a pro, before succumbing to a string of losses.
In the documentary The Smashing Machine, Kerr was seen suffering an addiction to pain killers, which helped mask the damage sustained to his body thanks to his extensive career in wrestling and MMA.
"The Titan" slipped further and further into his addiction and was fighting from paycheck to paycheck. As a result, Kerr has suffered several losses over the years, going 2-10 in his last 12 bouts.
Kerr, 43, has been inactive since a 25-second knockout loss to Muhammed Lawal in 2009.
Nick Diaz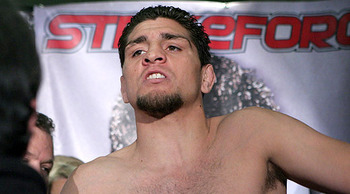 Diaz/ Ken Pishna for MMAWeekly.com
Stockton, Calif.'s own Nick Diaz has lived a hard and arduous life, which has made him rough-and-tough when it comes to social settings and fiscal responsibilities.
Diaz found an outlet to relieve some of his natural aggression with the aid of mixed martial arts, though he has since shown some moments of frustration, regardless of the remedy that punching people in the face creates.
At UFC 57, Diaz lost a close decision to Joe Riggs, though later exacted his revenge when the two welterweights met in the local hospital moments after the fight.
Allegedly, the two engaged in a hospital brawl, which drew the ire of UFC President Dana White, who, though an avid Diaz supporter, says the fighter has always refused to "play the game."
In a lightweight tilt against then-Pride champion Takanori Gomi, Diaz earned the biggest win of his career where the Gracie fighter secured a second-round submission win over the world renowned fighter.
Post-fight, Diaz had tested positive for marijuana and endured a suspension and fine handed down by the Nevada State Athletic Commission.
Diaz later found himself under the burgeoning EliteXC banner, where he became a top contender to the 160-pound title. Rival KJ Noons upset Diaz with a first-round TKO, which came as the result of multiple lacerations on Diaz's face.
The organization made an effort to pit the two against one another soon after, though the two camps later engaged in a memorable brawl in the cage.
It wasn't the last time Diaz would be in a dramatic television riot, as Nick garnered headlines again after jumping Jason "Mayhem" Miller on CBS, moments after the wily fighter called out Diaz's teammate Jake Shields after his battle with Dan Henderson.
Since then, Diaz has saved some face, making his way to the UFC, where he scored a dominant decision win over BJ Penn, securing Fight of the Night honors and earning his shot at the organization's interim welterweight strap.
Taking on Carlos Condit earlier this month, Diaz suffered a hotly-disputed decision loss to "The Natural Born Killer." A rematch was in the works, though was later scrapped after Diaz AGAIN tested positive for marijuana and could serve as a year-long suspension, since it's his second offense.
Keep Reading