UFC 144: Edgar vs. Henderson and Other Fights with Championship-Type Appeal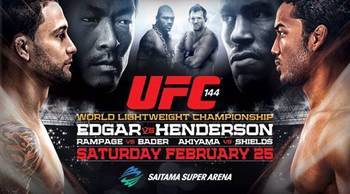 The upcoming UFC 144 in Japan on Saturday is stacked with championship-caliber fights.
Four of the fights feature at least one fighter who has either directly competed in a championship fight or been mentioned as a top contender.
One fight is a to gain ground in a suddenly tough and still growing division between two big MMA names. And finally, we have the actual Lightweight Championship fight.
I'm excited. There is so much at stake in terms of relevance for many of these fighters that it could be a while before we see them in the spotlight again.
Let's start with the sort of "honorable mention" fight...
Mark Hunt vs. Cheick Kongo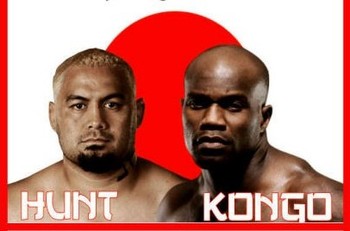 This is a battle between two fighters looking to remain relevant in the suddenly tough heavyweight division.
With losses against Barnett, Fedor, Overeem, and even Gegard Mousasi (a 7-7 MMA record with wins in his last two fights after six straight losses), another loss could mean the last we see of Hunt on the big stage. Even with two wins straight, Hunt may simply be fighting for his job here.
Chieck Kongo is one of those guys who packs power in his strikes and kicks. It seems like he's always on the verge of stringing enough victories together to make a legit run at the top of the division but then falls short. That comeback against Pat Barry was something of legend, though.
Both kickboxers are looking to get a win simply to remain minor ingredients in the mix of the deepening division.
Anthony Pettis vs. Joe Lauzon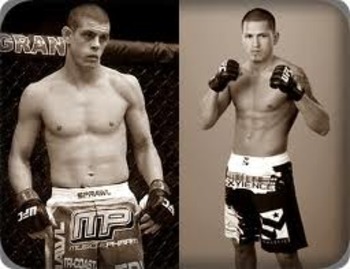 Joe Lauzon is possibly the most underrated lightweight out there. He is almost always the underdog. But in his 21-6 record, only one fight (his Fight of the Night-earning UD loss to Sam Stout) has gone to decision.
He's won every single one of those 21 victories without going to the judges or having the doctor stop the fight. The same can be said of five of his six losses. The man comes to fight and takes heed to the idea of not letting the judges decide for him.
Pettis put his name back in the contendership hat with a win over such a tough opponent. A loss, however, could hold him forever in the status of "that one kid with that one awesome kick." This is his chance to show that he still belongs in consideration for the title shot he never got.
Rampage Jackson vs. Ryan Bader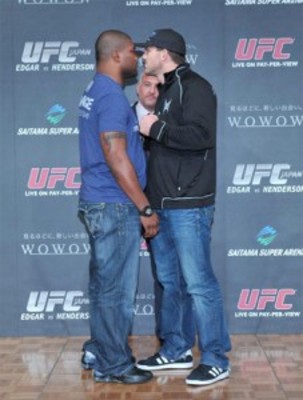 This photo is almost funny. It almost seems like Bader is trying to intimidate Rampage. Not gonna happen.
Jackson is a veteran who isn't going to be intimidated by anyone. With 41 fights and wins against guys like Chuck Liddell, Wanderlei Silva, Dan Henderson, Lyoto Machida and Kevin Randleman to name a few, he'd probably take on and shrug off a speeding freight train coming at him head-on.
Either win or lose, with some recent statements by Jackson concerning his desire to fight, we could be seeing his last hurrah. Or fighting back in Japan could re-energize him and we could see another title fight somewhere in his future.
Bader may need some more time on undercards or maybe even heading to Strikeforce for a bit. Handing Brilz his third straight defeat isn't really much to get excited about after coming off consecutive losses to Jones and then Ortiz.
He's already a fairly visible fighter. And it would be difficult to decide what to do with him after a loss to Jackson. A win may erase the Tito fight, though, and keep him in the mix. This should be a good test for both fighters. Then again, the Tito fight SHOULD have been a fairly easy win for Bader.
Yushin Okami vs. Tim Boetsch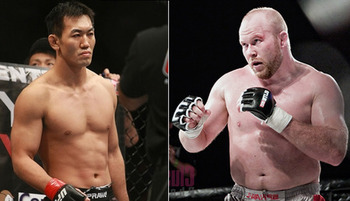 Okami is another fighter who seems to always pull up just short in big fights. In his last 22 matches, he has lost four: to Shields, Franklin, Sonnen, and his most recent championship fight against Silva.
With the growing possibility of Silva retiring, a win over Boestch and/or a loss for Silva against Sonnen could put him right back in the title picture.
In that case, however unlikely, we could see a rematch between Munoz and Okami (having won a split decision over Munoz just three fights ago). A win there could set up another crack at Sonnen for a title. A loss to Munoz would then possibly give us the fight we were supposed to see at UFC on Fox 2.
I realize there are a lot of "possibles" and "if..." situations there. But it's a testament to the possibilities surrounding the near future in the middleweight division.
Boetsch is looking for his chance to gain mention as a prospective contender. Going 2-0 in wins over Kendall Grove and Nick Ring since dropping to MW isn't really anything to get excited about yet. But a win over Okami may create some buzz and would surely secure him another fight against a top 10 MW.
If you can get past the idea of the MW division being "weak" in the shadow of such a dominant champion, the middleweight picture is full of potential.
Yoshihiro Akiyama vs. Jake Shields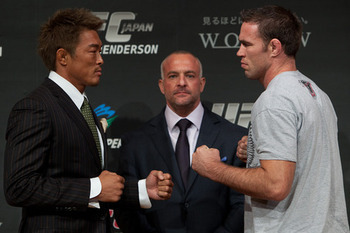 What can we say about Shields? He's a former two-division standout with an Elite XC WW title and a Strikeforce MW title and wins over Henderson and Okami.
He may have even simultaneously held the Strikeforce WW belt if not for his friendship and team affiliation with Nick Diaz.
Shields may simply be one of those guys that, for whatever reason, experience the brightest lights in MMA fighting under the UFC banner and simply can't make it happen.
Will a third straight loss bring its usual implications we have come to expect in the UFC? Probably not. But against Akiyama, a loss could severely damage Shields's reputation and earning ability.
Akiyama is one of the few that have come short in his last three fights and remained employed by the UFC. This is likely due to two of those three losses earning Fight of the Night honors along with his appeal to the Japanese fanbase, especially with this fight taking place in Japan.
If he loses, I wouldn't expect to see him around anymore. Then again, Dana could choose to keep him around to build popularity in a particular geographic area.
Frankie Edgar vs. Ben Henderson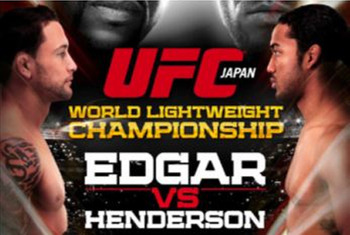 This is pretty much the fight that was delayed by Anthony Pettis and his kung-fu theatre-like kick. Henderson has absolutely proven he deserves the shot.
Seeing his energy and display of ability in his UFC wins has been great in showing the masses that the smaller guys are fun to watch, too. I'm actually pulling for him to win.
Eventually, though, he'll need to add some finishes to his UFC resume or he'll likely gain the same type of criticism GSP has in dominating yet failing to finish his opponents.
Edgar may be the only other fighter out there to have been labeled the "underdog" as many times as Lauzon. Even when it seems he should be the easy choice for the favorite...he IS the champ, after all...he doesn't really get the credit he deserves.
So what if he's mentioned in the famously irrelevant discussion of "pound-for-pound" best. That won't even earn him enough to by a stale doughnut.
The fact is that he is the champ because of the incredible pace he is able to keep in pressuring his opponents and a heart that should be compressing all other organs into a minute space somewhere in the thoracic cavity.
Easily my prediction for Fight of the Night here, as the main event should always have the potential for that.
Keep Reading