Fantasy Baseball 2012: One Star from Each Position Who Should Be Avoided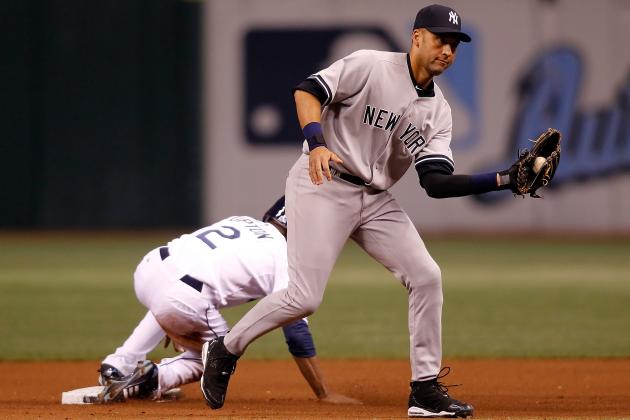 J. Meric/Getty Images

Baseball season is coming soon, which also means it will soon be time for Fantasy Baseball.
Some of you guys already have your potential teams already lined up and you're just about ready to start drafting. You're feeling confident about getting all the guys you want and kicking some butt this season, right?
But let's be honest, how many of you are going to end up with every single player you want? Unless you're in a small league, it's highly unlikely you're going to get who you want.
So you start panicking because the guy you wanted has already been taken. You don't have a backup plan, you're counting all the ways the outlook of the draft has changed, and the clock is winding down.
What do you do? Who do you pick? And after said pick, are you going to feel relieved or wanting to smack yourself upside the head for it?
Well, to help you out a little, here's a list of one player from each position who you should avoid, no matter how panicked and/or desperate you get.
Hopefully, by your draft's end, you'll feel a little bit more relieved on the choices you made.
Begin Slideshow

»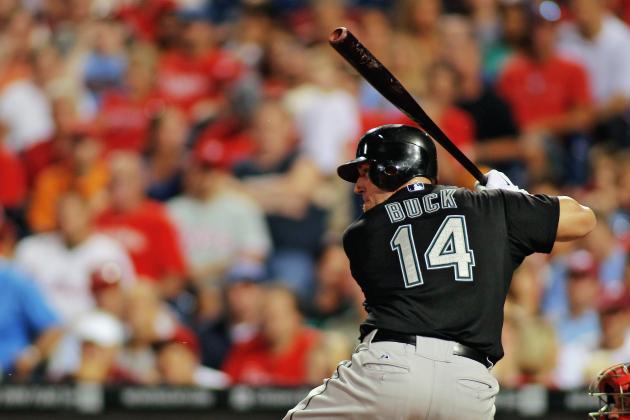 Len Redkoles/Getty Images

After playing very well for the Toronto Blue Jays in 2010—where he had career bests in home runs (25), RBIs (66) and batting average (.280), he went back to being mediocrity with the Miami Marlins in 2011.
Despite playing in a career-high 140 games, Buck couldn't put up the numbers that he did the season before.
He also had a paltry .227 batting average,
Expect similar numbers, in terms of hits and batting average this season. But also expect his home run and RBI totals to decrease even more, particularly when batting at home, as the new Marlins Park has bigger dimensions than Sun Life Stadium!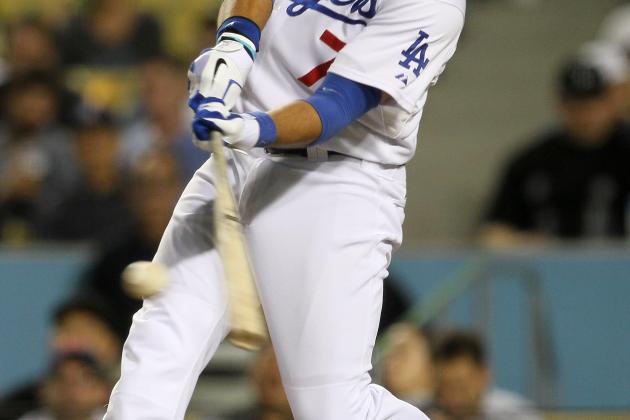 Stephen Dunn/Getty Images

I will give some credit to James Loney.
Since becoming a full-time starter for the Los Angeles Dodgers in 2008, he's been both durable (having played no less than 158 games each year) and consistent (his batting average in his four full seasons are .289, .281, .267, and .288, respecitvely).
However, Loney is a first baseman, and averages about 12 home runs a year.
He also hit just 65 RBIs last season,as well.
In this day and age of baseball, you expect to have a first baseman who will deliver plenty of power, and puts up big numbers, in terms of home runs and RBIs. Loney is definitely not one of those people.
He also has several factors that will hurt him in 2012:
1.) The hitting abilities of teammates Matt Kemp and Andre Ethier will hurt Loney, because he'll have to take a backseat with the two of them in the lineup, while they deliver the big numbers.
2.) He was horrible against left-handed pitchers last year. Against righties, he had a .816 OPS; however, against lefties, he was just .561.
3.) His contract ends after this year, and if he continues to pull less-than-stellar numbers at the plate, or struggles, the team may want to use prospect Scott Van Slyke (considered the 18th-best prospect in the Dodgers organization, according to the MLB Prospect Watch), who won the Southern League batting title playing for Double-A Chattanooga last season, and was selected as the organization's "Minor League Player of the Year."
Al Bello/Getty Images

To be fair, Rickie Weeks is on this list not because of his own offensive production, but rather, the offensive production his team will lack this year.
Weeks hit 20+ home runs with the Milwaukee Brewers for the second straight season last year. He also reached home on 77 occasions (despite missing two months due to an ankle sprain), thanks in large part to Prince Fielder and Ryan Braun.
However, Fielder has gone to Detroit and Braun is facing a 50-game suspension (he is currently appealing) for a positive test for an elevated level of testosterone.
Without the two of them in the lineup, Weeks will have to depend more on his own bat rather than someone else's this year, and his overall production will suffer as a result.
By the way, if you're in a custom league that does depend on fielding, Weeks is even more avoidable, as he led the National League by a second basemen in errors last year (with 25) for the fourth season, and his .969 fielding percentage was the lowest of any starting second baseman in MLB.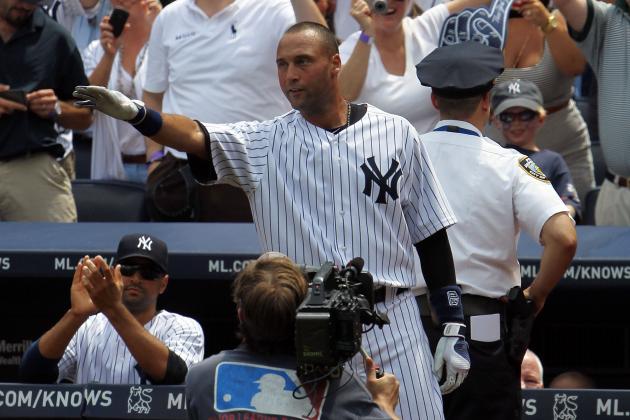 Michael Heiman/Getty Images

I'm sure I'll get some flak for this one.
As a Yankee fan,I love Derek Jeter.
Call him what you will: an icon,a legend, a hall of famer, one of the greatest New York Yankees ever. He's all of these things. It was also great to see him get his 3,000th career hit last year, as well.
But let's be realistic here. He's also 37 (he turns 38 in June) and is in the twilight of his career.
I'm sure Yankee fans will say how much of a tear he went after returnning from the disabled list after the All-Star break, where he went .326, with a .806 OPS in the final half of the season.
True, but do you really think he's capable of doing it again? Remember that before the All-Star break, he was hitting .260 and his OPS was just .649?
How about the fact that he's hitting more ground balls then ever before (in 2011, he hit 2.54 ground outs for every pop out)? Or the fact that he doesn't possess as much ability to go for extra bases as he used to (his 24 doubles last season were the lowest he ever had in his career)?
Jeter will still be drafted highly in most leagues for sure. But if some of the other top shortstops like Asdrubal Cabrera and Starlin Castro are already taken, why use a high pick like Jeter when you could get a far more underrated shortstop in a later round, like the Toronto Blue Jays' Yunel Escobar or the Los Angeles Angels' Erick Aybar, and get roughly the same offensive production, if not more?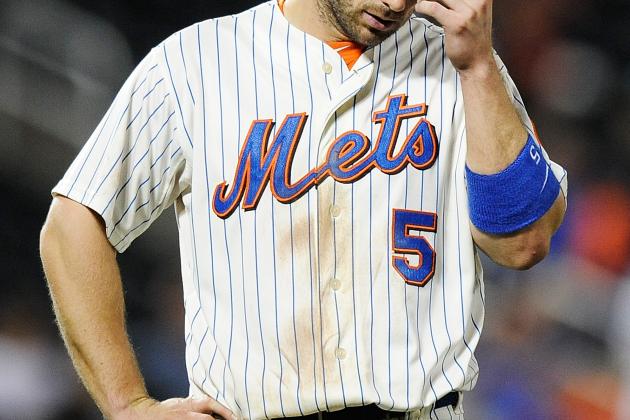 Patrick McDermott/Getty Images

Like Rickie Weeks, David Wright of the New York Mets is another star player who will suffer not just simply because of him, but because of the lack of production surrounding him.
Jose Reyes left for Miami, and Carlos Betlran was traded to the San Francisco Giants in July and is now playing for the St. Louis Cardinals.
In addition, there should be some concern with his health, as he suffered a stress fracture in his lower back in May, and was on the disabled list for two months.Hopefully, it will not be a concern for him at any point during this season, but it does make me feel worrisome.
Even then, he still had trouble hitting for contact, recording a .257 batting average in 102 games.
Fortunately, there's a huge stock in third basemen this season, so hopefully, you'll have already drafted at least one, before even thinking about picking Wright.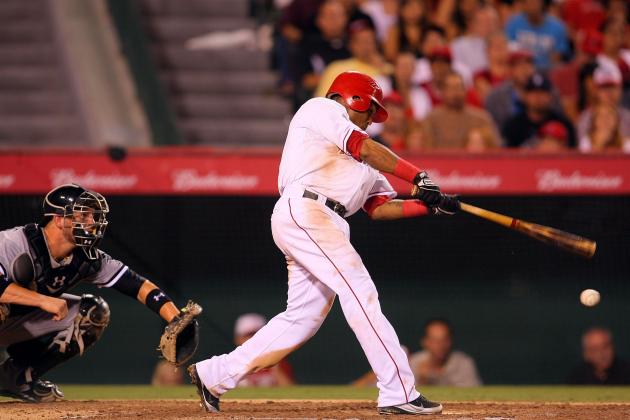 Victor Decolongon/Getty Images

I thought Vernon Wells was bad in 2007. I thought Vernon Wells was bad in 2009.
But last year, Vernon Wells was just garbage.
Granted, he still had power in 2011 with the Los Angeles Angels; he hit 25 home runs. However, he also had a putrid .218 batting average.
This is the same guy who was given a seven-year, $126 million contract in the 2006-2007 offseason (the contract didn't begin until 2008)!
I will never understand how Toronto Blue Jays General Manager Alex Anthopoulos traded him last offseason and only had to pay $5 million out of the remaining $86 million in his contract, but somehow did it. Anthopoulos is a genius, I say!
Anyway, with such a horrible batting average and his inability to go for extra bases, I'd stay far away from him as possible.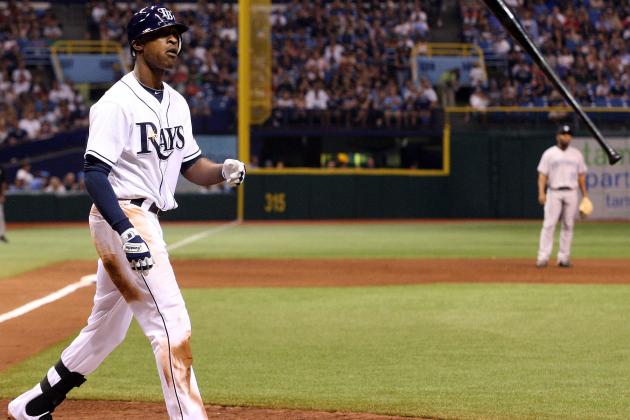 Charles Sonnenblick/Getty Images

B.J. Upton of the Tampa Bay Rays may just be the most overrated player in this year's Fantasy Baseball.
Rotochamp.com has him ranked as the 25th amongst all outfielders for the upcoming season. Not center fielders, mind you, but any player deemed eligible to use as an outfielder in games.
Yes, he did have 23 home runs and 36 steals last season, which, I'll admit, is very nice.
But Upton also had a .243 batting average, and had the most strikeouts of any center fielder in the league not named Drew Stubbs.
Upton will be a relatively high pick in most leagues in this year's draft, especially since the elite center fielders in the draft like Jacoby Ellsbury, Curtis Granderson and Matt Kemp, will all be taken super-early, and they should be.
Upton, on the other hand, is not worth it, and you could easily use that pick for someone else.
If he's still available, I'd suggest trying to get Chris Young of the Arizona Diamondbacks. If you're looking for someone more one-dimensional; in terms of power I'd suggest waiting until later to get Colby Rasmus of the Toronto Blue Jays; for speed, try the San Diego Padres' Cameron Maybin or the San Francisco Giants' Angel Pagan.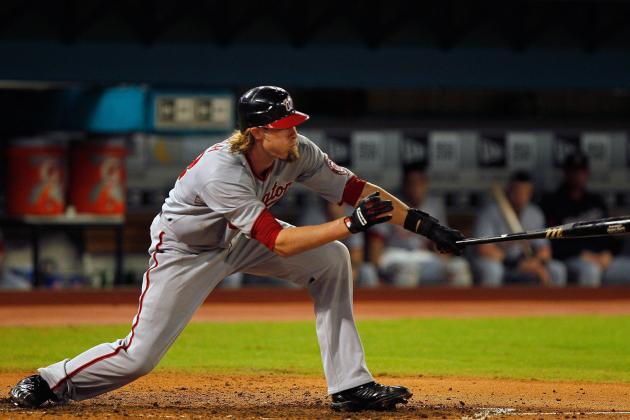 Mike Ehrmann/Getty Images

I was originally going to go with Mike Stanton of the Florida Marlins on this list, because I figured by now in his third season, pitchers, particularly those in the NL East, have him figured out, not to mention the new dimension at Marlins Park would hurt some of his stats at home.
However, the guy hits such huge blasts with his bat, that the new dimensions probably won't even hurt him that much, if at all.
In addition, having Jose Reyes and Hanley Ramirez batting early in the lineup and their ability to not only get one-base but to get in scoring position, would only help better his stats anyway.
And then, I realized, I forgot about Jayson Werth.
After signing a seven-year, $126-million contract with the Washington Nationals just last offseason, you'd think you would remember this guy. But he had such a mediocre season last year, that I almost overlooked him.
Werth has still got pop in his bat, as he did have 20 home runs last season, but that .232 batting average was his worst since 2005, when he was with the Los Angeles Dodgers.
He also had a career-high 160 strikeouts.
Some of his numbers should go up, as he will have plenty of talent surround him, including Ian Desmond, Michael Morse, Danny Espinosa and likely at some point during the season—Bryce Harper.
But unless he fixes his swing, he's just another overpaid, overrated player, floating in a sea of many talented right fielders.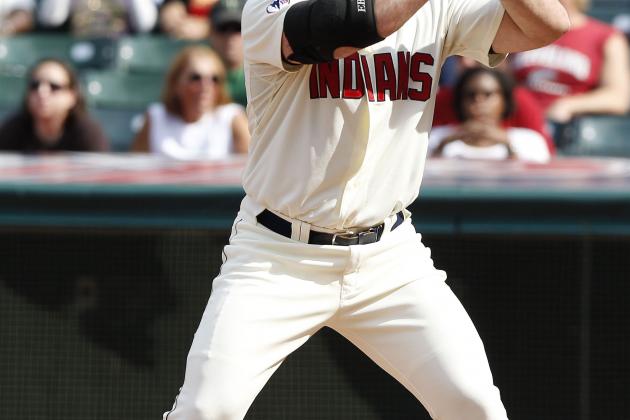 David Maxwell/Getty Images

It's a bit difficult to put in designated hitter, because there were only eight true designated hitters last season.
Of the eight, one has retired (Jorge Posada), three of them are free agents but haven't signed with anyone yet (Vladimir Guerrero, Johnny Damon, Hideki Matsui) and one of them isn't really a star (Willy Mo Pena).
That leaves us with just three: David Ortiz of the Boston Red Sox, Travis Hafner of the Cleveland Indians and Edwin Encarnacion of the Toronto Blue Jays.
Of the three, my least favorite amongst them is Travis Hafner.
Though Encarnacion had a lower batting average (slight) and on-base percentage than Hafner last year, he hit more home runs, more than double the extra-base hits, and recorded more walks than Hafner.
In addition, Encarnacion can get you the occasional steal, whereas Hafner has had nine steals over the course of his career.
It also doesn't help the fact that Hafner has been injury-prone over the past few years, either.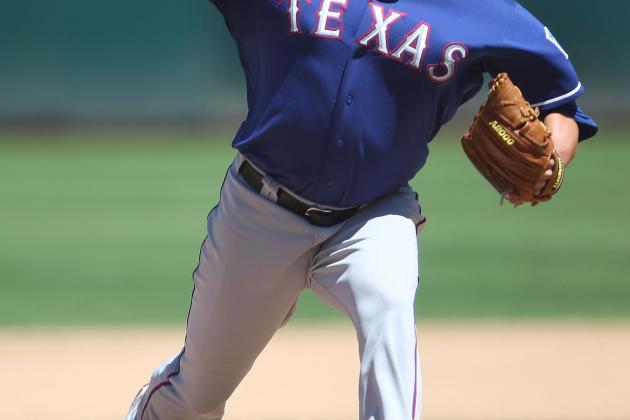 Jed Jacobsohn/Getty Images

I'll give some credit to Colby Lewis; the guy can eat up innings.
Last season, he pitched in 200 1/3 innings for the Texas Rangers, one of only 39 pitchers to do so.
However, he also had a 4.40 ERA and gave up a league-leading 35 home runs.
He posted a 14-10 record with the team, which I find a bit disappointing, considering how explosive the Texas Rangers' offense is.
By the way, to all you Rangers fans, this guy is your Opening Day starter, since C.J. Wilson left for Los Angeles.
If it weren't for the fact that he was on the Rangers, I don't know how much value he'd have, even in AL-only or deep-mixed leagues.
Wins are the only reason this guy would be picked in the draft, but if the Texas offense struggles throughout the year, it could be a long season for Colby Lewis... and Colby Lewis owners.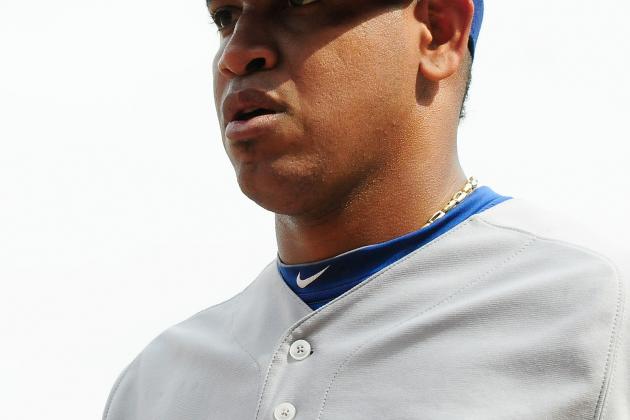 Jeff Curry/Getty Images

The Chicago Cubs' Carlos Marmol, to some, had a mixed 2011 season.
He did have 34 saves, good for 14th amongst closers.
However, his ERA was 4.01 and he had 10 blown saves, tied with the Los Angeles Angels' Jordan Walden, for the most in the league.
However, whereas Walden and the Angels should get better in 2012, the Cubs are an unpredictable mess, and Marmol is in the thick of it all.
He has a very good strikeout rate, especially when you compare him to almost any other closer in the league, but as of now, that's all he has going for him.