UVA Basketball
Virginia vs. Virginia Tech: Cavaliers Take Big Step Toward Securing ACC 4th Spot

Mike Scott had game-highs in points (20) and rebounds (9) to lead Virginia to a 61-59 win.
Jeff Zelevansky/Getty Images
February 22, 2012
With the ACC suddenly looking like it may only be a four-bid conference, the Virginia Cavaliers took a major step toward insuring their name will be called on Selection Sunday with a gutsy, hard-fought, 61-59 win over in-state, arch-rival Virginia Tech.
The victory not only avenged UVA's lone home loss to date, it moved them into sole possession of fourth place and a game clear of Miami and NC State, both losers this evening.
With Virginia owning the tiebreaker over both those schools it gives the 'Hoos the equivalent of a two-game lead with three to play in the regular season, making their "magic number" one for clinching a first-round bye in the upcoming ACC tournament.  That means one win by the Cavaliers or one loss by each of the Hurricanes and Wolfpack locks up the bye. 
UVA was, as usual, led by their ACC Player of the Year candidate, Mike Scott, who finished with 20 points and one rebound short of his 32nd career double-double.
The Cavaliers got a big second-half from Sammy Zeglinski, who scored all of his 13 points while helping Virginia overcome a 35-32 halftime deficit.
Jontel Evans also contributed 13 points and freshman Paul Jesperson had a career-high seven points to help Virginia improve to 21-6, and 8-5 in the ACC.
The 21 wins is the most for the Virginia basketball program in 17 years. 
The Hokies used deadly long-range shooting in the first half to lead by as many as nine points before a late run by Virginia closed the gap to three at the half.  Tech was 6-8, including the last four straight, from three-point range.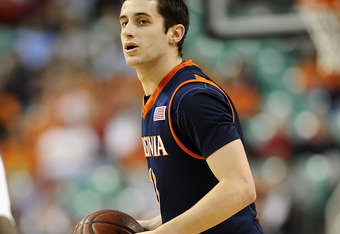 Sammy Zeglinski scored all 13 of his points in the second half.
Jeff Zelevansky/Getty Images
Zeglinski wasn't the only one to have a big second half.  Virginia Tech's leading scorer, Erick Green, who was held to just two points in the first half, almost single-handedly kept Tech in the game by erupting for 17 of the Hokies' 24 second-half points.
But a Green jumper at the 13:02 mark that gave Tech a 49-42 lead would be the last Hokies basket for over 12 minutes and their next-to-last of the game.
Despite that, Tech had two chances to first tie, and then win the game in the last half-minute.
Having seen both their point guards foul out within 30 seconds of each other (the first two disqualifications of the year by Virginia players), the Cavaliers tried desperately to hold a six-point lead down the stretch.
UVA managed just two points in the final three minutes, a put-back by Jesperson off a Scott miss, but it would turn out to be the deciding basket.
A Green free throw cut the margin to two at 61-59 with 26 seconds to go after Akil Mitchell missed the front end of a one and one for Virginia.
A quick foul by Tech again sent Mitchell to the charity stripe where he again missed the first of a one and one.  In the resulting scramble for the rebound Joe Harris briefly regained possession for UVA with both hands on the ball.  Or, more accurately, one hand and what looks roughly like what a boxer puts inside a boxing glove.  Harris' left hand is heavily wrapped since he fractured a bone in it a little over a week ago against North Carolina.
Unable to firmly grip the ball, it was knocked loose and recovered by Tech, who called time out to set up a game-tying or game-winning shot.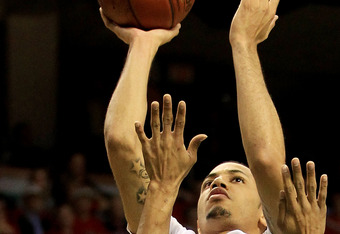 Erick Green had 17 of his team-high 19 points in the second half to keep his Hokies in contention.
Streeter Lecka/Getty Images
With time running out and Tech unable to find an open look, Dorian Finney-Smith had the ball inside the top of the key.  Closely guarded, he attempted to pitch it out to the Hokies' best three-point shooter, Jarell Eddie, for what would have been a game-winning attempt.
But, great anticipation by Malcolm Brogdon prevented the pass from ever reaching Eddie.  With his back to Finney-Smith, Brogdon stuck out his arm as he saw Eddie reaching for the pass and blocked it with the underside of his forearm.
Brogdon then recovered the loose ball and was fouled with just 1.2 seconds remaining.  He missed the free throw but Dorenzo Hudson's desperation heave landed well short and the Cavaliers now have one-foot firmly in the door for their first NCAA bid since the 2006 season.
Next up for Virginia is a visit from North Carolina on Saturday.  The Hokies travel to Durham to face Duke, also on Saturday.      
Like the new article format? Send us feedback!