Chicago Blackhawks: Have They Solved Their Defensive Problems?
February 22, 2012

Jonathan Daniel/Getty Images
Wow, how quickly things can change.
Just a week ago, the Chicago Blackhawks lost their ninth-straight game, but now they are the winners of four straight. 
The penalty kill has been lights out. They have killed 15 of their last 16 penalties.
Corey Crawford looks like the goalie that was in net last year for this team. Over the last four games, he has stopped nearly 96 percent of the shots he has faced, allowing only five goals.
And all this with defensemen Steve Montador and Niklas Hjalmarsson out of the lineup.
Plus, they were without captain Jonathan Toews on Tuesday as they defeated Detroit 2-1.
So have the Hawks solved their defensive issues?
Maybe.
Coming up big in the last few games have been Sami Lepisto and rookie Dylan Olsen. Lepisto is even over the last five games and has played over 10 minutes in each of the last two games. Olsen has come up huge, nearly playing 20 minutes a night and is a plus-four over the last five games.
Olsen has found himself paired with former Norris trophy winner Duncan Keith, and with Hjalmarsson out, Nick Leddy has been paired with Brent Seabrook. Both Keith and Seabrook seem to have adapted to their new partners very well.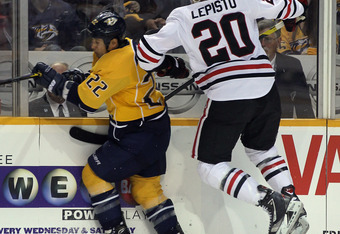 Bruce Bennett/Getty Images
Lepisto has played solid minutes as part of the third pairing and has seen time with just about everyone. He has played in seven-straight games, which is a season high. Actually, on Tuesday, he played over Sean O'Donnell—so maybe he has finally gotten out of coach Quenneville's doghouse?
Olsen is making a strong case to stay with the team even once Montador and Hjalmarsson return and Lepisto could be proving to other teams he hasn't forgotten how to play.
Maybe the play of Lepisto and Olsen has prevented general manager Stan Bowman from overpaying for a rental player who could help along the blue line.
It will be interesting to see with the trading deadline just a few days away on Monday, February 27th.
The Blackhawks have three games before the deadline and host Dallas on Thursday before hitting the road for the weekend with a back-to-back on Saturday and Sunday. 
Let's hope they have fixed their defensive problems and these last few games aren't just a flash in the pan.
Make sure to follow me on Twitter @dachicagofan and check out my weekly Hawks podcast every Friday on my site The MG Experience.