Spring Training 2012: Jake Peavy and 5 More Chicago White Sox Pitchers to Watch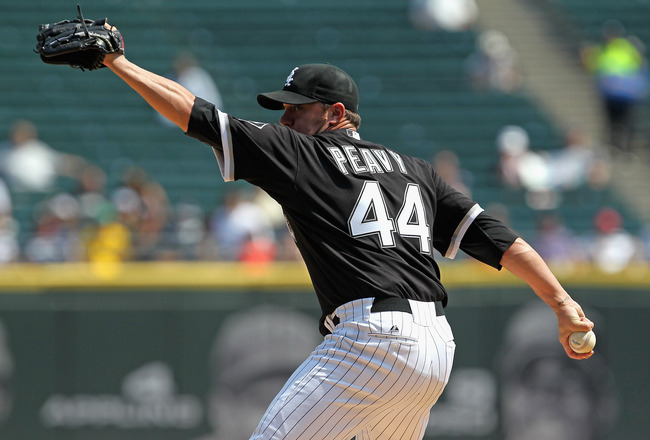 Jonathan Daniel/Getty Images
Jake Peavy will be looking to rediscover form and good health when he enters Chicago White Sox spring training on Thursday. That day, Peavy will report to camp along with catchers and the other pitchers. White Sox fans will watch to see if Peavy can benefit from the spring of life that is spring training.
Several other White Sox pitchers will be worth watching as well. Some of those pitchers are just trying to establish themselves as up-and-coming major league players. Others, like Peavy, are trying to show they still have what it takes to be effective.
Follow along to see which White Sox pitchers are especially important to follow this spring.
Jake Peavy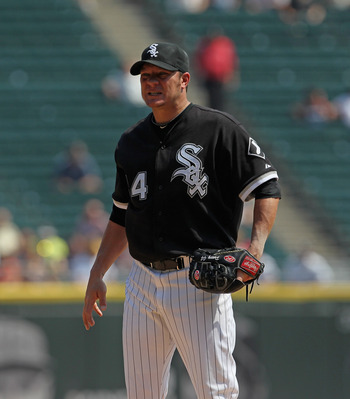 Jonathan Daniel/Getty Images
Jake Peavy is trying to show he is at full health as he enters his 11th pro season. Peavy, 30, maintains that his arm feels well after missing time towards the end of the season last year due to fatigue in his arm. He said earlier this month, "I'm as 100 percent as I can be."
That's as 100 percent as someone who's started less than 20 times in each of the last three seasons can be, not 100 percent for someone who can strike out 200 batters like he could in his prime.
Thus, Peavy probably isn't fully healthy and may not regain the full health of previous years.
In order to show that he can sustain some semblance of good health this season, Peavy will have to demonstrate that he's in good physical condition from the beginning of spring training. Not only will he have to show White Sox doctors that his arm is okay, but he'll also have to show Robin Ventura and Don Cooper that he can last the requisite innings.
He'll have to be able to do somewhat normal innings in spring training starts, two or three early on and five or six in a couple of later spring training games. That he keeps opponents from scoring doesn't matter, just as long as he can make it through a decent number of innings in one piece.
If he can show that, then it could be a good sign of his ability to pitch 20 or 25 starts.
Matt Thornton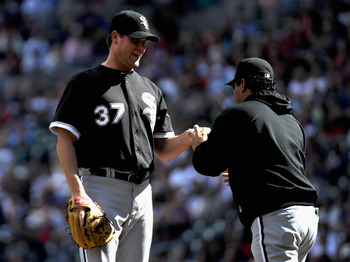 Hannah Foslien/Getty Images
Matt Thornton needs to show he still has the stuff that has made him a sizzling strikeout reliever for several years for the White Sox. Thornton's fastball velocity is down from 98 to 100 miles per hour to 95. His walks-per-nine-innings rate rose each of the last two seasons. Last season, he walked 3.2 batters per nine innings.
At 35, Thornton will have to show that he can still throw heat and pitch with control like he did when he was younger. Thornton will have to show some ability to pitch his fastball in the upper 90s. Also, he'll have to keep his pitches under control.
White Sox fans should watch how many walks he issues during spring training games. Walks are among the few statistics that matter in spring training, and Thornton's walks numbers will be of interest for the White Sox.
Also, he's said to be in the running for the closer job with Addison Reed. In late January, Robin Ventura told WSCR-AM 670 Chicago that Thornton was the favorite to win the closer job. However, with Thornton much older and and coming off an unimpressive season, he may not do well competing for the job.
This competition may not be nice to Thornton.
Addison Reed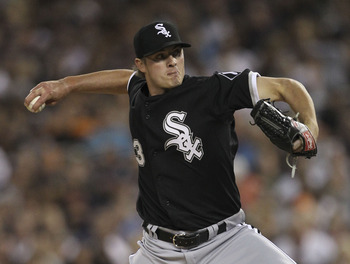 Leon Halip/Getty Images
Addison Reed is the rising relief talent in the White Sox organization. Drafted in the third round of the 2010 draft by the White Sox, Reed was fantastic while pitching at all minor league levels in 2011. He posted a 1.26 earned run average in 78.1 innings, along with a .728 walks-and-hits-per-innings-pitched rate.
He had struck out 12.8 batters per nine innings, walked only 1.6 batters per nine innings and had a spectacular 7.93 strikeout-to-walk ratio.
Pitching at the end of the regular season, Reed did pretty well. He had a 3.68 earned run average, striking out 12 batters and walking only one in 7.1 innings across six outings. Reed only gave up runs in two of his six games.
Reed rose fast and did all the right things. He strikes out a whole lot of batters and walks very few. That's an excellent combination.
White Sox fans should watch to see how that holds up in spring training. Just how much he can maintain control will be of interest.
Reed, who ranked 81st in the Baseball America top prospect list, should win the closer job. He has the strikeout ability and the control to fare well.
If he can show that in spring training, Reed will have the position coming his way. Being 12 years younger than Matt Thornton plays in Reed's favor, especially with the White Sox in rebuilding mode.
Nestor Molina
Nestor Molina will be a starting prospect to watch, more for his future prospects than his chances to make the 2012 Opening Day roster for the White Sox.
Molina, acquired from the Toronto Blue Jays in the Sergio Santos trade, has put in his fair share of minor league time. The Venezuelan had pitched five years in the Blue Jays' system.
Last season, he had impeccable strikeout and walk figures. He struck out 10.6 batters and walked 1.1 per nine innings, good for a 9.25 strikeout-to-walk ratio. For those interested, Molina had a 2.21 earned run average in 130.1 innings pitched, which is nothing to be ashamed of.
His strikeout ability might not be great in the majors. Molina doesn't have pretty stuff. If his stuff comes off easy, major league hitters might hit him a fair amount. At any rate, Molina's control should remain.
Molina is one whose entire spring training resume will be closely examined. A successful spring training could help him along to come up to the major league club late in the season and likely take Jake Peavy's spot in the rotation in 2013.
In spring training, White Sox fans should particularly watch to see if Molina can fool real hitters like he did to minor leaguers and if he can maintain the incredible control he had in the minors.
Image courtesy of Chicago Now
Simon Castro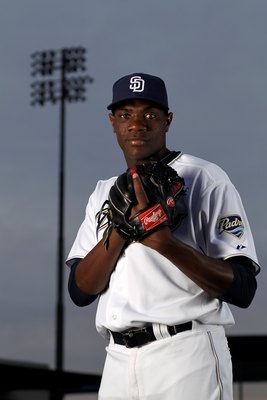 Ezra Shaw/Getty Images
Like Molina, the White Sox will be watching Simon Castro in spring training for his future potential. Castro, whom the White Sox acquired from the San Diego Padres in the Carlos Quentin trade, looks like a nice prospect as long as his core statistics aren't examined.
After posting a 3.29 earned run average in 140 innings in 2010, Castro had a 5.63 earned run average. However, his walks-per-nine-innings rates were identical (2.7), and his 2011 strikeouts-per-nine-innings rate was slightly higher (7.4) than in 2010 (7.3).
Both seasons saw him pitching mostly at Double-A and a little bit at Triple-A.
Castro didn't strike out as many batters as he rose through the ranks, but he did walk fewer batters.
He isn't an amazing strikeout pitcher, but at least he has good control. White Sox fans should be interested to see if he can maintain that control in spring training.
Molina, who projects higher than Castro, seems to have the inside edge to advance in the White Sox system. His measurables are better than Castro's, even though Castro's stuff is somewhat better. Also, Molina has been steadier in his rise through the minors.
Castro, a two-time Top-100 Baseball America prospect (2010, 2011), has much to prove in spring training. He'll have to make the most of his spring training outings, keeping scoring down and showing a great deal of control with pitches.
Since his avoidance of walks isn't as impressive as Molina's, Castro will have to work hard to show that he can be better than Molina.
Mitch Mustain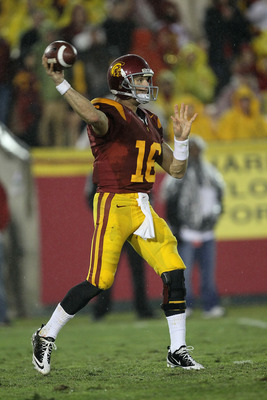 Stephen Dunn/Getty Images
This is one just for fun viewing. Mitch Mustain, a former college football player for USC and Arkansas, signed with the White Sox a couple of weeks ago. He'll be showing his stuff in spring training to see if he can get a different ball past opposing players.
Mustain hasn't played organized baseball since he was 15, which is a good eight years out of the game. That leaves the White Sox with little to measure him by. According to the Los Angeles Times, Mustain threw a pitch 90 miles per hour the weekend before last. He said he hopes to hit 94 or 95 miles per hour.
Kenny Williams might have had to pick up a 2011 draft guide to find out what kind of potential Mustain has. What he probably found was that Mustain showed athleticism, some zip on his throws and some ability to handle pressure at Arkansas, winning eight straight games his freshman year.
Mustain transferred to USC after Houston Nutt was fired by Arkansas, but Williams doesn't have to read as closely into that as an NFL scout would.
After all, Mustain won't make the White Sox major league club. He'll probably land in Double-A. Still, White Sox fans should take to chance to watch him to see what kind of stuff he has. They have to find someone fun to watch in spring training like Mustain because the White Sox may not be fun to watch once the regular season arrives.
Keep Reading

Chicago White Sox: Like this team?