Ohio State Buckeyes: Method to Thad Matta's Madness
February 22, 2012

Jonathan Daniel/Getty Images
I think I have finally figured it out.
Thad Matta is not a stupid coach. He realizes that displayed talent gets noticed, and quickly bolts to the NBA. 
Remember Daequan Cook, Mike Conley, Greg Oden, Kosta Koufos and Byron Mullens? They were all one and done.
Thad Matta says to himself,  "Hmmmmmhhhh—I'm keeping my star freshmen under wraps. No one will know how good they are until I unveil them."
Believe me. LaQuinton Ross is probably the best one-on-one player on this Buckeyes team. It's easy to see. In my humble opinion, he has the greatest upside of any Buckeyes' "baller." He might be the most fluid ball player I've ever seen in a Buckeyes' uniform.
The few minutes I saw him on the floor tonight showed me all I needed to know. Either Coach Matta is concealing him—or coach is a total dimwit. I prefer to believe the aforementioned.  
I think he is protecting his interests. If Ross had gotten the minutes he is capable of, he would be gone after just one season in Columbus. He's just that good.
This man is a legitimate 6' 8" (probably closer to nine), and is as smooth as the Value City hardwood. He moves effortlessly up the floor. He can cause big problems for opposing players.  I'm probably premature in saying this, but he reminds me of Carmelo Anthony—probably with a little more agility. 
I am impressed.  
Is "tweeting" really the reason he isn't playing?
Please say it isn't so.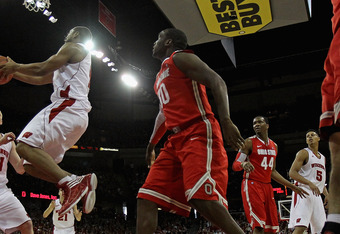 Jonathan Daniel/Getty Images
Finally, we're seeing what we've heard so much about. 
Ross can play. Sam Thompson can play. Amir Williams can play. Shannon Scott can play. Jordan Sibert can play. They can all play. All of these players should be playing a minimum of eight minutes an outing.
C'mon Coach. Use that bench.
If Ohio State would advance far enough in "March Madness," you may have to have Sam Thompson block an Austin Rivers' jump shot. You might need to have LaQuinton Ross beat Harrison Barnes with a baseline move.
Coach, we see what you're trying to do—but let's face it—if the Buckeyes will go far in tournament play, the bench will have to play a more active role.