NBA All-Star Game 2012: The 10 Greatest All-Star Performances Ever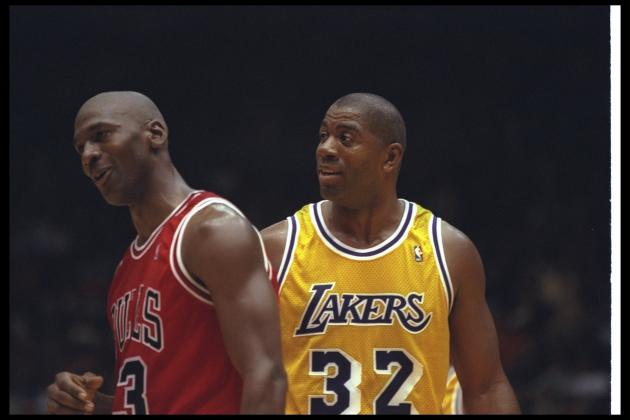 Getty Images/Getty Images

The NBA All-Star weekend is approaching, and Sunday's All-Star game to cap off the weekend is being widely anticipated.
The league's greatest stars will take the court for the exhibition game on Sunday, some definite Hall-of-Famers and some players making their first appearance.
However, it would be difficult for any of those players to have as great a performance as some guys have had in the past. The All-Star game has seen dozens of MVP winners and amazing performances, whether seen through the stat line or through comeback wins.
Here are 10 of the most electrifying All-Star game performances of all time.
Begin Slideshow

»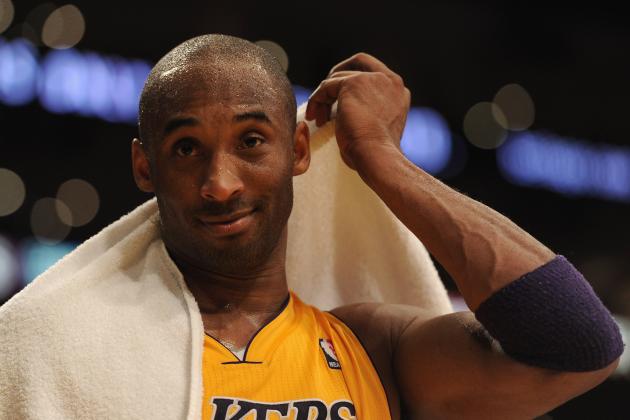 Harry How/Getty Images

Stat Line: 37 points, 14 rebounds, 3 assists, 3 steals
Kobe Bryant, had a fantastic game last year. He earned 37 points and shot 14-26 from the field In front of his home crowd in Los Angeles, Bryant just barely led the West over the East in a close 148-143 win.
The East outscored the West 43-31 in the fourth and a late run led by LeBron James and Amar'e Stoudemire almost gave the East a victory, but a clutch fourth quarter by Kobe Bryant and Kevin Durant helped hold them off and win the game.
Bryant was named the MVP of the game. It was his fourth All-Star game MVP award, which ties with Bob Pettit for most all-time.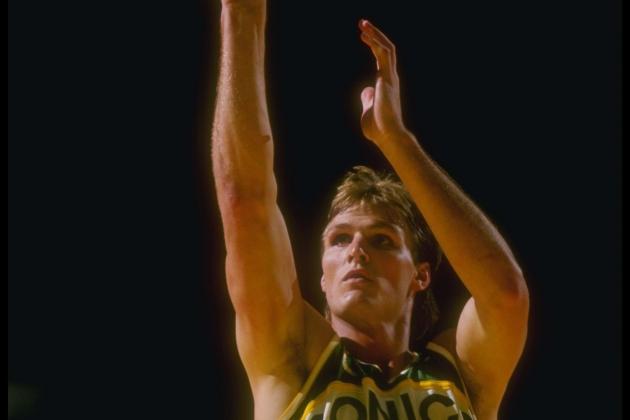 Stephen Dunn/Getty Images

Stat Line: 34 points, 4 rebounds, 4 steals
Looking at his stat line, it may not seem as though Chambers is deserving of a spot on this list. But the underdog absolutely dazzled in his MVP performance in the 1987 All-Star game.
Due to a knee injury of Ralph Sampson, Chambers was a last-minute replacement and got his first All-Star appearance, which would end up being his first of four in his career. Chambers averaged 23 points and six rebounds a game that season and was never expected to be the star of the game. However, Chambers had an absolutely amazing night.
Taking on an extremely tough starting lineup of Moses Malone, Larry Bird, Julius Erving, Michael Jordan and Dominique Wilkins, Chambers stole the show with 34 points on 13-25 shooting in just 29 minutes, including 18 clutch points in the fourth quarter. Chambers excited the 34,000 hometown fans in Seattle as he led the West to a 154-149 comeback victory.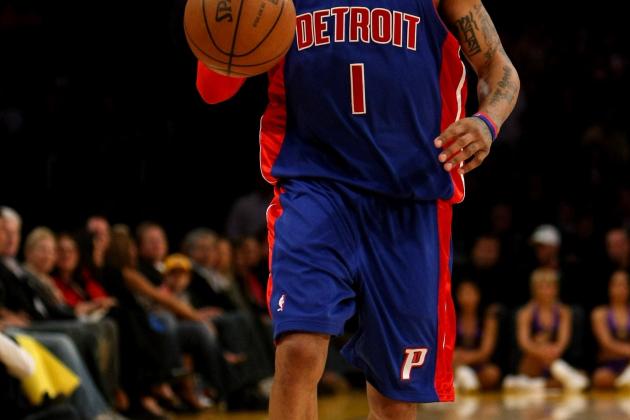 Stephen Dunn/Getty Images

Stat Line: 25 points, 5 rebounds, 4 assists
Allen Iverson had an impressive night, scoring 25 points and shooting 9-21 from the field, but he wasn't anything special. The reason Iverson is here is because of the amazing comeback he made.
The East trailed the West 95-74 with nine minutes left in the fourth quarter. The game appeared to be over, and an amazing lineup of Kidd, Bryant, Webber, Garnett and Duncan was crushing the Eastern lineup with their superior height advantage.
However, 6'1" guard Allen Iverson didn't care about size. Iverson scored 15 of his 25 points during the final minutes, and a couple of clutch threes from All-Star first-timer Stephon Marbury gave the East the lead.
When Tim Duncan missed the game-winning shot, the audience was shocked by the comeback. The East outscored the West 41-21 in the fourth and Iverson mounted a rally leading to a 111-110 win.
After the game, Iverson said, "Everybody was saying we couldn't win because of our size. It's not about size. It's about the size of your heart."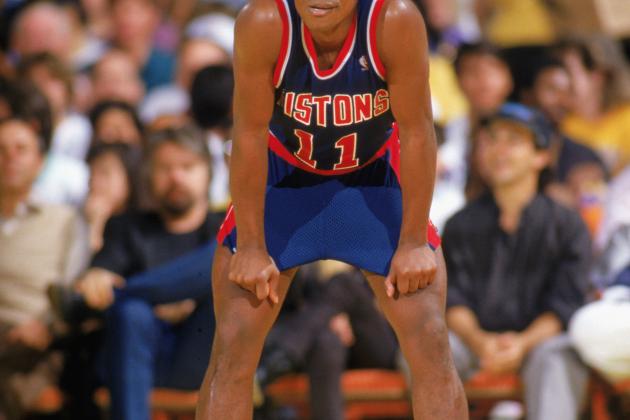 Rick Stewart/Getty Images

Stat Line: 30 points, 10 assists, 5 steals
Over 11 All-Star appearances in his career, Isiah Thomas really captured the spirit of the NBA in his point guard battles with Magic Johnson in the 80's. In 1986, the two young guards battled an intense match, but Thomas had a great game that led the East to victory.
Thomas took a starting five consisting of himself, Larry Bird, Moses Malone, Sidney Moncrief and Julius Irving. Thomas scored 30 points on 11-19 shooting, dished out 10 assists—he remains the only player to have a 30 point and 10 assists in an All-Star game—and mounted a comeback that gave the East a 139-132 win.
Meanwhile, he kept Magic to his worst All-Star game performance of his career, scoring just six points on 1-3 shooting and dishing out 15 assists but with nine turnovers. Thomas was crowned the MVP of the game.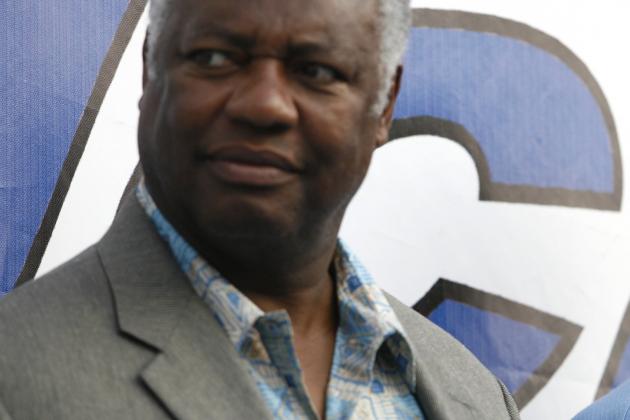 Joe Robbins/Getty Images

Stat Line: 23 points, 14 assists, 9 rebounds
In his rookie season, Oscar Robertson was chosen to play in the All-Star game after averaging close to 30 points, 10 rebounds and 10 assists a game.
In his first of 12 All-Star appearances, the rookie was crowned MVP after almost putting up a triple double. He also shot 8-13 from the field and took a blowout 153-131 win for the West with the help of Bob Pettit and Clyde Lovellette.
Robertson was fantastic considering he was only a rookie, but even more fascinating was his work on the defensive end. Wilt Chamberlain, who had gotten 23 points and 25 rebounds as a rookie the year before was somehow held to just 2-of-8 shooting and finished with just 12 points. Bill Russell was also kept in check, scoring 24 points but grabbing just 11 rebounds despite averaging 24 rebounds a game for the season. Robertson worked extremely well on both ends of the floor to lead his team to victory.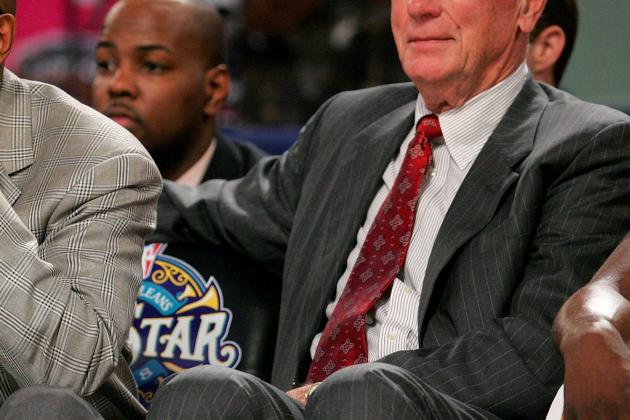 Ronald Martinez/Getty Images

Stat Line: 28 points, 26 rebounds, 1 assist
Nobody ever questioned Bob Pettit's ability, considering all 11 of his NBA seasons were All-Star years and he won four All-Star game MVPs. But the 1961 game was a truly special night for Pettit. Pettit played 38 minutes and shot 10-21 from the field, and he gave the West a five-point lead at the half. However, the team struggled in the second half.
Pettit continue to play well, but the West fell to the East by a score of 130-118. So why is this such a great game? Pettit still won the MVP award. It isn't because there wasn't a great performance by a player in the East. Bob Cousy had 20 points and 10 assists and Paul Arizin's clutch 11-17 shooting and 24 points led the East to a win. But Pettit still won, and would win the MVP of the game two more times in his career.
Brian Bahr/Getty Images

Stat Line: 42 points, 24 rebounds, 74 percent FG
Speaking of Bob Pettit winning All-Star game MVP awards, here is one. That is right, Chamberlain is on this list despite not winning the MVP award, nor did he lead his team to victory. In fact, the West took a blowout win over the East by a score of 150-130.
But Wilt Chamberlain was not the same player that was held to 2-8 shooting the year before. Chamberlain came out of this game as a dominant force and scored 42 points while grabbing 24 boards. He also shot a spectacular 17-23 from the field. Chamberlain still holds the record for most points scored in an All-Star game and is one of just two players (the other being Michael Jordan) to score 40 in an All-Star game.
He may not have won, but it was by far his best All-Star game performance and one of the best of all time. Unfortunately, poor defense by the East took its toll and the West found victory as four of the five Western Conference starters each scored over 20 points.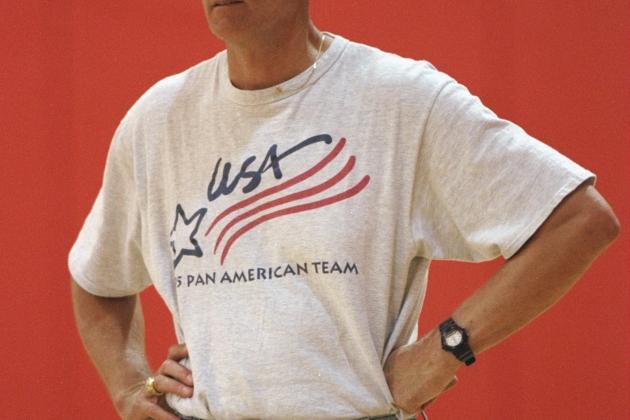 Stephen Dunn/Getty Images

Stat Line: 38 points, 6 rebounds, 3 assists
The 1967 All-Star game Eastern Conference roster was quite a handful for Ricky Barry and the West to handle. You had Wilt Chamberlain, Oscar Robertson, Hal Greer, Willis Reed, Bill Russell and John Havlicek, to name a few. The West didn't stand a chance.
But Rick Barry didn't want to hear it. He had a terrific night; he boasted a stat line of 38 points and shot 17-28 from the field.
Center for the West Nate Thurmond grabbed 18 boards and scored 16 points to hold off a front line of Wilt Chamberlain and Bill Russell. Meanwhile, Barry took the shots and set a record for an All-Star game with 27 field goal attempts.
Not only was his great play good enough to get a 135-120 win, but it was enough to bother Eastern coach Red Auerbach. After voicing his displeasure to the referees after a play took his team's deficit to double digits, Auerbach was ejected from the game.
The glory went to Barry, who would go on to play many more All-Star games but never take another MVP award.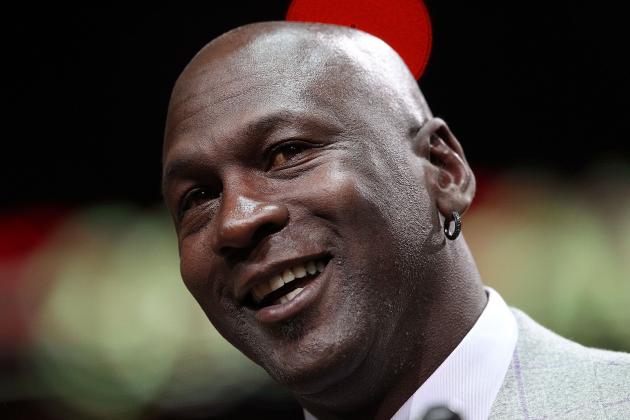 Jonathan Daniel/Getty Images

Stat Line: 40 points, 8 rebounds, 4 steals, 4 blocks
The 23-year-old Jordan came to play in 1988 and really displayed his dominance against the other stars in the league.
Jordan was coming off two disappointing All-Star game performances. He scored seven points and grabbed six rebounds as a rookie, and then in 1987 scored 11 points but had five turnovers.
In 1988, he came back with a vengeance and absolutely annihilated his competition. Jordan scored 40 points on 17-23 shooting and added eight rebounds, three assists, four steals and four blocks. Sixteen of his 40 points came in the final six minutes of regulation as he led his team to a 138-133 win.
He completely overshadowed the other stars on his team such as Charles Barkley, Patrick Ewing, Isiah Thomas, Moses Malone, Dominique Wilkins and Larry Bird. And as for his competition, shooting guard Fat Lever scored 17 points in his first of just two career All-Star appearances. Jordan was the obvious choice for the MVP award (he then won two more MVP award in 1996 and 1998).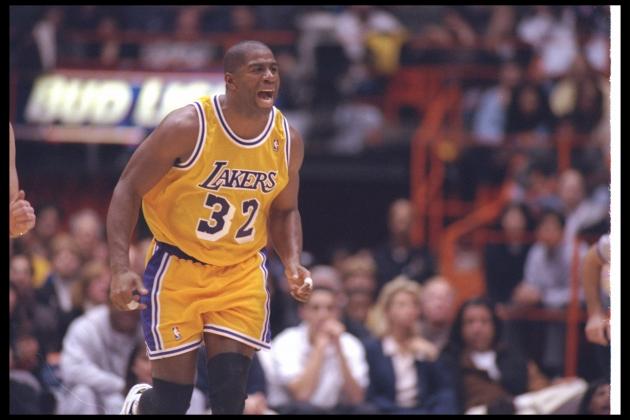 Getty Images/Getty Images

Stat Line: 25 points, 5 rebounds, 9 assists, 2 steals.
Forget the stats because February 9, 1992 might have been the date of the most emotional All-Star game. Over 14,000 fans gave a thunderous ovation to West All-Star Magic Johnson, who was back on the court three months after his retirement announcement that he had contracted HIV.
Magic led his team and gave the West a 44-31 lead after the first and led them all the way to a huge blowout 153-113 win. Magic outplayed the merciless Isiah Thomas and Michael Jordan one last time. Thomas finished with 15 points and five assists, while Jordan finished with 18 points and five assists.
After the game, Magic stated, "The only person missing was Larry. But I'll see him on the blacktop. I'll see him behind the house. I'll get him one more time."
In an extremely emotional finale, Magic hit a three pointer with 14.5 seconds remaining that stopped the game. Players got up and congratulated the West's 13th all-star as time expired. As Magic said himself, "It was the first ever game called on hugs."