Predicting MLB's 50 Best-Selling Jerseys in 2012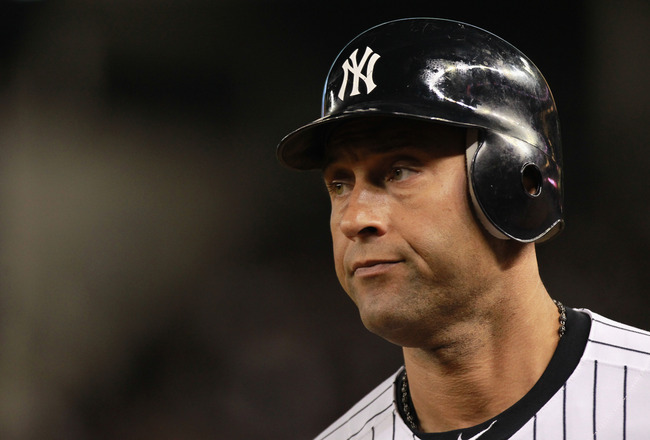 Nick Laham/Getty Images
The baseball jersey is without a doubt one of the most popular pieces of attire for baseball fans when they are headed out to the ballpark. Fans also wear these jerseys out and about to show their support for their favorite teams and players.
There are certain players whose jerseys will always sell thanks to a loyal fan base. With a number of superstars changing places this winter, fans of their new teams will be lining up to buy their jerseys.
Football had Tebowmania and basketball has had Linsanity this year. It is entirely possible that baseball fans get caught up with a new young player as well...
Let's take a look at whose jersey sales could take off this season.
50) Adam Jones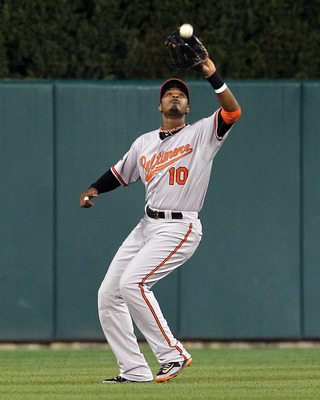 Dave Reginek/Getty Images
Adam Jones is one of the most exciting players on the Baltimore Orioles roster. For fans who are looking for an Orioles jersey, Jones is a good choice.
His jersey will likely sell fairly well this year, especially if he is able to put together an All-Star caliber season.
49) R.A. Dickey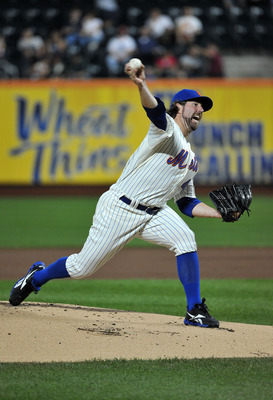 Christopher Pasatieri/Getty Images
During his time with the New York Mets, R.A. Dickey has garnered a cult-like following from the team's fans.
Since Jose Reyes is now a Miami Marlin, there will be a number of Mets fans who are looking to purchase new jerseys to replace their old Reyes uniforms. Dickey's jersey should be a popular choice among Mets fans these years.
48) Carlos Gonzalez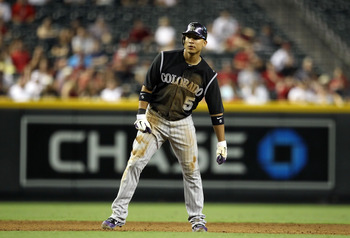 Christian Petersen/Getty Images
There was a time when Todd Helton jersey's were the most popular choice among Colorado Rockies fans, but that has changed.
Carlos Gonzalez is the new star in Denver and Rockies' fans want to purchase his jersey. He is one of the best young players in the game, which has helped fuel the sale of his jersey.
47) Brian Wilson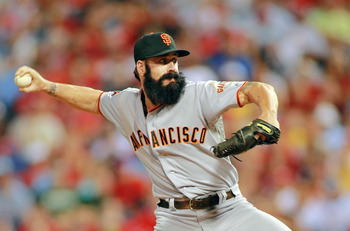 Len Redkoles/Getty Images
When a player has the type of eccentric personality that Brian Wilson possesses, it tends to draw a lot of attention to that player, making him much more popular.
As long as he remains as an elite closer and slightly crazy, Brian Wilson jerseys should be a popular choice for San Francisco Giants fans.
46) Michael Pineda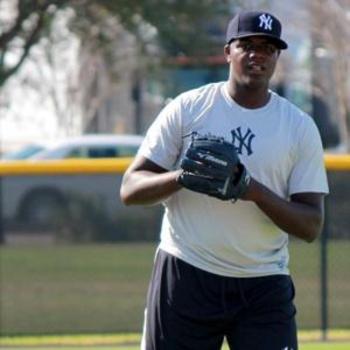 Photo Credit: NY Post
Whenever the New York Yankees bring in a new star, his jersey is very popular with the team's fans as they look to add to their collections.
Michael Pineda is the newest star who will wear pinstripes. A lot of fans will want to get their hands on his new uniform.
45) Alex Gordon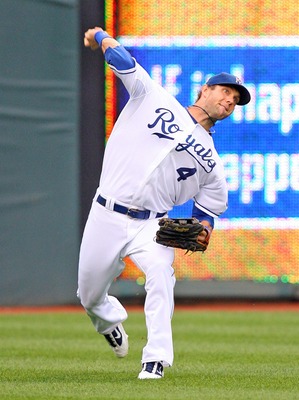 Tim Umphrey/Getty Images
The Kansas City Royals have a number of exciting young players on their roster, and of the bunch, Alex Gordon is one of the most established.
A former No. 2 overall pick, Gordon should see his jersey a bunch when he looks up into the crowd at Kauffmann Stadium this year.
44) David Freese
Doug Pensinger/Getty Images
There will be a number of St. Louis Cardinals fans who will be looking to find a replacement for the No. 5 jerseys that they own.
A smart choice would be the No. 23 worn by World Series MVP David Freese. After his performance in the playoffs last year, Freese jerseys should fly off the shelf.
43) Jason Heyward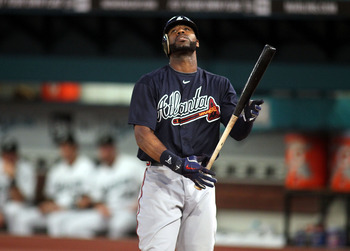 Marc Serota/Getty Images
Jason Heyward's jersey was incredibly popular with Atlanta Braves fans when he first came up to the major leagues. His struggles last year could have had an impact on his jersey sales.
2012 should be a good year for Heyward. In addition to a rebound year, Heyward's jersey should once again be a hit among Braves fans.
42) Mariano Rivera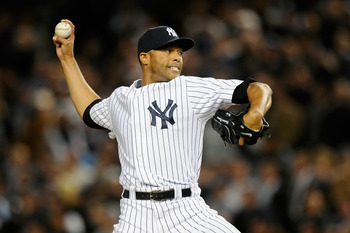 Patrick McDermott/Getty Images
New York Yankees jerseys are some of the best selling pieces of sports memorabilia in the world. The demand for them is insane and many Yankees fans own more than one jersey.
One of the more important pieces in a Yankees' jersey collection is a Mariano Rivera jersey. If Rivera continues to hint that he will retire after this year, sales of his jersey will skyrocket.
41) Matt Moore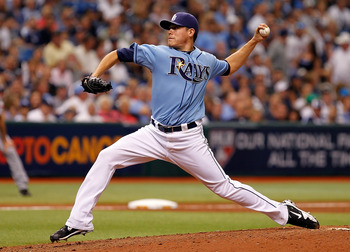 J. Meric/Getty Images
The amount of attention surrounding Matt Moore grew significantly after his outstanding performances in September and in the playoffs.
Sales of his jersey should also see a massive growth this year. Moore's jersey will be one of the more popular ones in Tampa Bay.
40) Hanley Ramirez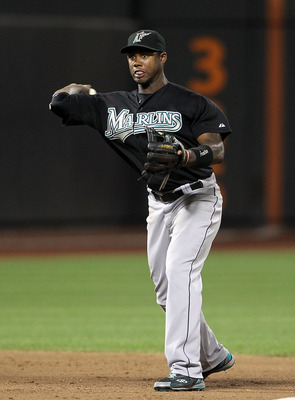 Nick Laham/Getty Images
Miami Marlins fans mostly own Florida Marlins gear, so they will be looking to pick up some new uniforms now that the team has re-branded itself.
One of the first jersey's to fly off the rack in Florida will be the one that belongs to Hanley Ramirez. The Marlins superstar generates a ton of buzz.
39) David Ortiz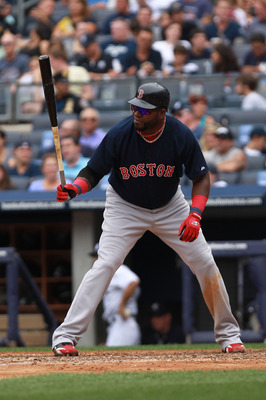 Nick Laham/Getty Images
There are a lot of Boston Red Sox fans, which means that their jerseys are among the most popular in baseball.
Among Red Sox jerseys, one of the most popular ones that can be bought is a David Ortiz jersey. Big Papi's uniform is certainly a hit with Red Sox fans.
38) David Price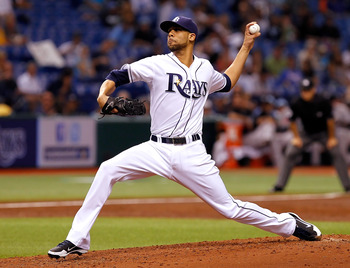 J. Meric/Getty Images
David Price is the ace of the Tampa Bay Rays' starting rotation. He is an All-Star pitcher and he is very popular with Rays fans.
Price jerseys are easy to spot on fans at Tropicana Field. They are some of the most popular Rays jerseys that can be found.
37) Justin Upton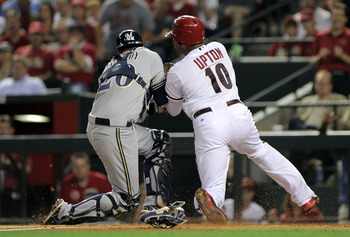 Doug Pensinger/Getty Images
There are few young stars in the major leagues who have shone brighter than Justin Upton over the past few years.
That is one of the reasons why his jersey is such a popular purchase for Arizona Diamondbacks fans when they are looking for a new piece of memorabilia.
36) Jose Bautista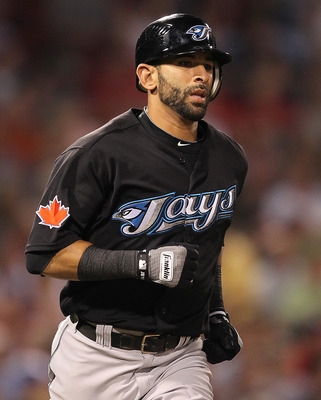 Jim Rogash/Getty Images
There are few players who have been able to turn into a stars after having such inauspicious starts to their careers. Jose Bautista is one of those rare players.
With the Toronto Blue Jays being the only team north of the border, there is a good chance that Bautista's jersey is one of the most popular ones in Canada. The Blue Jays have made some great changes to their uniforms, which should make Bautista's jersey even more popular.
35) Troy Tulowitzki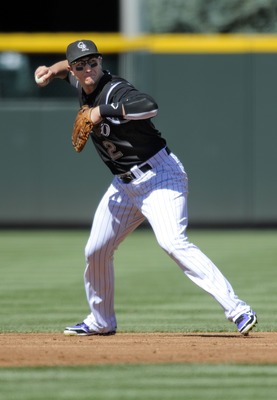 Jack Dempsey/Getty Images
There are few, if any, shortstops in the major leagues right now who are better than Troy Tulowitzki.
Being the best player at a position gives people reason to buy a player's jersey, which means that Tulowitzki's jersey should be a popular pick this year.
34) Cole Hamels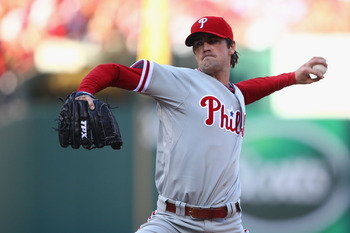 Dilip Vishwanat/Getty Images
The Philadelphia Phillies are like a solid poker hand, since they have three aces. Cole Hamels is just one of those elite pitchers.
Phillies jerseys sell very well, so it should be no surprise to see one of their stars, such as Cole Hamels on a list like this.
33) David Wright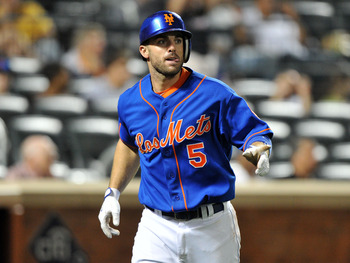 Christopher Pasatieri/Getty Images
David Wright is a fan favorite among New York Mets supporters. He has been with the team for years and is a solid player.
The sales of Wright's jerseys should increase now that Jose Reyes is no longer a Met. If the Mets trade Wright, then fans of his new team might rush to get jerseys.
32) Curtis Granderson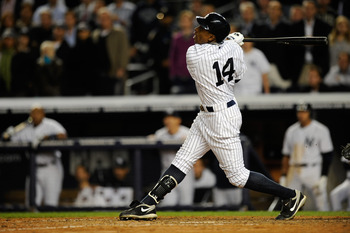 Patrick McDermott/Getty Images
Get used to seeing New York Yankees players on this list because there will be a number more. It is almost impossible to walk around in New York without seeing anyone in a Yankees jersey.
Curtis Granderson put together an outstanding season in 2011. This certainly made him more popular among fans, which means that sales of his jersey should increase this year.
31) Adrian Gonzalez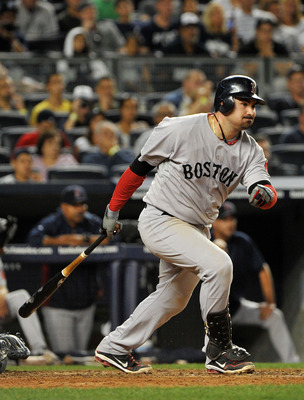 Christopher Pasatieri/Getty Images
Picking up Adrian Gonzalez was an outstanding move by the Boston Red Sox. It also meant that a number of fans had a new jersey to go get.
Red Sox fans should continue to go out and pick up Gonzalez jerseys in droves this year.
30) CC Sabathia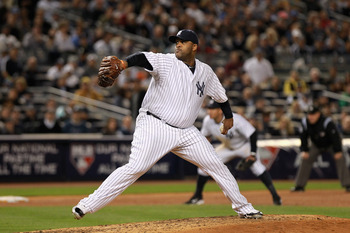 Nick Laham/Getty Images
CC Sabathia opted out of his contract this winter. Luckily for the New York Yankees he did not go anywhere, choosing to re-sign with the Yankees.
Sabathia's jersey is a big seller and a number of Yankees fans rock the No. 52.
29) Miguel Cabrera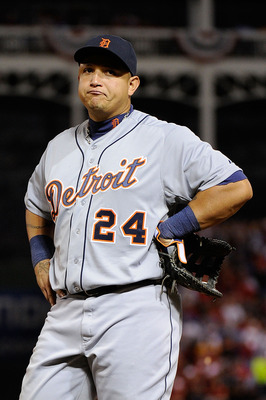 Kevork Djansezian/Getty Images
There is no denying that Miguel Cabrera is one of the best pure hitters in baseball right now. What he can do at the plate is incredibly impressive.
Cabrera should get even better this season now that he has Prince Fielder in the Detroit Tigers' lineup along with him.
28) Ryan Braun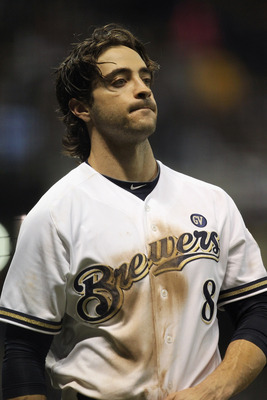 Jonathan Daniel/Getty Images
Even if Ryan Braun does not win his appeal of his positive drug test, he will still remain very popular with Milwaukee Brewers fans.
However, Braun's jersey sales should take a hit, at least this year, as a result of the controversy that he has become embattled with this winter.
27) Felix Hernandez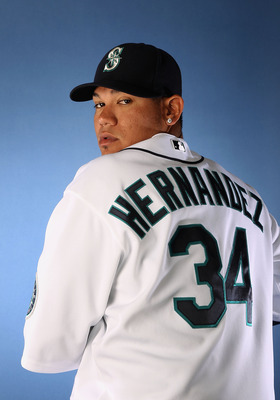 Christian Petersen/Getty Images
Felix Hernandez is one of the best young pitchers in the major leagues. He picked up a Cy Young Award after the 2010 season.
For those in the Pacific Northwest, Felix Hernandez jerseys are incredibly popular.
26) Justin Morneau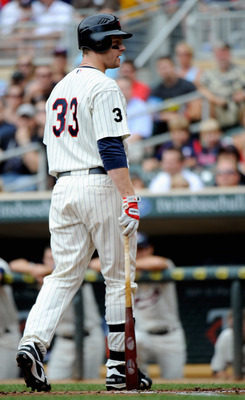 Hannah Foslien/Getty Images
Minnesota Twins' stars normally have their uniforms sell very well. Even though he struggled with injuries last year, Justin Morneau should have his jersey be popular this year.
Morneau is a huge fan favorite in Minnesota, which always helps when it comes to jersey sales.
25) Ian Kinsler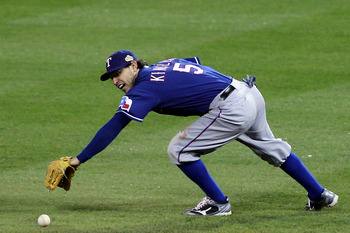 Ezra Shaw/Getty Images
Ian Kinsler has had an outstanding career with the Texas Rangers, and he has become one of the top second basemen in the major leagues.
With the Rangers reaching two consecutive World Series, they have garnered more and more fans around the country, which means Kinsler jerseys should continue to sell.
24) Jacoby Ellsbury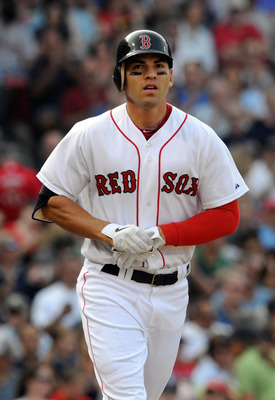 Darren McCollester/Getty Images
Jacoby Ellsbury had a massive power surge last season, managing to hit 32 home runs after hitting just 20 home runs over the previous four years.
This explosion should also lead to a surge in the number of Ellsbury jerseys that are sold in Boston and around the country.
23) Buster Posey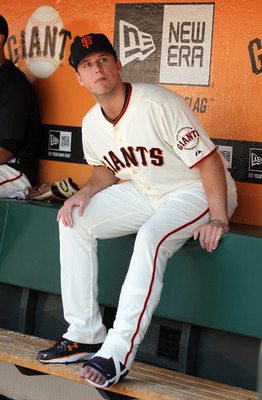 Ezra Shaw/Getty Images
Losing Buster Posey for the season was a huge blow to the San Francisco Giants last year. They will certainly be happy to have him back.
The former National League Rookie of the Year is a fan favorite in San Francisco, and his jersey is very popular.
22) Joey Votto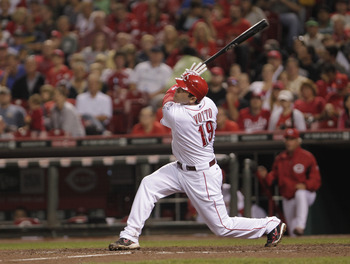 John Sommers II/Getty Images
Joey Votto has become a huge star, and he is by far the best player on the Cincinnati Reds roster.
If you had to pick one Reds jersey to own, chances are that most people would choose a Votto jersey.
21) Evan Longoria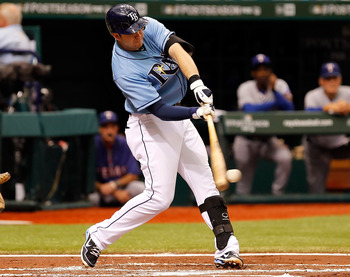 J. Meric/Getty Images
Evan Longoria jerseys have been very popular for a few years now. Ever since he broke into the majors, Rays fans have been enamored with Longoria.
Even with all of the young pitching sensations in Tampa Bay, Longoria's jersey should be the best selling Rays jersey.
20) Matt Kemp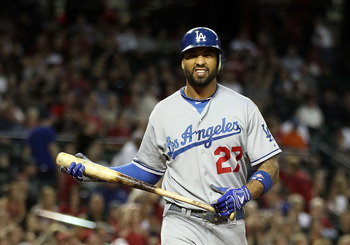 Christian Petersen/Getty Images
Matt Kemp came up just short of producing a 40/40 season and joining the elite club of players who have achieved one.
This season Kemp should once again come close to a 40/40 year. Expect to see a lot of Kemp jerseys around Los Angeles.
19) Jose Reyes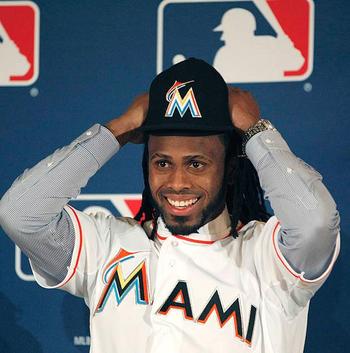 Photo Credit: Palm Beach Post
The Miami Marlins made a huge splash when they jumped in and grabbed Jose Reyes. He will certainly bring excitement to Florida.
Exciting players often have their jerseys become very popular among fans. This happened for Reyes in New York, and the same thing should happen in Miami.
18) Mark Teixeira
J. Meric/Getty Images
Power hitters draw a lot of attention, and power hitters that play in the Bronx for the Yankees get even more attention.
Mark Teixeira has proven that he can hit the long ball, and he has become a favorite among Yankees fans. It is no surprise that he has a very popular uniform.
17) Tim Lincecum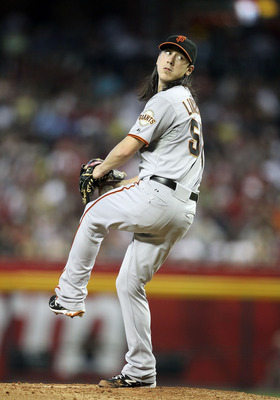 Christian Petersen/Getty Images
Tim Lincecum is an absolute rock star in San Francisco. The fact that he won two Cy Young Awards in his first three years in the majors has made him incredibly popular.
The Freak also seems to be a very likable person, which has helped him win over many people in the Bay Area.
16) Stephen Strasburg
Greg Fiume/Getty Images
Stephen Strasburg took the major leagues by storm when he made his debut. Everyone wanted to watch him pitch.
In addition to everyone wanting to see him on the mound, almost every Washington Nationals fan wanted to have a Strasburg jersey on their back. That has not changed at all.
15) Josh Hamilton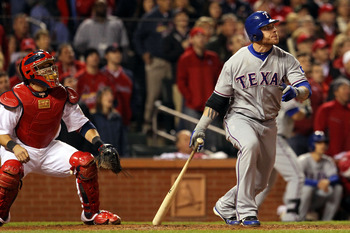 Jamie Squire/Getty Images
Josh Hamilton has been a star for the Texas Rangers, which has helped fuel sales of his uniform among the team's fan base.
Hamilton's issues this season might have a little impact on how many people buy his jersey, but he will still have a lot of support.
14) Chase Utley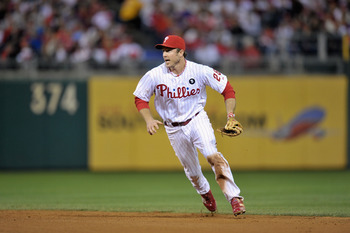 Drew Hallowell/Getty Images
Chase Utley may no longer be an elite second baseman, but he is still loved by Philadelphia Phillies fans.
His jersey should be one of the more popular Phillies uniforms that can be found this year. It should sell well even if he continues to decline.
13) Yu Darvish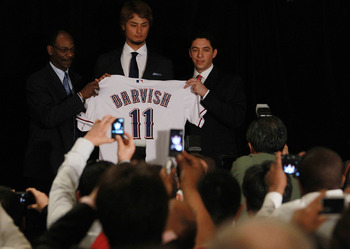 Ronald Martinez/Getty Images
Yu Darvish was an absolute superstar in Japan, and he should have a large number of followers in the United States.
Darvish jerseys will not only sell well with Texas Rangers fans, but they should also be one of the top selling jerseys in Japan as well.
12) Justin Verlander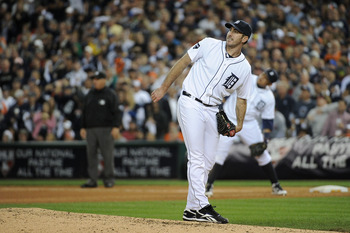 Harry How/Getty Images
The things that Justin Verlander was able to accomplish in 2011 were incredibly impressive. He definitely earned the AL Cy Young Award and the AL MVP Award by winning the AL Pitching Triple Crown.
This should do wonders for the sales of Verlander's jerseys in Detroit. There is a chance that he won't even have the most popular Tigers jersey, though.
11) Cliff Lee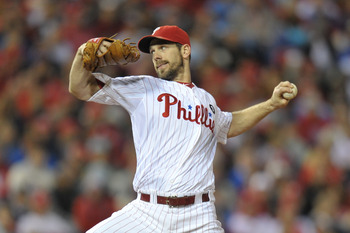 Drew Hallowell/Getty Images
Cliff Lee was everything that the Philadelphia Phillies were hoping for in 2011. The team and their fans were happy to have him back.
Lee's jersey has been one of the most popular in the major leagues, and nothing should change that in 2012.
10) Alex Rodriguez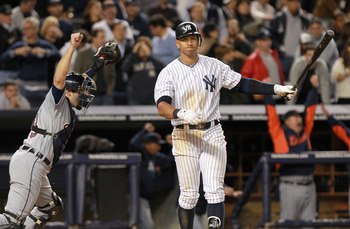 Nick Laham/Getty Images
Alex Rodriguez is going to go down in history as one of the best players to ever step on a baseball diamond, and he may end up as the game's all-time home run king.
With a player this talented, it is no surprise that his jersey flies off of the shelf. A-Rod jerseys can be found all over the place.
9) Robinson Cano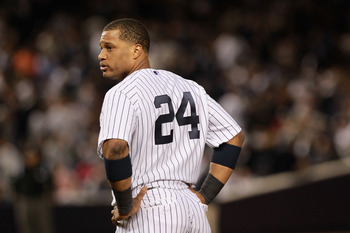 Nick Laham/Getty Images
Robinson Cano has emerged into an absolute star, and he is one of the best second basemen in baseball right now.
His jersey is yet another New York Yankees jersey that is incredibly popular. It can be hard to find one at times since so many of them get sold.
8) Dustin Pedroia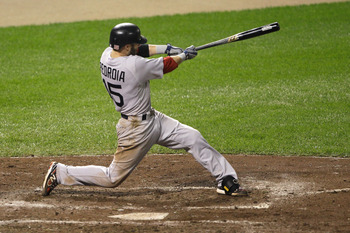 Rob Carr/Getty Images
Dustin Pedroia is another elite second baseman in the American League East, and Boston Red Sox fans will argue that he is better than Robinson Cano.
There is at least one category that Pedroia will likely be better than Cano in following the 2012 season: jersey sales.
7) Clayton Kershaw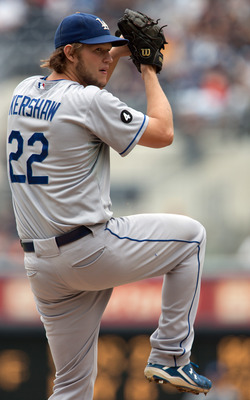 Kent Horner/Getty Images
Clayton Kershaw looks like he is going to have an incredibly bright future in the major leagues. He is one of the youngest players to ever win a Cy Young Award.
Believe it or not, Kershaw jerseys will not be the most popular baseball uniform seen in Los Angeles even though it will be one of the MLB's top 10 uniforms in 2012.
6) Joe Mauer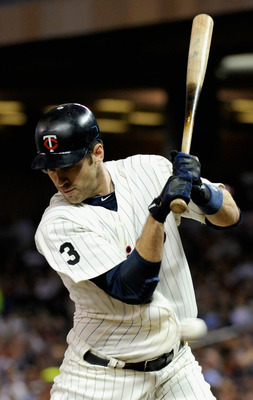 Hannah Foslien/Getty Images
Joe Mauer is a local Minnesota kid, which is one of the reasons why he so loved by Minnesota Twins fans. One other reason is because he is an elite catcher.
It seems as if almost every Twins fan has a Mauer jersey. The ones who don't, keep going out and buying them, which is why his uniform is so popular.
5) Roy Halladay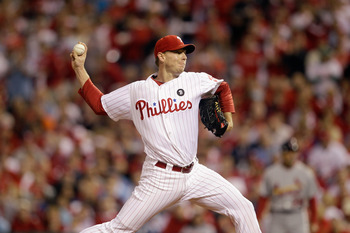 Rob Carr/Getty Images
Roy Halladay is one of the best pitchers in the major league, and he is the ace of the Philadelphia Phillies' pitching staff.
Phillies fans are some of the most loyal fans in baseball, and they go out and purchase the uniforms of their favorite players at a higher rate than fans of most other teams. Halladay is a fan favorite in Philly, and his jersey sells like crazy.
4) Bryce Harper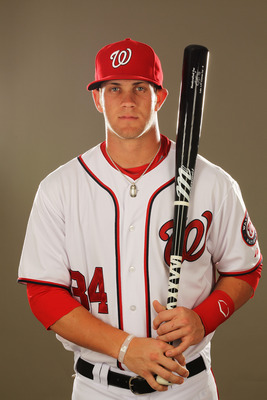 Al Bello/Getty Images
Bryce Harper is going to take the baseball world by storm once he hits the major leagues. The kid is as phenom.
Harper jerseys will be high on the wish lists of both Washington Nationals fans' as well as the wish lists of those who are not Nationals fans.
3) Prince Fielder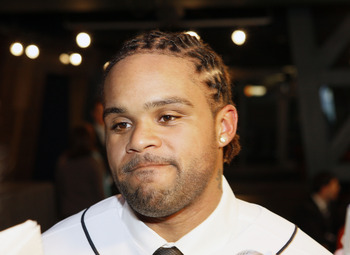 Jorge Lemus/Getty Images
Prior to the 2012 offseason there was no reason for Detroit Tigers fans to want a Prince Fielder jersey. Now the demand for these uniforms is crazy.
Almost every Tigers fan is going to want to get their hands on a jersey of the team's newest superstar.
2) Albert Pujols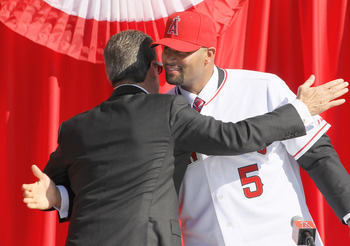 Stephen Dunn/Getty Images
There are a lot of fans in Los Angeles who ran out and bought Albert Pujols uniforms once he signed with the Angels.
That trend should continue throughout the season, and Pujols uniforms will be among the most popular jerseys worn by baseball fans.
1) Derek Jeter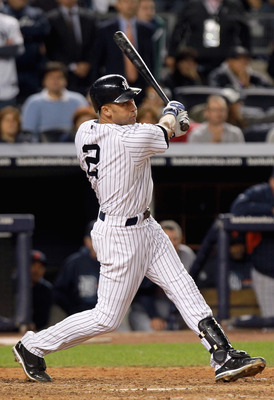 Nick Laham/Getty Images
A Derek Jeter jersey is one of the quintessential pieces of apparel for a New York Yankees fan. One would be hard pressed to find a diehard Yankees fan who does not own a jersey with a No. 2 on the back.
Jeter jerseys have been among the most popular in the majors since his rise to stardom, and they continue to sell at an incredible rate.
Keep Reading