Oakland Athletics: Where Does Manny Ramirez Signing Leave Developing Prospects?
November 17, 2016
Dilip Vishwanat/Getty Images
It's certainly not that I am not intrigued by the idea of "Manny being Manny" in Oakland and what it could mean to an offense that finished 12th in the American League in 2011.
It's also not that I don't agree the A's needed a threat in the middle of their lineup; they certainly needed to replace the offense lost with the departure of free agents Josh Willingham, David DeJesus and Hideki Matsui.
The signing of Ramirez to a very affordable $500,000 salary is certainly the ultimate no-risk, high-reward signing by Billy Beane, but what does it mean to a team rebuilding?
Does this really make the A's a better team in the long-term? In 2012, yes it probably does; we all saw what a motivated Manny is capable of following his trade from Boston to the Los Angeles Dodgers. But what about 2013, 2014, 2015???
Will I buy more tickets because of Ramirez wearing green and gold? Yes, probably, but people also find it hard to look away from a car crash. There's just something appealing about a potential disaster, though his signing was so cheap that a disaster seems virtually impossible.
Will he help the A's offense? That remains to be seen, but, again, at the cheap price of his salary, he really can't hurt it, and if he does, he'll be cut.
My general feeling is that I will be conflicted about every at-bat I find myself standing to cheer for Ramirez. He has no place with this team beyond 2012, and his presence will clearly take at-bats away from Chris Carter, Michael Taylor, Brandon Allen and even the newly acquired Jonny Gomes and Seth Smith (players who could have a future with the A's beyond 2012, if only for being nearly a decade younger than Ramirez).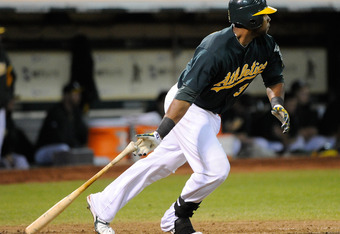 Thearon W. Henderson/Getty Images
I'm certainly not complaining about the addition of a .312 career hitter with 555 career home runs to the team. I'm just not sold that this is the right move for the A's, even at the insanely low bargain basement price they signed him for.
After all, the Angels signed Albert Pujols and C.J. Wilson this offseason. The two-time reigning American League Champion Rangers signed Yu Darvish to replace Wilson. Meanwhile the A's traded away Gio Gonzalez, Trevor Cahill and Andrew Bailey, their three most recent All-Star representatives, for an impressive collection of prospects aimed at helping them compete in 2015 and beyond as they hope to enter their new stadium.  
I'm not saying I believe the A's will be a 90-loss team and destined for last place at all. I think their offense actually has the potential to be better in 2012 and their pitching staff could surprise with all the young talent acquired. I'll even go out on a limb here and say that I believe this team is a .500 team or better if they are not stricken with injuries.
While it may seem sacrilegious to sacrifice offense (or potential offense in this case) while trying to keep pace with their division rivals, I'd like to see what Chris Carter could do with 400 to 500 at bats. I'd like to see Michael Taylor finally get a shot at playing every day in the majors. Brandon Allen showed some prodigious power last season in his stint with the A's before cooling off as the season wound down, maybe his hot and cold streaks finally come together, and he turns into a reliable power threat in the middle of the order.
Allen could wind up at first base, as could Carter if his defense improves, but as it stands right now, Ramirez will take over the DH role in the beginning of June, taking away the most obvious position for both younger power hitters.
Allen, Carter and Ramirez could all wind up being busts. I'd just like to know once and for all.
The biggest benefit I can find in this signing is the potential mentorship Ramirez could provide to new face-of-the-franchise, Yoenis Cespedes (a signing I loudly applaud by the way).
While Ramirez comes with enough baggage to provide the entire airline industry with its own economic stimulus (just imagine the fun Southwest Airline could have with a commercial featuring Ramirez), he is also a fellow Latin player who can communicate and help Cespedes adapt to life in the Big Leagues. He can also help mentor some of the A's younger hitters.
In fact, if he can occupy a roster spot without taking a significant number of at bats away from Carter, Allen and Taylor, I'm all for the signing.  If the trio all prove to be busts, then I'll proudly eat my own words, admit I was wrong, and don a No. 99 jersey and dreadlock wig while holding up my respective letter in the "Mannywood" sign out in the outfield.
For now, though, I am going to cautiously reserve judgment of the A's decision to sign Manny until I see him take on a mentorship role with the A's younger hitters and am able to gauge what type of role he may fill for the A's when his 50-game suspension is over.
I can't blame Beane and company for signing Ramirez, I just wish it was not at the expense of developing our younger talent that we can enjoy beyond 2012.