MLB Spring Training 2012: Projecting the Texas Rangers' 25-Man Roster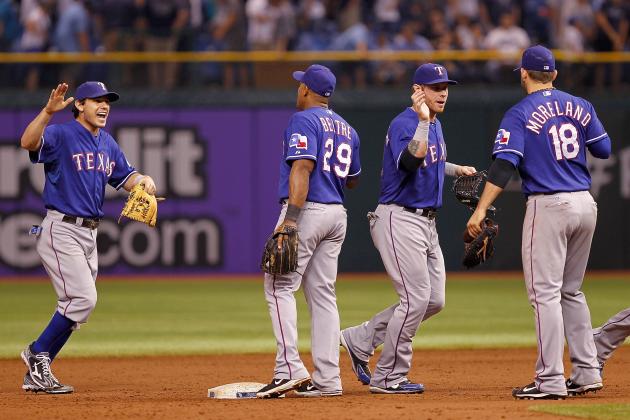 Mike Ehrmann/Getty Images

The Texas Rangers enter 2012 spring training in Surprise, Ariz., with a blueprint for success not seen in the history of the franchise. After two straight World Series appearances, they are in full-fledged win-now mode.
The club's major acquisition was a big one: Japanese ace Yu Darvish will be wearing Ranger red and blue for the next six seasons. Aside from his arrival, not much has changed in the structure of the roster or lineup for the defending AL champs.
Competition for the last outfield and infield spots will be interesting, and the left-handed relief role is wide open.
Here's the way I expect the 25-man roster to look on Opening Day against the Chicago White Sox.
Begin Slideshow

»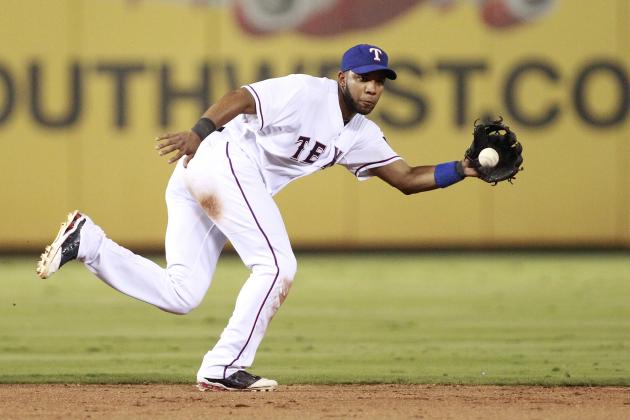 Rick Yeatts/Getty Images

1B Mitch Moreland
2B Ian Kinsler
SS Elvis Andrus
3B Adrian Beltre
UTIL Michael Young
The infield that ended last season will likely start this one, although a fully healthy Moreland will allow MY to focus on his DH/3B/2B role more than having to contribute at first.
If the Rangers are able to re-sign Kinsler and Andrus after 2013, you are looking at your starting double-play combo until at least 2018. If not, Jurickson Profar is waiting in the minors.
Mike Napoli can also play first for the Rangers, so there are a lot of options manager Ron Washington can employ on a night-to-night basis.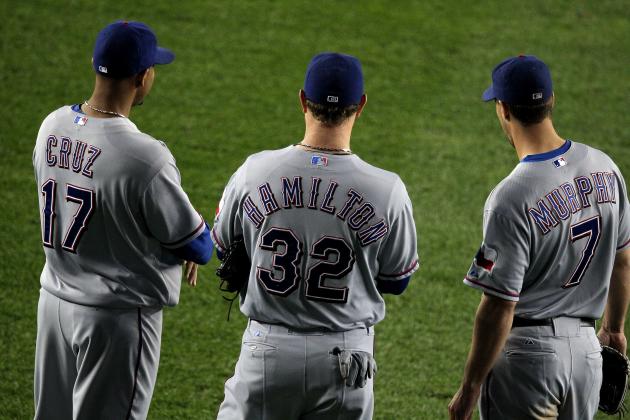 Al Bello/Getty Images

OF Josh Hamilton
OF Nelson Cruz
OF David Murphy
OF Craig Gentry
Former starter Julio Borbon is also in camp, but it would take a strong spring for him to crack the rotation and make the Opening Day roster. If he does perform well, look for the Rangers to turn that performance into some sort of trade for a fresh start.
In Gentry, the Rangers have a solid man to roam center field until top prospect Leonys Martin is ready to assume the job. It will be interesting to watch Martin in spring ball to see what kind of impact he might have and when he might be ready for full-time big league action.
Texas knows what it has in Hamilton, Cruz and Murphy, who will likely all be roaming the outfield together come playoff time.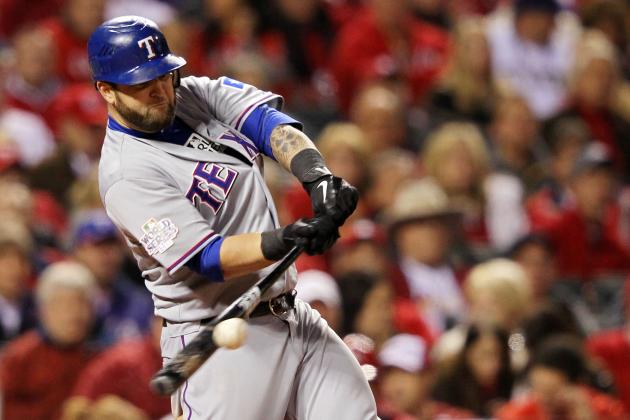 Jamie Squire/Getty Images
Mike Napoli
C/DH/1B Mike Napoli
C Yorvit Torrealba
C Luis Martinez
Since Napoli plays three positions for Ron Washington, an injury as the DH or in the field could impact the loss of the DH spot or a backup catcher.
I imagine they want to keep Napoli's games and at-bats around 110 and 425, respectively, especially after he is coming off of ankle surgery and to keep him fresh for the postseason.
Behind him, Torrealba and Martinez will have to battle each other for time. It's possible that Martinez, acquired in an offseason trade with the San Diego Padres, will fill the role of Taylor Teagarden from the last two seasons.
It's unclear if the Rangers are going to punish Torrealba for his actions in the Venezuelan winter baseball league. After striking an umpire after disagreeing balls and strikes, Torrealba received a 66-game suspension in the league.
Ronald Martinez/Getty Images

SP Colby Lewis
SP Derek Holland
SP Yu Darvish
SP Matt Harrison
SP Neftali Feliz
The Rangers rotation will be headlined by Darvish, whose $60 million contract and large expectations will be a major storyline in 2012.
The wild card in the group is Feliz, who enters the rotation for the first time after being a starter in the minor leagues during his development. The Rangers will monitor his progress closely, especially after he has been the closer for parts of the last three seasons.
Holland and Harrison both took major steps in their development, winning 16 and 14 games, respectively, and keeping their ERAs under 4.00. Playoff ace Colby Lewis will be the Opening Day starter, and they will lean on him for six-to-seven innings in each of his starts.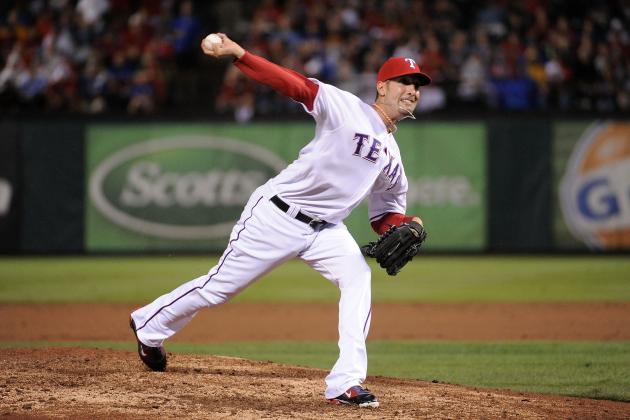 Harry How/Getty Images
Mike Adams
Long Reliever: Scott Feldman
Middle/Situational: Koji Uehara, Yoshinori Tateyama, Michael Kirkman
Setup: Mike Adams, Alexi Ogando
Feldman will be the spot starter and long man for the Rangers. While Uehara trade rumors have surfaced over the past few weeks, it's unlikely they get rid of him now.
For one, he and Tateyama will help acclimate Darvish to Texas and the big leagues. He will also be an option to face left-handed batting in situational circumstances, especially without a proven player in that role.
Look for Kirkman to step in to the left-handed reliever role, as he will likely be given every opportunity to win the job. Veteran left-handers Joe Beimel and Mitch Stetter will also compete as non-roster invites, and youngsters Martin Perez and recently acquired Kelvin De La Cruz will also be in the mix.
Ogando, a starter last season, and Adams will likely both be used with a late-inning lead.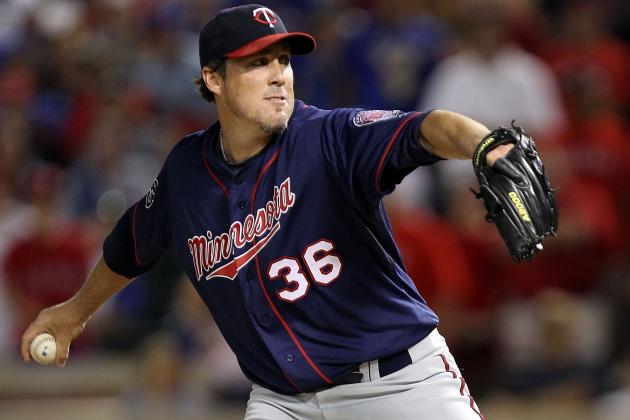 Ronald Martinez/Getty Images

Closer: Joe Nathan
Nathan takes over for Feliz after signing a two-year, $14.5 million deal in the offseason. After coming back from Tommy John surgery to split the closer job with Matt Capps in Minnesota last season, Nathan looks to regain his form as one of the dominant players at his position.
His arrival paves the way for Feliz to focus on starting for good. If Nathan was to face a setback or injury, Ogando, Adams or Uehara would be in line to take over the job.
That kind of stability allows Feliz to assume the role the Rangers originally had for him when grooming him in the minors. GM Jon Daniels should be commended for making this kind of move and showing Feliz the confidence to clear a slot in the rotation well before spring training opened.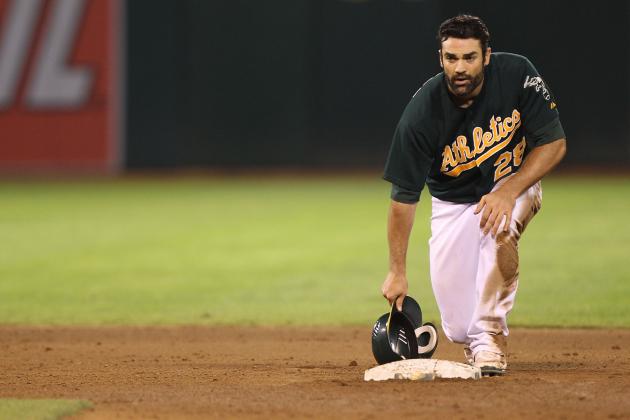 Jed Jacobsohn/Getty Images

There is some real talent in camp this season. From former starters like Brad Hawpe to solid relievers like Mitch Stetter and Joe Beimel, the Rangers are doing a great job at creating competition at every position.
Julio Borbon, Mark Lowe and Mark Hamburger are also all former big leaguers who could push for the final spot until camp closes. But in the spirit of versatility at all positions, look for the last man in to be former Oakland Athletics and Boston Red Sox utility man Conor Jackson.
Jackson shows the kind of positional versatility that could be important in keeping guys like Cruz, Hamilton and Beltre fresh. He played over 50 games in both left field and at first base in 2011 and also contributed seven games at third base.
He and Moreland could fill in at the corner outfield spots if needed, and also allow Young to play more shortstop and second base, since he wouldn't be needed at first quite as much.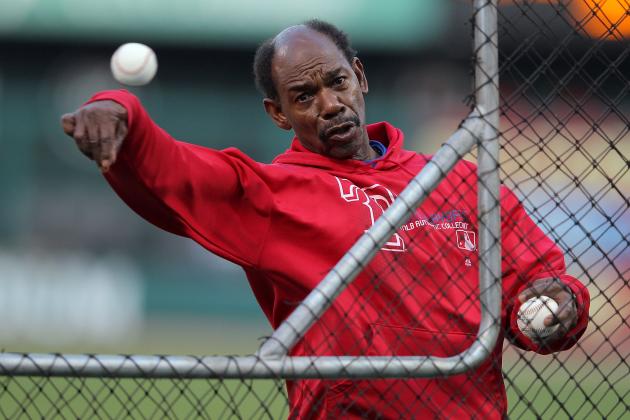 Doug Pensinger/Getty Images

It's a great time to be a player, coach or just a fan of the Texas Rangers. With consecutive World Series appearances, Texas is entering territory not seen since the franchise moved to Arlington in 1971.
With storylines like Hamilton's alcohol relapse, Darvish's arrival to American hitters and Albert Pujols and CJ Wilson playing for the rival Los Angeles Angels, spring training is going to be pivotal to getting off to a strong start in maintaining the success they've had of late.
These 25 players could get them started right come April 6th and the opening day against Robin Ventura's Chicago White Sox. Here's hoping owner Nolan Ryan stays in the seats for that one.