MLB Spring Training 2012: 5 Storylines to Watch at New York Mets Camp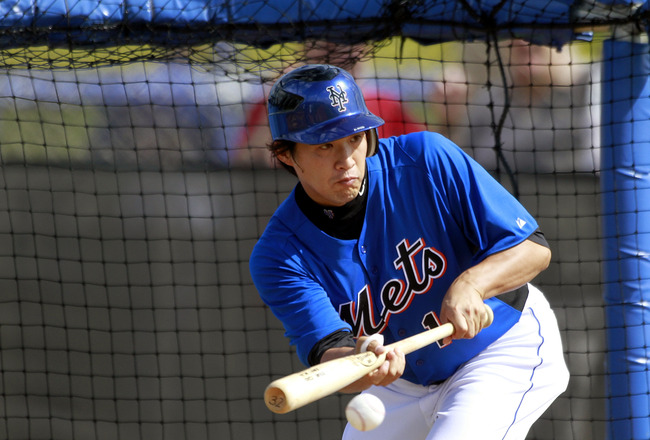 Marc Serota/Getty Images
Spring training is just around the corner, and the New York Mets are heading in...well, let's just say they're heading in.
Financial difficulties, an offseason just as uneventful as last year's and projections that the team will finish dead last in possibly the toughest division in baseball most certainly do not contribute any positive hype.
That doesn't mean that there's nothing to look forward to in St. Lucie. In fact, there are quite a few storylines to follow at Mets camp. For now, let's just focus on five of them.
Without further ado, here are the five most interesting storylines to watch at Mets camp.
Life Without Jose Reyes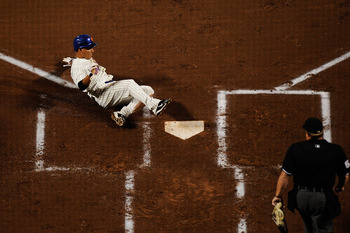 Patrick McDermott/Getty Images
Gone are the Mets' legs, practically donated to the rebranded Miami Marlins for six years. Gone is the Mets' only NL batting average leader; their leader in stolen bases and basically anything that had to do with leadoff is now in South Beach.
Replacing Jose Reyes is a raw shortstop from Panama, Ruben Tejada. Tejada has almost two years of major league service, spending the 2010 season filling in for the aforementioned, and in 2011, auditioning to be his potential replacement, as well as playing second base.
Tejada isn't a bad player, but what he needs is encouragement. What management should do with him is not treat him like he is the second coming of Reyes; he most certainly is not. Rather, they should let him play his strengths so he can learn at his own pace.
It'll be interesting to see how he does in spring training, despite the fact that he practically has the position locked up.
Johan Santana Returns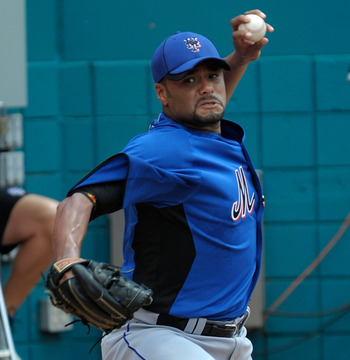 Sarah Glenn/Getty Images
Here's to the potential return of the Mets' ace, Johan Santana.
After missing a combined eight months due to arm surgery, the southpaw says he's ready to go, and manager Terry Collins says he's ready to go. Basically, he'll be back by Opening Day.
Although Santana might not pitch in any spring training games, his return should be monitored closely by Mets fans, in the hope that he is 100 percent ready to return to the mound.
Prospects, Prospects and More Prospects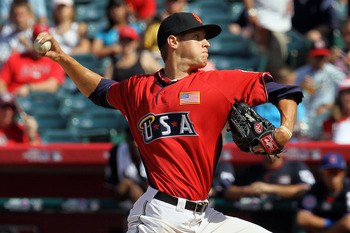 Stephen Dunn/Getty Images
The Mets have a cacophony of prospects that are worth watching, like their new trio of pitching sensations, Matt Harvey, Zack Wheeler and Jeurys Familia, all of whom will get some evaluation time this spring.
In addition, former top infield prospects Reese Havens and Wilmer Flores will try to impress enough so that they can make the Major League team, or at least start higher than Double-A.
In the outfield, Captain Kirk Nieuwenhuis will try to recapture his form that had many raving about him until he was injured this past summer, and last year's first-rounder Brandon Nimmo will be in the public eye for the first time.
Also worth watching are former Florida Gators outfielder Matt Den Dekker, whose glove is apparently Gold Glove-caliber, and Cory Vaughn, son of Greg Vaughn, who is also looking to recapture his hitting stroke.
Will Adam Loewen Be the Next Rick Ankiel?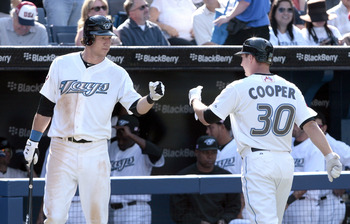 Abelimages/Getty Images
Sandy Alderson was shopping for a fourth outfielder and seemed to be interested in Rick Ankiel. Once he was signed by the Washington Nationals, Alderson dropped the idea of signing anyone and seemed to imply that the non-roster invitees would all have a shot at the outfield job.
Adam Loewen is one of those NRIs.
Like Ankiel, he is a convert, having pitched a few years for the Baltimore Orioles before becoming an outfielder. He has shown that he can hit, but he needs more evaluation time before he can be considered a legitimate option.
Nonetheless, if Alderson has faith in him, you know there is a chance that he'll blossom. He'll be worth looking at as a potential fourth outfielder, but he should be wary of the prospects battling against him.
Will There Be Sluggers? Will the Fences Help?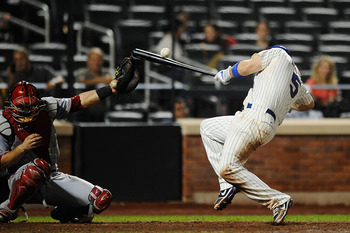 Patrick McDermott/Getty Images
Jason Bay, David Wright, Ike Davis, Lucas Duda. Not exactly a scary Murderer's Row in actuality, but in terms of potential—plus the addition of shortened fences at Citi Field—this could potentially be a scary cleanup quad.
Jason Bay has had psychological problems since moving from Fenway (Mini)Park to the cavernous Citi Field. He's tried to overexert himself, but it's led to injury and disappointment for the past two years. Hopefully, the shortened fences will be the few feet he needs in order to turn some long flies into home runs.
Similarly, David Wright has been psychologically affected by Citi Field. Add to that the fact that he missed more than a month with a back injury, and you can count 2011 as a forgettable year for the star. Hopefully the fences will at least restore his confidence.
Ike Davis was on pace to lead the team in home runs, but one night in Denver proved to be his undoing, as David Wright fell on him, decommissioning him for the rest of the year. Hopefully he'll be fine and hitting Jim Thome-type bombs this year.
Lucas Duda proved that he has the ability to hit; it's just a matter of giving him playing time. In the four-month evaluation that he had this past year, Duda served as the team's power hitter, while Wright and Bay were ice cold. Hopefully, spring training will only serve to better him, and we'll be seeing him hitting fifth in the lineup.
They say that spring training is a good way to determine if your hitters are ready. Hopefully, this is true, and the team will be playing well enough to stay out of the cellar come April.
Keep Reading

New York Mets: Like this team?