Seattle Mariners: What Ichiro Batting Third Means for the 2012 Lineup
February 22, 2012

Jason Miller/Getty Images
Today (February 21), Seattle Mariners manager Eric Wedge reported that he has made the decision to hit fan favorite Ichiro in the third spot of a hopefully revamped Mariners lineup. 
The team has confirmed this via twitter. It was announced some days ago that Ichiro would no longer be hitting leadoff—but until now his new home in the lineup was unknown. 
Ichiro, 38, has batted leadoff for the Mariners nearly every game since the outset of 2001, a season that saw the Mariners win 116 games as well as Ichiro take the Rookie of the Year and MVP honors. As a leadoff hitter, Ichiro has collected 2,428 hits, and batted .326 over the course of his 11-year career in the Pacific Northwest. 
Despite his amazing success batting in the first spot, Ichiro is moving to third for what will likely be the entirety of the 2012 campaign. This brings up several questions: how will Ichiro fare batting in a spot in the order traditionally reserved for power hitters? What will the Mariners new lineup look like? And why was this move made?
1) How will Ichiro hit in the 3rd spot in the lineup?
A popular rumor surrounding Ichiro's near mythical career in Seattle has been that he could hit home runs almost at will. Ichiro once said he could hit 40 home runs in a season if he was allowed to hit .220.
While I personally do not subscribe to the rumor, I have to admit there have been times where Ichiro's home runs have felt like he was trying to hit them.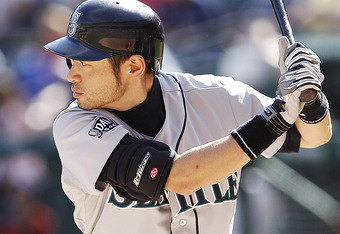 Brandon Wade/Getty Images
Besides the gut feelings of fans, Ichiro generally peppers the outfield bleachers in spacious Safeco Field during batting practice in displays of home run power that he has never demonstrated in any one season—except 2005 when he belted his personal best 15 home runs.
Given the different roles of a third batter compared to a leadoff hitter, if Ichiro does have a lot of untapped power, I certainly would expect to see it on display in 2012. 
A well-respected Seattle sportswriter, Larry Stone, recently tweeted that Ichiro has worked all offseason on a new batting stance with a much wider base. This adjustment might have been made to get more power out of his swing. 
While we cannot know if this adjustment is meant to generate more power, and Ichiro would never admit anything of the sort due to his struggles at the plate last year, we should probably assume it is not an adjustment meant purely for power. In any case, it is unlikely this older version of Ichiro will hit a significant amount of home runs more than his career high of 15. However, more important than his power numbers will be his batting average with men on base and in high leverage situations. 
An important part of hitting in the middle of the order is driving in runners. In his career, Ichiro has hit .317 with men on base and in high-leverage situations, as classified by fangraphs.  Both numbers are stellar and if he can continue at that clip the Mariners should be better off than they were last year, when the third hitter in there order batted .244 and only slugged .393 overall, though a Justin Smoak thumb injury contributed to that ineptitude. 
Last year, Ichiro hit .272 and is a lock to hit for a higher average than the 2011 Mariner platoon at that spot in the order.
Also, the stats seem to indicate that, at least so far, with men on base Ichiro hits for less power (measure in slugging percentage) than he does with the bases empty. Not a good sign for moving into a position of the lineup that requires more driving of the ball and more run production.  Over his 11 year career, Ichiro has slugged .396 with men on base as opposed to .428 with the bases empty.
The things that are concerns for Mariners fans are the high rate of ground balls Ichiro hits, and his lack of patience. Ichiro walks less often than the MLB average of 8.1 percent, in 2011 he walked just 5.4 percent. 
Unlike most sluggers, Ichiro beats the ball into the ground far more often than he hits it in the air. Ichiro hits over two times as many ground balls as he does fly balls, while someone like Joey Votto would hit one grounder to every fly ball, or even less.
2) What will the Mariners new lineup look like?
When the Mariners open up the regular season against the Oakland Athletics in Japan on March 28, I expect their lineup to look something like this:
1) Chone Figgins, 3B
2) Dustin Ackley, 2B
3) Ichiro, RF
4) Mike Carp, LF
5) Justin Smoak, 1B
6) Jesus Montero, DH
7) Miguel Olivo, C
8) Franklin Gutierrez, CF
9) Brendan Ryan, SS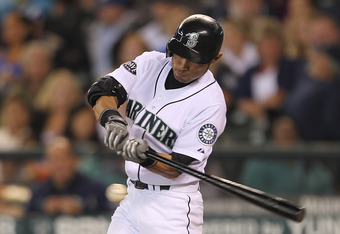 Otto Greule Jr/Getty Images
Now, the first thing you may notice is that there is three lefties in a row in Ackley, Ichiro and Carp batting 2-3-4. The reason I think we will see this happen is because last year Eric Wedge felt that he put too much pressure on Justin Smoak by hitting him fourth and that he is unlikely to do it again to start the season. 
This thought essentially rules out both Smoak, and Jesus Montero, who only has 18 MLB games under his belt, from hitting fourth. Process of elimination leaves Carp and Olivo as the only two reasonable choices and I don't think we will hit so awfully that Olivo ends up there.
Against tough lefty starters I think that Carp will see a lot of the bench while Casper Wells will get a chance to hit fourth.
Ackley, whom most of us assumed would hit third, slides nicely into the second slot with Ichiro protecting the patient second basemen. If Figgins cannot redeem himself, I imagine that Ackley will bat first and Kyle Seager or Carlos Guillen will bat eighth. 
While Ackley projects as a better fit in the third spot because of his patience and extra base potential, he will fit far better in the second spot than Ichiro would.
3) Why move Ichiro now?
As far as anyone can guess, there are two major reasons for the Mariners to make this move when they did. The first reason is the teams desire to give the goat Chone Figgins a chance to redeem himself from his status as fan least favorite. 
So far, Chone Figgins has been a disastrous sunk cost to the tune of $18 million. However, there is some general hope that returning to the leadoff spot might make him the dangerous pest he was with the Los Angles Angels of Anaheim. 
The second reason, and driving force between the other Mariners off season move is simply desperate times call for desperate measures. Last year the Mariners where a sinking ship; they lost fans and scored less runs than any other American League team in the DH-era.
Trading Pineda for Montero and moving Ichiro to third in the batting order are both meant to try and fix the previously crippled offense.  
In conclusion, I think the Mariners moving Ichiro to the third spot should help the 2012 Mariners offense hit far better than the 2011 Mariners offense.  His batting average alone should make a tremendous difference and there is some reason to hope for (not expect) that Ichiro might have more power in this bat than we have seen before; a new batting stance and fan lore. 
Also, his low strikeout totals will help with runners in scoring position over some of the other players on the roster. The move was made to accommodate and jump start Chone Figgins, and with how awful Seattle was on offense in 2011, it would be hard for it to hurt the Mariners at the plate or in the standings.