Tennessee Titans 2012 Mock Draft: Full 7-Round Predictions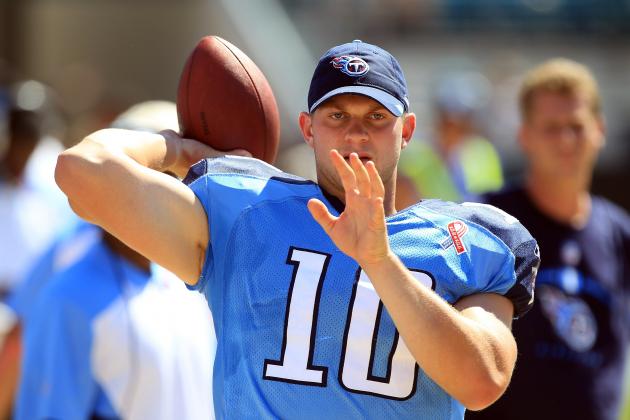 Streeter Lecka/Getty Images
Jake Locker's looking for a few good co-workers.
The Tennessee Titans are awash with needs in the 2012 NFL Draft. The secondary might get as many as three new starters. The pass rush needs an upgrade. At linebacker, two rookies started last year but that's no guarantee of future returns. The interior offensive line is pathetic. The wide receiving corps may be improved, although there's a lot riding on a guy coming off an ACL tear. Chris Johnson has a lot to prove.
This draft and all mocks in the near future will occur without free agency, which was the way we did things in last year's unusual offseason. Strangely, doing things the normal way is going to feel weird.
This mock draft will be as if there is no free agency, as that mad rush to switch teams doesn't start for a couple of weeks. The Titans have re-signed a few free agents so far. The players are mostly depth guys.
My approach for this mock was the following: I picked a position per round and found players that fit the position. I included some alternates because these guys are so shiny and pretty that I want to take them all home.
Begin Slideshow

»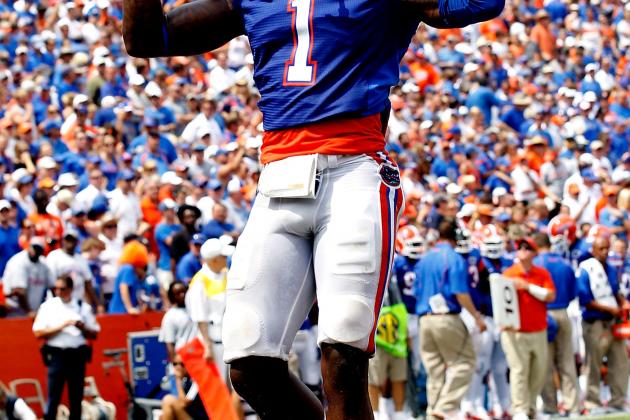 Sam Greenwood/Getty Images
Jenkins is Cortland Finnegan insurance.
The Tennessee Titans' cornerback trio of Cortland Finnegan, Jason McCourty and Alterraun Verner was a strength of the defense. The team isn't making a big push to re-sign Finnegan or slap the franchise tag on him, so in that case cornerback becomes a big need.
Why not replace one small-school Alabama guy for another? As the picture shows, Jenkins started at the University of Florida for three seasons, including his first game as a true freshman. He was kicked off the team due to two drug arrests in three months.
NCAA players can transfer from an FBS school to an FCS one without sitting out a year, so Jenkins left for North Alabama, coached by former Auburn head man Terry Bowden.
Jenkins is a slam-dunk pick based on his talent level. During his junior year, Jenkins squared off against current and future NFL stars A.J. Green, Julio Jones, and Alshon Jeffery and fared well.
Janoris is not a Titan kind of pick because of off-the-field concerns that are still a major concern for a franchise that drafted another athletic bad boy named Adam Jones. He may not even be on the team's draft board.
Other potential cornerbacks for the Titans in the first round:
Stephen Gilmore, South Carolina (40 consecutive starts, left school as junior)
Brandon Boykin, Georgia (won Paul Hornung Award for most versatile player, a bit undersized)
Alfonzo Denard, Nebraska (inconsistent senior year worried scouts, toasted by Alshon Jeffrey in 2012 Capitol One Bowl)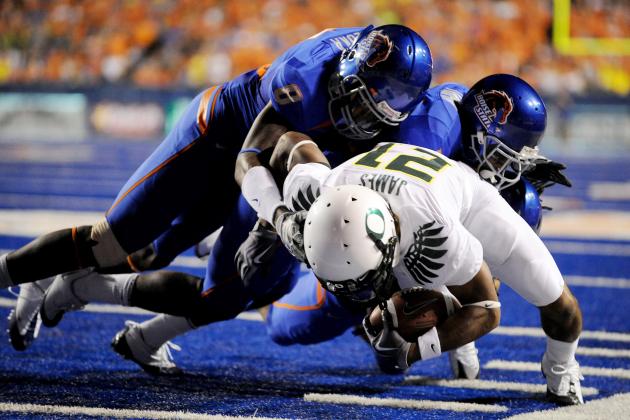 Steve Dykes/Getty Images
Iloka will take the place of departing Michael Griffin.
Like I mentioned before, the Titans are full of needs. While taking consecutive defensive backs might seem a bit excessive, safety play was not good last year.
Micheal Griffin has been a two-time Pro Bowler for the team. In 2011, he seemed unwilling to be physical and make tackles, nor did he change games in coverage. He's always been talented, hence the two Pro Bowl appearances. He's not the kind of difference-maker that you throw $40 million at like Eric Weddle. The only way the team's holding into him is to give him the franchise tag, which would cost the team approximately $6.2 million.
Enter Iloka. George is a beast, measuring 6'3 and then some and weighing in at 220 pounds. He's projected to run a 4.5 40, which gives him the range he'll need to cover the Aaron Hernandezes of the world.
You want consistent? Iloka started 40 consecutive games in college and played every game possible in college, including getting his first start in his third game as a freshman. He's selfless, as proved last season when the team plugged him in at cornerback when there were injuries.
One downside is that he's not a great tackler. That was an issue with Griffin. DC Jerry Gray is big on the fundamentals, and this is a big one.
Other potential safeties for the Titans in the second round:
Harrison Smith, Notre Dame (Mike Mayock just mentioned him in a video)
Antonio Allen, South Carolina (part of South Carolina's vastly improved secondary)
Markelle Martin, Oklahoma State (very fast, although Cowboys focused on causing turnovers which led to poor fundamentals)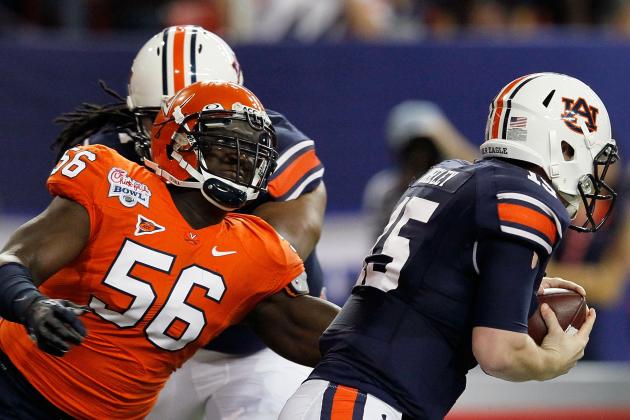 Kevin C. Cox/Getty Images
Titan fans don't remember what a sack looks like. Cam Johnson could change that.
The Tennessee Titans were 31st in the NFL with 28 sacks last year. When the team let sack maven Jason Babin leave in free agency, there was hope that young players like Derrick Morgan, William Hayes, and Jason Jones would pick up the slack. The slack was left on the ground.
Let me add a personal note before proceeding. Defensive ends and linebackers are hard to project in this draft. A lot of NFL teams are moving to a 3-4 or hybrid defense. It's not always easy to tell if a guy is projected to remain a 4-3 defensive end, a 3-4 defensive end, a 3-4 outside linebacker or even a Justin Tuck type who might play run downs at end and pass downs at tackle.
The Titans may go to some 3-4 looks, although their linebackers would need to improve in depth and talent before that becomes a major part of the defense. The Titans need a two-way guy who will rotate in as a rookie and eventually take a starting role.
Cam Johnson is the most appealing 4-3 DE at this spot. He was a 3-4 OLB before Virginia switched to a 4-3 defense two seasons ago. Johnson had 14.5 tackles for a loss as a junior and knocked four passes down at the line of scrimmage.
Johnson has the 4-3 defensive end experience that the Titans covet. He could be the strongside starter opposite Derrick Morgan. The former Wahoo has the speed to chase down plays and is a consistent performer. There are injury concerns after he missed time during his senior season. He needs work on his pass-rush moves. You need a full box of tricks to succeed in the NFL even with elite athleticism.
Other potential defensive ends for the Titans in the third round:
Jonathan Massaquoi, Troy (has been talked about as a potential 3-4 OLB)
Malik Jackson, Tennessee (played DT last year for the Vols)
Tyrone Crawford, Boise State (two Boise guys? LP Field might need to shift to blue next fall)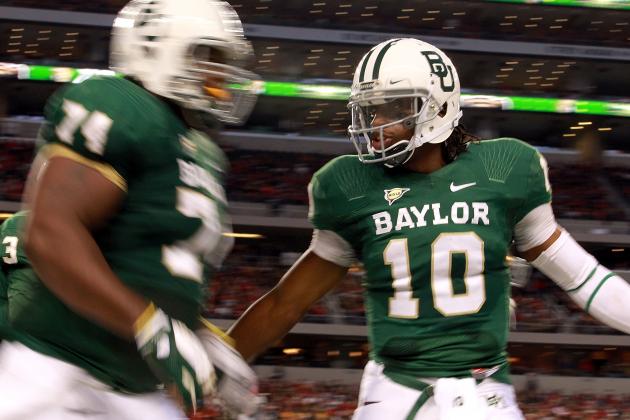 Ronald Martinez/Getty Images
I know the picture focuses on Robert Griffin. It's Philip Blake the Titans should look at.
In this mock, we have the Titans taking three straight defensive guys. Seeing as the main offensive need is interior offensive line, let's go there.
Eugene Amano enters his ninth season with the Titans. He started at left guard for two years before getting a giant contract extension to take over at center to begin the 2010 season. His ranking last year, according to Pro Football Focus, was -13.8. If you're negative, that's bad, but double digits means the team is looking for an upgrade.
Guard play wasn't great either, and free agent Jake Scott is likely to not return. If the team had a decent backup option, the man would be playing. If Blake isn't the answer at center, he can slide into a guard position.
Blake played one year at right tackle, so he has the ability to play multiple positions, critical if he is a backup player at the start of his career. Baylor's offense was shall we say, sick, last season, averaging almost 600 yards a game. That's a lot. Give some credit to to signal-caller for the offensive line. There is one downside, though. He's a Canadian. We know that Canadians can't play. All right, that's a joke.
Scouts make a big deal about a QB who played primarily in a shotgun system, but what of a center? I'm sure there's an adjustment between tossing the ball back seven yards and putting it directly into the quarterback's hands.
Other potential centers/interior linemen for the Titans in the fourth round:
Tony Bergstrom, G Utah (All Pac-12 last year as a right tackle; did a LDS mission so he'll be 25 on opening day)
Quentin Saulsberry, C Mississippi State (started at RG, RT, LG, and center for the Bulldogs)
Senio Kelemete, G Washington (left tackle at Washington, started school as a defensive lineman)
Lucas Nix, G Pittsburgh (already missing teeth, missed time last year at RG with a knee injury)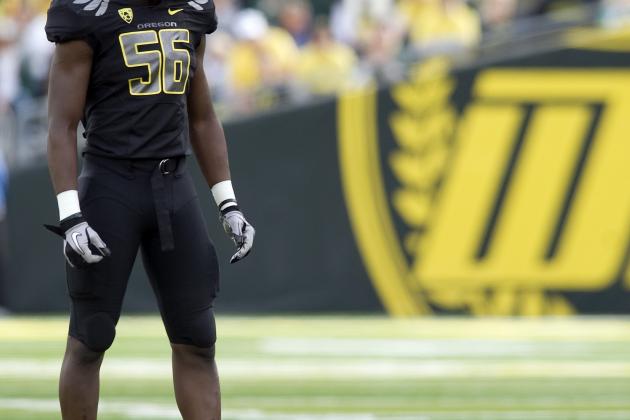 Steve Dykes/Getty Images
Can Kaddu do it at weakside?
The 2011 draft was a bonanza for the Titans at linebacker. After swinging and missing with recent draft picks Rennie Curran and Gerald McRath, rookies Akeem Ayers and Colin McCarthy played well. Will Witherspoon's still with the team at weakside, and it's time to upgrade and think about the future.
The NFL's going to switch from Reebok to Nike jerseys, and no one does Nike like Oregon, for better or worse. Josh Kaddu was a First-Team All Pac-12 player in 2012. Kaddu started all 27 Ducks games in the past two years, which featured approximately 144 uniform combinations.
Here's another bit on positions. Kaddu has been a strongside linebacker. Akeem Ayers played SAM last year and wore Kaddu's 56 (guess it's Ayers' 56, for now). Can he translate to weakside? Unlike a lot of the previously mentioned prospects, Kaddu has played strongside linebacker since high school.
It's not shocking that Kaddu is fast. That's kind of what Oregon does. He's not the most refined prospect, but there's a lot of learning going on at the NFL level.
Other potential linebackers for the Titans in the fifth round:
Sammy Brown, Houston (looks like a rush 3-4 OLB, led the country in tackles for loss in 2011)
Tyler Nielson, Iowa (missed time last two years with injuries)
Emmanuel Acho, Texas (tackling machine whose brother was a 2010 draft pick)
Miles Burris, SDSU (Aztecs played a 3-3-5 defense and he often rushed off the edge)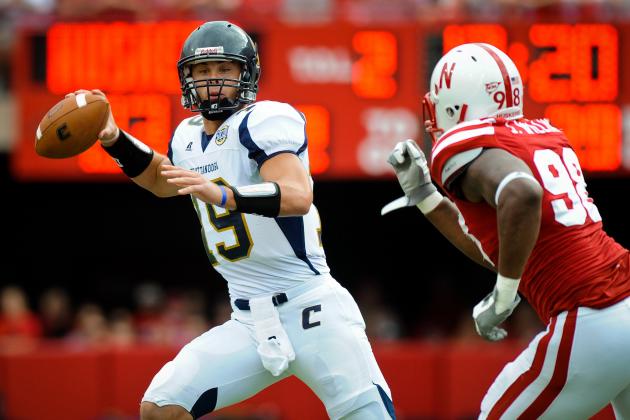 Eric Francis/Getty Images
After transferring from Tennessee to UTC, Coleman faced Auburn and Nebraska.
When the Titans selected Rusty Smith in the sixth round of the 2010 draft, I wanted Dan LeFevour instead. LeFevour's on his third different team and Rusty Smith is still there with the cap and the clipboard. Does that mean Smith's entrenched as QB3?
We saw all we needed to see from Smith in his start against the Houston Texans in 2010. The Texans had one of the worst defenses in the NFL that year, and they shut out the FAU product.
The Texans showed the NFL last year that drafting a QB with a late pick can pay off. T.J. Yates went from fifth-round pick and afterthought QB3 to playoff game winner.
Coleman transferred from UT to UTC, not a hotbed of football success despite it being the alma mater of Terrell Owens and my wife. Coleman transferred from Tennessee after not being able to dent the starting lineup as a freshman.
Coleman was the best QB at the East-West Shrine Game. Now, if you want to get drafted, you better be the best QB at a lesser college all-star game. He has the size, measuring 6'3 and 230 pounds.
Matt Hasselbeck will be 37 this year, which means the team needs to start thinking about a long-term backup QB immediately.
Might the team prefer a more mobile long-term backup? During the Steve McNair and Vince Young eras, the other QB was usually a slow white dude.
It could hurt that he's a small-school guy. Sorry about that, Mrs. Law.
Other potential quarterbacks for the Titans in the sixth round:
Russell Wilson, Wisconsin (tons of starting experience, mobile, really short)
Nick Foles, Arizona (big and tall, two-time conference honorable mention if you like that sort of thing)
Kellen Moore, Boise State (probably the whitest and the slowest of the prospects, ridiculously productive as a four-year college starter)
Darron Thomas, Oregon (surprised everyone by declaring early, has the mobile skill set)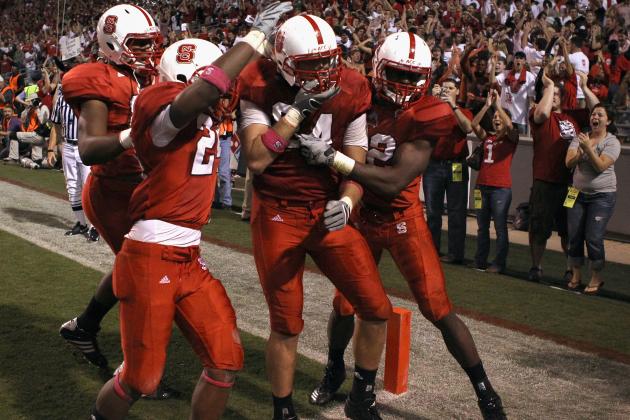 Streeter Lecka/Getty Images
George Bryan celebrates a touchdown like a professional.
It wouldn't be a Titans' draft without them taking a semi-athletic tight end at some point. Remember Shad Meier? Craig Stevens recently re-signed and Jared Cook's in the final year of his rookie deal. I may start a riot if the human penalty Daniel Graham is back on the roster this year. It only seemed like every time Graham was on the field, there was a holding call.
Draft guru Matt Waldman highlighted Bryan's hands. In the middle of praising his pass-catching ability, he is called "a plodder when it comes to foot speed". I forsee a foot race between him and Craig Stevens.
A tight end who knows how to use his hands on run and pass plays is a valuable player. When Cook is on the field, the defense can count on a pass. Having a player like Bryan out there gives no such tell.
Other potential tight ends for the Titans in the seventh round:
Nick Provo, Syracuse (set season and career marks for Syracuse tight ends)
Kevin Koger, Michigan (had 21 catches as a senior, so consider him more of a blocker with a big body)
Rhett Ellison, USC (father was all-conference TE at USC as well)