Denver Broncos Mock Draft: Full 7-Round Projection of Their 2012 NFL Draft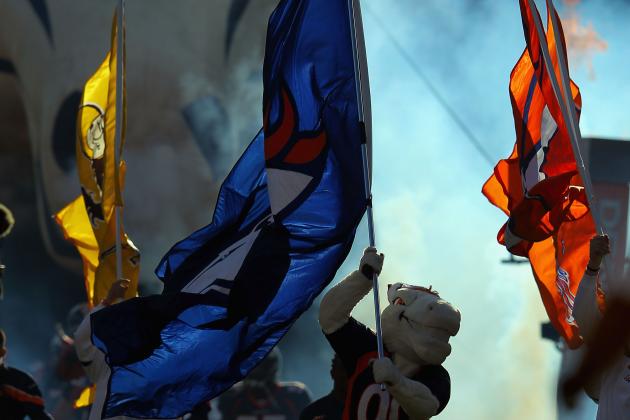 Doug Pensinger/Getty Images

A few weeks ago I wrote an article stating what I believed were the team's most pressing needs and how the team might address them.
The Denver Broncos, despite their magical season and playoff run, still have a lot of holes left to fill and are still a ways away from being a perennial playoff team. EFX (John Elway, John Fox, Brian Xanders) started their reign in very good fashion. They were not only frugal in free agency, a place where past regimes seemed to overvalue, but they were very smart as well.
Bringing in Brodrick Bunkley proved to be an incredible move, as well as the re-signing of Marcus Thomas, who was only supposed to be a rotational player but due to injuries ended up playing a starter's role and filled it well. On the other hand, the re-signing of Kevin Vickerson and the signing of Ty Warren both at the defensive tackle spot might seem like mistakes.
It would be wise to give those two signings in particular a little more time. Due to injury, neither Vickerson nor Warren were able to participate during the season, and thus were not able to do what they were signed to do, which is applying inside pressure and causing general discomfort to opposing QBs. If these two players are able to get healthy and contribute significantly, specially Warren, and the Broncos medical staff is confident in their return, then the Broncos' draft board might change dramatically.
This mock draft will be operating under the assumption that Vickerson and Warren are making a full recovery, and will be able to contribute and play at least 75 percent of their intended snaps. I will also assume that Knowshon Moreno will be given one last year to prove his value, either as a third-down back or maybe as a starter.
I will not simulate any trades that might take place during the draft. However, I do believe that the Broncos will trade down in the first round and pick up additional picks in the later rounds, or they might trade completely out of the first round and pick up an additional second-rounder as well as later-round picks.
Let's get to it.
Begin Slideshow

»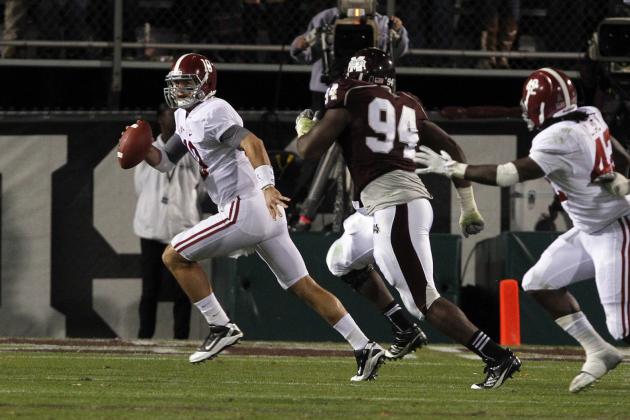 Butch Dill/Getty Images
Fletcher Cox
Fletcher Cox is armed with an explosive first step off the snap, has great instincts as a pass-rusher and a very reliable bull rush. He is also developing a pretty effective swim move. He is more than effective in run support and a strong player at the point of attack.
Cox does not possess great bending ability and as a result he is ineffective as a rusher from the outside. He is still very young and still growing into his full frame. In Cox, the Broncos could have a future star as an inside pass-rusher, someone that can have a huge impact and be a benefactor of the outside rush of All-Stars Elvis Dumervil and Von Miller. Cox could also make both Dumervil and Miller a more effective pass-rushing duo by taking away the opposing QB's ability to step up into the pocket.
At 6'4" and 295 lbs, Cox fits the mold of what head coach John Fox and defensive coordinator Jack Del Rio look for in a DT—big, strong and quick—but Cox still has room to put on an additional 10 to 20 lbs of weight. Cox could be exactly what the Broncos have been longing for in terms of an inside pass-rusher.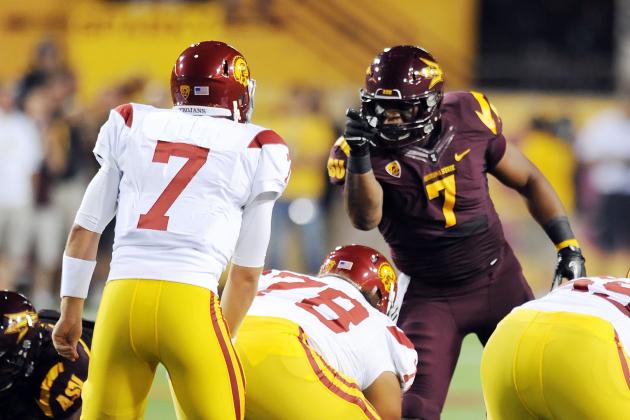 Norm Hall/Getty Images
Number 7, Vontaze Burfict
Burfict is projected as a third-round pick by some experts due to his constant emotional style of play, which some might say is borderline reckless and costly to his team. However, with an experienced positional coach in Richard Smith—a coach who has coached All-Stars like Jon Beason and DeMeco Ryans at the MLB position—as well as a former MLB and coach as a defensive coordinator in Jack Del Rio, you can kiss those mental mistakes goodbye.
At 6'3" and 250 lbs, Burfict is a big athlete playing the MLB spot. He is agile enough to drop back in zone coverage and athletic enough to be serviceable to drop back in man coverage (runs an estimated 4.67 40). He plays with a huge mean streak and is a very good and extremely violent tackler who is known to cause turnovers due to the amount of force he is able to generate when he tackles.
He brings very good instincts to the position and is a between-the-tackles thumper with enough speed to go from sideline to sideline. His lack of discipline is a major concern, but like stated above, the coaching he will be surrounded with will more than fix his shortcomings; they might actually turn them into strengths.
It has also been said recently that Vontaze has matured in the last year or two, and even though he has a fiery and passionate personality, he is more than willing to accept coaching and be taught. He is a projected third-round pick by some experts, and I would expect his stock to rise some come draft time, but if everything stays put, he will be right there for the Broncos come Round 2.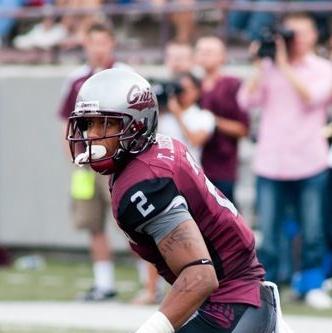 Trumaine Johnson
Trumaine Johnson coming out of Montana is one of those prospects that might rise big time before the draft or he may fall. Some teams may be scared off by his unofficial 40 time of 4.54, but given his size (6'2", 204 lbs) and his ball skills—a former wide receiver—I would say that he is worth the risk in the third round.
Johnson is a reliable tackler who is fearless in run support. He has above-average closing speeds on underneath routes to get to the ball and make a play. He has good instincts as far as deciphering routes and plays, but sometimes can be caught out of position trying to guess what the play is, although that can be coached up.
His man coverage skills are adequate but will improve with some seasoning. However, he is very green when it comes to zone coverage. As stated above his 40 time might scare some teams away, but he shows more than enough speed on film—a notch below elite I would say.
When looking at Johnson, think Brandon Flowers coming out of Virginia Tech, but with better overall hands and ball skills. He is projected as a third-rounder that could move up in the draft to the second round depending on how many CB are taken by then, but I am confident he will be available in the third for the Broncos. They might have to do some maneuvering in the third to get him, but it is certainly a possibility.
If the Broncos front office and coaching staff do make a splash in free agency by bringing in a guy like Brandon Carr or Rasheed Mathis, and they are confident in the abilities of guys like Cassius Vaughn and Syd'Quan Thompson, both of whom were lost for the season early on, then you might see a completely different pick here.
Someone like Tommy Streeter WR out of Miami might be called on this very same spot. Streeter is a 6'4" 215-lb receiver, who—aside from a projected mediocre 40 time (4.49)—is projected to be an incredible deep threat at the NFL level and will be there in the third round.
Like Streeter, Dwight Jones—WR out of North Carolina—is also projected as a deep threat at the NFL level. Jones has great size at 6'3" and 226 lbs, and sports a great pair of hands.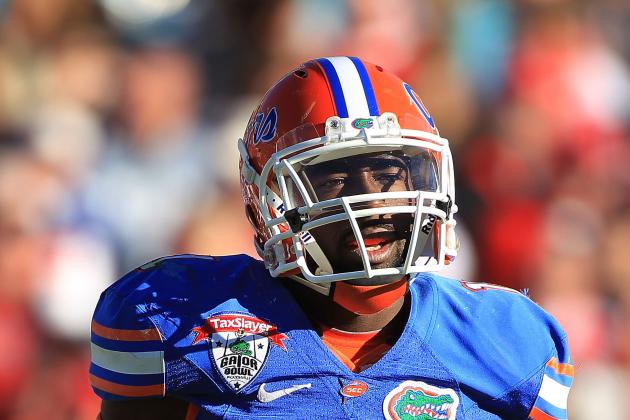 Scott Halleran/Getty Images
Chris Rainey
Chris Rainey has long been expected to be the fastest guy coming out in the 2012 draft. However, he is what many are now calling a luxury pick. Rainey will never be a bell cow at the RB position, and while he does posses elite quickness and top-end speed, he is not on the same level as Chris Johnson.
Rainey does not possess the great route-running ability of his former teammate Percy Harvin, as he does seem to have trouble tracking the ball over his shoulders. He is a non-factor as far as blocking is concerned, and while this can certainly be improved with coaching, until he proves otherwise NFL defenses will automatically know that he is coming out of the backfield to catch the ball on obvious passing downs.
What Rainey does provide is a home run threat every time he touches the ball. He has the ability to be the premier change-of-pace back in the NFL, or even as a third-down back. He has great ability on the return game, has good enough hands coming out of the backfield and can even split out wide and be a threat on short routes and screens.
This pick will only make sense if the coaching staff is confident in its current stable of RBs. The return of Mario Fannin will have an impact; I keep hearing that the coaches love the kid. Also the return of Knowshon Moreno will help. While Rainey might take Moreno's job as a third-down back, Moreno can still be an excellent reliever.
In my last article I stated that Fannin is sure-handed and that his only roadblock is his health. I stand by that statement today. I have looked at enough video of Fannin in college to see that his fumbles were more the cause of him fighting for extra yardage and refusing to go down. The longer you are on your feet in this sport the more likely you are to be stripped of the ball. He is not a careless ball carrier, or someone who has fumbling issues like Tiki Barber or Clinton Portis did—think more along the lines of Adrian Peterson.
I am not saying that Fannin is as good as Peterson, but I am saying that like Peterson, Fannin is extremely tough to bring down and is always fighting for the extra yard.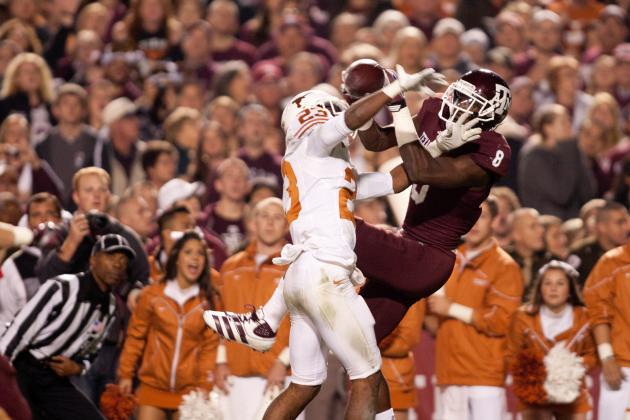 Darren Carroll/Getty Images
Jeff Fuller number 8
This pick will vary depending on what happens earlier in the draft, but if everything falls this way, Jeff Fuller presents too much value here in the fifth round to pass up.
At 6'3" and 220 lbs, Fuller could be the deep threat this offense needs. Fuller's 40 time is mediocre at best, but he has played against top-level competition and shows great deep speed on film. Fuller also sports elite-level hands and adjustment to any ball in his area code. He can out-jump the competition and catch the ball at its highest point.
He has shown great quickness and feet to be a crisp route-runner at the NFL level but he will need some coaching in this department. He is not terribly elusive in the open field, often choosing to put his head down and deliver a blow instead of going for the extra yards, but he is a consistent deep threat as his 14.8 YPC will indicate and presents a great big target in the end zone.
Like stated above, this pick will vary depending on what has happened earlier in the draft. If the Broncos have chosen to go with someone like Tommy Streeter out of Miami or Dwight Jones out of North Carolina earlier in the draft, I would expect them to look towards the offensive line here.
David Molk, a center out of Michigan, is someone who the Broncos could show a lot of interest in. He is undersized as far as NFL linemen are concerned, but he is nasty. He's an above-average athlete who explodes on the snap, understands leverage and has great footwork in both run and pass blocking. If nothing else, he can push J.D. Walton to make him a better player, and he will also provide good depth.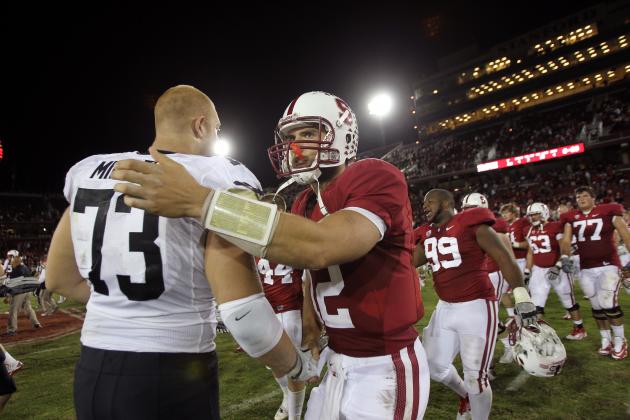 Ezra Shaw/Getty Images
Miller #73
No matter how earlier rounds play out, I see the Broncos looking in their own backyard and picking up Ryan Miller at this spot.
Miller has great size at 6'8" and 298 lbs, and is a great athlete as proven by his special teams play. Miller has great footwork in both run and pass blocking. He sports tackle size and ability, and in a bind could fill in at either tackle spot. Nimble feet make him great as a pulling guard. He plays with a mean streak in run blocking and is strong enough to move a DT out of the hole.
Even though he has great size, Miller plays very low to the ground as he has a great understanding of leverage. Miller would be an instant upgrade over Zane Beadles at left guard, and along with the same man provide great depth, giving the Broncos a lot of flexibility in their game-time roster.
He is projected as a fifth-round pick but some think, including myself, that he will rise during the combine and quite possibly go as early as the third. If that is the case, the Broncos must still pull the trigger or find a way to get him. He is a game-changer and has perennial All-Star at guard written all over him.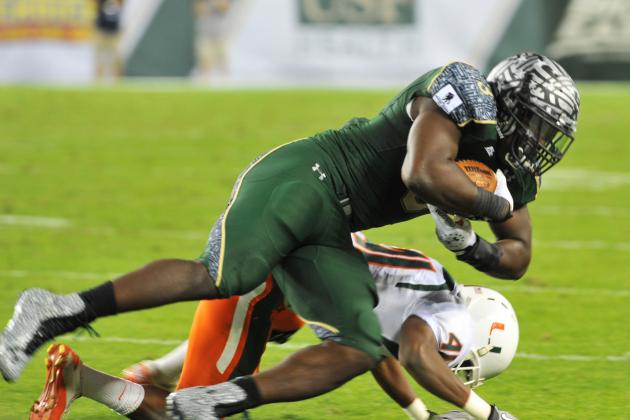 Al Messerschmidt/Getty Images
Darrell Scott
In the seventh round look for the Broncos to add value in terms of versatility. Darrell Scott can provide a lot of that.
At 6'1" and 240 lbs, Scott can be moved to fullback and provide an upgrade over Spencer Larsen. He is also athletic enough to be an option running the ball and he is a great special teams player.
Scott will not win any sprints and he is not agile enough to make defenders miss, but he is powerful enough to run a LB over and gain a few extra yards.
He has excellent feet as far as pass blocking is concerned. He has shown a willingness to block for other fellow RBs, and he does possess great ability in that department as well. He has decent hands coming out of the backfield, and is a good enough runner to be an escape valve for the Broncos QB.
This pick may vary, but I think that his combination of size, speed, hands and willingness to block offer the Broncos a lot of flexibility.
We have come to the conclusion of this mock draft. Of course, draft-day trades can and most likely will happen, hopefully giving the Broncos additional draft picks but possibly taking them away.
Let me know in the comments section what you think of this article and if you disagree on any of the picks. Thanks for the read.