2012 NFL Mock Draft: QBs Luck and Griffin Headline a Draft of QB Nightmares
April 26, 2012

Christian Petersen/Getty Images
Expect three quarterbacks to go in the top eight as the 2012 mock draft takes place at Radio City Music Hall in Midtown Manhattan tonight. My latest picks are below.
 
1. IND - Andrew Luck, QB, Stanford
Many consider Luck to be the best prospect of the last decade. It's hard to argue with those people. Luck is exceptional at every area of quarterbacking. His football IQ is second to none in this draft, and his accuracy and arm strength is elite.
Along with great athleticism and leadership, he's the dream QB prospect. He's good enough to even push Peyton Manning out of Indy.
2. WAS - Robert Griffin III, QB, Baylor
In many other drafts, RG3 would be the No. 1 pick. For the price the Redskins paid to get him, they consider him as such. Griffin's athleticism is a perfect fit for Shanahan, who won his Super Bowls with the athletic John Elway under center.
The rest of Griffin's game is strong as well, as he shows no glaring weaknesses in accuracy or instincts. Washington and Shanahan finally have their QB.
3. MIN - Matt Kalil, OT, USC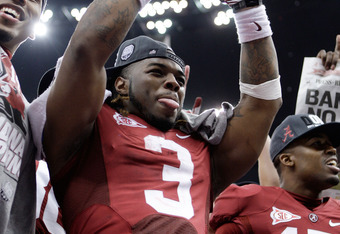 Andy Lyons/Getty Images
It's no secret the Vikings want to trade down, and they likely will. However, if they stay at this spot, I think they'll opt to select Kalil. Claiborne is another very possible choice, but Kalil is the undisputed best offensive tackle in this draft.
Kalil would be the franchise blind-side protector to QB Christian Ponder, and the Vikings know they must protect their QB in order to be successful.
4. CLE - Trent Richardson, RB, Alabama
This team needs a dominant playmaker on offense, and Richardson best fits that description among those who are available. This is high for an RB, but Richardson is unique and has the ability to contribute on all downs and in all phases of the offense.
He could become one of the best RBs in the NFL, instantly making Cleveland a much better offense.
5. TB - Morris Claiborne, CB, LSU
Claiborne is an elite cover corner, and with Talib's off-the-field problems and Barber's age, he could fill a major need for the Bucs now and in the future. Coming from LSU's exceptional defense, Claiborne has a rare blend of size and speed to cover the NFL's No. 1 receivers.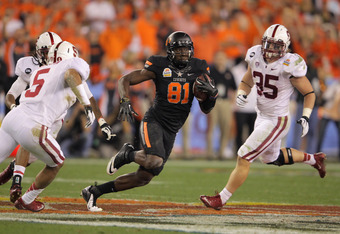 Doug Pensinger/Getty Images
Tampa will be intrigued by Richardson if he gets here, but Claiborne is a worthy pick as well.
6. STL - Fletcher Cox, DT, Mississippi St.
Jeff Fisher's most successful teams have come with dominant defensive tackles, both in the run game and in the pass game. Fletcher can be that dominating presence Fisher is looking for.
While the Rams desperately need a No. 1 WR and Blackmon is a strong scheme fit, he doesn't necessarily fit the No. 1 WR prototype. Cox is exactly the kind of player Fisher covets.
7. JAX - Justin Blackmon, WR, Oklahoma St.
This is a dream scenario for the Jaguars, who'd be happy to take the draft's best wideout. Blackmon's intelligence and hustle combined with his ability are exactly the kind of attributes the Jags have coveted.
They give Blaine Gabbert a strong No. 1 wide receiver who can immediately improve the offense.
8. MIA - Ryan Tannehill, QB, Texas A&M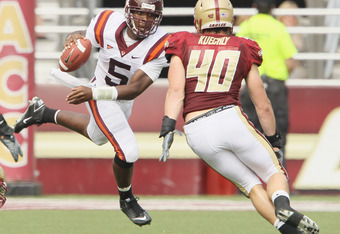 Elsa/Getty Images
The Dolphins clearly don't think Matt Moore is the answer at QB, and David Garrard is a shell of his former self. With Tannehill's old offensive coordinator employed with the Dolphins, Miami decides to develop a raw but talented Tannehill to develop in to their franchise QB.
They'll consider options at DE and WR, but Joe Philbin will likely take the QB to start his coaching tenure.
9. CAR - Mark Barron, S, Alabama
Barron's rise up boards might be a smokescreen, but there are plenty of teams that may feel he's the next Ed Reed. He is bigger than Reed, with better speed and a lot of the instincts and versatility that make Reed so dominant.
Safeties are more valuable than they used to be, and Barron would be a huge addition to help a mediocre secondary facing strong passing attacks.
10. BUF - Michael Floyd, WR, Notre Dame
The old Bills brass want to win now, and they are looking for someone to contribute right away. They aggressively pushed for upgrades at DE and WR.
Although they got much better at DE, they didn't get a WR to pair with Johnson, and Floyd is a good scheme fit. Floyd is fast and tall and can stretch the defense, and his blocking will help when they run Fred Jackson in the spread formation.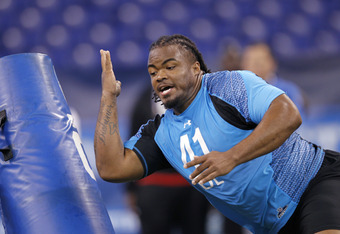 Joe Robbins/Getty Images
11. KC - Luke Kuechly, MLB, Boston College
ILB's are falling in value, and that's the only reason Kuechly falls this far. Kuechly may be the best defender in the draft, with the combination of instincts and athleticism that can lead a defense for years.
The Chiefs have a Pro Bowl ILB, but Kuechly can play in the base 3-4, nickel and other packages. Kuechly's third-down capabilities will be useful against Peyton Manning, Philip Rivers and Carson Palmer.
12. SEA - Chandler Jones, DE, Syracuse 
Jones has been the best-kept secret in the pre-draft process, and it seems many teams have him near the top defenders on their draft boards. Jones is an athletic edge-rusher who can still grow into his frame, and he is strong run defender as well.
He has practice UFC fighting with his brother. If that isn't a QB's nightmare, I don't know what is.
13. ARI - Melvin Ingram, OLB, South Carolina
Ingram is a versatile defender who has the athleticism to hold up as a strong 3-4 OLB in the NFL. He can rush from the interior and the exterior, and he uses leverage well to set the edge to defend against the run.
The Cardinals will strongly consider David DeCastro here, but Ingram is considered by many as the draft's best edge-rusher. It's a value pick.
14. DAL - Dontari Poe, DT, Memphis
Poe is all over draft boards with average play and enormous potential, but I think the Cowboys may be hiding their interest on him. He likely is a reach here, and he might be a bust, but his size and speed combo is so enticing that a team will take a chance.
Rob Ryan hopes he gets from Poe what his brother got from Haloti Ngata. Poe's a project, but he could play some roles to help Ratliff on the D-line.
15. PHI - Michael Brockers, DT, LSU
Brockers seems like a great pick for the Eagles, who covet defensive linemen with ability and potential.
I think they love Fletcher Cox, but if they stay at 15, I think Brockers would be a great consolation prize. He has great potential and could help the Eagles correct their run defense problem along with add more of an interior pass rush.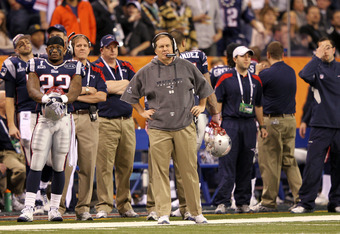 Jamie Squire/Getty Images
16. NYJ - Quinton Coples, DE, UNC
The Jets continue to take risks here, as Coples' potential and versatility entice the Jets to take him. They love Ingram, but at No. 16 he'll be gone. Coples is less of a sure thing, but has more upside than any pass-rusher.
Coples has the versatility and athleticism to be a dominant force all over the place for the Jets defense. The Jets will worry he'll be Vernon Gholston 2.0, but Coples and Ryan could dominate together.
17. CIN - Stephon Gilmore, CB, South Carolina
Gilmore is the prototype for a CB who has great speed, but I think he'll fall to here in this draft. He's got a lot of potential, but I think his rise has been a smokescreen, and his value is much better here.
Regardless, the Bengals are thrilled to get another CB to replace Johnathan Joseph.
18. SD - Whitney Mercilus, DE, Illinois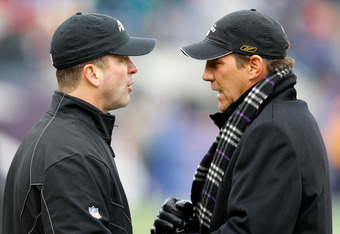 Rob Carr/Getty Images
This will be a tough choice between Mercilus and DeCastro, but Mercilus was the most efficient pass-rusher in the country last year and fits the Chargers' scheme perfectly. He can play the run, rush the passer and cause turnovers, which is reminiscent of Shaun Phillips.
The Chargers need to bolster their pass rush in a big way. Mercilus can contribute immediately.
19. CHI - David DeCastro, G, Stanford
The Bears will likely prefer a pass-rusher like Jones, Mercilus or Coples, but DeCastro is a great value at 19 and he is one of the most NFL-ready prospects in the draft. He would immediately help a team that has struggles blocking, particularly in the interior.
DeCastro was the best lineman for the best QB and possibly the best offense in the nation last year. He's a steal at 19.
20. TEN - Dre Kirkpatrick, CB, Alabama
Cortland Finnegan's absence leaves a hole in Tennessee's secondary, so they would love to take the dominant Alabama D's top corner here. Fitzpatrick is an aggressive corner like Finnegan, except he's a bit stronger. He has some speed and agility limitations which hurt his stock, but he has great instincts and ball skills.
In this scenario, the Titans are happy a CB fell to them.
21. CIN - Courtney Upshaw, OLB, Alabama
Upshaw's value has dropped because he is not a great pass-rushing prospect, but he might be the best edge run defender of anyone in this draft. Marvin Lewis likes prospects such as Upshaw, who's a 'tweener edge defender who'll put up a decent amount of sacks and be a reliable defender for years to come.
Upshaw's teammate Hightower will be a strong consideration here as well.
22. CLE - Kendall Wright, WR, Baylor
Even with Richardson, the Browns still are desperate for offensive playmakers. They need a WR, and of all the wideouts available, Wright is the best playmaker. Wright apparently has fallen on many draft boards due to a bad combine and offseason conditioning, but the reports are disputable.
They'll look at Stephen Hill, Rueben Randle and possibly T Cordy Glenn, but opt to take the risk on Wright.
23. DET - Riley Reiff, OT, Iowa
If Iowa would get offensive tackles that fit the prototype, they'd have a lot of top-10 picks. Reiff, like most Iowa linemen, has great technique and is NFL ready. He has pretty good quickness, but his short arms and relatively limited athleticism will make him drop.
The Lions want a CB, but don't want to take the risk on Janoris Jenkins and likely will decide between Glenn and Reiff for the 23rd pick.
24. PIT - Cordy Glenn, OT, Georgia
Glenn is a steal at 24, and he is exactly the type of offensive tackle the Steelers have coveted in the past. Glenn is massive and a strong run defender. While the Steelers seem to devalue pass-blocking due to Roethlisberger's fullback-like build, Glenn is surprisingly quick and athletic for his size.
The Steelers likely love both Alabama LBs in Upshaw and Hightower, but Glenn is a great value and fit.
25. DEN - Jerel Worthy, DT, Michigan St.
Denver is in a position to win now, and John Elway knows that he must address some holes to get to the Super Bowl. Worthy as a well-rounded defensive tackle who would contribute right away. He's a decent run defender and interior pass-rusher who has no huge weaknesses.
Worthy's a low-risk pick who would fill a position of need.
26. HOU - Dont'a Hightower, ILB, Alabama
Even with needs at WR and OT, the Texans defense has new needs on defense, with DeMeco Ryans and Mario Williams now elsewhere. Hightower is a steal at 26 after being leading the Alabama defense to a championship shutout.
Tough and instinctive, Hightower would pair with former Defensive Rookie of the Year Brian Cushing as the 3-4 ILBs in Houston.
27. NE - Shea McClellin, OLB, Boise St.
The Patriots defense was nowhere near Belichick's standards last year. In their hybrid front, they could use versatile players who could play in the 4-3 and 3-4. McClellin is a strong pass-rusher who can play at 4-3 DE or 3-4 OLB. He is decent against the run and a good coverage guy against the pass.
The Patriots likely covet Mark Barron or Chandler Jones, but McClellin is a strong pick here.
28. GB - Andre Branch, DE, Clemson
Possibly a bit of a reach, Branch is a perfect scheme fit for the Packers. While playing the bandit position at Clemson, Branch was very versatile and very good in coverage for his position.
Dom Capers runs a versatile defense which values coverage schemes from multiple positions. Branch would be an ideal fit to play all over the place opposite Clay Matthews, and he'd be valuable in multiple defensive roles.
29. BAL - Stephen Hill, WR, Georgia Tech
The Ravens normally take the best player available, and Hill can be considered the best available at 29. Hill has incredible size and speed for the position and can take the top off of a defense.
One Harbaugh will likely steal Hill from the other and develop him as a replacement for Anquan Boldin in the future. He's a project, but he could be a strong role player now and dominant in the future.
30. SF - Amini Silatolu, G, Midwestern St.
A WR like Rueben Randle could draw strong consideration here, but Silatolu resembles Mike Iupati and the strong, gritty guards the 49ers like.
Featuring an incredible defense, the 49ers need to bolster their offense, which let them down in the NFC Championship Game last year. Another strong run-blocker and a healthy Frank Gore could answer those problems.
31. NE - Harrison Smith, S, Notre Dame
The Patriots have to address their secondary, which is likely the weakest spot on their team. They'll consider Jenkins, but he'll be too much of a risk.
Smith is an intelligent safety who can handle the schemes. He's not very fast, but he's strong and a good tackler, and a nice fit at SS opposite Patrick Chung. Belichick will be happy to put McCourty back at corner as he continues to infuse talent in to his defense.
32. NYG - Doug Martin, RB, Boise St.
The Giants always take the best player available, and Martin would also fill the void Brandon Jacobs left. He's not Jacobs' size—few RBs are—but he has shown the ability to get yards after contact and has enough size to be the strength back paired with Bradshaw.
He also could contribute as a receiver for Eli Manning. The Giants, however, likely want to restore their rushing attack with him.