Colorado Avalanche Trade Rumors: Spotlight on Kyle Quincey
February 21, 2012

Victor Decolongon/Getty Images
During the summer of 2009, the Colorado Avalanche acquired defenseman Kyle Quincey from the Los Angeles Kings along with defenseman Tom Preissing and a fifth round pick (forward, Luke "Sky" Walker) for forward Ryan Smyth.
The trade was thought to be in large part, a salary dump to alleviate Smyth's hefty contract.  Pressing only played four games with the Avs before being waived and Luke Walker is a still with the Avalanche organization as a forward for the Lake Erie Monsters.  Smyth played two seasons in L.A. before being traded back to Edmonton, the city and team where his heart had always been.
In coming to Colorado, Quincey became only the second player behind Todd Gill to play for the Detroit Red Wings and then the Colorado Avalanche.  Quincey was drafted by Detroit and played for them for parts of three seasons before being waived and subsequently claimed by L.A.  Quincey was a member of Detroit's 2007-08 squad who won the Stanley Cup, but he did not play during the playoffs so he was not eligible to have his name inscribed on the Cup.  The Wings also opted not to present him with a ring per team policy.  He was however, included in team's Stanley Cup winning picture and did receive a day with the Cup.
In his first season with the Avs, Quincey proved to be a very valuable top-4 defenseman.  He posted 29 points including a career-high six goals in 79 games.  In his next season, he got off to a poor start, recording only one assist in 21 games before he was lost for the season with a shoulder injury.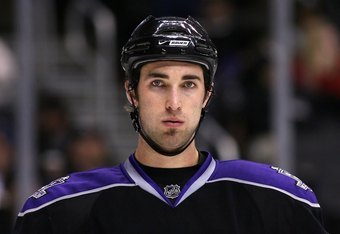 Christian Petersen/Getty Images
This season, he has rebounded nicely with five goals and 23 points in 54 games and has arguably been one of Colorado's most consistent defensemen all season.  Quincey's current contract of $3.25 million expires after this season at which point he will be a restricted free agent.  If the Avs opt to not re-sign him with the plethora of defensemen currently on the active roster as well as in Lake Erie and in juniors, Quince will be an attractive pick-up for many teams.
At 6'2", 207lbs., Quincey has good size and plays a strong, physical game.  He's not afraid to mix it up on occasion and is strong offensively as well as in his own end of the ice.  Quincey has been on Colorado's power play since his arrival to the Avs.
Back in December, Quincey missed two games with a groin injury and was subsequently a healthy scratch the following four games as Coach Joe Sacco did not want to tinker with the Avs lineup as they were winning games.  This did not sit well with Quincey and he expressed his displeasure in being a healthy scratch while being the Avs leading scorer amongst defensemen.
Now the fact that Quincey was disgruntled two months ago will not automatically lead to his departure out of town, but his expiring contract and an abundance of defensemen in the Avs' system may make him expendable.  By himself, Quincey could garner a reasonable return or packaged with a guy like David Jones, the Avs could try to go bigger.  Six days until the deadline...
Ok, so it has just been announced that Quincey has in fact been traded to the Tampa Bay Lightning in exchange for forward Steve Downie.  More to come.