Peyton Manning Trade Rumors: Teams Continue to Circle Colts Like Vultures
February 22, 2012

Rob Carr/Getty Images
Peyton Manning's career as the Colts superstar is nearly dead, and the rest of the league is now circling Indianapolis waiting to pick off the legendary scraps. 
The rumors continue to float around one of the best to ever play the game in Manning. It's now clear that a brilliant career will end in a bizarre manner. 
It's far more likely that he walks away from the sport or plays for another team in the next couple of months. Up next is a March deadline for owner Jim Irsay to decide if he will indeed pay Manning a contract extension. 
There is hope that a new deal for less money could be worked out, but if not then there are a few suitors that would love to live life with Manning. 
What's clear from the next few rumors is that a trade is the last thing teams would want to do to acquire Manning. There is a good chance he could be released and in that case giving up talent or picks would just be foolish.
Here is the latest scuttlebutt on Peyton Manning. 
NY Jets
ESPN's James Walker reports: 
The Jets have been avoiding the Manning topic. They won't say they will pursue Manning, but they won't say they won't. Either way, I doubt the Jets would have a great chance.
Then comes a moment that half of the Jets fans will cringe and the other half will applaud. The New York Daily News' Kevin Armstrong reports: 
He (Rex Ryan) referred to Mark Sanchez as an "ascending" talent with a "bright future," but he punted when questioned whether the Jets would pursue Peyton Manning if the quarterback is cut by Indianapolis.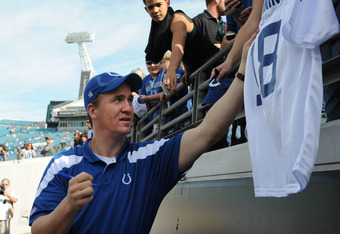 Al Messerschmidt/Getty Images
Ryan is either pandering or delusional about where Sanchez sits as a NFL quarterback. He may very well believe he is the next Aaron Rodgers, but all this means the Jets are on the bottom of the list as likely suitors. 
Washington Redskins
The Redskins would like to have Manning, but they are not about to pull the trigger on a trade. Washington has an idea of where they are headed at the quarterback position and this is what GM Bruce Allen had to say, via CSN Washington. 
We have a game plan on what to do, and obviously a game plan has to have alternate routes on it based on what other clubs do. We feel good about it and how we're gonna address all the needs on our football team, and we're looking forward to getting after it.
This could mean one of two things: They are either waiting on the Colts to push the eject button on Manning, or they are hoping Robert Griffin III slides their way. 
Arizona Cardinals
ESPN Insider Tim Kavanagh writes: 
As the Arizona Cardinals remain one of the teams hypothetically in the mix as a Peyton Manning landing spot, there are two quarterbacks already on the roster with NFL starting experience in Kevin Kolb and John Skelton.
Kavanagh goes on to say landing Manning would mean Kolb will be released by the team, leaving Manning to take over once he is healthy. 
This continues to be one of the more likely scenarios, right behind Washington pulling off an epic coup.