Pittsburgh Steelers Free Agency: Tracking 2012 Signings, Targets and Rumors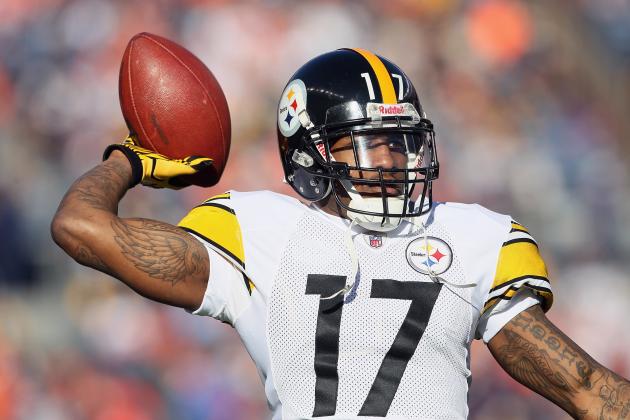 Jeff Gross/Getty Images

After a 12-4 season in which the Steelers fell short of defending their AFC title from 2010, head coach Mike Tomlin and general manager Kevin Colbert have their work cut out for them as they try to reshape an aging team back into a title winner.
Many changes are likely to come as the Steelers work to adjust their expenditures, retool the roster and prepare for what should be another successful draft.
Keeping up with those changes will be simple through the use of this tracker.
We'll be reviewing the team's current salary situation and internal free agents, external targets for the draft and free agency and also what some of these players both in and out of house might be worth in contract terms.
Begin Slideshow

»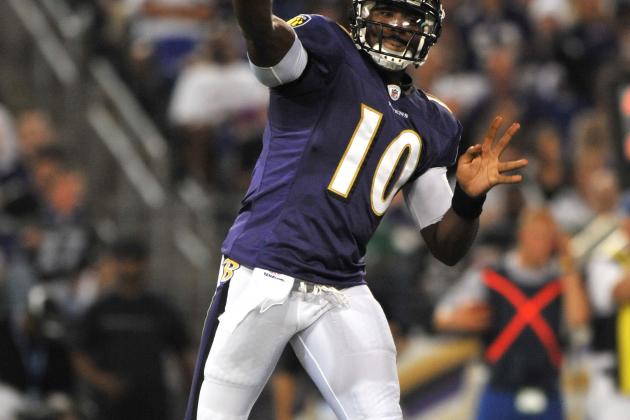 Larry French/Getty Images

These are the official transactions the team has made according to the Steelers' official website.
March 2, 2012
The Associated Press via the Washington Post is reporting that the Steelers will officially cut linebacker James Farrior before March 13th. Farrior has been the team's defensive captain and has won two Super Bowls in 10 years with the team.

March 1, 2012
Veteran O-Lineman Chris Kemoeatu has been released. The Steelers should save around 3.5M with this move.
John Clayton of ESPN has been informed by a source that the Steelers will be cutting defensive end Aaron Smith. Smith was due to make $2.109 million in the last year of his contract according to the report.
According to Scott Brown of the Pittsburgh Tribune-Review, inside linebacker James Farrior may be the next Steelers' veteran cut. He sourced Farrior's agent.
Adam Schefter of ESPN reports the Steelers are planning to tender wide receiver Mike Wallace instead of giving him the franchise tag. Teams will be able to make offers to Wallace, which the Steelers will have the option to match.
February 29, 2012
Adam Schefter reports that the Steelers will release WR Hines Ward.
February 8, 2012
Signed CB Myron Rolle, WR Juamorris Stewart and LB Brandon Hicks to offseason contracts.
Terminated the contracts of CB Bryant McFadden and WR Arnaz Battle
Waived TE Miguel Chavis and LB Erik Clanton
January 25, 2012
NT Chris Hoke announced his retirement from the NFL
January 20, 2012
Signed QB Troy Smith, CB Walter McFadden, WR Tyler Beller, WR David Gilreath, WR Derrick Williams and WR Jimmy Young to reserve/future contracts.
January 18, 2012
Signed OG John Malecki, TE Jamie McCoy, OT Chris Scott, OT Trevis Turner, DT Corbin Bryant, QB Jerrod Johnson, DL Mike Blanc, DT Kade Weston, LB Marshall McFadden and DB Antonio Smith to reserve/future contracts.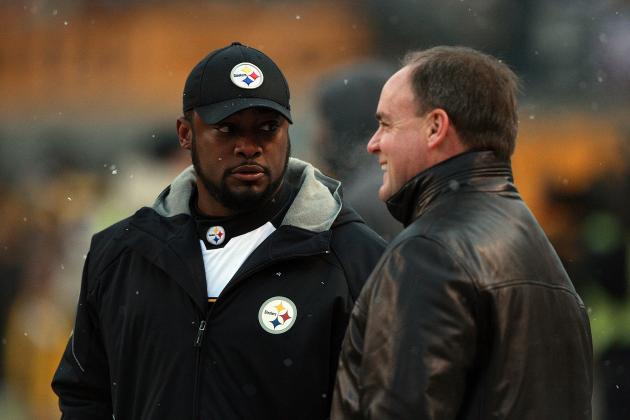 Karl Walter/Getty Images

Steelers' 2012 Current Cap Situation
According to Spotrac, right now the Steelers have a total cap hit of $92,965,431 for 2012. That may seem like welcome news, putting them well under last year's cap of $120 million and likely below this year's projection of no more than $125 million.
The Steelers have done amazing work restructuring the deals of Ben Roethlisberger, LaMarr Woodley, Lawrence Timmons and Ike Taylor among others.
In just a couple of weeks, the Steelers have gone from being up against the projected cap to being far enough under that they can entertain free agents, prepare to sign draft choices and fill holes created by some of the stunning departures.
In Need of Restructuring
James Harrison and Casey Hampton are among the final veterans who the team will look to restructure. Both are likely a little more expensive than the team would like, particularly Hampton, who has a cap hit of just over $8 million according to Spotrac
The best way to rectify Hampton's deal may be to wipe it from the books and start fresh at the nose tackle spot, but that's not necessarily going to happen, particularly with the team now nearly to their goal of getting under the cap.
Bargain Bin
Even with so many higher cap hits, the Steelers have a few players who are relative bargains given their contributions.
Antonio Brown, the team's second-best receiver, counts only $514,358 against next year's cap. Marcus Gilbert, the team's new left tackle, is also relatively cheap at $676,750.
Questions
Questions were answered about how the team will handle Hines Ward, due $4.6 million next season. The team's all-time receiving leader wants to stay in black and gold and has publicly said he will restructure. The team, however disagreed. On February 29th, it was reported that Steelers will release WR Hines Ward. Thus ends, perhaps correctly from a business perspective, the must illustrious receiving tenure in team history.
The release of Ward indicates to me that the team is capable of and willing to make tough calls on veteran stalwarts and fan favorites. They seem committed to the idea of getting younger and getting better.
The team also released James Farrior, Aaron Smith and Chris Kemoeatu (see transaction tracking slide for more details). The only remaining question now is whether or not the team is done.
Casey Hampton and Larry Foote, the only two veterans on defense who seem like possible release candidates, can't be feeling too safe right about now, but it seems as if the team may be done for the time being.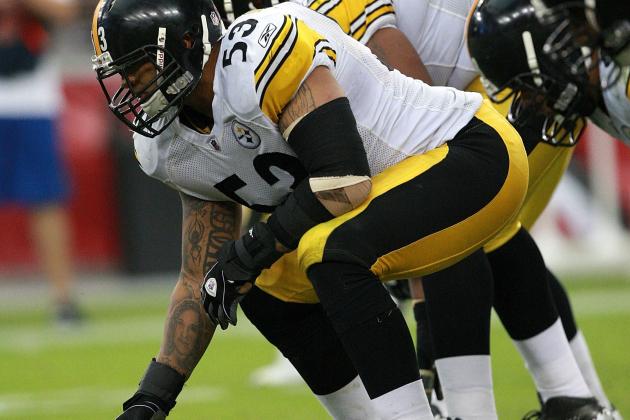 Karl Walter/Getty Images

Despite putting together a 12-4 season, the Steelers have several key spots on the roster where they need some help.
Let's have a look under the hood and see where the team needs to improve.
Offense
The Steelers ranked 12th in total offense and 21st in scoring for 2011. Part of that was due to issues with the offensive line and an anemic rushing attack that, when used, was spotty at best.
Offensive Line
The Steelers are moving Marcus Gilbert to left tackle and seem to be hoping Willie Colon will return to form and health and take over his old spot at right tackle. The team could still do with some competition and backups there, especially given the inability exhibited by current swing tackle Jonathan Scott.
Colon's salary could present a problem for the Steelers, who may choose to cut him and find a cheaper alternative.
At guard, the team will likely part ways with Chris Kemoeatu, but they are set as far as starters go. They can use a backup or two for competitive purposes and to protect against injuries, which riddled the line.
March 1, 2012: Veteran O-Lineman Chris Kemoeatu has been released.
Running Game
The Steelers will likely be without starter Rashard Mendenhall for a significant part of the season. They could elect to part ways with the 2013 free agent. Isaac Redman is the presumptive starter, but the team might want to add another back in the draft.
We'll talk about potential targets later, but a return to health by Baron Batch, who missed last season with an ACL injury, could also bolster the team's attack.
Defense
Pittsburgh has some work to do in the secondary.
Cornerback
Defensively, the biggest weakness will be at the second corner spot, where William Gay and Keenan Lewis are free agents. Retaining Lewis is an option, but the team may be looking for someone else either in the draft or free agency to supplement 2011 additions Cortez Allen and Curtis Brown.
The team simply needs to get younger outside of that area, particularly up the middle of the defense. The team needs help at nose tackle and also at one of the inside linebacker spots.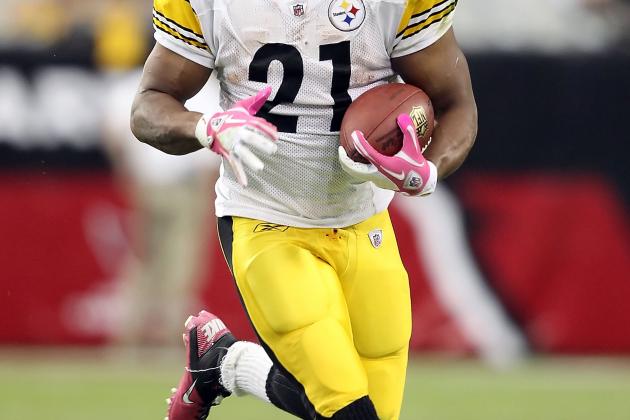 Christian Petersen/Getty Images

Spotrac has listed the following players as free agents (either restricted or unrestricted) in 2012:
Restricted Free Agents
The Steelers have the ability to offer these players a one-year tender and another team would have to surrender draft picks if they attempted to sign.
FS Ryan Mundy
RB Isaac Redman
TE David Johnson
OG Ramon Foster
CB Keenan Lewis
DT Steve McLendon
WR Mike Wallace
OT Jamon Meredith
WR Derrick Williams
OG Dorian Brooks
Unrestricted Free Agents
The Steelers must offer and sign these players to a contract before free agency opens or they will be able to negotiate with any team that's in the market for their services.
OT Trai Essex
QB Charlie Batch
WR Jerricho Cotchery
CB William Gay
P Daniel Sepulveda
DE Aaron Smith
OT Max Starks
QB Byron Leftwich
OL Doug Legursky
QB Dennis Dixon
RB Mewelde Moore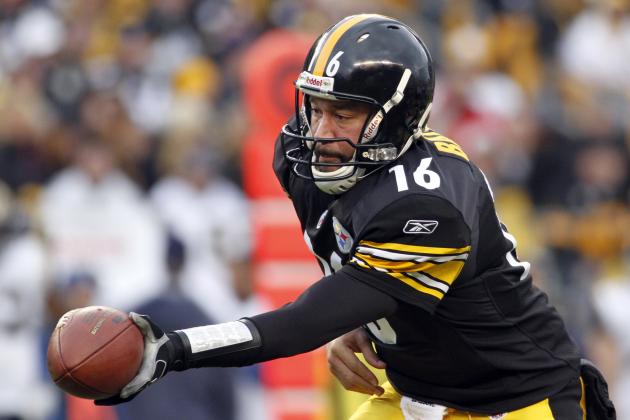 Justin K. Aller/Getty Images

Now, let's take a look at that same list with estimated contract values for each of the players and a brief explanation for those figures.
Restricted Free Agents
FS Ryan Mundy ($1 million)
Mundy is a backup that does see some significant time, especially considering how rough starters Troy Polamalu and Ryan Clark can be on their bodies. That said, he isn't worth a ton of money.
RB Isaac Redman ($2 million)
Redman is still a largely unknown commodity. He's been great in his spots, but he doesn't have a large enough sample size to merit a big contract. They could try to get him on a two-year deal for about $1.5 million a year until they're sure he'll be their starter.
TE David Johnson ($1.5 million)
Johnson's contributions aren't found on his own statistics, they are found in the blocking he's done and the clutch work he's done as fullback and tight end. He won't likely be expensive, but they do need to fairly compensate him.
OG Ramon Foster ($1.5 million)
Here's another guy who, like Redman, has a small sample size but great results. He still doesn't seem to be a team favorite, but he will likely be the starter going into the season at right guard unless something changes.
CB Keenan Lewis ($975,000)
This may seem low, but Lewis doesn't have many snaps yet for a career that's several years old. He's a slow bloomer. That doesn't help his case. The Steelers also can opt not to resign him if another team gives him an offer and then take the draft pick.
DT Steve McLendon ($975,000)
McLendon is a role-playing backup. The team can't afford to pay two nose tackles big money and McLendon isn't likely to draw major interest on the market. He can be given a minimum tender and be asked to come back for another season.
WR Mike Wallace ($5.25 million)
Wallace deserves a new deal and could average more than $5 or 6 million a year. The Santonio Holmes contract could be a blueprint, but the figures are a little high for the Steelers, who would prefer a longer deal with less annual hit.
OT Jamon Meredith, WR Derrick Williams, OG Dorian Brooks (league minimum)
Meredith isn't a part of the team's plans. If they plan to bring him back at all, they will only offer him the bare minimum tender. More likely, he won't be tendered by the Steelers (more on that later). The same goes for Williams and Brooks, who aren't major pieces even as future plans go.
Unrestricted Free Agents
OT Trai Essex ($1 million)
Essex had been let go but was brought back when the line struggled. He played sparingly and his main value at this point in his career comes from being a versatile backup. That's worth $1 to 1.5 million a year.
QB Charlie Batch (Veteran Minimum)
At his age and with his injury history, Batch's value now is as an extra coach on the field. He can also step in for a game or part of a game if necessary. I can't see him being more than a league minimum backup.
WR Jerricho Cotchery ($2 million)
Cotchery has experience as a starter and could spin that into a bigger gig somewhere other than Pittsburgh. Even if he returns, he's going to want more money than he got in 2011 to be a role player. $2 million is a fair number.
CB William Gay ($2 million)
Gay had a breakout season of sorts after unseating Bryant McFadden as the team's starter. He may have earned himself a multi-year deal. If so, I would say a $2 million per year salary over a two or three-year period is perfect.
P Daniel Sepulveda ($975,000)
Sepulveda is a punter who has a bad injury history. He'll get a minimum offer somewhere because of his excellent leg strength as long as he's healthy. He will have to be in competition wherever he goes because of the injury, however.
DE Aaron Smith ($1 million)
Smith will likely retire, but if he is to come back as a backup, I can't see him getting an offer of more than one year at $1 million or maybe $1.5 million. He hasn't been healthy for a full season in a long time and his age is a major issue.
T Max Starks ($2.5 million)
This number represents his worth if healthy. Starks injured his ACL at the end of the year and may not be ready for the season. He seems to already be done in Pittsburgh, but he had a great year and made a big difference in the pass protection, so he can definitely earn a couple million for somebody.
QB Byron Leftwich ($1.5 million)
Leftwich has a big arm but is rarely healthy. He's still in the prime of his career and he has a lot of experience. He can be a nice backup for a team or can step in for extended periods and be effective behind a good line.
OL Doug Legursky ($1.5 million)
Legursky will likely slot in as the team's left guard next season. He will have to have an incentive-laden deal, however, because he has an injury history. He's worth more than most unproven linemen because he has the ability to play many spots.
QB Dennis Dixon ($1 million)
Dixon is young and has athletic ability that many envy, but he has never harnessed it very well. He's worth a $1 million deal for a team that wants to see if they can get him converted into either a competent starter or backup quarterback.
RB Mewelde Moore ($2 million)
Moore is a good contributor as a third down back and he might end up somewhere with an expanded role. He's aging and doesn't have the best speed or injury history. He does, however, have great ability to be a receiver in the flat, something a lot of teams are looking for these days.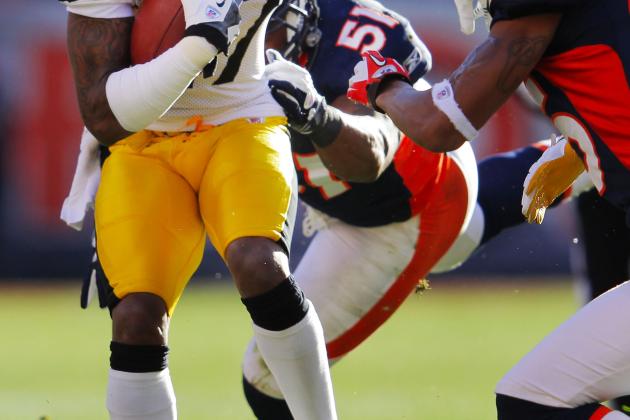 Doug Pensinger/Getty Images

Assuming the Steelers get comfortably under the cap, here's a look at that same free agent list one more time with decisions on who might be brought back, who won't be brought back at all and who the team might tender but allow to leave with compensation coming back.
Returning Players
Charlie Batch (1 year, $975,000)
Batch is a better option than Byron Leftwich because he knows the offense well and he can tutor a draft pick that can become the team's future backup. I think Batch is hanging on for one last chance at being part of another championship team.
Isaac Redman (2 years, $3 million)
Redman hasn't proven he can be the starter, but he's on his way there. It makes sense to offer him a two-year deal with a modest salary with the promise and expectation that bigger money waits if he has a big season. They could explore giving him incentives in the deal to increase it to $5 million.
Doug Legursky (3 years, $4 million)
Legursky is important because of his versatility and he played very well when able to do so last season. He needs to prove his health, which makes a long contract a big risk, but the team might do better with a multi-year deal that minimizes annual salary hits.
Mike Wallace (6 years, $33 million)
This might be low on the money side, but the years are about right. It depends on what kind of annual room the team figures to have and how they structure the deal. I could see another $10 to $15 million being added to this deal over that length of contract.
Steve McLendon (2 years, $3 million)
McLendon might be a future piece. It's hard to tell how he's viewed. If so, the team will probably give him a little more money. If not, they still need him around in case they drop Casey Hampton or don't get a prospect in the draft. This is just about right.
Keenan Lewis (3 years, $4.5 million)
If the team brings back Lewis on more than a one-year tender, they'll bring him back as the starter opposite Ike Taylor. That kind of commitment will come with a decent contract, but I wouldn't give him big-time money without the sample size needed to determine his actual worth.
David Johnson (3 years, $3.5 million)
Johnson is a key cog in the offense, but I do wonder just how new coordinator Todd Haley will use him. If he's still going to be important, this figure is about right. If not, the team may tender him and let him walk away.
Saying Goodbye
Jamon Meredith, Dorian Brooks and Derrick Williams just don't seem to fit in the plans. All three are fringe backups. They may be better off elsewhere with more growth room and the team can use their three roster spots for draft picks.
Trai Essex and Byron Leftwich are also likely to be let go. Both veterans have been solid contributors for years, but neither figures into the team's long-term plans. The Steelers are, at both positions, looking to get some fresh blood.
William Gay and Jerricho Cotchery are probably in the category of players who've made themselves too expensive for the team. Gay is more likely to return, but the team will be more interested in Cotchery. Neither player is a must, but both are going to want money and big roles that the team may be hesitant to give them.
Daniel Sepulveda and Aaron Smith are injury risks that the team won't likely want back. Smith is likely to retire and Sepulveda has been supplanted by Jeremy Kapinos. The same goes for Max Starks, who probably won't be back now that the team has moved Marcus Gilbert to left tackle.
Dennis Dixon will be looking for a fresh start so he can maybe earn a starting job. I don't see that ever happening, but I can almost guarantee there is no interest on either side in him coming back to Pittsburgh.
Mewelde Moore is likely out of the picture, but he could be brought back late in the offseason on the cheap.
RFA Tenders
Of the RFAs not listed above, I would say that all but maybe Meredith, Williams and Brooks will be tendered.
I didn't put Ramon Foster in the group, I expect him to return because I feel like the team values him less than I do. He may be allowed to depart if decent compensation is awarded for him. I don't see the team putting up a big fight for him, but I could be wrong.
The same goes for Ryan Mundy, who could get a better offer elsewhere and could even fetch some extra late picks that the team can use on young defenders. Mundy isn't essential to the team's success.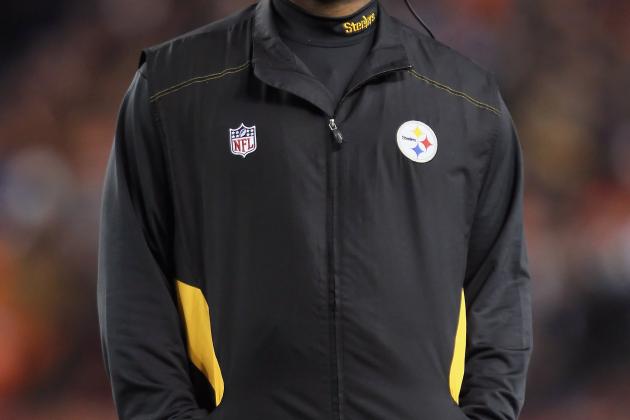 Jeff Gross/Getty Images

Projected Cap Space: $7-10 million
If the Steelers make the moves I've mentioned, there are no guarantees they'll have a ton of cap space left. I would say that the projections above represent optimism. The team may need to do additional restructuring to get enough room for more business.
I would expect all of the extension deals to be loaded toward the end of the deal and light up front. This will push off the potential repercussions for a year or two, at which point the cap will have increased again.
I'll continue to update the team's cap space as things shake out. At this time, they still have many, many important decisions to make.
Jeff Gross/Getty Images

Offensive Line
If we're to assume that the Steelers will allow Ramon Foster to walk away for an extra pick or two, they'll still need a starting right guard. We didn't bring back any of the backups either, so the team will likely have a clean slate for additions, especially along the interior.
Running Backs
The only loss here is Mewelde Moore, but he will be offset by Baron Batch and/or Jonathan Dwyer. The team still could use a draft pick on a running back.
Inside Linebacker
The team will likely be doing something at this position given James Farrior's age. He'll likely be cut or asked to accept a platoon-type situation moving forward. The team should have the roster space to add him.
Corner
Bringing back Keenan Lewis and not William Gay still leaves the team with good depth and experience at the position, but another young player to compete will be essential as well.
Defensive Tackle
We're bringing back Steve McLendon, but I'm also projecting that Casey Hampton will be gone. That means that the team will need to find another nose tackle at some point, either by draft or free agency.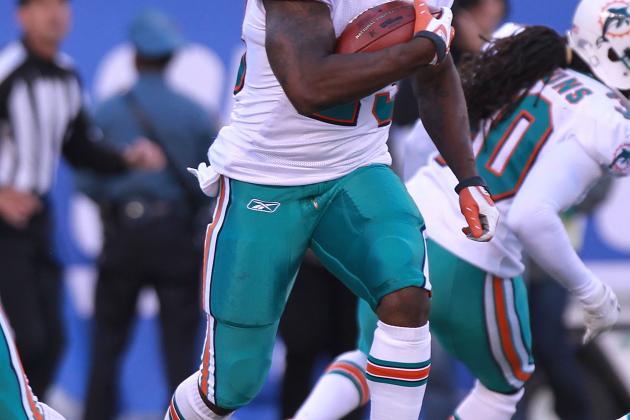 Nick Laham/Getty Images

Here's a look at targets at each of the team's need positions. I've tried to be realistic even though the team rarely dabbles in the market and will likely not have the money available to do so in 2012.
Offensive Guard
Deuce Lutui is an interesting target. He's been around for six years, but he doesn't project as much better than a guy like Ramon Foster. I would say he will have some suitors, but he could be someone the Steelers are interested in and someone they could feasibly bring on board.
Running Back
This is an area where I see the draft being more important, but among the free agents, I could see the team pursuing a speed option like Steve Slaton to compliment the more straight-ahead style of Isaac Redman. It's a long shot, but Slaton needs to restart his career and Pittsburgh has been good to running backs.
Inside Linebacker
I think the Steelers will run with Stevenson Sylvester here, but I could see them entertaining a backup with upside like Darryl Blackstock from Oakland. He's still got some good years left and he is a guy that could step into the Larry Foote role or even into Sylvester's if he moves up to starting full-time.
Corner
Aaron Ross might have played his way into a better deal in New York, but he could be a good plan for Pittsburgh if the price is right. The team could use another veteran with proven experience at corner and Ross is an upgrade over William Gay in many ways.
Defensive Tackle
This is another area where the team will likely be looking into the draft to improve. I would say that Jarvis Moss is one of a few options they could consider if and only if they are planning to go with Steve McLendon as the team's starter.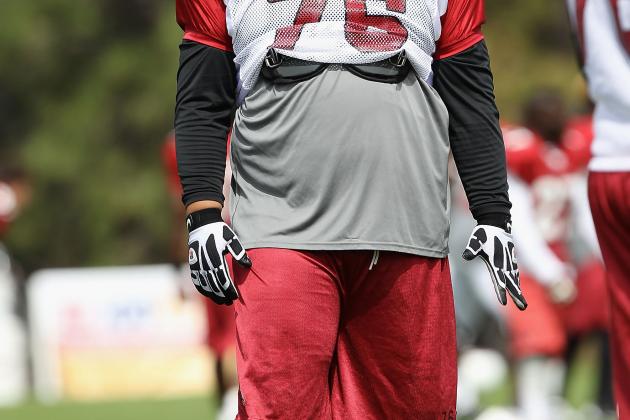 Christian Petersen/Getty Images

Let's take a look at the offers Pittsburgh might make to the four targets I've mentioned (these are individual and shouldn't be taken as a collective offer sheet as the team can't afford everyone).
Steve Slaton (2 years, $2.5 million)
I would back load this deal and put in a lot of incentives. Slaton must first prove healthy and effective before he gets a big payday. I would say he could given a contract that's potentially worth double the figure above.
Deuce Lutui (3 years, $4 million)
Lutui needs to get his career going again and I would recommend giving him a three-year pact. I think working in some incentives for health and conditioning are important as well. The number above would indicate significant trust on the team's part, but they need a proven guard.
Darryl Blackstock (3 years, $3.75 million)
Blackstock should get a contract comparable to what Larry Foote currently has. He would bring more benefit than Foote given that he is younger and faster. He's not likely a starter right now and probably doesn't deserve a huge deal, but this could again be loaded with performance incentives.
Jarvis Moss (2 years, $3 million)
Moss isn't a long-term answer, but he could be a temporary solution for a year or two while the team grows a new nose tackle or tests Steve McLendon at that spot. I'd give him a deal like this, comparable to what McLendon might fetch in a two-year deal.
Aaron Ross (4 years, $6.75 million)
Giving Ross a decent base salary and some performance incentives would be a great way to help him get his career fully back on track after getting buried early last year on the Giants' depth chart. Ross could revive his career and become a solid starter opposite Ike Taylor.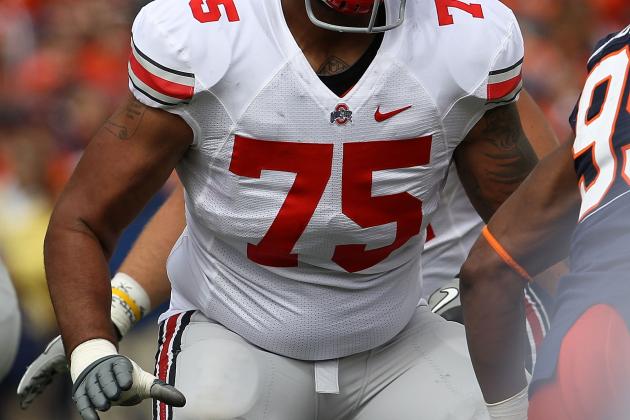 Jonathan Daniel/Getty Images

The Steelers won't be big players in free agency. I could see them making maybe two very modest additions to the roster. After that, they will use the draft as the major source of improvement.
In the draft, the team will take the best players available but would be best served by drafting for need in the first two rounds if possible. They need to land an offensive lineman, particularly a tackle, and a defensive tackle as well. The order isn't as important as getting two top prospects.
After that, corner, running back, backup quarterback, inside linebacker and perhaps kicker are the biggest areas of opportunity.
As free agency develops, I'll update you on the draft strategy and how it changes as the team reshapes its existing roster and adds some potential free agents to the mix.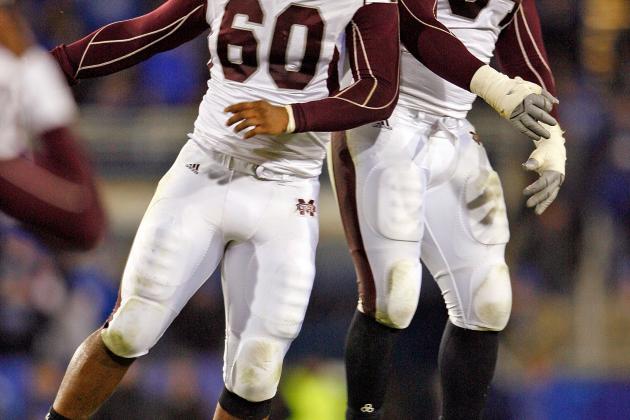 Andy Lyons/Getty Images

Here's a look at potential draft targets at each position of need:
Offensive Line
Mike Adams of Ohio State, a tackle, is the top draft prospect I see the team looking at for the first round. If he is unavailable, I could see the team looking at a guy like Brandon Brooks from Miami (OH) in the middle rounds of the draft or even Andrew Datko or Ryan Miller (not the goalie).
Defensive Tackle
The team should look at Fletcher Cox and Dontari Poe toward the end of the first round. Both players figure to be stars at the position and could instantly improve the team's pass rushing. If they wait, they could look at a guy like Josh Chapman.
Running Back
Chris Polk, LaMichael James or Doug Martin make the most sense here. How the team perceives this position is going to be derived from how new coordinator Todd Haley plans to run the football. I would recommend James if possible. He has a ton of upside and could bring home-run ability to the team's backfield.
Corner
Alfonzo Dennard and Stephon Gilmore are early-round names. I would also like to see them take a look at a guy like Trumaine Johnson in the middle rounds. The need here isn't likely to be as serious unless the team loses Keenan Lewis and William Gay without a comparable addition. If Lewis returns, the team can wait until the middle to address this position.
Inside Linebacker
This all depends on where the team decides to address it. Brandon Wagner is a good bet for the second round. The team could also opt to wait and go with a guy like Audie Cole or Jerry Franklin if they wait until the middle part of the draft.